Latest Cycling News, March 27, 2009
Edited by Hedwig Kröner
"Day-by-day" recovery for Armstrong
An x-ray of Lance Armstrong's collarbone
Photo ©: Team Astana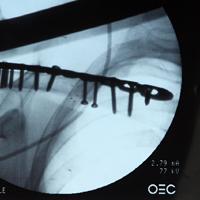 Lance Armstrong has posted a video message on his foundation's website www.livestrong.com, updating the public about his collarbone surgery. Speaking from his home in Austin, Texas, the seven-time Tour de France winner explained that his injury sustained at the Vuelta a Castilla y León was quite a complicated one.
"Initially, we thought that this was a simple fracture of the clavicle, but due to ... the difficulty of taking an x-ray right after an accident - we didn't really get a clear picture there in Spain, so as we came home, we did additional x-rays, additional CT scans and realized that the collarbone was actually in quite a few pieces," Armstrong said.
Surgery performed at Austin Sports Medicine was successful. A plate "with quite a few screws" was fixed on the bone. "That should keep things together. Ultimately, that will have to come out but for now it's necessary."
Throughout his career, Armstrong very rarely suffered injuries resulting from crashes. "This is sort a new experience for me, so there's a lot of questions that will have to be answered. In almost 20 years of pro cycling, I very rarely had crashes. I've been very lucky, very blessed when it comes to that."
One of the questions will be the timing of his return to training on the stationary bike - and ultimately coming back to racing, and how this will affect his race schedule. All Armstrong could say on the topic at the moment was "We don't know how my recovery will go. We'll just take it day by day and ultimately get back on the bike and try to sort things out."
It is believed that his participation in the Giro d'Italia is not in jeopardy. However, the process of rehabilitation cannot be forecast at this point, and Armstrong may have to re-assess his ambitions for the Italian race if he can take the start.
Leipheimer defends lead in Spain
Levi Leipheimer (Astana) is on his way to the overall win of the Vuelta a Castilla y León
Photo ©: AFP

In yesterday's stage four of the Vuelta a Castilla y León in Spain, Team Astana's Levi Leipheimer defended his overall lead against a handful of contenders. The uphill finish at Laguna de los Peces offered a last opportunity for those with climbing legs to attack the American. While Juan José Cobo gave his Fuji-Servetto team its first victory of the season, no one could make a difference within the group of favourites, which left Leipheimer and Alberto Contador sitting one-two on the overall with one stage to go.
After the race, Astana directeur sportif Sean Yates said the key to the team's success had been its hard work as well as the composure and good legs of its leaders. "We always had to work hard," he said. "Rabobank had plans. We had to stay calm. Obviously Levi and Alberto had fantastic legs. For them there was no problem but for the rest of the team it was hard work. But they regrouped and then everything was under control. It's often the same scenario. It looks ugly but you have to stay calm and regroup and do what you can do the best and that is work as a team, just as we did in California.
"Obviously Levi and Alberto had such a good legs. There is no way that someone would be able to do something against them on the final climb."
Coming up on
Cyclingnews will cover the 60th edition of the Dauphiné Libéré live as of stage 4 on Wednesday, June 10, at approximately 15:00 local Europe time (CEST)/ 23:00 Australian time (CDT)/ 9:00 (USA East).

WAP-enabled mobile devices: http://live.cyclingnews.com/wap/

Second-placed Contador put himself at the service of Leipheimer and made the pace in the favourites' group, pulling back escapee David Zabriskie (Garmin-Slipstream) and making sure no one else could make a move on the final climb. The Rabobank duo of Stef Clement and Denis Menchov was well under control.
But the Spanish riders racing on home soil also had to be taken care of, and Team Astana had to be watchful throughout the race. "It was hard for the boys," continued Yates. "It is a big race for all the Spanish teams. They don't have so many opportunities to race in the same races as Contador and to be on TV. They don't want to miss a move. They are all chasing each other. We like to see a harmless breakaway happen, but it never happens with the time gaps being so small."
Today's final stage of the Vuelta a Castilla y León will finish in Valladolid after 152.5 kilometres. The race, which made headlines a week ago as the first race to see Lance Armstrong and Alberto Contador compete together before the Tour de France this year, may well see Leipheimer as an overall winner.
Armstrong abandoned the event on Monday due to a broken collarbone.
Cunego: the best is yet to come
By Gregor Brown
Damiano Cunego (Lampre-NGC) has reason to smile
Photo ©: Sirotti

Damiano Cunego proved the work he did on the Spanish island of Tenerife was worthwhile with back-to-back stage wins in Coppi e Bartali yesterday and Wednesday. However, the benefits of training at altitude should pay greater dividends in the coming weeks.
"We still have a lot of work to do," said Lampre's directeur sportif Brent Copeland to Cyclingnews. "It shows the work is coming together. A stage win was important, but the overall is not so important."
Cunego has two important upcoming goals: the Ardennes classics in the last week of April and a second overall title in the Giro d'Italia, May 9-31. With two wins in Coppi e Bartali and the Vuelta a País Vasco to fine-tune his condition, he is on target for the first of the two objectives.
"Everyone says he is in form early. The fact that he has raced less [than other years] means he has more work to do," added Copeland.
Coppi e Bartali is Cunego's fifth race of the season and first after his return from Spain on March 19. He will race País Vasco (April 6-11), Amstel Gold (April 19), Flèche Wallonne (April 22), Liège-Bastogne-Liège (April 26) and the Tour de Romandie (April 28-May 3) prior to the Giro d'Italia.
Cunego travelled to Tenerife (south of mainland Spain, west of Morocco) on February 26 with Copeland and teammates Paolo Tiralongo, Marco Marzano and Mauro Santambrogio.
The win yesterday in Serramazzoni was Cunego's fortieth win in eight seasons as a professional.
Coppi e Bartali: Evans on form
Cadel Evans (Silence-Lotto)
Photo ©: Sirotti

Cadel Evans fell slightly short of taking his first and the team's first win of the 2009 season. The Australian of team Silence-Lotto finished second to Italian Damiano Cunego (Lampre-NGC) in Thursday's Coppi e Bartali's stage three.
"I wanted the stage. We have not been able to gain one yet: misfortune in the team time trial, a surprise in Faenza from Cunego and Serpa," he said to La Gazzetta dello Sport.
Evans fired from an elite eight-man group in the final 1000 metres of the 163.4-kilometre stage. Unfortunately, he brought along fast finisher Cunego for the last stretch up Serramazzoni.
"The first attack was to make the selection. ... Then I was ready to make a second move, but I waited a long time, too long. I was not able to pull back Damiano."
Silence-Lotto is desperate for a first 2009 victory, as its Belgian rival Quick Step already has eleven wins. If Evans does not deliver in Italy, then a win could come from a teammate this weekend in one of the two weekend races in Belgium: E3 Prijs or Brabantse Pijl.
Coppi e Bartali's 178.5-kilometre run from Massa Finalese to Finale Emilia today will suit the sprinters. Evans may have his chance Saturday when the stage race ends with a demanding stage to Sassuolo.
Evans travels to Spain next for the País Vasco stage race, April 6-11. He will then race the Ardennes Classics: Amstel Gold (April 19), Flèche Wallonne (April 22) and Liège-Bastogne-Liège (April 26). He will follow these one-day races with the Dauphiné Libéré, June 7-14, and then the Tour de France, July 4-26. (GB)
Chavanel out of Brabantse Pijl
Last year's winner of the Brabantse Pijl, Sylvain Chavanel, will not be defending his title at the event held this coming Sunday in Belgium. Because of a light cold, the Frenchman from Quick Step preferred to skip the one-day race in order to prepare for the Ronde van Vlaanderen on April 5.
Chavanel will nevertheless race the E3 Prijs Vlaanderen on Saturday before returning back home next week. Despite his cold, the Quick Step leader finished seventh in the Dwars Door Vlaanderen on Wednesday - another event he won last year.
Determined Day wants Redlands win
By Kirsten Robbins and Greg Johnson
A happy Ben Day (Fly V Australia/Successful Living) wants another win at Redlands
Photo ©: Mitch Clinton

Fly V Australia/Successful Living's Ben Day is eyeing his second victory in as many weeks, after claiming the Redlands Bicycle Race's opening prologue. Day took victory at last weekend's San Dimas stage race after winning the opening prologue, and hopes Redlands will follow a similar path.
"Tomorrow is a difficult stage to control, but my guys did a great job controlling the race in San Dimas last weekend and I think we all have good confidence," Day said.
Day knows his Australia-registered squad will have a tough time claiming the overall win in Redlands, with strong squads like Ouch-Maxxis on hand. Despite the presence of defending National Racing Calendar champion Rory Sutherland's squad, Day believes his teammates will be able to contend for overall honours when the event concludes on Sunday.
"We are going to have to play it by ear and control the race as best we can. Whether we keep the jersey or not, we need to keep the race with in striking distance. The biggest goal is to be in the lead at the end of the week."
The racing resumes with the 155-kilometre stage two circuit race held in Beaumont.
Neben outlines season targets
By Kirsten Robbins in Redlands, California
World Champion Amber Neben tested her form at Redlands and won
Photo ©: Jon Devich
World Time Trial Champion Amber Neben (Nürnberger Versicherung) won her first time trial of the 2009 season at the Redlands Bicycle Classic held in California. According to the American talent, competing in her home country is important but the bigger focus is on what she considers the three Grand Tours of women's racing.
"Redlands Classic is an important race but I'm not meant to put too much importance on it," Neben said. "As much as I would like to win it, I can't come into this race with super fitness because it's a little too early for me when I want to be coming up in May and the rest of the year. It's a race that I come into fit for but not race fit for."
Equipe Nürnberger Versicherung has big plans for Neben and the first goal is a victory at the Tour de l'Aude held in May, followed by the Giro d'Italia Femminile and the Internationale Thüringen Rundfahrt der Frauen, both held in July. Her sights are also set on obtaining a second consecutive victory at the World Championships taking place in Mendrisio, Switzerland, at the end of September.
"There are not a lot of time trials in the year but any time there is one it is always a goal for me. My goals are on the big stage races and the world championships. The team will be capable of winning the world cup races and I would like to contribute to that."
Kopp blames it on a drink
David Kopp has denied intentionally using the cocaine which was found in a doping control last September, saying someone must have spiked his drink at a club two days earlier. The German cycling federation announced the positive test on Thursday, saying it had only just been notified by the Belgian federation and the International Cycling Union (UCI).
The positive test was on September 11, when Kopp placed third in a Belgian criterium race for Continental Team Cycle-Colstrop. Interviewed on Radsport-News.com, Kopp said that he had not used the illegal drug willingly. "I was in a club two days before the race. I was frustrated and drank too much. It is very possible that someone slipped something in my drink, and I didn't notice it," he said.
In October 2008, the now retired Kopp was notified by the Flemish cycling federation about the positive control. Out of financial grounds he declined to have the B sample opened. Since then, he said, he had heard nothing more about the matter until the BDR's announcement on Thursday. (SW)
Nardello hangs up the bike
At the age of 36, and after 16 years of professional racing including 26 victories, Daniele Nardello has decided to put an end into his career as a cyclist. Because of continuous physical problems during the last few months the Fuji-Servetto rider has decided to retire.
His last racer will be the E3 Prijs Vlaanderen, Brabantse Pijl, Driedaagse De Panne, Ronde van Vlaanderen and Gent-Wevelgem. Nardello will then enter the technical staff of the team.
Austria's first medal in six years toasted with OJ
Andreas Müller's bronze medal in the men's scratch race Thursday at the Track World Championships was Austria's first such medal in six years. The team toasted the winner afterwards with only orange juice, as a further celebration promised next week.
"It is a great satisfaction to me to get this success in the Austrian national jersey." Müller said.
Müller, 29, was born in Berlin, Germany, and has numerous German track titles. He rode for Austria for two years.
He is a self-described "perfectionist", who said that a dream was fulfilled with the medal. On the website of the Austrian Cycling Federation, he said, "Before all big competitions I pay attention to a thousand things: from the preparation and training to the nutrition, sleep, motivation and of course the perfect material."
The three-man Austrian team had a low-key celebration because they all face further races on Friday. "The whole team toasted with orange juice and went to bed early," said coach Roland Wafler. "We will have the proper celebration next Tuesday, after the Austrian Omnium Championships in Vienna." (SW)
Japanese cycling season kicks off
By Lee Rodgers
The start of the 2009 J-Tour Challenge kicks off with the first race of the series in Gunma Prefecture near Tokyo on April 26. The 12-race series will see Japan's professional cycling outfits battle it out for top honours alongside a choice selection of the country's top amateur teams.
Last year's series winner Tomoya Kano (Skil-Shimano) has his hopes set on a tilt at the title once again, yet the 35-year-old's mediocre showing at the recent Tour of Taiwan suggests that he has some work yet to do if he is to have a chance of a repeat. The Skil team's two-time national road race champion, climber Hidenori Nodera will also be hoping to snatch a victory or two. The retention of another two-time series winner, veteran Shinri Suzuki, demonstrates the Skil team's depth.
Asian Racing Team boss Nakane Kenji has high expectations for his squad of eight riders this season. "We'll be concentrating on the Asian Tour this year primarily, but we'll be represented at Gunma. We have some new faces who will be expected to perform," he told Cyclingnews.
The two standout riders from Asian are Masahiro Shinagawa and Taiji Nishitani. Shinagawa rode for three years in Europe with the European Skil-Shimano outfit and has good form.
Another big hope this year for overall victory is Makoto IIjima, the three-time Olympian (points race, eighth in Peking), riding for Team Bridgestone Anchor. The 39-year-old proved he still has a lot to offer with a solid ride in Taipei.
"He's the man we'll be looking to," said team manager Nobihito Kubo. "He's a fantastic all-rounder, and he's got the speed necessary for the hilly courses here."
New Bridgestone member Shinpei Fukuda will be looking to live up to the early promise he showed with his resounding victory in last year's Hiroshima Cup. He defeated an experienced field with a blistering sprint.
Another outfit that should feature heavily at the top end of the table is the Matrix Powertag Corratec team. It has a stable of talented riders, led by captain Naoki Mukaigawa.
Other riders to keep an eye on are Kazaya Okazaki (EQA Design) and Polish sprinter Mariusz Wiesiak (Nippo-Colnago). Wiesiak is one of a handful of foreign cyclists competing in the series.
Barloworld special guests at University
By Gregor Brown
Team Barloworld will be special guests at the University of Torino's media studies department this afternoon. Team manager Claudio Corti and riders Paolo Longo Borghini and Robert Hunter will speak with a class of their experiences with image and commutation in the international world of cycling.
"We wanted to take riders who have experience, like Hunter," said Barloworld's press representative Claudio Masnata to Cyclingnews. "He lives in Switzerland, was born in South Africa and rides for an Italian team. He speaks many languages, has travelled the world and knows the world of international cycling. Hunter has a good idea of how to manage and speak with others."
The trio will speak with the students as part a lecture by Professor Salvo Dell'Arte. The students will learn from the riders experience in dealing with fans and journalists. "When they talk in public they are representing themselves and the brand Barloworld."
Hunter is a stage winner in the 2007 Tour de France. He raced in last Saturday's Milano-Sanremo and will participate in the Driedaagse De Panne in Belgium next week.
Cyclingnews weekly podcast: Episode 4!
23 minutes of ... we'll let you decide
Despite a ridiculously tight self-imposed deadline, a budget of tens of pounds and a cast of thousands (well, four or five), we've managed to crank out a fourth Cyclingnews podcast.
This week, Cyclingnews editor Daniel Benson and his BikeRadar counterpart Jeff Jones talk to Jens Voigt (warning, explicit language) and David Millar (warning, probably no explicit language), as well as analyse Milano-Sanremo, Mark Cavendish, Heinrich Haussler, Lance Armstrong, the track worlds and not much more.
You can subscribe to the podcasts via iTunes (or just go to iTunes and search for 'cyclingnews') or via this XML feed: http://video.cyclingnews.com/podcasts/cn_podcast.xml
You can also download the podcasts directly by clicking on these links:
Work for the world's leading cycling website
Cyclingnews, the world's leading cycling website, is recruiting writers based in the UK.
Applicants are required to have a keen interest and thorough knowledge of competitive cycling, as well as editorial or writing experience with excellent English skills. Writers should be competent in producing and subbing reports, news, results and features from the world of cycling, so fluency in a second language is also an advantage, as is experience in journalism, attention to detail and flexibility in hours.
Applicants may also be required to attend major cycling events. Training in online production techniques can be provided.
Please send your CV with a covering letter and examples of your work, via e-mail to daniel.benson@futurenet.com with "Cyclingnews online writer -" in the subject line. Please note that applications close today at 5pm CET.
(All rights reserved/Copyright Future Publishing (Overseas) Limited 2009)