2009 UCI Track Cycling World Championships - CM
Pruszkow, Poland, March 25-29, 2009
Main Page Results Overall standings Previous Stage Next Stage
Stage 3 - March 26: Men: Scratch race, Individual pursuit, Keirin; Women: Team sprint, Team pursuit
Phinney lives up to promise
By Gerry McManus in Pruszkow, Poland
American Taylor Phinney did what he was supposed to do
Photo ©: Gerry McManus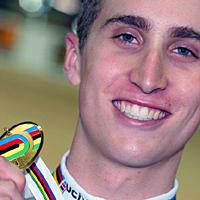 Taylor Phinney took his first senior world title in the Men's 4,000m Individual Pursuit. Phinney beat Australia's Jack Bobridge by over two seconds in a tense final that saw both riders record slower times than the qualifying session. Phinney was slightly up after 1,000m metres but Bobridge had nudged ahead four laps later. Phinney then pulled clear to earn his first senior rainbow jersey.
"This is my first real championship medal and it feels good," said Phinney "I definitely expected to win and I came here and did what I had to do. After the Olympics this wasn't on my radar for another couple of years but after the Copenhagen World Cup I figured that it would happen here. I figured how to do everything right and it's paid off for me."
Phinney's qualifying time was 4.15.160 and the second fastest time in recent years and only a tenth of a second slower that the qualifying time set by Britain's Bradley Wiggins in the Beijing Olympics last year. The World Record of time of 4.11.114 set by Chris Boardman in 1996 still stands but the British rider used the now banned 'superman' position.
"My mom was pursuit world champion and my dad was a great sprinter," said Phinney. "So I sort of see myself as having this big genetic advantage over everyone else. I use that to fuel the fire. It is written in my genetic code. My main target now is London 2012 but I am sure I will continue to ride the World's up to then. It's the beginning of a new revolution."
Belgium's Dominique Cornu (Belgium) won the bronze medal with nearly a six second advantage over Volodymyr Diudu (Ukraine)
British women defend their pursuit title
Joanna Rowsell leads the British celebration
Photo ©: Gerry McManus

The British trio of Wendy Houvenaghel, Joanna Rowsell and Lizzie Armitstead successfully defended the world title that they won in Manchester last year in the Women's 3,000m team pursuit. Rebecca Romero's absence was no problem with the team producing a time almost identical to the one recorded last year.
Britain held off a strong challenge from a strong New Zealand team that included individual pursuit champion Alison Shanks. Shanks, Lauren Ellis and Jaime Nielsen put the pressure on Britain in the final with a fast second kilometre that saw them draw almost level. British coach Dan Hunt screamed at the British trio as he gave them their schedule updates and they responded with a last kilometre of 1.06.416 to finish over second ahead of New Zealand.
The Australian trio were never in trouble in the bronze medal ride and comfortably beat the Netherlands by nearly five seconds.
Joanna Rowsell was delighted that Britain was able to retain the title.
"It was excellent that we defended the title," said Rowsell. "We obviously had pressure that we didn't have last year but I am over the moon that we got it. The team is a little different to what it was last year as Rebecca [Romero] is having a break. "Wendy came into the event having won a medal in the Olympics and we have a mix of youth and experience. There are lot of riders pushing for places in the GB team now so just to get in the team is tough. We have trained a lot over the winter, going to training camps in Mallorca and we have gelled as a group. To win the world championships together is absolutely fabulous."
Kneisky sprints to victory
Morgan Kneisky celebrates his win
Photo ©: Gerry McManus

Morgan Kneisky took the French gold medal tally to two when he crossed the line first in the Men's Scratch race on Thursday evening. Kneisky was one of six riders who somehow managed to break free from the rest of the field and just managed to escape the clutches of Milano-Sanremo winner Mark Cavendish (GBr) and Hayden Godfrey (NZ) in the final laps of the 60-lap race.
The race winning break lapped the field and Kneisky burst clear to finish ahead of Dalo Angel Colla (Argentina) and Andreas Mueller (Austria) with brave Travis Meyer (Australia) perhaps paying for his hard work and finishing fourth.
It was obvious from the beginning that Cavendish would have few allies in the race and he spent much time on the front with many others not wishing to take up the chase. Kneisky, Colla, Mueller, Meyer, Kazuhiro Mori (Jap) and Ivan Kovalev (Rus) finally broke the elastic to the others and powered away.
Cavendish looked frustrated as he battled on in pursuit and was joined by Godfrey and the duo threw everything into the chase. They were getting closer and closer with the laps counting down and they may have even made until Meyer saw the danger lurking about 20m from the back of the bunch and he put the hammer down to distance the British/New Zealand alliance permanently.
Kneisky had the race in the bag when he led by a three bike lengths round the final bend and held on to win the rainbow jersey.
More gold for Australia in women's team sprint
Aussie women Anna Meares and Kaarle McCulloch won the team sprint
Photo ©: Gerry McManus

Australian Anna Meares and teammate Kaarle McCulloch gave Australia its second rainbow jersey of the UCI World Track Championships on Thursday, besting the team from Great Britain in the women's team sprint by 0.231 seconds. Lithuania beat France in the other final to win the bronze medal.
The more experienced Meares, who has taken Olympic gold and two world titles in the 500m time trial in the past, led off with the 21-year-old McCulloch in tow.
Meares recorded a staggering 18.692 seconds for the first lap to build up a half second lead over Shanaze Reade and then pulled off to let McCulloch finish off the race.
"After we qualified fastest I knew we were up against the British pair and they have ridden a 33.1 [33.186 at 2008 World Championships -ed.] between the two of them, so I knew I had to be on my game out of that first gate and that first lap to give Kaarle the best shot for second wheel and we smashed it," said an ecstatic Meares.
McCulloch showed no fear in facing down Olympic gold medallist and multiple world champion Victoria Pendleton, and while she conceded some time to her more experienced competitor, the Aussie held enough speed to help take the gold medal by 0.143 seconds.
"I was really anxious to start off with and my heart was going at a million miles an hour," said McCulloch. "My coach just came over and told me to calm down and take small steps and by the time I got onto the start line I was surprised how calm I was. Anna delivered me so well and I couldn't have had a better first lap."
"When you line up against the current world champions, you feel a little bit pressured I guess," continued McCulloch. "But we were the underdogs tonight and we pulled through and I am really happy. I rode a personal best by half a second in the 500m time trial yesterday and I was really pleased with that and I am looking to do a P.B. in sprint qualifying and get into the quarter finals. I also hope to make the final of the Keirin."
The defending champions, Victoria Pendleton and Shanaze Reade, were just shy of the fastest time set by Australia in the qualifying round, and focused on stepping up their game for the final. They succeeded in going 0.21 seconds faster in the final, but it wasn't enough.
"We knew we had to find a tenth [of a second] and we did but the Australians went faster," Pendleton, told BBC Sport.
Levy wins for Germany
Maximilian Levy (Germany) was delighted about his sprint win
Photo ©: Gerry McManus

Sprinter Maximillian Levy won the Men's Keirin gold medal in a tough final in Pruszkow on Thursday night.
Levy held off the challenge from fast finishers Francois Pervis (France) and Teun Mulder (Netherlands) to become world champion in a discipline he has taken time to adapt to since he switched from the kilometre time trial.
"The Keirin was difficult for me in the beginning," said Levy: "I won my first Keirin in the World Cup but since then I have found it difficult to win some races. We have analyzed a lot of videos of races and my coach gave me the confidence to know that I can go from one and a half laps out and nobody can go past me. I have done a lot of endurance training and that's why I can ride the last two laps on the front. With one lap to go I felt so strong. I am so happy to have won the gold medal."
Photography
For a thumbnail gallery of these images, click here
Images by AFP Photo
Images by Gerry McManus/www.gerrymcmanus.co.uk
Results
Men's Scratch Race

1 Morgan Kneisky (France)                              
2 Angel Dario Colla (Argentina)                        
3 Andreas Mueller (Austria)                            
4 Travis Meyer (Australia)                             
5 Kazuhiro Mori (Japan)                                
6 Ivan Kovalev (Russian Federation)                    
 
One lap behind
7 Mark Cavendish (Great Britain)                       
8 Hayden Godfrey (New Zealand)                         
9 Aliaksandr Lisouski (Belarus)                        
10 Carlos Alberto Uran Arroyabe (Colombia)             
11 Alex Buttazzoni (Italy)                             
12 Marcel Kalz (Germany)                               
13 Jiri Hochmann (Czech Republic)                      
14 Jozef Zabka (Slovakia)                              
15 Ho Ting Kwok (Hong Kong, China)                     
16 Zachary Bell (Canada)                               
17 Tim Mertens (Belgium)                               
18 Daniel Holloway (United States Of America)          
19 Rafal Ratajczyk (Poland)                            
20 Wim Stroetinga (Netherlands)                        
21 Franco Marvulli (Switzerland)                       
DNF Iban Leanizbarrutia Cruz (Spain)
Men's Individual Pursuit
Final

1 Taylor Phinney (United States)                 4.17.631 (55.839 km/h)
2 Jack Bobridge (Australia)                      4.20.091

3 Dominique Cornu (Belgium)                      4.22.347 (54.889 km/h)
4 Volodymyr Diudiu (Ukraine)                     4.28.297
Men's Keirin
Round 2 
 
Heat 1 
1 François Pervis (France)                             
2 Matthew Crampton (Great Britain)                     
3 Ross Edgar (Great Britain)                           
4 Azizulhasni Awang (Malaysia)                         
5 Shane Perkins (Australia)                            
6 Carsten Bergemann (Germany)                          
 
Heat 2 
1 Maximilian Levy (Germany)                            
2 Sergey Borisov (Russian Federation)                  
3 Teun Mulder (Netherlands)                            
4 Josiah Ng Onn Lam (Malaysia)                         
5 Christos Volikakis (Greece)                          
6 Jason Niblett (Australia)                            
  
Final
 
1 Maximilian Levy (Germany)
2 François Pervis (France)
3 Teun Mulder (Netherlands)
4 Ross Edgar (Great Britain)
5 Matthew Crampton (Great Britain)
6 Sergey Borisov (Russian Federation)
 

7th-12th Final
 
7 Shane Perkins (Australia)
8 Carsten Bergemann (Germany)
9 Ch9ristos Volikakis (Greece)
10 Josiah Ng Onn Lam (Malaysia)
11 Azizulhasni Awang (Malaysia)
12 Jason Niblett (Australia)


Women's Team Pursuit
Final
 
1 Great Britain                                3.22.720 (53.275 km/h)
 Elizabeth Armitstead (Great Britain)                  
 Wendy Houvenaghel (Great Britain)                     
 Joanna Rowsell (Great Britain)                        
 
2 New Zealand                                  3.23.993
 Lauren Ellis (New Zealand)                            
 Jaime Nielsen (New Zealand)                           
 Alison Shanks (New Zealand)                    
 
3 Australia                                    3.24.972
 Ashlee Ankudinoff (Australia)                         
 Sarah Kent (Australia)                                
 Josephine Tomic (Australia)                           
 
4 Netherlands                                  3.29.379
 Vera Koedooder (Netherlands)                          
 Amy Pieters (Netherlands)                             
 Eleonora Van Dijk (Netherlands)

Women's Team Sprint
Qualifying

1 Australia                                    0.33.452 (53.808 km/h)
 Kaarle Mcculloch (Australia)                          
 Anna Meares (Australia)                               
 
2 Great Britain                                0.33.598
 Victoria Pendleton (Great Britain)                    
 Shanaze Reade (Great Britain)                         
 
3 France                                       0.33.609
 Sandie Clair (France)                                 
 Clara Sanchez (France)                                
 
4 Lithuania                                    0.33.617
 Gintare Gaivenyte (Lithuania)                         
 Simona Krupeckaite (Lithuania)                        
 
5 Netherlands                                  0.33.791
 Yvonne Hijgenaar (Netherlands)                        
 Willy Kanis (Netherlands)                             
 
6 Germany                                      0.33.922
 Kristina Vogel (Germany)                              
 Miriam Welte (Germany)                                
 
7 People's Republic of China                   0.34.475
 Jinjie Gong (People's Republic of China)              
 Lulu Zheng (People's Republic of China)               
 
8 Russian Federation                           0.34.733
 Swetlana Grankovskaya (Russian Federation)            
 Olga Streltsova (Russian Federation)                  
 
9 Poland                                       0.35.095
 Renata Dabrowska (Poland)                             
 Aleksandra Drejgier (Poland)                          
 
10 Hong Kong, China                            0.36.418
 Wai See Lee (Hong Kong, China)                        
 Zhao Juan Meng (Hong Kong, China)                     

Final

1 Australia                                    0.33.149 (54.300 km/h)
 Kaarle Mcculloch (Australia)          
 Anna Meares (Australia)               
 
2 Great Britain                                0.33.380
 Victoria Pendleton (Great Britain)    
 Shanaze Reade (Great Britain)         
 
3 Lithuania                                    0.33.495 (53.739 km/h)
 Gintare Gaivenyte (Lithuania)         
 Simona Krupeckaite (Lithuania)        
 
4 France                                       0.33.638
 Sandie Clair (France)                 
 Clara Sanchez (France)                


Back to top