2009 UCI Track Cycling World Championships - CM
Pruszkow, Poland, March 25-29, 2009
Main Page Results Overall standings Previous Stage Next Stage
Stage 2 - March 26: Men: Individual pursuit qualifying, Keirin (Round 1, Repechage); Women: Team pursuit qualifying
Men's pursuit set for Aussie v USA gold medal final
Jack Bobridge (Australia) will face Taylor Phinney
Photo ©: Gerry McManus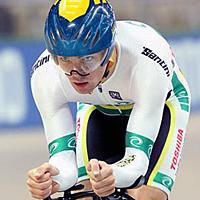 Taylor Phinney (USA) produced the fastest time of 4:15.160 in qualifying for the Men's 4,000m Individual Pursuit to ensure he made the final tonight in Pruszkow. Phinney will line up against Australia's Jack Bobridge who will have to shave over two seconds off his 4.17.419 time in the final if he wants to follow compatriot Cameron Meyer into the history books with a gold medal.
Belgium's Dominique Cornu and Volodymyr Diuda (Ukraine) contest the final for bronze medal but Diuda's qualifying ride did come with a little controversy. The Ukrainian was in a heat with Poland's Adrian Kurek who was slow to start. Diuda had put in the fastest time at two kilometres and had the Polish rider in his sights soon after. The Pole tucked in behind him went he went past but then overtook again with Diuda forced to slipstream behind for a couple of laps. Kurek was disqualified by the judges and it will be interesting to see if the Polish rider hampered Diuda's effort when we see the final times this evening.
Sprinters get serious in the keirin
The top men's sprinters were in action in the first round in the Men's Keirin competition. Carsten Bergemann (Germany), Max Levy (Germany), Sergey Borisov (Russia) and Francois Pervis (France) were the winners of their first round heats.
The biggest surprise of the first round was that all three British riders missed out on automatic qualification and were forced to compete in the repechage. Jason Kenny, Matt Crampton and Ross Edgar had all missed out on the first two automatic qualifying places. Edgar made it through in his repechage but Kenny missed out and Crampton was impressive in his repechage when he won by a clear margin to go through to round two.
Great Britain goes quick to make team pursuit gold medal final
The Great Britain trio of Wendy Houvenaghel, Joanna Rowsell and Lizzie Armitstead were the fastest of the teams in the afternoon qualifying session in the Women's 3,000 team pursuit and their time of 3:25.147 sets them up to face New Zealand in the final tonight. Houvenaghel will surely be hoping to get gold this time after losing out in the individual pursuit title to New Zealand's Alison Shanks. Australia will face the Netherlands in the bronze medal final.
Photography
For a thumbnail gallery of these images, click here
Images by AFP Photo
Images by Gerry McManus/www.gerrymcmanus.co.uk
Results
Men's Individual Pursuit
Qualifying

1 Taylor Phinney (United States Of America)    4.15.160 (56.435 km/h)
2 Jack Bobridge (Australia)                    4.17.419
3 Dominique Cornu (Belgium)                    4.19.197
4 Volodymyr Diudia (Ukraine)                   4.19.786
5 Jesse Sergent (New Zealand)                  4.21.253
6 Sergi Escobar Roure (Spain)                  4.23.619
7 Alexei Markov (Russian Federation)           4.24.085
8 Patrick Gretsch (Germany)                    4.24.564
9 Robert Bartko (Germany)                      4.26.277
10 Vitaliy Shchedov (Ukraine)                  4.26.508
11 Antonio Tauler Llull (Spain)                4.26.681
12 Arles Antonio Castro Laverde (Colombia)     4.27.750
13 Levi Heimans (Netherlands)                  4.28.638
14 Ingmar De Poortere (Belgium)                4.30.089
15 David O'Loughlin (Ireland)                  4.32.480
16 Arnaud Depreeuw (France)                    4.32.559
17 Valery Kaikov (Russian Federation)          4.32.612
18 Alessandro De Marchi (Italy)                4.35.916
19 Jiri Bares (Czech Republic)                 4.39.614
20 Alexey Lyalko (Kazakhstan)                  4.43.885
DSQ* Adrian Kurek (Poland)                            
*Disqualified for passing his opponent after being passed.

Men's Keirin
Round 1*

Heat 1 
1 Carsten Bergemann (Germany)                      
2 Teun Mulder (Netherlands)                        
3 Jason Kenny (Great Britain)                      
4 Daniel Ellis (Australia)                         
5 Adam Ptacnik (Czech Republic)                    
6 Andrii Vynokurov (Ukraine)                       
7 Kévin Sireau (France)                            
 
Heat 2 
1 Maximilian Levy (Germany)                        
2 Shane Perkins (Australia)                        
3 Kamil Kuczynski (Poland)                         
4 Christos Volikakis (Greece)                      
5 Josiah Ng Onn Lam (Malaysia)                     
6 Leonardo Alfredo Narvaez Romero (Colombia)       
7 Hodei Mazquiaran Uria (Spain)                    
 
Heat 3 
1 Sergey Borisov (Russian Federation)              
2 Azizulhasni Awang (Malaysia)                     
3 Christopher Sellier (Trinidad and Tobago)        
4 José Antonio Escuredo Raimondez (Spain)          
5 Matthew Crampton (Great Britain)                 
6 Simon Van Velthooven (New Zealand)               
7 Kazunari Watanabe (Japan)                        
 
Heat 4 
1 François Pervis (France)                         
2 Jason Niblett (Australia)                        
3 Travis Smith (Canada)                            
4 Yondi Schmidt (Netherlands)                      
5 Ross Edgar (Great Britain)                       
6 Tomokazu Sato (Japan)                            
7 Barry Forde (Barbados)          
                  
* Top two in each heat qualify for Round 2, remainder to repechage.
 
Round 1 Repechage
 
Heat 1 
1 Matthew Crampton (Great Britain)                      
2 Jason Kenny (Great Britain)                           
3 Yondi Schmidt (Netherlands)                           
4 Leonardo Alfredo Narvaez Romero (Colombia)            
5 Kévin Sireau (France)                                 
 
Heat 2 
1 Josiah Ng Onn Lam (Malaysia)                          
2 José Antonio Escuredo Raimondez (Spain)               
3 Kamil Kuczynski (Poland)                              
4 Andrii Vynokurov (Ukraine)                            
5 Barry Forde (Barbados)                                
 
Heat 3 
1 Christos Volikakis (Greece)                           
2 Adam Ptacnik (Czech Republic)                         
3 Christopher Sellier (Trinidad and Tobago)             
4 Tomokazu Sato (Japan)                                 
5 Kazunari Watanabe (Japan)                             
 
Heat 4 
1 Ross Edgar (Great Britain)                            
2 Hodei Mazquiaran Uria (Spain)                         
3 Simon Van Velthooven (New Zealand)                    
4 Daniel Ellis (Australia)                              
5 Travis Smith (Canada)
                                 
(First place rider in each heat advances to round 2)

Women's Team pursuit

Qualifying
 
1 Great Britain                                3.25.147 (52.645 km/h)
 Elizabeth Armitstead (Great Britain)                  
 Wendy Houvenaghel (Great Britain)                     
 Joanna Rowsell (Great Britain)                        
 
2 New Zealand                                  3.26.023
 Lauren Ellis (New Zealand)                            
 Jaime Nielsen (New Zealand)                           
 Alison Shanks (New Zealand)                           
 
3 Australia                                    3.27.719
 Ashlee Ankudinoff (Australia)                         
 Sarah Kent (Australia)                                
 Josephine Tomic (Australia)                           
 
4 Netherlands                                  3.30.893
 Vera Koedooder (Netherlands)                          
 Amy Pieters (Netherlands)                             
 Eleonora Van Dijk (Netherlands)                       
 
5 Lithuania                                    3.30.966
 Svetlana Pauliukaite (Lithuania)                      
 Vilija Sereikaite (Lithuania)                         
 Ausrine Trebaite (Lithuania)                          
 
6 China                                        3.31.753
 Yue Chen (People's Republic of China)                 
 Feiyan Sun (People's Republic of China)               
 Cui Wang (People's Republic of China)                 
 
7 Germany                                      3.31.770
 Charlotte Becker (Germany)                            
 Christina Becker (Germany)                            
 Verena Joos (Germany)                                 
 
8 Russia                                       3.32.272
 Elena Tchalykh (Russian Federation)                   
 Victoria Kondel (Russian Federation)                  
 Olga Slyusareva (Russian Federation)                  
 
9 Belgium                                      3.33.010
 Jessie Daams (Belgium)                                
 Jolien d'Hoore (Belgium)                              
 Kelly Druyts (Belgium)