First Edition Cycling News, March 23, 2009
Edited by Bjorn Haake & Les Clarke
Contador's Castilian date with Armstrong
Armstrong and Contador will be racing together this week
Photo ©: Pete Goding Photography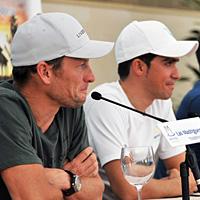 Astana's Alberto Contador will race with teammates Lance Armstrong and Levi Leipheimer for the first time together in the Vuelta a Castilla y León (March 23-27). Contador says it will be beneficial to race with Armstrong before his season's primary goal, the Tour de France, in July.
But it wasn't really planned that way. "It was a coincidence. It will help us to see each other in the race now, but it can't be really called a rehearsal, as the racing is different here [than in the Tour]," said Contador. "We will try to win here, but there is not the same pressure."
Contador added that the race is a little different this year. "The time trial is much longer [28km] than in previous years, but the mountains aren't as hard." The Spanish star expects bigger groups to arrive in the hilly days, which is why he isn't too concerned about taking a third successive overall win. "If we win it is great, but we won't make it an obsession."
He did admit that circumstances which cost Astana a win in Paris-Nice or Tirreno-Adriatico are less likely to be repeated. "Here the race will be easier to control with a strong team like ours."
Contador's own preparation are going well, despite the loss in Paris-Nice. "You can't always win. But I am fresh physically and mentally. The results have given me confidence to continue my preparation towards the Tour de France."
The Astana team in Castilla y León: Lance Armstrong, Alberto Contador, Jesús Hernández, Levi Leipheimer, Benjamín Noval, José Luis Rubiera, Tomas Vaitkus and Haimar Zubeldia. Directeurs Sportifs Sean Yates and Viatcheslav Ekimov.
Valverde's racing equation
Spaniard Alejandro Valverde (Caisse d'Epargne) gets going
Photo ©: Emmanuel Isnard
Alejandro Valverde has started 2009 with a reduced racing programme, something he hopes will pays dividends in July. The Vuelta a Castilla y León is his next event, and despite the lack of racing the Spaniard feels he's on track towards a successful Tour de France.
"As of now I only took part in two stages of the Challenge of Mallorca, the two stages of Tour du Haut Var and the Clásica of Almería, but in spite of that I feel pretty well and I believe that my level is rather good," Valverde explained.
He admitted that the racing in Castilla y León will be competitive and he will have to get used to the high race rhythm. "I don't believe I have to be afraid, but of course I have a lot of respect for those riders because I can see which level some of them have already reached and it is obvious that I am still behind that a little bit."
Valverde, who will undoubtedly be a protagonist in the Ardennes Classics, won't be eyeing the overall in the Castilian region, instead he'll just try to adapt to the race pace. "But if I feel well then why not try and win a stage?"
Time trialing will be a focus for the Caisse d'Epargne rider ahead of the Tour de France, something vital to making the podium in late July. "I have shown last year, in the Dauphiné Libéré for example, that I am even able to win a 30-35-kilometre long time trial. On the other hand I still have to improve on the time trials that are longer than 50km."
His main goal remains the Tour de France and he won't be changing his programme after Castilla y León. "I'll do the Grand Prix Miguel Indurain in Estella, the Clásica Primavera in Amorebieta, Paris-Camembert, the Amstel Gold Race, Flèche Wallonne and Liège-Bastogne-Liège. After that, in May I will be in the Tour of Catalunya and in June in the Dauphiné Libéré before defending my title in the Spanish road championship."
Castilla y León will give him a chance to meet Lance Armstrong in competition for the first time this season. "That's really great – I am delighted. It will be a very special moment. I also think that his presence in the race will attract many journalists to the event."
O'Grady's Classics season over
Another broken collarbone for Stuart O'Grady
Photo ©: Roberto Bettini

After crashing 29 kilometres into Saturday's Milano-Sanremo, Stuart O'Grady's Spring Classics season is over. The resulting broken collarbone has forced the Australian to skip the rest of the spring racing.
The Saxo Bank rider received a more detailed check-up in a clinic in Monaco on Saturday night, where a doctor diagnosed a broken right collarbone plus a fractured rib. To top it off, O'Grady has an edema between the lungs and the ribs.
O'Grady couldn't believe his bad luck. "It is extremely sad to see the Classics disappear for my part, because of a crash. The past several months of hard work had a purpose and focus: Classics, and especially Paris-Roubaix. Now I see it all crumble, but hopefully I get the opportunity to come back later." O'Grady won Paris-Roubaix in 2007.
Saxo Bank's team physician Piet De Moor said that the initial diagnosis in the hospital was only bruises. "But when they looked more carefully at the X-ray images, he was called back. The most serious is his edema between the lungs and ribs, which required surgery yesterday and he might have to go back to get more."
Even though the fractures are minor and the edema easily treatable, De Moor was without good news for O'Grady. "It is not likely that he gets on the bike and will be able to train hard in the next few weeks. Seen in that perspective, the Classics, unfortunately, are over for Stuart."
De Moor knows that O'Grady is a tough guy. "If everything goes well he can come back and go fast again in a month's time. He has certainly had his share of accidents in his career, but I think on the other hand, that he – if anyone – has the strength and morale to come back quickly."
Team owner Bjarne Riis was also taken aback by the news. "Nobody can replace his experience and what Stuart would contribute to our Classics line-up, and it is really unfortunate that he will be missing out on the races he is best at. He had timed his form perfectly for the cobblestone races, and in my point of view, he was destined to be one of our main riders who could have been there in the final."
Riis was sorry to see O'Grady crash again. "The whole team wishes him a speedy recovery and we hope to see him back in peak shape soon."
Successive Cervélo wins in Tuscany
Emma Pooley
Photo ©: Davide Tricarico

Cervélo TestTeam's women's squad proved they're out to match the men's winning tally with a double success in the GP Costa Etrusca over the weekend. Emma Pooley took the GP Comuni Rosignano Marittimo - Livorno on Friday, while Sarah Duester won the Giro dei comuni Montescudaio-Riparbella on Saturday.
Directeur sportif Manel Lacambra said of the second win for the team, "From the beginning we controlled the race because we didn't want any attacks. At 40km we attacked with Kirsten Wild because we wanted to spare our climbers for the big climbs at the end of the race. Kristen stayed away and got a maximum gap of three minutes and 40 seconds.
"She still had a 40-second gap two kilometres before the finish line but it was at this point that it became really hard and we we knew that she couldn't maintain the gap. We decided to attack with Sarah Düster – Sarah caught Kirsten and both tried to go to the finish line together, but Kirsten was too tired and Sarah broke for the finish alone and won the race solo."
Gutiérrez shoots for Castilla y León
Enrique Gutierrez (Rock Racing) will ride the Castilla y León TT
Photo ©: Emory Ball

Having ridden the Tour of California and Vuelta Mexico Telmex, Rock Racing's Quique Gutiérrez is looking forward to the team's European campaign. The American team will start the Vuelta a Castilla y León on Monday.
Gutiérrez finished tenth in Mexico. "I am really looking forward to the race in Spain, as I am on good form. I go with high expectations and want to fight for the overall victory," he said.
The former Spanish time trial champion has already made out where the race can be won. "The key will be the time trial on the second day." Gutiérrez has worked on his TT position and is confident he can deliver a good result.
He doesn't known the mountain stages, but it doesn't bother him. "The climbs aren't that hard and in the mountains in Mexico I felt really great."
Gutiérrez said his role in the team, "will be decided after the time trial. We have a good team with [Oscar] Sevilla and [David] Vitoria, although we don't know how [Francisco] Mancebo is after his crash."
There was another reason why Gutiérrez can't wait to get to the front of the peloton on Monday. "Finally we are being televised and the fans can follow us!"
Omloop beats the big guns in Groene Hart
By Bjorn Haake
Gert Omloop of the Palmans-Cras team surprised heavy favourites Graeme Brown (Rabobank) and Robert Förster (Milram) to win the sprint of a seven-man front group in the Ronde van het Groene Hart. Brown was a close second, with Aart Vierhouten (Vacansoleil) in third. Förster missed the podium, finishing fourth.
ProTour teams Milram and Rabobank, as well as Professional Continental outfit Vacansoleil had the numbers in the end, but couldn't prevent the upset from the lone Palmans rider. There were several attacks from Vacansoleil team inside the last 20km, the most promising coming from Aart Vierhouten.
But besides shelling Paul Martens (Rabobank) and Tom Stamsnijder (Rabobank), the attacks did little to the integrity of the remaining seven riders. They reached the final kilometre together, with Förster opening up the sprint early – too early, as it turned out. Milram's directeur sportif Ralf Grabsch was happy nonetheless. "We are on the right way. Everyone was very strong today, we used our initiative to bring about the decisive move."
Get the full report and results.
What's Hot On The Forum
Cyclingnews readers continue to embrace our new forum, and as expected, Mark Cavendish's win in Milano-Sanremo is just one of the topics being discussed as you read this. Have a look at what else is making waves within our readership with a few examples of comments below:
Cavendish
• I was very, very surprised by the way Cavendish rode today. And very impressed as well. I had not expected that at all. I believe it showed that he is a force to be reckoned with, even when the races come with hills and/or great distances. - Cosette
• Great maturity for such a young guy – the next Cipollini me thinks – I think the influence of Zabel really showed today – awesome. - 180mmCrank
• Look back at Haussler. He won the first stage of Paris Nice and then just made sure he didn't overdo himself concentrating on MSR. It was the same for Cav and even High Road were quoted as saying that Cav was in Italy last week to prepare for MSR and they weren't putting any pressure on him to perform. - Grater
Who are the best domestiques in the peloton?
• I would say Jens Voigt, Stuart O'Grady or George Hincapie are the most impressive domestiques these days. I am also impressed by the Caisse D'Epargne guys who seem to always be dragging Valverde back to the group he just got shelled out of (i.e., Arroyo, Xandio, Pasamontes etc). - bikenrunnwt
• Adam Hansen gets my vote. And Lance Armstrong of course... oops he ain't the domestique yet... - Tapeworm
• Jan Boven was always the domestique at Rabobank since 1996 till 2008... always keeping Boogerd, E.Dekker and such out of the wind as long as possible. - Dekker_Tifosi
• I'm going to go with Chris Horner. He generally has few chances to race for himself now in the big races unless he has to cover a break that successfully stays away to the finish. He's tactically sound, climbs well enough to have been Cadel Evans' lieutenant in the mountains in 2007 and is strong enough to be able to finish in the top 10. - Angliru
(All rights reserved/Copyright Future Publishing (Overseas) Limited 2009)