First Edition Cycling News, March 9, 2009
Edited by Peter Hymas
Contador: "I'm not the best time trialist in the world"
By Jean-François Quénet in Amilly
Alberto Contador (Astana)
Photo ©: AFP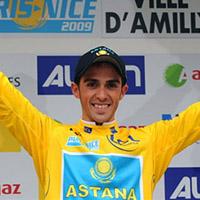 Alberto Contador had made it clear prior to the inaugural time trial of Paris-Nice that his intentions were only to limit the damage compared to the top specialists and he beat them all! "It's a big surprise for me to get the win today," he commented. "This was a flat time trial and it suited the specialists more than me."
Asked whether he's now the world's best time trialist, he was prompt to deny the claim. "No, for sure I'm not the best in the world." In fact, it would have been interesting to see what Lance Armstrong would have done here the same day under the rain.
"I don't have any message to send to Lance or anybody. I just go for my own calendar and I'm happy with the win I collected today."
Contador corrected some impressions that he had a new position for time trialing. "I haven't changed anything compared to last year." He will have to cope with the unexpected situation of being the race leader since he wanted to be quiet for the first few days. Being a one-week race with usually no big gaps between the contenders, Paris-Nice isn't an event where a rider easily gives the yellow jersey away.
"I don't think my position will change any aspect of the tactics of the team," Contador added. "I'll have to pay more attention, that's it. It's very good to have won. It gives me an advantage already and it's nice to carry the yellow jersey." He's in the exact opposite situation as two years ago when he never wore the yellow jersey but won Paris-Nice during the final stage.
Wiggins devastated, Millar ambitious for Paris-Nice top-three
By Jean-François Quénet in Amilly
Bradley Wiggins held the best time
Photo ©: AFP
Bradley Wiggins had believed so much in his ability to win the inaugural time trial of Paris-Nice that he was devastated after losing to Alberto Contador. He wasn't available for comments outside his team bus while David Millar was pretty satisfied with his fifth place. "It feels good and I'm happy. It was a surprisingly physical course but I felt in control the entire way," Millar said.
Coming up on
Cyclingnews will cover the 60th edition of the Dauphiné Libéré live as of stage 4 on Wednesday, June 10, at approximately 15:00 local Europe time (CEST)/ 23:00 Australian time (CDT)/ 9:00 (USA East).

WAP-enabled mobile devices: http://live.cyclingnews.com/wap/
As everybody, the Scot was "impressed" by Contador's ride. "You don't win three Grand Tours if you don't have something special," Millar noted, but that was to the disappointment of Wiggins and the Garmin-Slipstream team.
"Bradley has not brought reproach to himself," directeur sportif Lionel Marie explained. "He had seen the course before, he was very focused, he gave 100% and the road was equally wet for everybody. He rode over 60 km/h on the straight sections." Early in his time trial, Wiggins complained about the helicopter being too close to him and he directed the pilot to back away. "With a difference of seven seconds, the winner was clearly the strongest today," Marie said.
Garmin-Slipstream will remain focused on general classification as Millar didn't hide his ambitions. "I'm up for GC," he said. "I don't know much about the Montagne de Lure on Friday. I heard it's not so bad, but at 1600 meters high it can't be easy. I hope for a top-five finish in Nice but I'll try to be on the podium. I feel my climbing is very good at the moment. I've said that before and it didn't work out sometimes, but I'm relaxed now. I've had a good start of the year."
According to Millar, there are only two options for Contador to lose Paris-Nice: "crosswind or crash".
Martin shows the way for Renshaw and Monfort
By Jean-François Quénet in Amilly
Tony Martin has the white jersey
Photo ©: Jean-François Quénet

Finishing the inaugural time trial of Paris-Nice in fourth place ahead of the likes of David Millar, Joost Posthuma and Sylvain Chavanel, Tony Martin went on stage to collect the white jersey of best young rider. "I'm very happy with that, it's good for the team," the young German commented. "We're going to defend this jersey but I don't know about my climbing ability at the end of Paris-Nice because this is really my first big race of the year. We're only in March."
Martin stated Team Columbia-Highroad has other ambitions with Mark Renshaw in the sprints and Maxime Monfort for general classification. "This will be my first time being the team's sprinter with a lead-out, I almost never experienced it in French teams," said Renshaw, who previously rode for Française des Jeux and Crédit Agricole where he became a very good lead-out man himself at the service of Thor Hushovd.
Renshaw got picked by Columbia for the same job of opening the road for Mark Cavendish, something he did successfully twice at the Tour of California after finishing third himself in the first sprint because the Brit had lost contact with his wheel. Stages two and three are set to be for sprinters and not many of them have lined up in the "race to the sun", whose course and speed is known for being too demanding for those who prepare for the Classics. Renshaw has identified Mirco Lorenzetto, Heinrich Haussler, Gert Steegmans and Jurgen Roelandts as his main rivals for the sprints.
"I have ambitions for GC," Monfort confirmed. "I've made the top-10 before, in stage races like the Dauphiné or the Tour of the Basque Country and I'm also ready to take the risk of losing a good GC position if it results in winning a stage." Columbia's Belgian recruit has reconnoitered the crucial Friday and Saturday stages. "Yes, Paris-Nice is my first goal of the year."
From behind the barriers...
By Bobby Julich
Bobby Julich
Photo ©: AFP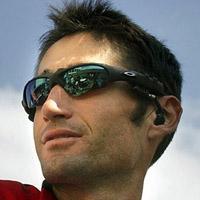 I've recently returned from the Tour of California where I got to witness this wonderful sport from a totally different perspective. As a rider, one tends to see the race and everything that goes on around it with blinders on, but as an ex-pro it was an incredible experience.
My journey to the race, as the rider development manager of Team Saxo Bank, started at our second team training camp in Agoura Hills, California. From the moment I arrived at the team hotel I was busy from dawn until dusk, taking care of things that I used to take for granted as a rider. A rider's day revolves around eating, training and sleeping, but this is not the case for the staff members of any team. There are new challenges that come up every day and when the riders are chilling in their beds recovering or relaxing, it is still "game on" for the staff.
I must admit that much of my workload was of my own doing. As a rider, I was always looking for the best material, techniques and equipment and I figured that since I now had the time and energy to make it happen, I better put my money where my mouth was. It was a lot of work learning how things operate and of course I made some mistakes, but I learned from every one of them.
California, here we come
The build-up was unprecedented and the tension was very noticeable. This was not only obvious from witnessing and hearing about how hard some riders prepared for the race, but also the fan support and media attention that rivals the biggest races in Europe. All the comebacks, drama and back-stories of this race seemed like it could not be scripted any better in Hollywood and the racing was amazing.
Fabian Cancellara won the prologue despite being under the weather
Photo ©: Jon Devich

The fireworks started at the prologue, and even though I was focused on my job preparing our riders for the event, I felt goose bumps as one big hitter after another filed past our team bus in search of the start line. As the best times continued to drop, our focus switched to Fabian Cancellara. A few days prior to the race Fabian was feeling under the weather and we were all hoping that he would come around on race day.
One hour before his start he was asleep in the back of the bus and not responding to our wishes for him to get on his bike. Less than 45 minutes before his start he stumbled out of the bus and got on the trainer. His face was pale and he pulled me aside and said, "I am feeling bad, but will try my best". This being my first race as part of the staff I felt like freaking out! I wanted to give him some inspirational speech, but all I could muster was a consolatory pat on the back. We gave him his space and just acted like we were not looking at him, but we all were.
Continue to complete feature article
New Zealand names track world championships team
Sergent won gold at the Beijing World Cup
Photo ©: Greg Chang

A 12-strong New Zealand team has been named for track cycling's biggest event of the season, the UCI World Championships in Pruszkow, Poland starting on March 25.
"Alison Shanks is a real strong contender for the individual pursuit for the women, as is Jesse Sergent in the men's. Additionally, both our men's and women's team pursuits will be right in the hunt I'm sure," said team coach Tim Carswell, in a press release.
"Hayden Godfrey is looking to defend his omnium title and the results that he had at the nationals in winning the scratch race, placing third in the points race and second in the kilo means he's right where he needs to be in terms of fitness and strength and power," continued Carswell.
Carswell was impressed with the performances of his riders at the RaboPlus New Zealand Championships in Invercargill with Alison Shanks, Jesse Sergent, Eddie Dawkins and the men's pursuit team all breaking New Zealand records. He is wary, however, of making too many predictions ahead of the world championships.
"Until we actually get there and see everyone that's racing we can't make any bold predictions, " Carswell said. "All the events will be keenly contested so we're not taking anything for granted at all. Certainly we'd hope with what we've done with our riders and the shape they're in they're going to be right in the thick of it."
Sergent and Shanks have already won World Cup gold this year with victories in Beijing in January, as did the women's pursuit team. The men's pursuit team will look to improve on the bronze they won at the Olympics last year.
The New Zealand team will train in Invercargill for the next week before heading to Poland.
New Zealand's team for the track world championships includes: Alison Shanks (ind. & team pursuit), Jamie Neilson(team pursuit), Kaytee Boyd (team pursuit), Lauren Ellis (team pursuit), Jesse Sergent (ind. & team pursuit), Marc Ryan (team pursuit), Pete Latham (team pursuit), Westley Gough (team pursuit), Sam Bewley (team pursuit), Hayden Godfrey (omnium), Eddie Dawkins (sprint) and Simon van Velthooven (sprint).
Ullrich to discuss doping in a book?
Jan Ullrich will answer the question "Did you dope?" in a book he wants to write, saying, "This question is not easy to answer." In an interview with the German tabloid BILD am Sonntag, he also indicated a possible doping usage when he rode, when he said, "Whoever still can't put one and one together about what happened in cycling is beyond my help."
Ullrich retired in February 2007, after being suspected of involvement with Dr. Eufemiano Fuentes. Blood taken during the Operacion Puerto was matched to him via DNA testing.
Ullrich's manager, Wolfgang Strohband, said not to look for the book any time soon. "I know that he has not yet started working on this book," he told the dpa press agency.
The 35-year-old German, who lives in Switzerland, said that he had been offered "millions" to confess, but that he wasn't interested. He agreed with the characterization of those who have confessed, such as Jörg Jaksche or Patrik Sinkewitz, as hypocrites, noting, "They only said what would help them." Jaksche disagreed with that, saying "What does it help me when I am now unemployed? At least I was honest about my past."
Paralympic stars to ride the Dragon
Simon Richardson, the Welshman who netted two gold medals at the Beijing Paralympics and shattered the world records in both the kilometer and 3km events, will tackle the 6th Dragon Ride Wales, a 125km or 185km sportive on June 14. "Make no mistake, it's going to be a tough, tough ride," said Richardson.
Joining Richardson on the road will be fellow Paralympic star Darren Kenny, who holds world records in a multiple events and recently set the Athlete's Hour Record on the boards in Denmark.
"Remember that cycling on one leg over 180km is a challenge in itself," said Kenny. "The final climb of the day from the Port Talbot side is very, very tough but I'm determined to enjoy it. I've cleared it with my coach and I'm ready for the challenge."
For more information, www.dragonride.co.uk.
(Additional editorial assistance provided by Susan Westemeyer.)
(All rights reserved/Copyright Future Publishing (Overseas) Limited 2009)