Latest Cycling News, June 11, 2009
Edited by Hedwig Kröner
Valverde motivated for Dauphiné victory
Alejandro Valverde (Caisse d'Epargne) wants to defend his Dauphiné title
Photo ©: Roberto Bettini

Alejandro Valverde has not yet responded to the controversy surrounding his Tour de France participation and a possible world-wide ban (scroll down), but instead chose to communicate on sports matters only. Currently racing the Dauphiné Libéré together with Cadel Evans (Silence-Lotto) and fellow Spaniard Alberto Contador (Astana), the defending champion of the event has said he would "give his all to try and win the overall" once again.
In Wednesday's time trial, Valverde finished in 12th place behind the winner Bert Grabsch of Team Columbia-Highroad. Still, he lost only 1.31 minutes to Evans and 54 seconds to Contador, and now sits 1.54 minutes behind the Australian race leader on general classification.
"Considering the kind of time trial it was, completely different from the one I won last year, I think I got a good result," said Valverde after completing the 42km-course in Valence, the races's fourth stage. "The course was made for real specialists, with long straight roads and a lot of wind. So [after seeing my result] I was really satisfied.
"I sincerely thought that I would lose more time and also that Alberto [Contador], who started two minutes behind me, would overtake me. That's the reason why I was looking behind all the time, but my director shouted at me to look ahead and that my intermediate times were very good. From then on I was more confident. This result gives me extra motivation for the following stages."
Coming up on
Cyclingnews will cover the 60th edition of the Dauphiné Libéré live as of stage 4 on Wednesday, June 10, at approximately 15:00 local Europe time (CEST)/ 23:00 Australian time (CDT)/ 9:00 (USA East).

WAP-enabled mobile devices: http://live.cyclingnews.com/wap/

The Caisse d'Epargne team captain will need the confidence, as Thursday's stage up the famous Mont Ventoux in the South of France is a particularly long and hard climb. Moreover, Valverde's memories of the 'bald giant' of Provence are not very good. "I had a very bad experience in that climb two years ago when I lost more than 42 minutes," continued the Spaniard. "In that respect, it's impossible to do worse this time!"

Still, Valverde will "give it all to try and win the race. In fact, the time trial did not change anything in the classification and the three big favourites, Evans, Contador and myself, are still the same. The next stages should be in my favour and I hope I will be able to hope the same I did last year."
Christian Vande Velde: Coming back stronger
By Daniel Benson
It hasn't been all bad for Christian Vande Velde
Photo ©: Sirotti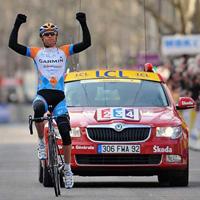 Garmin-Slipstream's Christian Vande Velde sustained one of the worst crashes of his career at this year's Giro d'Italia and effectively threw his Tour de France challenge into severe jeopardy. Just a few weeks on from the crash Cyclingnews caught up with Vande Velde to talk about the Tour and his recovery.
CN: Let's get something out of the way before we talk about the Tour de France. Last year you said that the pendulum was swinging and that the Tour was becoming cleaner and that the speed of the race was a good indication of that change. With the recent comments from Bernhard Kohl...
CVV: Laughs...
CN: Does that belief still hold water? Is the sport moving in the right direction?
CVV: Yes, I think things are moving in the right direction. I really think that. Maybe I'm naive for saying it but the only thing I can talk about is myself and that I got top five in the Tour and that I did it being clean and that I wasn't so far off the podium.
How can I say that people in front of me are doing anything when I'm really not that far away from them? You have to remember that I made mistakes at the Tour and could have finished closer, so there's no way I'd point fingers at those around me.
Read the whole interview with Christian Vande Velde.
Kohl denies L'Equipe statements, will sue
Bernhard Kohl on the Tour podium: a stolen honour
Photo ©: Roberto Bettini

Bernhard Kohl has claimed that he did not make statements attributed to him in L'Equipe this week, alleging that other riders doped at the 2008 Tour de France. Now, the former pro cyclist plans to sue the French newspaper.
According to the APAnews agency, Kohl specifically denied two quotes from the interview with the French newspaper which appeared earlier this week. He explained that he did not say that "The top ten of the Tour de France could have tested positive", or that "Oddly enough, we were the only three to fall. Many more riders had taken it."
These statements either implicated that the test for third-generation EPO, CERA, was not very effective, or that the French Anti-Doping Agency (AFLD), which was in charge of the testing at last year's Tour, did not reveal all of the positive tests.
The Austrian, who has announced his retirement after being given a two-year suspension for using CERA at the Tour, meanwhile noted that he "most certainly" said that he thought it was "very difficult to imagine" how anyone could bring in a top performance at the Tour "without doping."
In his press communiqué, Kohl added: "Just look at the Tour de France. For three weeks, we race with an average speed of 40 km/h, climbing mountains which add up to five times the Mount Everest." He meanwhile claimed to have said this already at his press conference on May 25, when he announced his retirement.
Riders revolted
The statements printed in L'Equipe revolted many riders and teams in the peloton, most of all the French ones who already decided to sue Kohl for defamation. AG2R La Mondiale team doctor Eric Bouvat was angry that Kohl allegedly accused many other riders of doping.
"In doping himself, he out a terrible pressure on clean riders, who represent 95 percent of the peloton," Bouvat told L'Equipe on Wednesday. "For a 100 days in a years, he made the races difficult for them, stole the victories from them and made a lot of money. And now, he tries to manipulate people! If he started doping aged 19, it means that he didn't have the level to become a professional and that he wanted to succeed using all possible means."
David Millar of Team Garmin-Slipstream echoed these sentiments. "If he doesn't want to come back to the sport like I have done, it's because he is nothing without doping," the Scotsman said. "You have to be a real a...hole to cover the new generation in dirt, saying it's not clean! The older generations deserve to be criticised, but not the new one which works hard and has a lot of talent - contrary to Kohl."
Bouvat also added that he was certain the AFLD would never dissimulate any positive test results. "I have an expert's post at the AFLD, whose goal it is to call attention to their results in order to prove its efficiency, not to hide them!" he fumed.
Merckx designates Contador as Tour favourite
Eddy Merckx detailed his view on the overall favourites for the next Tour de France
Photo ©: AFP

The Tour de France now being no more than three weeks away, the greatest Belgian cyclist and five-time Tour de France winner Eddy Merckx has given his opinion on the overall contenders for the race. Speaking to French newspaper La Voix des Sports, the man nick-named "Cannibal" during his time had trouble pinpointing any particular rider as his personal favourite, but still designated Alberto Contador as the most likely to win.
"It's difficult to come up with one single favourite," said Merckx. "We've had a very beautiful first part of the season. The Giro d'Italia was particularly indecisive. Menchov was very strong, but I think that Contador still remains the big favourite. He's the best rider on a three-week race.
"We expected a lot of Leipheimer on the Giro, but he was a bit deceiving during the final part of the race. It's a very special race..." continued Merckx, adding his opinion on Lance Armstrong's performances at the Giro.
"Armstrong? We saw that it was difficult for him. He came to the Giro wanting to make the most of it. I think he did well. He even gave the impression that he progressed as the race unfolded on the climbs. We'll see how he will recover now. But he is very motivated for the Tour."
UCI may extend Valverde ban
The International Cycling Union (UCI) indicated on Wednesday that it may enforce a two-year ban on Alejandro Valverde for alleged doping offences. The UCI is currently awaiting delivery of evidence from Italian Olympic Committee (CONI) authorities, who have already banned Valverde from racing in Italy for two years.
"We are still waiting on the reasoning of the CONI board. They told us we would have it within 30 days, and the final day would be tomorrow [Thursday]," said Pat McQuaid, president of the UCI. Speaking in Paris, McQuaid explained that, should the evidence be delivered, the sports governing body would consider CONI's report before deciding whether or not to ban Valverde from all cycling competition.
"Our lawyer will study the documents and if it has been done according to our, and the World Anti Doping Agency's rules then we may globalise the sanction of Alejandro Valverde," said McQuaid.
On Thursday, French newspaper L'Equipe reported that the documents had been sent to the UCI as well as to the lawyers of the Spanish rider on Wednesday.
The CONI report identified blood samples taken from Valverde at last year's Tour de France as matching those from the 2006 Operación Puerto blood doping investigation. With the 2009 Tour de France passing through Italy on stage 16, the ban has effectively ruled the Spaniard out of the French race.
On Wednesday, Tour de France director Christian Prudhomme confirmed that unless he was cleared of all suspicion, Valverde would be unwelcome at next months race. (RT)
Chavanel to Switzerland
Sylvain Chavanel will head to this weeks Tour de Suisse in order to fine tune his form ahead of next months Tour de France.
The Frenchman will lead the Quickstep team when the Swiss race begins on Saturday. He will be supported by teammates Carlos Barredo, Dominique Cornu, Steven De Jongh, Branislau Samoilau, Hubert Schwab, Matteo Tosatto and Wouter Weylandt.
By racing in Switzerland, Chavanel will be hoping to emulate the form that saw him claim a stage win in Montluçon at last year's Tour de France.
Chavanel has already shown good form this year. He finished second overall in February's Volta ao Algarve in Portugal, before a strong showing at Paris-Nice where he finished third overall, winning a stage and also collecting the points jersey. (RT)
Lapthorne's Canadian win spearheads global Australian charge
By Greg Johnson
Darren Lapthorne after helping his teammate Simon Richardson to victory in the FBD Insurance Rás
Photo ©: Stephen McMahon

Darren Lapthorne (Rapha Condor) has claimed his first victory since returning to the sport at Canada's Tour de Beauce, topping a strong day on Wednesday for Australian riders around the globe. Lapthorne's victory came just hours after Savings & Loans' Tim Roe claimed a solo stage victory at Asia's Tour de Korea.
Lapthorne's stage two victory in Beauce was the Victorian's first at an International Cycling Union-ranked event since returning at January's Jayco Bay Series.
Lapthorne, a former Australian Open Road Champion, had considered leaving the sport permanently after putting his career on hold to join father Dale in searching for sister Britt in Croatia after she went missing last September. Britt's body was later recovered floating off the Croatian coast, but mystery continues to surround the circumstances of her death.
While Rapha Condor has its sights set on winning the Canadian race, Roe's outfit is hopeful of a similar outcome in Korea. Roe's team-mate David Pell sits in fourth place overall, 23 seconds behind Ho Ting Kwok.
"Our plan will be to have a serious throw at winning the Tour de Korea overall," said Savings & Loans' sports director Pat Jonker. "With several ex-Tour de France riders in the peloton it will be tough, but not impossible."
Australian sprinter Rochelle Gilmore also flew the women's flag on Wednesday, taking another second place finish on a Tour de Prince Edward Island stage. Compatriot Bridie O'Donnell (Australian National Team) narrowly lost the race's lead, now sitting four seconds behind Tara Whitten (Atlantic Cycling Center).
Meanwhile, Queensland native Kirsty Broun joined her compatriots, taking victory in the elite women division of the Downtown Saint Paul Criterium in Minnesota. Riding for US domestic team Riverstone CDA, Broun beat home New Zealander Joanne Kiesanowski (Team TIBCO) and Gina Grain (Webcor Builders).
(All rights reserved/Copyright Future Publishing (Overseas) Limited 2009)