Latest Cycling News, June 9, 2009
Edited by Hedwig Kröner
Kohl tells all about doping
Bernhard Kohl (Gerolsteiner) wearing the polka dot mountains jersey at the 2008 Tour de France
Photo ©: Roberto Bettini
Former Gerolsteiner rider and Tour de France podium finisher Bernhard Kohl is now an open book on doping practices in the peloton after he was caught for blood booster EPO-CERA in August last year and recently announced his retirement from the sport. In an exclusive interview with L'Equipe, the Austrian detailed how he "prepared" himself for last year's Tour and received blood transfusions from his manager during the event.
As he had already confessed earlier, Kohl had two litres of his own blood available for re-injection at the Tour, of which he used 1.5 litres. "Nothing else," he said. "Too many surprise controls. No testosterone patch, nothing, except caffeine, pseudo-ephedrine and some analgesics. EPO, growth hormone, insulin - I took that before [the Tour], not during the race."
The blood transfusions took place in the evenings at the team hotels. Kohl's manager, Stefan Matschiner, flew to France three times during the Tour to meet the cyclist and provide him with a pouch of 0.5 litres of blood. "He sent me an SMS: 'You can come to my room'. I disappeared for 20 minutes, nothing more. Nobody noticed anything," Kohl stated.
The rider continued by saying that the anti-doping controls taking place at 7AM on the mountain stages could be outsmarted. "By re-injecting half a litre of blood, the blood parameters are not subject to suspect variation. My manager also injected me with albumin to dilute my hematocrit. Moreover, I always practiced the transfusions 48 hours before the decisive stages: you're not at the top on the next day, you have to wait two days for the effects to be felt."
The International Cycling Union 's (UCI) biological passport failed prevent Kohl from practicing blood doping on a regular basis during his career, he said. "The top riders are so professional in their doping that they know very well they have to keep their blood values stable not to be detected. The UCI sent us the values resulting from the controls: we thus referred to those to mark the next ones. In a way, the passport almost helped us."
As to his positive control for third-generation EPO, CERA, Kohl did not know why it was him who tested positive - along with teammate Stefan Schumacher and Riccardo Riccò - and not other Tour de France riders.
Coming up on
Cyclingnews will cover the 60th edition of the Dauphiné Libéré live as of stage 4 on Wednesday, June 10, at approximately 15:00 local Europe time (CEST)/ 23:00 Australian time (CDT)/ 9:00 (USA East).

WAP-enabled mobile devices: http://live.cyclingnews.com/wap/

"Everybody in the cycling scene was convinced that this EPO was not detectable. Many more riders had taken it. Oddly enough, we were only three to fall. I am convinced that the top ten could have been positive," the Austrian said. "It just happened to be me, tough luck. I didn't ask for a counter-analysis: this masquerade was over."

Kohl also pointed at the omertà within the peloton, giving the impression that everybody knows about doping. "I did not cheat anyone in the peloton, be sure of that. When I was a young rider and did not win anything, I didn't take the costly products because I didn't have the money. I knew what the 'big ones' took, but that's just how it was. There is like a social organisation within the peloton, these things are accepted. The guys appreciate and respect the efforts of others without taking doping into account."

The young Austrian became a 'big one' and could afford top level performance-enhancing products and methods like CERA and autologous blood transfusion. After admitting to doping, Kohl is now collaborating with Austrian police and anti-doping authorities, and wants to do the same on an international level with the UCI and World Anti-Doping Agency (WADA). He does not think of a comeback.

"I know the rules in the scene: those who really speak out do not come back. Therefore, I move on to something else, without regrets."
Cycling union tight-lipped on press conference
By Shane Stokes
Pat McQuaid will hold a press conference on Wednesday in Paris
Photo ©: Sirotti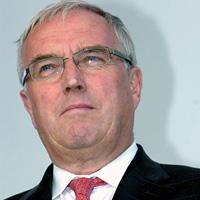 Questioned as to whether any announcements about the biological passport would be made at tomorrow's press conference in Paris, the International Cycling Union (UCI) has remained tight-lipped.
"We will talk about our collaboration with the AFLD [French anti-doping agency ] for the Tour de France," UCI President Pat McQuaid told Cyclingnews. The Irishman refused to comment as to whether or not results from the biological passport would be disclosed.
What is certain to be discussed is the anti-doping programme for the Tour, as it is the official purpose of the conference. Last year, the French anti-doping agency AFLD was responsible for testing and caught several riders, including stage winners Riccardo Riccò and Stefan Schumacher, plus the mountains classification victor and third-placed finisher Bernhard Kohl.
The two bodies announced in March that they would work together for this year's Tour. "The AFLD did an excellent job in those controls," stated McQuaid at the time. "Some riders tested positive and that's a success. It's important that the cheats get caught."
Whether or not the biological passport is on the schedule, it's likely to be brought up by the media following Kohl's comments to L'Equipe (see above).
The cycling union announced the passport programme in late 2007 and test results began to be analysed shortly after that point. There has been a considerable wait for results, something that is attributed to the necessity to have watertight cases as it is the first time such an anti-doping protocol has been used by a sporting governing body.
Rather than pinpointing one positive result, as has been the case with previous anti-doping tests, the biological passport seeks to build a profile from which suspicious deviations can be made apparent.
Hesjedal back for Suisse and Tour
By Gregor Brown
Ryder Hesjedal (Garmin-Slipstream)
Photo ©: Sirotti

Ryder Hesjedal is ready to face his first race in Europe since April. Team Garmin's Canadian will line up in the Tour de Suisse stage race with Christian Vande Velde Saturday as a launch pad for the Tour de France.
"I started my season at the Tour Down Under and raced through until Liège-Bastogne-Liège. It was a decision to give me a break and recoup for the Tour," Hesjedal told Cyclingnews.
Team Garmin decided to leave Hesjedal off the Giro d'Italia team to have him prepare for the Tour de France, July 4 to 26. The selection was unexpected since he rode the Giro d'Italia prior to the Tour de France in 2008.
"Once the decision was made it made sense not to be in Europe and get back to where my family and friends are. I went back home to Canada and Hawaii for a couple of weeks in both places. It was a good break mentally.
"I was in Canada three days after I knew I was not racing the Giro. In that first week, I did not touch my bike. I started back with one day easy and one day off, and then I went to Maui [Hawaii] for a big block [of training]."
The training now continues for Hesjedal at the team's European base in Girona, Spain. He rides with Christian Vande Velde, who had to give up his classification aspirations in the Giro after a crash forced his withdrawal in the first week. The two will use Switzerland's nine-day Tour de Suisse as their final race prior to the Tour de France.
"I never have done it before; I usually ride the Dauphiné Libéré. Suisse will be a good platform for the Tour, but I am not just there for training."
The Tour de Suisse starts with a 7.8-kilometre time trial in Ruggell this Saturday. There are three mountaintop finishes and a 39-kilometre time trial on the final day in Berne.
Katusha anti-doping clause: McEwen clarifies
Robbie McEwen (Team Katusha) before his crash at the Scheldeprijs
Photo ©: Tom De Meyer
After earlier reports of Team Katusha's new anti-doping contract clause being refused by Robbie McEwen and two other teammates, the Australian has issued a clarification statement.
"I am not against an addendum to my contract with Katusha in relation to anti-doping as such," said McEwen on his website, adding that he was merely examining the new clause under legal aspects before wanting to sign them.
The addendum states that riders will have to pay a fine of five times their annual salary in the event of a sanction given for doping offenses.
"I have been legally advised that the terms of the addendum to the contract are not judicially correct as well as being too vague and broad in their definition of what constitutes a breach, as there is no reference to existing official anti-doping guidelines."
"I fully support the principles behind the anti-doping stance of my team and when the issues concerning the details of the addendum are clarified, I will add my weight to the Katusha Team campaign."
He also stated that contrary to what had been reported, a number of other riders of his team had not yet signed the new contract clause. "Andrei Tchmil claims that except for [Gert] Steegmans, McEwen and [Kenny] De Haes everyone else has signed which is actually not true," he said. "A number of other riders have not signed the annex including Toni Colom and Joan Horrach."
McEwen is currently healing a knee injury, hoping to come back to racing in the second half of the season.
Cavendish confirmed for British national champs
Mark Cavendish (Team Columbia - Highroad) has confirmed his participation at the UK national champs later this month
Photo ©: Gregor Brown

Mark Cavendish, who shot to fame last year when he became the first Briton to win four stages of the Tour de France, has confirmed he will ride in this month's National Road Race Championships in Abergavenny.
The Columbia-Highroad star completes the best field ever assembled for the coveted British jersey, with Olympic gold, silver and bronze medallists, Tour de France winners and former national champions set to line up alongside him on the start line.
The race takes place on a challenging 160km course around the roads of Monmouthshire on Sunday, June 28.
Cavendish, 23, has had a great start to the year, winning the prestigious Milan-Sanremo race and two stages of last month's Giro d'Italia.
But he faces some stiff competition in Abergavenny, including Olympic gold medallists Geraint Thomas – a long-time friend of the Manx man and hoping to win the Nationals for the first time on home soil – and Bradley Wiggins.
Also riding are Tour de France stage winner David Millar, who won the National Championships in Abergavenny in 2007, Sydney Olympics bronze medalist and defending British champion Rob Hayles, and Athens Olympics bronze medalist Chris Newton.
Double former national champ Roger Hammond, winner in Newport in 2003 and 2004, plus the man who succeeded him in 2005, Sheffield's Russell Downing, who also swept all before him last summer on the domestic road scene, are also on the starting list.
Cardiff-born Thomas, 23, who won the team pursuit in Beijing last August, said: "People like Cavendish, Wiggins and Millar will be super-motivated, and you have the GB academy as well. So I think it will just be a super-hard and fantastic race."
Olympic and world champion Nicole Cooke will defend her women's national crown the day before, and the junior championships are being staged on the same weekend for the first time,
Abergavenny Festival of Cycling organiser Bill Owen said: "These are, without doubt, the best fields ever assembled for the National Championships. The men's race is wide open and I really don't know who's going to win it. To have Mark Cavendish entering just completes a sensational line-up. The course has numerous different elements which will test riders across the board so there is no obvious favourite."
For further information about the 2009 Abergavenny Festival of Cycling, which includes the two-day Iron Mountain Sportif on 20-21 June, the Get Connected! Welsh Open Criterium on 26 June and all three National Championships, visit www.abergavennyfestivalofcycling.co.uk.
Kelly Benefit Strategies to Portugal
The American Kelly Benefit Strategies team is heading to Portugal this week. Just days after competing in the Philadelphia International Cycling Championships, the team's performance manager Ken Mills has left with a five-man squad for the GP Internacional CTT Correios de Portugal, June 11 to 14.
"The GP Internacional CTT Correios is one of Portugal's major stage races," said Mills. "To be invited to this year's race is a major honour for our programme and for us goes hand in hand with our team's vision of growing our European race calendar more each season."
Andrew Bajadali, Dan Bowman, Jake Keough, Jonny Sundt and Cheyne Hoag are the riders that will compete in Portugal as of this weekend.
"The competition in Portugal is going to be tough, but our athletes have proven time and again that they can compete with the top riders. I was based in Portugal in the late 90's so I know how hard these races are."
Another part of the squad will be racing the Canada's Tour de Beauce.
Already in the 2009 racing season, the Kelly Benefit Strategies team has raced in Thailand and Uruguay, both of which they won. There are plans to compete in a further three countries before the season concludes.
"We are continuing to expand our international schedule," said performance director Jonas Carney. "Before the end of this year we will also do UCI stage races in France, Spain, Canada, and Mexico."
South African junior wins in Switzerland
Christopher Jennings, the reigning South African junior champion, secured a historic result on Sunday when he became the first South African junior male to win a top-graded UCI race in Europe. The young rider from DCM Chrome/ACI, who is representing his country in the International Cycling Union Nations Cup series, won the final stage of the Tour de Pays de Vaud in Switzerland.
"I cannot describe the feeling of having won a European race," said Jennings. "It is just amazing! I am so relieved that I have managed to do it, but I cannot take all the credit for this victory."
After spending the day in a breakaway, Jennings attacked on the final climb and took the victory solo in front of Eduard Michael Grosu (Romania) and Jesper Kousgaard (Denmark), both 33 seconds behind Jennings.
"I am very grateful to my teammate, Johann van Zyl, who did everything in his power to help me set up the victory."
Van Zyl was in charge of driving the pace in the breakaway for Jennings to attack out of it on the last ascent. The two were together in an early escape. "Johann and Christopher managed to get away in a group with seven other riders," said ACI team manager Barry Austin. "Unfortunately, the riders had to ride into a headwind over the last 30 kilometres, which caused the peloton to catch up rapidly again.
"Before the final climb Christopher and the other riders still had a lead of 33 seconds."
Jennings then attacked, and kept his cool until the end. "During the last three kilometres I noticed that the Danish rider and a rider from the USA looked at each other and hesitated. I took advantage of that moment," said Jennings.
The Tour de Vaud overall classification was won by USA's Nathan Brown. Jennings finished an overall eighth.
Previous News Next News
(All rights reserved/Copyright Future Publishing (Overseas) Limited 2009)