Latest Cycling News, January 26, 2009
Edited by Gregor Brown
Basso's future looking bright
By Kirsten Robbins in San Luis, Argentina
Ivan Basso (Liquigas) at the Tour de San Luis
Photo ©: Roberto Bettini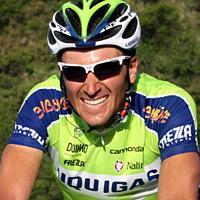 Ivan Basso, winner of the 2006 Giro d'Italia, completed his first test of the 2009 season at the Tour of San Luis on Sunday. The Italian returned to the peloton following a two-year suspension for his involvement in the Operación Puerto investigation. According to Basso, his fifth place in the overall was a great performance to restart his career.
"My future is looking good," Basso told Cyclingnews. "I think we came out of this race better than when we came in. I went as I expected - not good and not bad. For me it was important to get some feeling in the group. After not being in the races for so long, I had to work on my technical skills and speed on the descents, and things like that."
Basso will take a short recovery period following the Tour de San Luis and mark the end of phase one of his training preparations for the Giro d'Italia, May 9 to 31. His aim is to improve for phase two at the Tour of California, held in mid-February. He will step into the third and last training phase in March at the Tirreno-Adriatico. March 11 to 17.
"It was a good time trial and it was good for me to ride in the front group on the climbs," Basso said. "The answer that I wanted from this race was to be good in the time trial and good in the climbs. I think I will arrive to California in better condition, but not to make it in the overall. It is still February and we have a lot of riders ready to win the overall."
(For more on Basso read his diary, Racing in Argentina.)
Crespi aims for bright Fuji future
By Gregor Brown
Team Fuji-Servetto at the Tour de San Luis in Argentina
Photo ©: Roberto Bettini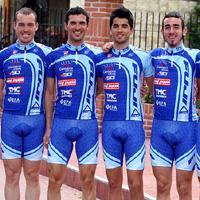 Alvaro Crespi aims to steer Fuji-Servetto in the right direction for the 2009 season. The Italian is the newly appointed team manager of the Spain-based team – known in 2008 as Saunier Duval.
"Our first objective is to race. We have had some issues with the Tour de France organisation and we have to see what Gazzetta [RCS Sport] decides to do," said Crespi to Cyclingnews. The race organisers may not invite the Fuji team due to its ties with the 2008 Saunier Duval team.
Crespi is returning today from Australia where he led his team at the ProTour-level Tour Down Under, but back in Europe he may have problems entering Amaury Sport Organisation or RCS Sport's races (namely the Paris-Nice, Tirreno-Adriatico, Milano-Sanremo, Paris-Roubaix, Liège-Bastogne-Liège, Giro d'Italia and the Tour de France).
The team faced its share of scandals in 2008. Two of its riders – Riccardo Riccò and Leonardo Piepoli – forced the entire team to leave the Tour de France after testing positive for blood booster Erythropoietin (EPO). The controls resulted in suspensions for the riders and lose of sponsors for the team run by Mauro Gianetti and Joxean Fernández Matxin.
"Mauro is still the administrator of the organisation and fifty-percent owner [Matxin the other 50% - ed.]. He has pulled back completely from managing the team; he spends his time only on the sponsorship and the administration the society."
Crespi is modest when it comes to naming objectives because he still needs to confirm the team can race in upcoming races like Paris-Nice, March 8 to 15, and Tirreno-Adriatico, March 11 to 17. Despite a recent meeting with UCI ProTour's Alain Rumpf he is not convinced of the team's right to enter the races.
"Rights? If the Tour leaves us out what do we do? Rumph explained that we could fight any possible decision."
The team will meet from February 2 to 7 in Castagneto Carducci, Italy, for its first team camp. After a team presentation organised by Paolo Bettini in Cecina, it will open its European season with the GP Etruschi on February 7.
"We are not as bad off as many will say. Look at [Juan José] Cobo, last year he was going strong. I believe that he did not do what the others [Riccò and Piepoli] did or he would be in the same position as them now. I am also looking towards the growth of Eros Capecchi – he is young and has a lot of potential."
The Spain-based team mainly consists riders from the Iberian Peninsula. In addition, the team of 24 riders has five Italians, two Australians – Will Walker and Hilton Clarke – two Swedes, a Russian and a Cuban – Ivan Dominguez.
Piepoli receives two-year ban
Leonardo Piepoli, 37, racing in the 2008 Giro d'Italia
Photo ©: Roberto Bettini

Leonardo Piepoli received a two-year suspension this morning by Italy's anti-doping tribunal in Rome. The Italian from Puglia, who failed a blood test for blood booster Erythropoietin (EPO) at the 2008 Tour de France, faces the end of his sporting career.
The suspension period starts today, January 26, and ends January 25, 2011.
The French anti-doping agency (AFLD) found Piepoli, 37, positive for the third generation Erythropoietin – CERA – from tests conducted on July 4 and 15. He won stage 10 to Hautacam, July 14, before the announcement of his positive doping control.
The team withdrew from the Tour de France on July 17 after the French agency reported Riccardo Riccò positive for CERA.
Piepoli met with Italian Olympic Committee (CONI) prosecutor Ettore Torri on December 18. Torri requested a two-year suspension shortly after the meeting.
The rider is one of five recent cases for CERA. Along with Riccò, Stefan Schumacher, Bernhard Kohl and Emanuele Sella also tested positive for the blood booster.
Lucero's biggest career victory
By Kirsten Robbins in San Luis Argentina
Alfredo Lucero (Team Argentina) at the Tour de San Luis
Photo ©: Roberto Bettini

There was a flurry of emotions upon the completion of the Tour of San Luis when thousands of fans came to watch Alfredo 'El Flaco' Lucero crowned as the winner of the 'biggest race in Argentina.' According to Lucero, a San Luis native, this marked the biggest victory in his career.
"I want to dedicate this to my family and the people of San Luis, who supported to me during this race," Lucero said. "It is an incredible dreamed. The guys in the Argentinean national team did an enormous amount of work so that I could win and that is something that I am never going to forget."
Lucero finished 52 seconds ahead of his teammate Jorge Giacinti and more than one minute ahead of Colombian José Serpa (Diquigiovanni). He took the leader's jersey after the stage three time trial and maintained his lead through to the seventh and final stage.
His team showed relentless support at the front of the peloton, holding the field together for the finish of each stage. "I counted on the aid of my teammate Giacinti," said Lucero. "The key was to go day to day and not to lose hope."
Lloyd and Fleeman looking forward to challenge
By Shane Stokes
Daniel Lloyd at the Cervélo Test Team training camp
Photo ©: Shane Stokes

Dan Lloyd and Dan Fleeman have both moved to the Cervélo Test Team after a season competing with the An Post M. Donnelly Grant Thornton Sean Kelly squad. It's a big jump up for the Britons, going from a Continental team to racing alongside the likes of Tour de France champion Carlos Sastre and former green jersey Thor Hushovd. Still, as they told Cyclingnews at the recent team launch in Portugal, they are looking forward to the challenge.
"I am excited to be in it, to be part of something very new and innovative," said Lloyd. "I have done a lot of big races, but this is going to be a step up."
Fleeman is also very positive about the move. "It is really good, everybody is super friendly," he said. "There are no big egos; nobody puts themselves above anybody else. Carlos Sastre is just another guy on a bike, basically. There is no pecking order at all, it's really comfortable."
Lloyd has gathered some good results so far in his career, including second overall in the 2007 Tour of Qinghai Lake and a silver medal that year in the British road race championships behind David Millar. Now with a big team, the 28-year-old feels ready to push himself a little further.
The Cervélo Test Team
Photo ©: Shane Stokes

"I would like to do a Grand Tour," he said. "The Vuelta or the Giro is more likely for this season, given that I haven't ridden a Grand Tour before. I hope to get to do one of those races this year and, if so, I will be in peak form for that. The aim would be to ride for the team, but I'd love to have one day of my own.
"The nationals are a big objective as well. I finished second behind David Millar in 2007 and was fourth last year. I was a bit disappointed at the end of that race; it's definitely something that I'd like to win. This year should see us having one of the strongest teams for that – there will be myself, Jeremy Hunt, Roger Hammond and Dan Fleeman. Two of those guys have won it twice each, so it's a very experienced squad."
Fleeman is 26 years old and a former British Under 23 champion. He won the Tour des Pyrénées last season, was seventh in the Tour of Britain and 13th in the Tour of Ireland. He also has certain ambitions laid out.
"What's good about this team is that I won't have to come in and just work [for others] the whole time," he said. "The goal is that I want to win short stage races; this year I was top ten in races like the Tour of Britain and just outside that in the Tour of Ireland. There is no reason at all why I can't win that level of race.
"On the other hand, I also want to ride a Grand Tour and support Carlos in the mountains. I'm pencilled in for the Giro [d'Italia] so we'll see how it goes."
He said that he has been working hard to get ready for what he hopes is a breakthrough season. Coached by Hunter Allen of Training Peaks.com, he has focused on intensity and also taken up core training for the first time. "Hunter has been giving me a specific programme. I have even been doing weight training and core stability work... It is the first time in my life that I have ever been to a gym so it is something new.
Konyshev: Steegmans stronger than Boonen
Gert Steegmans in Moscow for the Katusha presentation
Photo ©: Roberto Bettini

Gert Steegmans "is stronger than Tom Boonen," said Dmitri Konyshev. The directeur sportif of the new Russian team Katusha is ready to pit his rider against the two-time winner of the Paris-Roubaix.
Konyshev said that if the Belgian works hard then he ought to be able to "win every race he wants to win," according to Sporza.be.
"But we still must work with Steegmans," Konyshev said. "Steegmans is not a child any more, but in his head he sometimes seems 17 or 18 years old."
The Belgian sprinter, who is in fact 28 years old, said, "I think he means I sometimes give up too easily." This season he does not want to "ride the whole season. I am aiming for a semi-Classic and want to do well in the Tour."
Steegmans turned professional with Lotto in 2003, and rode for Quick Step at the side of Boonen in 2007 and 2008. Last year, he won the closing stage of the Tour de France on the Champs-Élysées in Paris, as well as the first two stages of Paris-Nice. (SW)
Zabel's last pro race
Erik Zabel's doesn't really know what to expect in his last race as a professional cyclist. The German, known for multiple wins in the Tour de France and four wins in the Milano-Sanremo, will race the final day of the Berlin Six Day tomorrow.
"Actually, I should celebrate. But I don't know if I will feel like it. After all, it is the end of a very important phase in my life," Zabel, 38, said to the Berliner Morgenpost.
The Berlin Six Day race is the last act in Zabel's 16-year career. He confirmed there will be no comeback, "I can't imagine" coming back to ride his favourite race Milano-Sanremo again.
He revealed he is proud of being number one on the world ranking for 107 weeks. "I invested a lot in that goal. It was super."
While the German can't envision himself coming back, he said that Lance Armstrong's return to racing is "very interesting. For the insiders, as well as for the fans."
As an example of the fan interest aroused by the American, Zabel said that one of his neighbours recently told him that if Armstrong rides, he would watch it on television. "I can't say anything more. That says it all."
Zabel hoped to finish off his career with a win, and in fact him and partner Robert Bartko led after the third day. However, an intestinal infection struck him and the duo fell back to fifth position, one round down on Sunday. Zabel refused to take the day off, "I just don't want to disappoint the fans." (SW)
Contentpolis-Ampo is ready
By Antonio J. Salmerón
Team Contentpolis-Ampo presented
Photo ©: Antonio J. Salmerón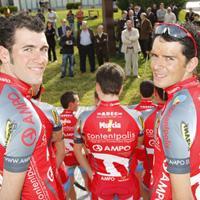 Contentpolis-Ampo presented its Spanish Professional Continental team yesterday in Murcia at the Casón de La Vega restaurant, with the presence of the team's sponsors and local sports officials.
The renewed Contentpolis-Ampo team has 19 riders: Javier Benítez, Francisco Pacheco, Mikel Gaztañaga, Dioni Galparsoro, Aitor Pérez, Manuel Váquez, Adrián Palomares, Claudio Casas, Julián Sánchez, Oscar García-Casarrubios, Eloy Teruel, Oleg Chuzhda, José Herrada, Rafael Serrano, Javier Etxarri, Sergio Domínguez and Rubén Reig, and neo-professionals Gorka Izaguirre and Pedro José Vera.
Thirteen of them will travel to Mallorca February 7 for the Challenge Mallorca. The following races are the Vuelta a Andalucía, Clásica de Almería and Vuelta a Murcia.
"To be invited by Unipublic for the Vuelta a España is the most important thing, but also being present in Volta a Catalunya, Vuelta al País Vasco, Clásica de San Sebastián and Turkey Tour because of our sponsorships," the Team Manager José Antonio Ortuño said.
Manuel Váquez and Aitor Pérez will lead the Spanish team. Pundits will also follow the progress of Francisco Pacheco, Javier Benítez and Mikel Gaztañaga.
Criquielion to Willems Veranda
Mathieu Criquielion joined the Belgian Continental Veranda Willems, the team announced from its French Riviera training camp. He is the son of 1984 World Champion Claude Criquielion.
Belgian Criquielion, 27, will strengthen the team, directeur sportif Lucien Van Impe said to belga. He turned professional in 2005 with Landbouwkrediet, where his father was team manager, before riding for Jartazi in 2007 and 2008.
The team opens its season this Sunday at the GP Marseillaise, followed by the Etoile de Bessèges, February 4 to 8. (SW)
(Additional editorial assistance by Susan Westemeyer.)
(All rights reserved/Copyright Future Publishing (Overseas) Limited 2009)