Tour de San Luis - 2.1
Argentina, January 19-25, 2009
Main Page Results Overall standings Previous Stage Next Stage
Stage 3 - January 21: San Luis - San Luis (ITT), 19.8 km
Giacinti Argentina's king of the contra-reloj
Basso pleased with Giro preps
By Kirsten Robbins in San Luis, Argentina
Jorge Giacinti won the time trial.
Photo ©: Roberto Bettini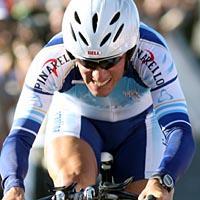 The Argentinean crowd went wild when their local time trialist Jorge Giacinti stormed to victory in the Tour of San Luis' stage three 20-kilometre time trial. Giacinti posted the best time of 23:44, nine seconds faster than America's Tom Zirbel (Bissell) and ten seconds ahead of the defending champion Martin Garrido (Palmeiras-Resort).
"I've been training really well and preparing for this race," said Giacinti, who won the time trial two years prior. "The time trial is my speciality and I only hoped for a day like today. The first importance was that my teammate, Lucero, moved into the leader's jersey today. The second importance was to have a very strong time trial for myself."
Team Argentina doubled up on GC podiums with Alfredo Lucero and Giacinti moving into the top two positions, respectively. Previous day's winner Sebastian Haedo started the stage with a sixteen-second lead over Lucero. He lost more than a minute to his compatriot, which moved him down into third place.
"The time trial went very well and it was important for me to do my best in order to take the leader's jersey," said Lucero, who placed third in the previous day's road race. "I wanted to take the jersey and I did. Yesterday's road race was very hard and I thought I would be a little tired today. It is incredible for me to do well at this race. It is the biggest race in Argentina and San Luis is my home city."
Dmytro Grabovsky during his effort against the clock
Photo ©: Roberto Bettini

Giacinti gained a bonus of 50,000 pesos donated by the municipality of San Luis for his time trial victory. The large prime was the topic of many discussions at the start of the week-long event. Zirbel noted the hefty loss by placing second but was pleased with his own performance nonetheless.
"You never know what to expect coming into racing in mid-January," said Zirbel. He had placed second in the US national time trial championships, one second behind Dave Zabriskie (Garmin). "The key is to stay hydrated because I'm definitely not used to this heat. I knew I could be very competitive today. There is a lot of talent down in South America. We don't come down here thinking we are going to have a free ride, just because we haven't heard of them. There is a ton of talent down here and they don't give an inch when it comes to bike racing."
Basso sprinted to ninth place
Photo ©: Roberto Bettini

Italian Ivan Basso was by far the race favourite. The San Luis fans waited for hours in the scorching heat to catch a glimpse of the 2006 Giro d'Italia winner in action. While his ninth place performance might have disappointed some, Basso was more than pleased to have the first time trial of the year under his belt.
"I think I did a great time trial," said Basso after his 24:22 ride. "I did the first half with the second fastest time of the day. I think in the final five kilometres there was a strong head wind and my condition was not ready 100%. I know on paper it is nothing special but it is still January and a test of my performance. I paid a little today but I am still really happy."
Basso congratulated the top three for their impressive performances. The Tour of San Luis was considered the most important race of the season for South American riders. "I think the two Argentineans who were on the podium are in top form for this race," Basso said. "They were very strong. You can't compare my performance to theirs because I just arrived from a lot of snow in my city."
Photography
For a thumbnail gallery of these images, click here
Images by Roberto Bettini/www.bettiniphoto.net
Images by Pablo Cersosimo Photography
Results
1 Jorge Giacinti (Arg) Argentina National Team A                   23.44 (50.056 km/h)
2 Tom Zirbel (USA) Bissell Pro Cycling                              0.09
3 Martin Garrido (Arg) Palmeiras Resort - Tavira                    0.10
4 Ben Maynes (USA) Bissell Pro Cycling                              0.14
5 Andry Grivko (Ukr) Team ISD                                       0.22
6 Jason McCartney (USA) Saxo Bank                                   0.26
7 Nazaret Prado (Bra) Brazil National Team                          0.28
8 Dirk Müller (Ger) Nutrixxion Sparkasse                            0.34
9 Ivan Basso (Ita) Liquigas                                         0.38
10 Luis Amaran (Cub) Colavita Sutter Home                           0.43
11 Jose Rodolfo Serpa Perez (Col) Diquigiovanni                     0.53
12 Dmytro Grabovsky (Ukr) Team ISD                                  0.54
13 Alfredo Lucero (Arg) Argentina National Team A                       
14 Vincenzo Nibali (Ita) Liquigas                                   1.14
15 Gerardo Fernadez (Arg) Argentina National Team A                 1.16
16 Ignacio Pereyra (Arg) Argentina National Team U23                1.19
17 Guillermo Brunetta (Arg) Argentina National Team B               1.20
18 Alejandro Marque (Spa) Palmeiras Resort - Tavira                     
19 Gabriel Brizuela (Arg) Argentina National Team B                 1.23
20 Andreas Schillinger (Ger) Nutrixxion Sparkasse                   1.27
21 Marco Arriagada (Chi) Chile National Team A                      1.28
22 Brian Vandborg (Den) Liquigas                                    1.32
23 Gustavo Lopez (Arg) Argentina National Team U23                  1.36
24 Xavier Tondo (Spa) Andalucía - Cajasur                           1.39
25 David Blanco (Spa) Palmeiras Resort - Tavira                     1.43
26 Andy Maynes (USA) Bissell Pro Cycling                            1.45
27 Renato Seabra (Bra) Brazil National Team                         1.49
28 Lasse Bøchman (Den) Saxo Bank                                        
29 Gaston Agüero (Arg) Argentina National Team U23                  1.51
30 Carlos José Ochoa (Ven) Diquigiovanni                            1.52
31 Jackson Rodriguez (Ven) Diquigiovanni                            1.53
32 Juan Curuchet (Arg) Argentina National Team A                    1.56
33 Ljungqvist Marcus (Swe) Saxo Bank                                2.08
34 Antonio Cabrera (Chi) Chile National Team B                      2.12
35 Sergio Godoy (Arg) Argentina National Team U23                   2.16
36 Francisco Jose Martinez Perez (Spa) Andalucía - Cajasur          2.24
37 Nestor Pias (Uru) Uruguay National Team                          2.28
38 Josue Moyano (Arg) Argentina National Team U23                   2.30
39 Jesus Rosendo Prado (Spa) Andalucía - Cajasur                    2.39
40 Edwin Avila (Col) Colombia National Team                         2.45
41 Murilo Fischer (Bra) Liquigas                                    2.51
42 Tyler Wren (USA) Colavita Sutter Home                            2.52
43 Kjell Carlström (Fin) Liquigas                                       
44 Arles Castro (Col) Colombia National Team                        2.54
45 Bernardo Colex Tepoz (Mex) Mexico National Team                  2.55
46 Javier Ramirez (Spa) Andalucía - Cajasur                         2.56
47 Roberto-Antonio Richeze (Arg) Argentina National Team B          2.57
48 Carlos Uran (Col) Colombia National Team                             
49 Juan José Haedo (Arg) Saxo Bank                                  2.58
50 Patricio Almonacid (Chi) Chile National Team A                   3.03
51 Luca Celli (Ita) Diquigiovanni                                   3.04
52 José Antonio Carrasco Ramirez (Spa) Andalucía - Cajasur              
53 Lucas Sebastian Haedo (Arg) Colavita Sutter Home                     
54 Mauricio Morandi (Bra) Brazil National Team                      3.11
55 Jesús Del Nero (Spa) Fuji-Servetto                               3.12
56 Juan Gaspari (Arg) Argentina National Team A                         
57 Luis Mansilla (Chi) Chile National Team A                            
58 Reldeys Perez (Cub) Cuba National Team                           3.14
59 Ariel Lucero (Arg) Argentina National Team B                     3.16
60 Alessandro Proni (Ita) Team ISD                                  3.17
61 Milton Brito (Chi) Chile National Team A                         3.19
62 Ricardo Serrano González (Spa) Fuji-Servetto                     3.21
63 Luis Fernando Macías (Mex) Mexico National Team                      
64 Fabricio Morandi (Bra) Brazil National Team                      3.22
65 David De La Fuente Rasilla (Spa) Fuji-Servetto                   3.25
66 Eric Baumann (Ger) Nutrixxion Sparkasse                          3.34
67 Davide Frattini (Ita) Colavita Sutter Home                           
68 Kurt-Asle Arvesen (Nor) Saxo Bank                                3.38
69 Samuel José Caldeira (Por) Palmeiras Resort - Tavira                 
70 Mariano De Fino (Uru) Uruguay National Team                          
71 Leonardo Scarselli (Ita) Team ISD                                3.40
72 Jean Schuter (Ger) Nutrixxion Sparkasse                          3.42
73 Florian Solzinger (Ger) Atlas - Romer's Hausbäckerei             3.44
74 Rida Cador (Hun) Atlas - Romer's Hausbäckerei                    3.48
75 Juan Magallanes (Mex) Mexico National Team                       3.50
76 Kirk O'Bee (USA) Bissell Pro Cycling                             3.51
77 Aaron Olson (USA) Colavita Sutter Home                               
78 Alexander Gonzalez (Col) Colombia National Team                  3.52
79 Hernan Cline (Uru) Uruguay National Team                         3.53
80 Lars Wackernagel (Ger) Nutrixxion Sparkasse                      3.55
81 Anibal Andres Borrajo (Arg) Colavita Sutter Home                 3.57
82 Frank Scherzinger (Ger) Atlas - Romer's Hausbäckerei             3.59
83 Matti Breschel (Den) Saxo Bank                                   4.01
84 Péter Kusztor (Hun) Atlas - Romer's Hausbäckerei                 4.04
85 Burke Swindlehurst (USA) Bissell Pro Cycling                     4.05
86 Jose Alberto Benitez (Spa) Fuji-Servetto                         4.06
87 Oscar Gatto (Ita) Team ISD                                       4.10
88 Pablo Pintos (Uru) Uruguay National Team                         4.11
89 John Fredy Parra (Col) Colombia National Team                        
90 Maximiliano Badde (Arg) Argentina National Team B                4.12
91 Ramiro Cabrera (Uru) Uruguay National Team                       4.13
92 Benat Intxausti Elorriaga (Spa) Fuji-Servetto                    4.14
93 Joao Correira (Por) Bissell Pro Cycling                          4.16
94 Alessandro Vanotti (Ita) Liquigas                                4.19
95 Alonso Lisuandi (Cub) Cuba National Team                             
96 Jorge Soto (Uru) Uruguay National Team                           4.22
97 Gustabo Borcard (Arg) Argentina National Team U23                4.23
98 Luis Sepulveda (Chi) Chile National Team A                       4.28
99 Manuel Belletti (Ita) Diquigiovanni                              4.31
100 Walter Perez (Arg) Argentina National Team A                    4.33
101 Marcel Fischer (Ger) Nutrixxion Sparkasse                       4.35
102 Vasiliev Krasimir (Bul) Palmeiras Resort - Tavira               4.36
103 Nelson Vitorino (Por) Palmeiras Resort - Tavira                 4.37
104 Alvaro Tradaguila (Uru) Uruguay National Team                   4.41
105 Cristopher Mansilla (Chi) Chile National Team B                 4.43
106 Nico Schneider (Ger) Atlas - Romer's Hausbäckerei               4.44
107 Richad Mascaranas (Uru) Uruguay National Team                       
108 Antonio Aldape (Mex) Mexico National Team                       4.45
109 Andy Guptill (USA) Colavita Sutter Home                             
110 Pedro Palma (Chi) Chile National Team B                         4.47
111 Gonzalo Miranda (Chi) Chile National Team A                     4.48
112 Yordenis Crespo (Cub) Cuba National Team                        5.08
113 Mattia Gavazzi (Ita) Diquigiovanni                              5.11
114 Claudio Claveles (Arg) Argentina National Team B                5.16
115 Alejandro Alberto Borrajo (Arg) Colavita Sutter Home            5.27
116 Ruben Bongiorno (Arg) Argentina National Team A                 5.28
117 Yans Arias (Cub) Cuba National Team                                 
118 Enzo Cesario (Chi) Chile National Team B                        5.41
119 Pablo Seisdedos (Chi) Chile National Team B                     5.44
120 Jaime Suaza (Col) Colombia National Team                            
121 Ariel Maximiliano Richeze (Arg) Argentina National Team U23     5.50
122 Diego Vera (Chi) Chile National Team A                              
123 Pablo Alarcon (Chi) Chile National Team B                       5.52
124 Emanuel Guevara (Arg) Argentina National Team U23               6.09
125 Jose Aravena (Chi) Chile National Team B                        6.13
126 Luis Bravo (Chi) Chile National Team A                              
127 Noslen Funes (Cub) Cuba National Team                           6.23
128 Cesar Oliva (Chi) Chile National Team B                         6.57
129 Omar Cervantes Diaz (Mex) Mexico National Team                  7.19
 
Teams
 
1 Bissell Pro Cycling                                            1.13.20
2 Argentina National Team A                                         0.02
3 Palmeiras Resort - Tavira                                         1.05
4 Liquigas                                                          1.16
5 Saxo Bank                                                         2.15
6 Team ISD                                                          2.25
7 Diquigiovanni                                                     2.30
8 Argentina National Team U23                                       2.38
9 Brazil National Team                                              3.20
10 Nutrixxion Sparkasse                                             3.27
11 Argentina National Team B                                        3.32
12 Colavita Sutter Home                                             4.31
13 Andalucía - Cajasur                                              4.34
14 Chile National Team A                                            5.35
15 Colombia National Team                                           6.28
16 Fuji-Servetto                                                    7.50
17 Uruguay National Team                                            7.51
18 Mexico National Team                                             7.58
19 Atlas - Romer's Hausbäckerei                                     9.23
20 Chile National Team B                                            9.34
21 Cuba National Team                                              10.33
 
General classification after stage 3
 
1 Alfredo Lucero (Arg) Argentina National Team A                 8.42.40
2 Lucas Sebastian Haedo (Arg) Colavita Sutter Home                  1.54
3 Jorge Giacinti (Arg) Argentina National Team A                    1.56
4 Andry Grivko (Ukr) Team ISD                                       2.12
5 Jose Rodolfo Serpa Perez (Col) Diquigiovanni                      2.19
6 Ivan Basso (Ita) Liquigas                                         2.29
7 Tom Zirbel (USA) Bissell Pro Cycling                              2.33
8 Ben Maynes (USA) Bissell Pro Cycling                              2.39
9 Ignacio Pereyra (Arg) Argentina National Team U23                 2.57
10 Luis Amaran (Cub) Colavita Sutter Home                           3.04
11 Gerardo Fernadez (Arg) Argentina National Team A                 3.07
12 Dirk Müller (Ger) Nutrixxion Sparkasse                           3.08
13 Gabriel Brizuela (Arg) Argentina National Team B                 3.14
14 Carlos José Ochoa (Ven) Diquigiovanni                            3.15
15 Gustavo Lopez (Arg) Argentina National Team U23                  3.16
16 Nazaret Prado (Bra) Brazil National Team                         3.24
17 Alejandro Marque (Spa) Palmeiras Resort - Tavira                 3.28
18 Jackson Rodriguez (Ven) Diquigiovanni                            3.31
19 David Blanco (Spa) Palmeiras Resort - Tavira                     3.33
20 Dmytro Grabovsky (Ukr) Team ISD                                  3.38
21 Renato Seabra (Bra) Brazil National Team                         3.40
22 Vincenzo Nibali (Ita) Liquigas                                   3.46
23 Marco Arriagada (Chi) Chile National Team A                      3.58
24 Lasse Bøchman (Den) Saxo Bank                                    4.10
25 Brian Vandborg (Den) Liquigas                                    4.13
26 Jesus Rosendo Prado (Spa) Andalucía - Cajasur                    4.28
27 Tyler Wren (USA) Colavita Sutter Home                            4.43
28 Javier Ramirez (Spa) Andalucía - Cajasur                         4.47
29 Josue Moyano (Arg) Argentina National Team U23                   5.09
30 Gaston Agüero (Arg) Argentina National Team U23                  5.17
31 Nestor Pias (Uru) Uruguay National Team                          5.38
32 Jesús Del Nero (Spa) Fuji-Servetto                               5.46
33 Andy Maynes (USA) Bissell Pro Cycling                            6.28
34 Jose Alberto Benitez (Spa) Fuji-Servetto                         6.40
35 Roberto-Antonio Richeze (Arg) Argentina National Team B              
36 Jason McCartney (USA) Saxo Bank                                  6.50
37 Juan Gaspari (Arg) Argentina National Team A                     6.55
38 Xavier Tondo (Spa) Andalucía - Cajasur                               
39 Murilo Fischer (Bra) Liquigas                                    6.57
40 Alessandro Proni (Ita) Team ISD                                  6.58
41 Kjell Carlström (Fin) Liquigas                                       
42 Sergio Godoy (Arg) Argentina National Team U23                   6.59
43 Ricardo Serrano González (Spa) Fuji-Servetto                     7.04
44 David De La Fuente Rasilla (Spa) Fuji-Servetto                   7.06
45 Edwin Avila (Col) Colombia National Team                         7.28
46 Davide Frattini (Ita) Colavita Sutter Home                       7.41
47 Martin Garrido (Arg) Palmeiras Resort - Tavira                   7.51
48 Guillermo Brunetta (Arg) Argentina National Team B               7.52
49 Juan Magallanes (Mex) Mexico National Team                       7.56
50 Andy Guptill (USA) Colavita Sutter Home                          8.28
51 Juan Curuchet (Arg) Argentina National Team A                    8.35
52 Hernan Cline (Uru) Uruguay National Team                         8.36
53 Fabricio Morandi (Bra) Brazil National Team                      8.38
54 Arles Castro (Col) Colombia National Team                        8.55
55 Alexander Gonzalez (Col) Colombia National Team                  9.01
56 Patricio Almonacid (Chi) Chile National Team A                       
57 Rida Cador (Hun) Atlas - Romer's Hausbäckerei                    9.10
58 Andreas Schillinger (Ger) Nutrixxion Sparkasse                   9.17
59 Florian Solzinger (Ger) Atlas - Romer's Hausbäckerei             9.19
60 Mauricio Morandi (Bra) Brazil National Team                      9.22
61 Péter Kusztor (Hun) Atlas - Romer's Hausbäckerei                 9.24
62 Alonso Lisuandi (Cub) Cuba National Team                         9.42
63 Benat Intxausti Elorriaga (Spa) Fuji-Servetto                    9.44
64 Jorge Soto (Uru) Uruguay National Team                          10.00
65 Luis Fernando Macías (Mex) Mexico National Team                      
66 Bernardo Colex Tepoz (Mex) Mexico National Team                 10.02
67 Reldeys Perez (Cub) Cuba National Team                          10.10
68 Burke Swindlehurst (USA) Bissell Pro Cycling                         
69 Richad Mascaranas (Uru) Uruguay National Team                   10.19
70 Pablo Pintos (Uru) Uruguay National Team                        10.21
71 Juan José Haedo (Arg) Saxo Bank                                 10.22
72 Ramiro Cabrera (Uru) Uruguay National Team                      10.23
73 Matti Breschel (Den) Saxo Bank                                  10.26
74 Nico Schneider (Ger) Atlas - Romer's Hausbäckerei               10.28
75 José Antonio Carrasco Ramirez (Spa) Andalucía - Cajasur         10.34
76 Kurt-Asle Arvesen (Nor) Saxo Bank                               11.08
77 Mariano De Fino (Uru) Uruguay National Team                     11.10
78 Jean Schuter (Ger) Nutrixxion Sparkasse                         11.12
79 Kirk O'Bee (USA) Bissell Pro Cycling                            11.21
80 Eric Baumann (Ger) Nutrixxion Sparkasse                         11.24
81 Anibal Andres Borrajo (Arg) Colavita Sutter Home                11.27
82 Milton Brito (Chi) Chile National Team A                        11.33
83 Marcel Fischer (Ger) Nutrixxion Sparkasse                       11.46
84 Joao Correira (Por) Bissell Pro Cycling                              
85 Gustabo Borcard (Arg) Argentina National Team U23               11.53
86 Luis Sepulveda (Chi) Chile National Team A                      11.59
87 Antonio Cabrera (Chi) Chile National Team B                          
88 Maximiliano Badde (Arg) Argentina National Team B               12.01
89 Vasiliev Krasimir (Bul) Palmeiras Resort - Tavira               12.06
90 Luis Mansilla (Chi) Chile National Team A                       12.07
91 Claudio Claveles (Arg) Argentina National Team B                12.14
92 Francisco Jose Martinez Perez (Spa) Andalucía - Cajasur         12.21
93 Walter Perez (Arg) Argentina National Team A                    12.31
94 Cesar Oliva (Chi) Chile National Team B                         12.32
95 Nelson Vitorino (Por) Palmeiras Resort - Tavira                 12.36
96 Lars Wackernagel (Ger) Nutrixxion Sparkasse                     12.39
97 Leonardo Scarselli (Ita) Team ISD                               12.44
98 Ljungqvist Marcus (Swe) Saxo Bank                               13.06
99 Alessandro Vanotti (Ita) Liquigas                               13.11
100 Yordenis Crespo (Cub) Cuba National Team                       13.15
101 John Fredy Parra (Col) Colombia National Team                  13.21
102 Aaron Olson (USA) Colavita Sutter Home                         13.38
103 Luis Bravo (Chi) Chile National Team A                         13.48
104 Frank Scherzinger (Ger) Atlas - Romer's Hausbäckerei           13.56
105 Oscar Gatto (Ita) Team ISD                                     14.11
106 Pablo Seisdedos (Chi) Chile National Team B                    14.15
107 Ariel Lucero (Arg) Argentina National Team B                        
108 Antonio Aldape (Mex) Mexico National Team                      14.21
109 Alejandro Alberto Borrajo (Arg) Colavita Sutter Home           14.22
110 Alvaro Tradaguila (Uru) Uruguay National Team                  14.28
111 Ruben Bongiorno (Arg) Argentina National Team A                     
112 Pablo Alarcon (Chi) Chile National Team B                      15.02
113 Emanuel Guevara (Arg) Argentina National Team U23              15.03
114 Mattia Gavazzi (Ita) Diquigiovanni                             15.05
115 Pedro Palma (Chi) Chile National Team B                        15.10
116 Gonzalo Miranda (Chi) Chile National Team A                    15.42
117 Manuel Belletti (Ita) Diquigiovanni                            15.51
118 Ariel Maximiliano Richeze (Arg) Argentina National Team U23    16.15
119 Luca Celli (Ita) Diquigiovanni                                 16.51
120 Samuel José Caldeira (Por) Palmeiras Resort - Tavira           16.54
121 Noslen Funes (Cub) Cuba National Team                          17.22
122 Diego Vera (Chi) Chile National Team A                         17.59
123 Cristopher Mansilla (Chi) Chile National Team B                18.04
124 Omar Cervantes Diaz (Mex) Mexico National Team                 18.13
125 Enzo Cesario (Chi) Chile National Team B                       18.42
126 Jaime Suaza (Col) Colombia National Team                       20.29
127 Yans Arias (Cub) Cuba National Team                            21.53
128 Carlos Uran (Col) Colombia National Team                       22.30
129 Jose Aravena (Chi) Chile National Team B                       31.05
 
Mountains classification
 
1 Lucas Sebastian Haedo (Arg) Colavita Sutter Home                    11 pts
2 Nazaret Prado (Bra) Brazil National Team                            10
3 Alfredo Lucero (Arg) Argentina National Team A                       9
4 Jose Rodolfo Serpa Perez (Col) Diquigiovanni                         5
5 Carlos José Ochoa (Ven) Diquigiovanni                                4
6 Ben Maynes (USA) Bissell Pro Cycling                                 3
7 Josue Moyano (Arg) Argentina National Team U23                       2
8 Alessandro Proni (Ita) Team ISD                                      2
9 Jesus Rosendo Prado (Spa) Andalucía - Cajasur                        1
10 Juan Gaspari (Arg) Argentina National Team A                        1
11 Xavier Tondo (Spa) Andalucía - Cajasur                              1
 
Sprint classification
 
1 Lucas Sebastian Haedo (Arg) Colavita Sutter Home                     6 pts
2 Ben Maynes (USA) Bissell Pro Cycling                                 5
3 Josue Moyano (Arg) Argentina National Team U23                       5
4 Alfredo Lucero (Arg) Argentina National Team A                       3
5 Nazaret Prado (Bra) Brazil National Team                             3
6 Jesus Rosendo Prado (Spa) Andalucía - Cajasur                        2
 
Under 23 classification                                                 
 
1 Ignacio Pereyra (Arg) Argentina National Team U23                     
2 Gustavo Lopez (Arg) Argentina National Team U23                       
3 Dmytro Grabovsky (Ukr) Team ISD                                       
4 Josue Moyano (Arg) Argentina National Team U23                        
5 Gaston Agüero (Arg) Argentina National Team U23                       
 
Teams classification
 
1 Argentina National Team A                                     26.12.50
2 Palmeiras Resort - Tavira                                         4.12
3 Diquigiovanni                                                     4.15
4 Colavita Sutter Home                                              5.11
5 Liquigas                                                          5.38
6 Argentina National Team U23                                       5.58
7 Bissell Pro Cycling                                               6.03
8 Andalucía - Cajasur                                               7.02
9 Team ISD                                                          7.58
10 Brazil National Team                                             8.23
11 Saxo Bank                                                       10.09
12 Argentina National Team B                                       12.04
13 Fuji-Servetto                                                   13.57
14 Chile National Team A                                           15.27
15 Uruguay National Team                                           17.45
16 Nutrixxion Sparkasse                                            18.00
17 Colombia National Team                                          18.47
18 Atlas - Romer's Hausbäckerei                                    22.58
19 Mexico National Team                                            23.08
20 Cuba National Team                                              27.40
21 Chile National Team B                                           28.29