First Edition Cycling News, January 26, 2009
Edited by Peter Hymas
Doors are open for Taaramae now
By Jean-François Quénet in Adelaide, Australia
Rein Taaramae (Cofidis)
Photo ©: Jean-François Quénet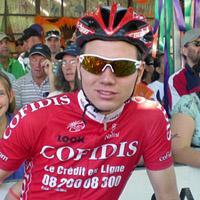 During Lance Armstrong's one-man show towards the end of stage 6 in the Tour Down Under, the kid who dared to counter-attack after "the boss" was 21-year-old Rein Taaramae from Estonia. At the start of the Australian event, he never thought he'd be able to position himself at the head of the race. "I was sick," Taaramae said. "I thought I had bronchitis and I was under antibiotics for three days. I felt very weak."
His teammate, Cofidis' sprinter Alexandre Usov, didn't think he was weak when he tried to follow him while coming back to the peloton after having a flat tire in stage one. "Taaramae rode so fast!" said Usov.
"He's got a superb engine but he doesn't always ride very smartly yet," commented his directeur sportif Francis Vanlondersele. "When he attacks, he's able to amaze many riders. Last year at the very beginning of his pro career, he went away solo on a climb at the Tour of Valencia and the only rider who managed to catch him was [Tour de France winner] Alberto Contador. He's still unsure of himself, and he's got a lot to learn, but for sure he has exceptional abilities like very few riders have. Look at what he did today, he's got the balls to challenge Armstrong!"
Taaramae will ride the Tour Méditerranéen and might earn a start at Paris-Nice since Cofidis doesn't have any big leader to protect following the departures of Sylvain Chavanel, Nick Nuyens and Maxime Monfort. "It's wide open for riders like him," said Vanlondersele, who discovered with satisfaction in South Australia that Taaramae can also cope very well with the heat, something he doubted previously. That means he's likely to get a start at the Tour de France as well this year in a team without any big sprinter or climber.
Taaramae is an excellent time triallist. The Tour of Romandie, where he rode so well last year, will again be a test for him this year. It's realistic to believe it could earn him a position on the start line in Monaco in July.
Riders' lack of power
CPA President Cédric Vasseur.
Photo ©: Bjorn Haake
Today's professional cyclists face increased demands to allow them to perform their job and fewer well-paid job opportunities. Cyclingnews' Gregor Brown explores the options riders have to express their power in today's cycling world.
For the past 10 years cyclists have faced an image problem due to doping. The public believes that most cyclists are cheats due to a few high-profile cases and the strong, public efforts the sports authorities are making to run a clean operation.
The image problem compounds with the bad financial market that caused sponsors to lessen their contribution or pull out entirely. These situations have left cyclists – who have increased out-of-competition testing and anti-doping obligations – riding for less money or, worse yet, out of a job.
In the 1990s riders turned to the International Association of Professional Cyclists (AICPro) and national federations for their needs. Following the 1998 Festina Affair, the Association of Italian professionals (ACCPI) called a meeting at the 1999 Giro d'Italia. The Association of Professional Cyclists, or CPA, began with ex-professional Francesco Moser as its president.
The Association of Professional Cyclists
Over the past 10 years the Association of Professional Cyclists has taken hold. It gained new momentum with the election of ex-professional Cédric Vasseur as president in October 2007. The Frenchman, newly retired, related to the new problems that faced the cycling world.
"I really think that the riders are starting to realise they have an association that's become very powerful," Vasseur said to Cyclingnews. "They are concerned about what their team managers will say, or the race organisers or the UCI [International Cycling Union - ed.]. This year, the riders – with the CPA – have realised they have a lot of power in their hands."
Vasseur connects to all ProTour and Professional Continental riders – first and second division – via e-mail. Last year, he conducted polls before the Tour de France to hear what the riders had to say about banning earpieces in the race.
Continue to the full feature article
Da Bos will travel far
By Jean-François Quénet in Adelaide, Australia
Gianni Da Bos (Liquigas)
Photo ©: Jean-François Quénet
A very stylish rider appeared at the head of the race during the last stage of the Tour Down Under, Italy's Gianni Da Bos from Liquigas. He took part in the two breakaways of the day and wasn't afraid to challenge Jens Voigt in the first one and Lance Armstrong in the second one. He finished the race on a high note with the win of his teammate Francesco Chicchi.
"I'm delighted to conclude the Tour Down Under this way," Da Bos said. "I wanted to try and get away but also save some energy for the finish. It's incredible to have such a happy ending after so many efforts I had to do all week. I really struggled before today but the five days of racing have helped me find the right rhythm."
The 22-year-old from Pordenone is on a traveling mission with Liquigas, a team he signed for after three wins as an amateur and a trial as a stagiere at the end of last year.
"After the Tour Down Under, I have the Tour of Qatar and the Tour of California on my program," Da Bos said with a large smile. Being a young rookie, Da Bos is automatically designated for the exotic trips that not all of the old riders choose to do. "I love my sport, so it's not a problem for me to do it anywhere in the world," said the former track rider who's got the pedaling style and the profile of a future champion.
Lefevere threatens to sue AFLD over Schumacher case
Quick Step Team Manager Patrick Lefevere
Photo ©: Bjorn Haake

Quick Step manager Patrick Lefevere has said that he will sue the French Anti-Doping Agency, AFLD, if the agency doesn't take action on the Stefan Schumacher case within two weeks.
The German rider tested positive for CERA during the Tour de France, it was announced in October. However, his B samples have still not been tested and there are apparently no on-going investigations into the matter. Schumacher has continued to maintain his innocence and has applied for a licence to ride this season for Quick Step. He had signed with the Belgian team before the test results were announced and Quick Step said at that time that it considered the contract void.
"Where is he now, the great Mr. Bordry?" Lefevere asked rhetorically, referring to Pierre Bordry, president of the AFLD. "In the Tour he put on a big show, but now you do not hear from him. He doesn't even answer my emails."
"If Bordry does not take any action within two weeks, I will hit him with a lawsuit," the Belgian continued, according to nieuwsblad.be. "Because in principle Schumacher is right. As long as he has not been found guilty, he can ride and I have no reason not to comply with the contract. Or I pay him not to ride, which I would not gladly do."
The alternative would be to let Schumacher race. "But what do you think the ASO would say if Schumacher is on the start list for Paris-Nice? They would say, 'No, we don't want him.'"
Thirty riders under investigation for bio-passport results
Robin Parisotto, a blood-doping expert working for the International Cycling Union (UCI), said that more than 30 riders are under suspicion of having doped, based on their biological passports.
Interviewed on German television, he said, "The UCI has taken and examined more than 1,000 blood samples from riders for the biological passport. More than 30 are suspicious and some could face a ban." In its press release, the German sender ARD said that the blood values of some riders "clearly indicated blood doping."
Parisotto, who in 2000 developed the first blood test to detect blood booster Erythropoietin (EPO), is one of the experts analyzing the results of the riders' blood tests from the biological passport programme for the UCI. He did not indicate when any action against the riders might occur.
Anne Gripper, the UCI's anti-doping manager, announced last June that a number of riders, including one unnamed top rider, "warranted further scrutiny" based on unusual patterns in blood or urine profiles.
Lelangue pleased with BMC training camp
BMC Directeur Sportif John Lelangue
Photo ©: Shane Stokes

The BMC Racing Team has concluded its 15-day California training camp and Directeur Sportif John Lelangue found cause for optimism regarding the squad's upcoming races.
"We fashioned a long camp which gave us all the time to fit in the volume and intensity workouts that we needed," said Lelangue. "It worked out really well for everyone."
Warm and sunny California weather proved conducive to the work at hand. "The weather was also very helpful, with only a little rain on our last day of training. This gave us the chance to do everything that we had planned for which included reconnoitering Tour of California stages, preparing for long climbs, as well as multiple workouts for the group going to Qatar.
"We were able to practice our sprint lead-outs for our four main sprinters – Zberg, Wyss, Kohler and Cruz – and we also had a chance to work on our team time trialling," continued Lelangue. "The camp made clear that everyone was in good shape and that they had taken their off-season preparation very seriously. Happily, no one got sick and we didn't have any crashes.
A year of experience in 2008 laid the groundwork for a smoother beginning to a new season. "I think everyone will agree that this year's camp was totally different from last year and much better as a result. Last year nearly everyone, including myself , was new to the team," said Lelangue. "We were just learning about each other and there was no way we could ideally focus the training. This year we have been in constant contact the two months before camp, and so we were really able to focus on our intensity. That was a huge advantage, and for me personally, I would have to say that this has been one of the best camps I have ever been to in my entire career."
Joho to lead Swiss U23 team
Former professional rider Stephan Joho is the new Swiss national U23 trainer, Swiss Cycling, the national federation, has announced.
Joho, 45, started his international career at the 1984 summer Olympics in Los Angeles, where he rode two track events. He turned pro in 1986 with Team Kas, rode for Ariostea from 1988 to 1990 and joined Weinmann-Eddy Merckx in 1991 before returning to Ariostea for his final year in 1992.
In his career, Joho had three Giro d'Italia stage wins, two Tour de Romandie stage wins, wore the Tour de Suisse leader's jersey for a total of eight days, won the Zürich Six Day race in 1991 and once finished fourth in Paris-Roubaix.
GP Triberg-Schwarzwald finds new sponsor
Mathias Frank (Gerolsteiner) won
Photo ©: www.schwarzwald-bike.de
Another German race has defied the odds and survived to be run again in 2009. The GP Triberg-Schwarzwald faced sponsorship problems, but the city of Triberg came through and the pro race will be held as scheduled on June 6.
"It is mainly thanks to the city of Triberg that pro riders will once again be at the start," race organisers Kai and Rik Sauser of the Sauser Sport & Event Agentur said in a press release. The Sausers had announced in October that they were having trouble finding a sponsor for the race after the main sponsor Rothaus Brauerei dropped its support.
Among those participating will be last year's winner Mathias Frank with his new team, BMC Racing Team.
(Additional editorial assistance by Susan Westemeyer.)
(All rights reserved/Copyright Future Publishing (Overseas) Limited 2009)