First Edition Cycling News, January 21, 2009
Edited by Sue George
Basso posts blood values online
By Gregor Brown
Hematocrit vs. time
Photo ©: Ivan Basso

Ivan Basso posted his blood values online via Mapei Sport for anyone to monitor. The Italian of Team Liquigas wants to provide maximum clarity after his suspension in 2007 based on the Operación Puerto doping investigation.
"It a question of credibility and transparency," said Basso to Cyclingnews. "It is not required from everyone else. There are cyclists who have done everything well, but I did not and it is right that the people don't have the same trust in me."
The numbers available include Basso's hematocrit levels since last April. He posted a 44.9 percent while training during his two-year suspension. His last test percent, taken after his suspension ended on October 24, was 41.4.
Basso was suspended from racing on June 15, 2007, for his links with Spanish Doctor Eufemiano Fuentes, the central character in Operación Puerto. He admitted to Italian Olympic Committee (CONI) investigating prosecutor Ettore Torri during investigation that he gave blood to Fuentes.
Coming up on
Cyclingnews will cover the 60th edition of the Dauphiné Libéré live as of stage 4 on Wednesday, June 10, at approximately 15:00 local Europe time (CEST)/ 23:00 Australian time (CDT)/ 9:00 (USA East).

WAP-enabled mobile devices: http://live.cyclingnews.com/wap/

Basso is in Argentina for his first race of the 2009 season, the Tour de San Luis stage race. He is building his form for the Giro d'Italia, May 9 to 31. He won the Italian three-week race in 2006 prior to his involvement with Operación Puerto.
Photography
For a thumbnail gallery of these images, click here
Images by Ivan Basso
French veteran in Adelaide to gear up for Sanremo
By Jean-François Quénet in Adelaide
Sebastian Hinault (AG2R La Mondiale)
Photo ©: Jean-François Quénet
Sébastien Hinault has returned to Adelaide for the fourth time, but it's a first for him in AG2R colors having previously worn the same Crédit Agricole jersey for 10 years. "It feels strange," he said. "When I looked at the footage of the Cancer Council Classic I couldn't find myself in the peloton. It has a lot to do with this blue jersey that is new to me."
Hinault was a contender in the inaugural Tour Down Under back in 1999. "It's a good memory since we won the race with Stuart O'Grady, but I also remember I suffered a lot due to the extremely hot conditions," the Frenchman said.
Ten years ago, he discovered the "warrior's mentality" of riders like O'Grady. "During my entire career I've had a lot of sympathy for Australians, New Zealanders and Scandinavians because they leave their homes, move to Europe and learn our languages for racing," said the long-term friend and former teammate of Thor Hushovd . "Their experience has given me the will to travel myself thanks to bike races. I've always put my hand up to ride the Tour Down Under, Le Tour de Langkawi, the Tour of Qatar, the Tour of California – I've even done the Tour of Gabon."
Hinault still enjoys racing at the age of 35. He was happy to share his never-ending love of cycling with his former teammate Jens Voigt, the oldest rider of the 2009 Tour Down at 37 years old. Voigt was born one day before Lance Armstrong. "Jens and I realized once again that we have a beautiful job."
Hinault's motivation remains that of a young rider. Hinault turned down an offer by Roger Legeay to become a directeur sportif in 2004 because he had no will to stop cycling. A stage winner at the Vuelta a España last year, he aims for more after switching to AG2R La Mondiale. "I had the possibility of joining my local team Bretagne-Schuller [formerly Bretagne-Armor Lux, ed.] but I still wanted to race at the highest level," said the Breton rider.
"At AG2R, I'll have a similar role as at Crédit Agricole," he added. "I'll guide the young guys. I believe Nicholas Roche, who made the same move as me from Crédit Agricole to AG2R, can be the revelation of the coming season after the confidence he got from doing well at last year's Vuelta a España. Also, I'll enjoy some freedom myself since there aren't top sprinters at AG2R."
Hinault might not be seen as a world-class sprinter himself, but he won stage 10 of last year's Vuelta a España in front of another Frenchman who is now his teammate, Lloyd Mondory, and he also remembers the riders who came 3rd, 4th and 5th in that bunch sprint: Greg van Avermaet, Oscar Freire and Tom Boonen. When he won stage four in the 2004 Tour of Germany, it was ahead of Allan Davis and Tom Boonen. At the 2006 Le Tour de Langkawi, he prevailed against an up-and-coming sprinter named Mark Cavendish in stage eight to Segamat.
He's definitely not one of these Frenchmen who think in advance that they will lose against the world's most renowned sprinters. "I'm not the only one," he insisted. "Anthony Geslin's 6th place in Milan-Sanremo last year inspires me. For the first time I'll do Milan-Sanremo without having to lead Hushovd out. If I make the front group, I'll play my chances." Hinault also reckoned he's able to win a stage at the Tour Down Under, a race already won four times overall by his new AG2R team with Gilles Maignan in 2000, Mikel Astarloza in 2003, Simon Gerrans in 2006 and Martin Elmiger in 2007.
A perfect season ending for Cooke
By Elizabeth Hufton
Nicole Cooke takes the World Championship title
Photo ©: Roberto Bettini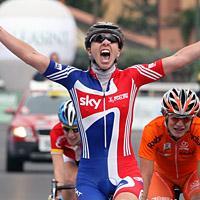 There's no doubt about it: 2008 has been a great year for Nicole Cooke. But despite finishing the year as Olympic and World Champion – something no other cyclist has achieved in the same year – when asked how it went Cooke hesitates. "Do you mean the whole year, or just the second part?"
This has been a year of two halves for Cooke. In mid-2007 she was already a dominant figure in women's road cycling, at the age of just 24. Then followed the first major hiccup of her career: a knee injury which prevented her from competing at the World Championships and held her in second place in the World Cup. It wasn't a promising start to the 12 months preceding Beijing. "This has been a fantastic year," she says, "but it didn't start off great with my injury. It was difficult to get going again and I had a slow spring."
The long recovery period proved to be the sternest test yet of Cooke's deep-rooted passion for cycling. "I failed to stay motivated," she says. "I really wasn't enjoying cycling: the pain and the uncertainty of when it would be fixed. I was off my schedule and knew I had a lot of work to do.
"There were a lot of doubts in my mind. I wondered why I was still cycling. I thought maybe it was time to move on. But it was when I thought of leaving cycling that I was able to pull myself back from the brink."
Read the full news feature with Nicole Cooke.
McEwen a starter Down Under
By Greg Johnson in Adelaide, Australia
Robbie McEwen (Katusha)
Photo ©: Mark Gunter

Robbie McEwen (Katusha) will start today's stage of the Tour Down Under, despite suffering muscular damage during yesterday's opening stage. McEwen was struck by the lens of a fans camera on the sprint to the finish line and was lucky not to crash as a result.
"He's starting, that's official," said an event representative.
McEwen was sporting a bandaged arm as he left the team hotel this morning. Despite the bruised arm, the Cancer Council Classic winner seemed to be relaxed about the stage ahead.
Yesterday, McEwen called for spectators to be more mindful of the riders' vulnerability. McEwen pointed out this isn't the first time he's had obstructions in a finish.
"I've been hit by one of those green PMU hands in the Tour [de France] before. The year before last, I actually got hit in the head in the finish of Paris-Tours when I was on the wheel of [Alessandro] Petacchi and someone waved an arm and hit me in the head. We are really, really vulnerable."
Greipel satisfied after first Tour Down Under stage
André Greipel (Columbia)
Photo ©: Mark Gunter

Tour Down Under stage one victor André Greipel was content with his sprint finish win on Tuesday in Mawson Lakes.
"With the successful launch, of course, I'm very satisfied," said a pleased Greipel of Team Columbia after beating Baden Cooke (UniSA), Stuart O'Grady (Team Saxo Bank) and prologue winner Robbie McEwen (Team Katusha) to the line.
Commenting on the extremely hot conditions, he said, "At temperatures of 43 degrees Celsius, the team has worked perfectly." He credited his success to the sprint train practice he and his teammates had been "extensively rehearsing" in training prior to the race.
Greipel, now atop the general classification by five seconds going into stage two, still has his eye on defending his overall Tour Down Under title from last year's race. "It is up to those in the leader's jersey to defend in the next stages, and tomorrow, in particular, will not be easy. There are three mountains and a tough finale that will require all our strength and concentration. However, I am very motivated. I will do my best."
Clif Bar issues voluntary recall of some products
Clif Bar announced a voluntary recall of 14 American and four Canadian products on Monday because the peanut butter in those products was sourced, for a limited period of time, from the Peanut Corporation of America (PCA), a manufacturer and supplier of peanut butter.
"PCA is under investigation by the US Food and Drug Administration for a recent Salmonella outbreak thought to be caused by tainted peanut butter," read a statement on Clif Bar's website. "In light of this investigation, and with an abundance of caution, Clif Bar & Company has enacted a voluntary recall. We take the health and safety of our consumers very seriously."
Affected products include some CLIF Bars, CLIF Builder's Bars, CLIF MOJO bars, CLIF Kid Organic ZBaRs and LUNA Bars. See the Clif bar website, www.clifbar.com/voluntary-recall/, for specific information about affected products based on best by and sell by dates.
Johansson named Swedish sportswoman of the year
Emma Johansson was named Swedish Sportswoman of the year after she won a silver medal at the Olympic Games road race in Beijing, China, and finished fourth in the World Championships road race in Varese, Italy. In her speech at the Swedish Sports Awards Gala, Johansson thanked her boyfriend and coach Martin Westby.
Gustav Larsson, silver medalist in the men's time trial in Beijing was nominated as one of four athletes for the men's award, but in the end, it went to golfer Robert Karlsson.
Tour de France live on German TV?
German TV broadcasters ARD and ZDF seem to be backtracking on their plan not to do any live coverage of the 2009 Tour de France. Under consideration at the moment are plans for an hour daily live coverage.
The broadcasters originally pulled the plug on the Tour in 2007, after announcement of Patrik Sinkewitz's positive doping control for testosterone. They returned for coverage in 2008, but after the positive controls for Stefan Schumacher and Bernhard Kohl from the Tour, the ARD said that it would not cover the 2009 Tour live.
"The decision in October was our step back from the broad-based live reporting," ARD spokesman Petery Meyer told the sid press agency. "Of course there will be coverage, even if the art and extent are still open."
Both ARD and ZDF belong to the European Broadcasting Union (EBU), which has a contract with the Tour de France organizer ASO. The EBU and the ASO have a contract to show the race through 2011. The ARD apparently is unclear whether it is covered by this contract, while the ZDF has indicated its willingness to cover the Tour live, but only in cooperation with the ARD.
German fans have not been left staring at a dark television, though, and have been able to watch the race on the commercial Eurosport channel.
AG2R La Mondiale for Qatar
AG2R La Mondiale announced its squad for the Tour du Qatar from February 1 to 6. The team will include José Luis Arrieta, Renaud Dion, Blel Kadri, Yuriy Krivtsov, Lloyd Mondory, Cédric Pineau, Stéphane Poulhies, Gatis Smukulis under the direction of DS Gilles Mas.
Sunderland back in the saddle for London-Paris 09
Scott Sunderland may have made the move from professional racer to team manager, but that has not stopped him from riding. Sunderland, who helped mastermind Carlos Sastre's Tour de France triumph last summer, will be back in the saddle for the London-Paris Cycling Pro-Am, a 520km Tour de France-style endurance event for amateur and cyclosportive riders on June 25-28.
"I'm really looking forward to getting back on the bike and returning to riding," said Sunderland, the former sporting director at Team CSC-Saxo Bank. "Cycling is enjoying a huge surge in popularity in the UK, following the success of British Cycling in Beijing and I'm proud to be taking part in what is Britain's top cyclosportive."
Sunderland, an Australian based in Belgium, will ride alongside ex-Tour de France winner, Stephen Roche. As a boy from the New South Wales bush, Sunderland worked double shifts in an abattoir to fund his early cycling career. He competed in the world's biggest events until suffering horrific injuries in the Amstel Gold World Cup race in 1998. He sustained a double blood clot on the brain and after five hours of neurosurgery to save his life, Sunderland fought his way back to fitness and competitive racing.
"We are thrilled to have someone of Scott's stature riding this year," said London-Paris 09 director Sven Thiele. "He is an inspirational team leader, who won cycling's Holy Grail when CSC triumphed in the Tour in 2008. It will be fantastic for our riders to participate alongside someone of Scott's calibre."
This year's event will benefit the Geoff Thomas Foundation (a leukemia charity set up by former England footballer Geoff Thomas), Christel House, Schools for Children of Cambodia and South Africa's Morning Star which works with children with HIV.
Vanderkitten roster for 2009
Liz Hatch (Vanderkitten)
Photo ©: Emory Ball

Vanderkitten Racing announced its eight-rider team, with continuing title sponsorship from Vanderkitten Clothing, for 2009.
Jennifer Wilson, Liz Hatch, Melissa Sanborn and Leigh Hopkins (Valletti) return to lead the team with the goal of capturing the US Crit Series team title once again in 2009. With the additions of Laura Bowles, Melodie Metzger, Virginia Perkins and Elisabeth Williams, the team adds experience and the additional horsepower needed to challenge the tough NRC race schedule.
"I am really looking forward to the opportunity to work with everyone on the roster," said recently appointed Team Race Manager Jeff Hopkins. "It seems to me that Vanderkitten Racing has all of the pieces in place to be a great team. I am proud to see the enthusiastic support of Vanderkitten along with the support of Stork Bicycles. We look forward to this year's season and are ready for the challenges ahead."
2009 Vanderkitten Racing Team: Laura Bowles, Liz Hatch, Leigh Hopkins, Melodie Metzger, Virginia Perkins, Melissa Sandborn, Elisabeth Williams, Jennifer Wilson, Haley Beann, Jennifer Greenberg, Charlotte Hart, Mary Maroon
Indiana's Marion Classic joins NRC Calendar
The Marion Classic will take a step up onto the US National Racing Calendar (NRC) for 2009. Held in Marion, Indiana, the one day of the event's races will be part of the 34 events on the NRC.
The Marion Classic, set for August 21 and 22, includes the Village Criterium on day one and the Riverwalk Criterium the following day. It's the latter event that will be on the NRC Calendar. Both criteriums are just over one mile in length. The racing format is similar to a motorsports grand prix, where cyclists race by time as opposed to laps. The professionals will cover approximately 40 miles each day at 30mph average speeds.
"We're thrilled to have this opportunity," said Race Director Chase Hoefer. "Indiana finally has a chance to take stake in the world of professional cycling. We're very pleased that the heads of USA Cycling have taken notice of our growth and efforts within the cycling community."
In two short years, the Marion Classic has seen participation from top international riders, including 2008 UCI World Track Omnium Champion Hayden Godfrey of New Zealand and Tasmanian Karl Menzies. 2007 saw Menzies, a stage winner and second place finisher in the general classification at the Tour Down Under. Menzies finished sixth in last year's Riverwalk Criterium, the event that joins the National Racing Calendar, while Godfrey finished third in the Village Criterium.
Robbie Ventura, a former teammate of Lance Armstrong and Midwest native, will provide commentary during the race.
Cyclingnews continues team training camp coverage
As road pros assemble for their traditional pre-season training camps around the world, Cyclingnews has compiled all relevant feature articles, news briefs, tech information, video and photographs in a single destination to keep you informed of their 2009 season preparations.
There's no doubt that the pro peloton is being fitted with new equipment, meeting new teammates, planning the season's racing schedules and putting in the miles. We've provided coverage of 24 different UCI ProTour, Professional Continental and Continental teams in the previous month via 56 news briefs, 19 photo galleries, five feature articles and two videos.
Check back often throughout the coming weeks as the training camp page receives a steady influx of information about the pre-season activities of your favourite riders and teams.
For complete training camp coverage, click here.
Win an autographed Team Columbia jersey
Enter Cyclingnews' contest to win a unique piece of cycling history – a 2008 team-issue Team Columbia jersey signed by the entire 2009 men's team, gathered in Mallorca, Spain for its December 2008 training camp.
The Team Columbia jersey appeared on the top step of the podium 85 times in the 2008 season, more than any other professional team, with stage wins at the Giro d'Italia, Tour de France, Tour of California, Tour de Georgia, Dauphiné Libéré, Tour of Germany and Tour of Ireland plus victories in one-day events such as Flèche Wallonne and Scheldeprijs Vlaanderen.

Twenty five riders signed the jersey, including

- Mark Cavendish, four-time 2008 Tour de France stage winner, three-time 2008 Giro d'Italia stage winner
- Bert Grabsch, 2008 World TT Champion
- Marcus Burghardt, 2008 Tour de France stage winner
- Edvald Boasson Hagen, 2008 Critérium International stage winner, three-time 2008 Tour of Britain stage winner
- George Hincapie, 2008 Tour of California stage winner, two-time US national champion
- Kim Kirchen, 2008 Tour de France yellow jersey and green jersey wearer, 2008 Flèche Wallonne champion
- Marco Pinotti, 2008 Giro d'Italia stage winner, 2008 Tour of Ireland champion

The contest's winner will be selected at random from all correct answers to a Team Columbia trivia question.

Hurry now and enter to be in the draw. Good luck!
(Additional editorial assistance by Susan Westemeyer and Tomas Nilsson.)
(All rights reserved/Copyright Future Publishing (Overseas) Limited 2009)