News Feature, January 21, 2009
A perfect season ending for Cooke
By Elizabeth Hufton
Nicole Cooke takes the World Championship title
Photo ©: Roberto Bettini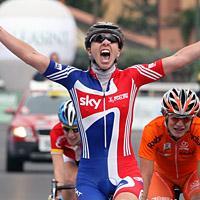 There's no doubt about it: 2008 has been a great year for Nicole Cooke. But despite finishing the year as Olympic and World Champion – something no other cyclist has achieved in the same year – when asked how it went Cooke hesitates. "Do you mean the whole year, or just the second part?"
This has been a year of two halves for Cooke. In mid-2007 she was already a dominant figure in women's road cycling, at the age of just 24. Then followed the first major hiccup of her career: a knee injury which prevented her from competing at the World Championships and held her in second place in the World Cup. It wasn't a promising start to the 12 months preceding Beijing. "This has been a fantastic year," she says, "but it didn't start off great with my injury. It was difficult to get going again and I had a slow spring."
The long recovery period proved to be the sternest test yet of Cooke's deep-rooted passion for cycling. "I failed to stay motivated," she says. "I really wasn't enjoying cycling: the pain and the uncertainty of when it would be fixed. I was off my schedule and knew I had a lot of work to do.
"It was when I thought of leaving cycling that I was able to pull myself back from the brink."
- Nicole Cooke had a difficult start to the season.
"There were a lot of doubts in my mind. I wondered why I was still cycling. I thought maybe it was time to move on. But it was when I thought of leaving cycling that I was able to pull myself back from the brink."
Cooke did not make the turnaround alone, and credits her support team with helping her to stay on track – in particular her coach, Fabio Bartolucci, who she began working with just a few months before the Olympics. "I had to make some tough decisions to keep my Olympic dream alive but a lot of it was down to Bartolucci," she says. "After a few weeks with him I was excited about the Tour de l'Aude, and after the first stage I thought it was doable again and was looking forward to the Olympics."
Having planned her season around the Olympic road race, Cooke went to Beijing with relatively few 2008 races under her belt but was confident of her fitness. On the day, though, she says she could not afford to take anything for granted. "All I knew was that that race was the thing I had concentrated on," she says. "It's a hard race so anything could happen. That's the reality of sport, which is why for me it's about being on the start line and knowing you've done your best. Some athletes have the mentality that you're there to win but I would stay away from that. I was just excited to race."
Cooke storms home in first place at the Olympics
Photo ©: Roberto Bettini

That level-headed approach goes right back to Cooke's childhood. She can't remember making a conscious choice to become a cyclist, but naturally grew to love the sport and says that support from her parents and from friends within cycling has always helped her. "At a very young age I'd ride my bike to the shop and was already into cycling without realising it. I think I decided to become a cyclist in phases, because when I entered my first race [at age 11] I don't know if I wanted to win – I just wanted to do my best. Then after winning the Welsh cyclo-cross I thought, 'If I can beat all the boys maybe I can do something special.' Then I had the ambition to go from Welsh to British to world junior level. It's always been about seeing what I can do."
What she could do that day in Beijing was achieve the Olympic dream she'd come close to giving up just months earlier, and if being "in it to win it" wasn't Cooke's plan on the start line, she could not have been prepared for how she would feel at the finish. "Winning gold at the Olympics is such an incredible feeling! It was just so wonderful, it was like a colourful explosion. There were so many emotions rushing through me."
Cooke proudly presents
Photo ©: Roberto Bettini

As far as Cooke was concerned, her job for the season was done and that affected her approach to the World Championships the following month. "I had so many wonderful experiences after the Olympics, but soon I was back into the routine of training and recovering," she says. "I was Olympic champion going into the Worlds but I didn't have that expectation because I'd already proved myself."
Cooke is aware that her success this year, as well as the work of her talented teammates, has helped spark wider media interest in women's cycling. She believes that British Cycling's talent identification programme is already working well to bring girls into the sport and is confident that women's racing will remain free of the doping problems that have been dogging men's cycling in recent years.
"I think for women who choose cycling, it comes down to love of the sport – it's not for fame or fortune, that's for sure. When you do something for the love of it the choices you make are very different. My attitude has always been about seeing how far I can go, not winning at all costs."
Having crossed the Olympics and World Championships off her 'To do' list, Cooke is keen to help women's cycling continue to grow. Speaking just before the announcement of her new Vision1 racing team, she made it clear that her ambitions go beyond her own success. "My big racing aims are looking towards London 2012," she says, "but I've realised all my goals in cycling and I'd like to give something back to support it, create a team with the people that I've worked successfully with to work towards the next generation of cyclists."
Photography
For a thumbnail gallery of these images, click here
Images by Roberto Bettini/www.bettiniphoto.net
See also:
Heading for the bullseye in Beijing.
Another Cookie Monster?.
A prolific season.