First Edition Cycling News, February 9, 2009
Edited by Laura Weislo
Savio's men favoured for Langkawi win
By Greg Johnson in Kuala Lumpur, Malaysia
Pro-Continental team Diquigiovanni-Androni
Photo ©: Shane Goss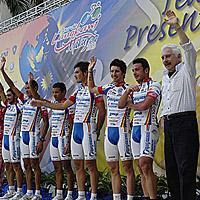 Giani Savio's Diquigiovanni-Androni riders enter this year's Tour de Langkawi as favourites, thanks to a strong lineup of climbers and a long list of top performances at the Asian race. Savio's squad is the defending champion for this week's event, which starts today, having won in 2008 with Ruslan Ivanov.
"Our philosophy is to always honour the race," said Savio. "We are here sure to win stages and also to try to win the overall classification. We have a good team, but I think it is very difficult for the reason that it is very difficult to control the race. With six riders the race is more open, so it is impossible to control all the race."
Columbian Jose Serpa is expected to perform well in this year's race, having twice won the tough Genting Highlands mountain-top finish stage. The stage to Genting Highlands, an ascent to 1.6 kilometres, has been included in this year's route after a one year hiatus.
"I am in good condition and hope to make a good race," said Serpa. "I am very happy to come back to Malaysia. It was a lot of travel because I started from Columbia, to Buenos Aires, Johannesburg, then to Kuala Lumpur – 30 hours of travel."
While the stage to Genting Highlands is often branded as being Langkawi's decisive stage, Serpa has won the stage on two occasions but is yet to win the overall classification. The race could again be narrowed down by a breakaway on an earlier stage, according to Savio.
Diquigiovanni-Androni team manager Gianni Savio (right)
Photo ©: Shane Goss

"Sure we have some good climbers, we think that we will be able to win in Genting, but before Genting are many, many kilometres of flat," he said. "For us it is very important to arrive in Genting, but for the overall classification I remember that in the past there were many, many breakaways and so I think that Tour de Langkawi will be decided, maybe, in one breakaway. In this breakaway we must have one of our climbers – maybe Jose Serpa, maybe Carlos Ochoa, maybe Jackson Rodriguez, but surely not Mattia Gavazzi who is a sprinter."
Savio doesn't believe the shortening of this year's event, from nine stages to seven, will impact the way his team attack the event. "I think it is the same, it's no problem for the overall classification," he said. "It's the same with six, seven, nine or 10."
Freddy Gonzalez and Hernan Dario Munoz won the race in 2004 and 2002 respectively for Savio, taking the team's overall title count to three. Another victory in 2009 would see Savio's squad become the team to have won the most titles in the race's 14 year history.
Photography
For a thumbnail gallery of these images, click here
Images by Jean-Francois Quenet
Images by Shane Goss/www.licoricegallery.com
Flecha is blown away in Qatar
By Gregor Brown in Doha, Qatar
Flecha raced in Qatar for the first time
Photo ©: Gregor Brown

Spanish Classic specialist Juan Antonio Flecha opened his season for the first time in his career at the Tour of Qatar. The Rabobank rider finished the race on Friday after a week of tough racing in the strong winds of the desert. Using the race as preparation for his target events, the Tour of Flanders, Gent-Wevelgem and Paris-Roubaix, Flecha found the event to be a harsh refresher on basic bike racing skills.
The strong winds blew the peloton apart on stage two, where Flecha ended up in a third chasing group that finished more than six minutes behind stage victor Roger Hammond.
"Here, there is something I have never seen in other races: you are in the echelons, all is fine, but then you are forced to brake and you have lost two metres. You will never come back. And it was just two metres!
"That happened to me in the second stage, I was in the first echelon and I thought 'OK, I will make it to the finish.' Then one of those traffic lights in the middle of the road caused someone to brake. I had to brake fast or I would have crashed.
I found myself two metres down, but I thought it was no big deal. However, we were riding at 60 to 70kpm and it was not possible, I kept losing minutes."
After that little wake-up call, Flecha began to relearn the lessons he will need for the big races. "You find the rhythm, you train to put the handlebars between the riders' bikes, you get a little more skills for the Classics... They are the skills within the bunch that you practice; I think after the winter everyone needs a little bit of those skills."
Read the full feature.
Nys splashes to victory in Hoogstraten
By Brecht Decaluwé
Sven Nys (Landbouwkrediet Colnago)
Photo ©: Cyclingnews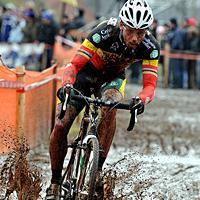 One day after the heroic battle between Niels Albert and Sven Nys in the GvA Trophy race, it was the latter who had clearly recovered better and Nys came out swinging. The Belgian champion Nys unleashed his force and fury in the mud of Hoogstraten just before the halfway point of the race, and build up an impressive lead to win the so-called strawberry-cross. World Champion Albert emerged from a chasing group with Bart Wellens and Zdenek Stybar to secure second place.
With just one round left for the overall ranking of the Superprestige Series, Nys pulled away from Klaas Vantornout (Sunweb), who was only able to come in fifth place and now lags six points behind Nys in the standings. Nys, however, is not ready to call himself the overall winner.
"The past taught me that the overall victory is only decided after the last race; I'll remain focused. Too bad that I lost valuable points in Diegem," Nys said. "One can never sell a bear's skin before it was shot... or something like that," Nys said.
Continue to the full report, results and photos.
Bronzini makes history in Middle East
By Gregor Brown in Doha, Qatar
Giorgia Bronzini (Italy)
Photo ©: Gregor Brown

Giorgia Bronzini made history Sunday with her win the first ever women's professional race held in the Middle East. The Italian sprinted to victory in stage one of the Ladies' Tour of Qatar in Doha.
"It is something very, very special and it is an honour for me. I am very happy because it is the first time the women have raced here," Bronzini said to Cyclingnews.
The Ladies' Tour of Qatar is a bold gesture by a country where women still follow the Islamic traditions of wearing a veil or a full body covering, the abaya. The Qatar Cycling Federation President Sheikh Khalid Bin Ali Bin Abdullah Al Thani created the stage race to complement the men's stage race, and to add to the growing sport's environment and help change the mentality towards women.
The morning of stage one, local girls from the Aspire Academy for Sports greeted the professional women. Organiser ASO and the Qatar Cycling Federation designed the encounter to give the young schoolchildren a first-hand look at professionals who are twice their age for inspiration.
"They are not so fortunate as the rest of us girls," said Bronzini. "I hope that in the future that the race can help open up the mentality towards the women – the possibility for women to be women. The fact that they have asked to have a Tour for the women is already something very special."
Team Italy's Bronzini leads the Tour of Qatar by six seconds over Kirsten Wild of the Cervélo TestTeam. She intends to keep the golden leader's jersey though the final stage on Tuesday.
The inaugural Ladies' Tour of Qatar is 313 kilometres long and welcomes 88 riders. It travels on roads around the country's capital city of Doha.
Also see the full results, report and photos from stage one.
Clerc delighted to start season in Malaysia
By Greg Johnson in Kuala Lumpur, Malaysia
Last year's Milo Sprint Points Champion, Aurelien Clerc (Ag2R La Mondiale)
Photo ©: Shane Goss

Aurélien Clerc (Ag2R La Mondiale) is pleased he can start his season at Malaysia's Le Tour de Langkawi this year, having specifically requested contesting the race instead of the Tour of Qatar. Clerc thoroughly enjoyed taking part in the Asian race last year, where he claimed the overall sprint classification.
"Sure, I wanted to come back here," said Clerc. "I changed teams and they asked me to go to Qatar, but after last year I had a great time here and I ask if it's possible to change, not to go to Qatar but come to Malaysia. For me the race is better, it's longer and there are stages that are more than 200 kilometres."
The Qatar event, organised by the company behind the Tour de France, marks the start of the racing year for many top sprinters and Spring Classic riders like Tom Boonen (Quick Step) and Mark Cavendish (Team Columbia-Highroad). The race is known for being a high-paced event, where riders face strong winds in the sandy landscape.
"I think Langkawi is good preparation for the Classics and the rest of the season because Qatar is very, very fast and for the first race of the year there is a lot of intensity in the race," he said. "So for me here is very, very good."
Clerc pointed to Malaysian rider Anuar Manan (Malaysia National Team) as his main opponent in the sprint classification race this year. The duo where locked in a battle for the sprinter's jersey early in last year's race, and Manan is hoping to become the first Malay stage winner at this year's edition.
"Anuar (Manan) will be very strong this year I think," he added. "I was happy to see him. I don't know everybody here because there's a lot of other [national] teams, but I'm sure there will be a lot of good sprinters."
The Tour de Langkawi starts today with a 133.8km stage from Putrajaya to Senawang.
Yates back in Malaysia with local team
By Jean-François Quénet in Kuala Lumpur
Jeremy Yates interviewed by ESPN
Photo ©: JF Quenet

New Zealander Jeremy Yates will follow up his positive experience in last year's Tour de Langkawi, where he finished fourth overall, with a return to the event as part of the Malaysian continental team LeTua.
Yates will race alongside the team's climbers Tonton Susanto from Indonesia and Ng Li Yong who has returned to an organisation from his own country after three seasons racing overseas (with Liberty Seguros in Spain, Vitoria ASC in Portugal and Meitan-Hompo from Japan).
Yates is impatient to start Le Tour de Langkawi for the second time on Monday. A former junior world champion (Plouay, France, 200) Yates has temporarily stepped down from the professional ranks to take a job as a builder, but is anxious to get back into competition in Malyasia. "I found my first LTdL last year to be an amazing experience," he said. "The people stand out in my mind as being the most memorable part of it. They were always smiling, friendly and polite."
Yates looked really pleased to meet his new team-mates from LeTua at the team's launch in the headquarters of the Fuji bicycles in Puncak Alam on Friday. "I like the atmosphere of Malaysia and I have no problem with the humidity here," he said. "At Le Tour de Langkawi, I would like to go for the GC again this year but the team's first priority is for a stage win for a Malaysian rider, so I hope to contribute to that effort." However, he might have quite a lot of freedom as LeTua's famous sprinter Anuar Manan who finished second in the points classification last year now rides for the Malaysian national team.
"I came here with good form," Yates warned after coming third on stage 3, and fifth on GC in the recent Tour of Wellington in New Zealand. Yates will keep his Malaysian connection beyond Le Tour de Langkawi for the rest of the 2009 season. "This year I hope to race in Australia national series and the Herald Sun Tour again. I am leading the NZ national points series and have 10-15 race wins a year domestically. I would like to win Tour of Southland this year and also a stage race in Asian tours racing with LeTua. Next year I hope to return to full time racing with either a French or an American team."
At the age of 26, he reckons his best days are still to come.
USA's Miller role model for aspiring Qatari children
By Gregor Brown in Doha, Qatar
USA Champion Brooke Miller
Photo ©: Gregor Brown

US Champion Brooke Miller hopes to be a role model for young Qatari girls as she races with her team this week in the inaugural Ladies' Tour of Qatar, February 8 to 10. She hopes the event will bring a change of attitude towards women's sports in the Islamic country.
Most women in Qatar cover themselves fully with a head-to-toe covering called an abaya, so the sight of dozens of women in tight cycling clothes is quite unusual, but Miller was surprised that they didn't draw a negative reaction. "I thought people would be a lot more shocked to see us in our shorts and jerseys," said Miller, who stood out in her stars and strips jersey, to Cyclingnews.
The same organiser of the Tour de France and the men's Tour of Qatar, the Amaury Sport Organisation (ASO) runs the stage race. It worked with the Qatar Cycling Federation to create the tour as a way to promote sport to young girls. Miller sees the race as an opportunity to give back to the sport.
"When I was growing up, even in America, I did not have female athletes as role models. Now, all the little girls in the States are looking up to my generation of athletes as role models. It is very empowering for women.
"Here they can see there are other parts of the world where women are doing sports, racing professionally and travelling around the world as athletes."
Miller and her US National Team cohort Katharine Carroll made the key move of 21 riders in stage one on Sunday. Miller ended the day in 14th after a tough stage finish which saw multiple attacks in the final kilometres.
"I went with the French girl in the first move near one kilometre to go. I was on that wheel, but we hit a headwind and I blew. When the next move went, the winning move, I was wiped out."
Millar, 32, will lead the team over the next two stages. The race is suited to her style, with flat and windy stages that demand a strong rider.
Team Type 1's to serve dual purpose in California
by Kirsten Robbins in California
Team Type 1 Co-founders
Photo ©: Marco Quezada

The professional men and women of Team Type 1 united for a ten-day training camp in the California training hot spot, Solvang. The camp allowed the men's squad to huddle before the start of the Tour of California, set to begin in Sacramento on February 14. Being invited to compete alongside the international field brings the squad one step closer to their vision – supporting the first Type 1 diabetic rider in the Tour de France in 2012.
"It's pretty cool and hard to put into words how it feels to be a part of the Tour of California," said team co-founder and professional cyclist Phil Southerland. "To start a race with a line up of riders who are Tour de France champions, world champions and champions of every other race under the sun, is incredible. For me, for our team and for the sponsors who are excited to see this all happen. Hopefully it will be a good launching pad to spread awareness about our program, about diabetes and what it takes to compete at this level."
Team Type 1's goal is to compete in the Tour de France during the 2012 season. According to Southerland, its sponsors are prepared to support the program with funds necessary to get them to where they need to be with in three years. "Being there in 2012 is our goal but who knows, if we progress faster it could be in 2011," Southerland said. "The [makers of the] Lantus and Apidra brands, the insulin that our diabetic riders take, are so passionate about this vision of reaching the Tour de France. We have four riders on the team who are diabetic and we need to step up our game to make that possible."
In the meantime, competing in events like the Tour of California provide the nationally ranked squad with the level of competition they need to improve on the international circuit. "Our sponsors understand the financial requirements and the athletic requirements we need to achieve to get to that level," said co-founder Joe Eldridge, who noted the squad will make their first European debut this season in Spain and Italy. "They understand what we have to do this year to be ready and improve for next year and so on. Each year we need to take a step up so competing in the Tour of California is one of those steps. But we also need to continue adding more experienced riders to our program and attend more international level races."
Team Type 1 supports six professional riders who are diabetic. Southerland and Eldridge along with Australia's Fabio Calabria and Belgium's Willem Van Den Eynde on the men's side and Megan Patton and Monique Hanley on the women's side. Both Southerland and Calabria are scheduled to compete in the upcoming Tour of California along with experienced and decorated cyclists Darren Lill, Matt Wilson and Moises Aldape. The team will announce the remaining three riders soon.
The Team Type 1 women's teams
Photo ©: Marco Quezada

The professional men's team includes Southerland, Eldridge, Calabria and Van den Eynde along with Lill, Aldo Ilesic and Riccardo Escuela. Returning riders include Matt Wilson, Jesse Anthony, Moises Aldape, Ken Hanson, Dan Holt, Chris Jones, Valeriy Kobzarenko, Ian MacGregor and Shawn Milne. The men's team is led by directeur sportif Vassili Davidenko and assistant directeur Gord Fraser. Jack Seehafer will lead the women's eight rider team in the 2009 season. The competitive roster includes Patton and Hanley along with Alison Powers, Kori Seehafer, Jen McRae, Veronica Balderas, Samantha Schneider and Jacquelyn Crowell.
The 2009 program has grown to support 56 athletes in total. Along with the professional men and women programs, additions include Team Type 2 and Team Type 1 RAAM teams, a triathlon team and a development team. "It's a struggling market overall and we've been fortunate enough to have some great sponsors who really believe in us," Eldridge said. "Our team has a different perspective as far as our message. I think our sponsors are getting a lot out of us and that is why we haven't been effected so much. We represent a product that is not like other."
For a thumbnail gallery of these images, click here
Images by Marco Quezada
Feel the love in Santa Rosa
Cycling fans and enthusiasts will get a chance to feel the love as the VELOVE Winter Bicycle Festival kicks off along with the 2009 Tour of California on Valentine's Day weekend. The joint effort of promoters Bike Monkey, the City of Santa Rosa, Mainstreet and West Coast GoldSprints will take place February 14-15 in the Northern California town which is home to last year's Amgen Tour of California champion, Levi Leipheimer.
Events include a cyclo-cross race on Saturday, with live music by the Hubbub Club Marching Band. Fans can then proceed to the after party at the Sweet Spot Pub, where the Amgen Tour of California prologue will be shown on the big screen. Later in the evening, cycling commentator Paul Sherwen will be the host for a benefit for the Support Bicycles for Humanity-Santa Rosa. Held at the Cellars of Sonomo in Railroad Square from 6-9PM, the proceeds from the event and live auction will help send the organisation's first shipment of bicycles from Santa Rosa to healthcare workers in Namibia, Africa.
Only 100 Tickets are available online at www.VeloveFestival.com.
A concurrent event will take place at the Hunter Global Legacy Center, hosted by the Sonoma County Bicycle Coalition.
On Sunday, events include the West Coast Gold Sprints from 12pm-7pm and a meet and greet with Team Rabobank at the Sonomo Bicycle Company. Free valet bike parking is available.
To learn more and register for events, visit www.VeloveFestival.com.
(All rights reserved/Copyright Future Publishing (Overseas) Limited 2009)