First Edition Cycling News, February 8, 2009
Edited by Laura Weislo
Leukemans comes out swinging
After a difficult year Björn Leukemans
Photo ©: AFP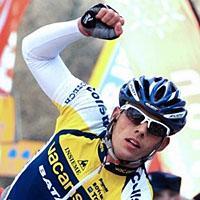 Björn Leukemans found success in his first stage race of the season, scoring a win on Saturday on the Etoile de Bessèges fourth stage in Allègre-les-Fumades. The Belgian is debuting with his new Vacansoleil team after more than a year spent fighting doping charges. Leukemans out-sprinted Thomas Voeckler (Bbox-Bouygues Telecom) for the stage while the Frenchman took the overall lead in the race.
For Leukemans, the stage was an important victory after many months of misery. He tested positive in October, 2007 for testosterone, but argued that the result was due to a prescription given to him by his team doctor. After an initial two-year ban which would have lasted until February 2010, Leukemans' ban was shortened to six months.
"This is indescribable," Leukemans said to sporza.be. "I'm going to enjoy this very much." The win was vindication for both Leukemans and the Vacansoleil team which signed him in spite of the doping case. "I answered with the pedals. That was the only way."
Now that he is racing again, Leukemans has a deeper appreciation for the sport. "I enjoy it a lot more, I look at it completely different than before. I just really enjoy the bike, even if it rains all day, as it did here on Friday."
Milan-Sanremo maintains course
The first Classic of the season, the 100th edition of Milan-Sanremo will kick off on March 21 with the same parcours as the 2008 edition, race organiser RCS Sport announced Saturday. The 298-kilometre race will not be able to have its traditional finish on the Via Rosa due to construction, and will instead duplicate last year's finish on the Lungomare Italo Calvino.
The race will again include the climb of Le Mànie, which was introduced last year due to construction on the Via Aurelia, near kilometre 200. The 4.7-kilometre climb will be one more leg-sapping effort to weigh upon the riders in addition to the traditional finishing climbs, the Cipressa and Poggio. Last year, Swiss rider Fabian Cancellara won the race with an unstoppable attack in the final two kilometres, foiling the sprinters who have dominated this Classic in the past.
Qatar welcomes first women's tour
By Gregor Brown in Doha, Qatar
Qatar welcomes the inaugural Ladies' Tour of Qatar on the heels of the successful men's stage race. The three-stage women's event, February 8 to 10, has attracted some of the sports top riders to challenge for the overall leader's golden jersey.
"We believe in sports as a way to keep well physically and mentally, and cycling is something that everyone can practice. This race is a continuation of the [men's] Tour of Qatar; we have gained experience in race organisation that we've applied to the women's event," said President of the Qatar Cycling Federation, Sheikh Khalid Bin Ali Bin Abdullah Al Thani.
The stages are each around 100 kilometres long and each is based near the country's capital of Doha. Based on the results of the men's race this last week, the women's races will be decided in sprints from those strong enough to deal with the crosswinds and intense racing conditions.
There will be 15 teams of six riders for the 2009 edition. Team Columbia will be a strong force. It will work for its sprinter Emilia Fahlin. She will go head-to-head with the likes of Team Italy's Giorgia Bronzini, Lotto's Rochelle Gilmore, Cervélo's Kirsten Wild and Team Australia's Kirsty Broun.
Team USA brings Geelong World Cup winner Katheryn Mattis. Qatar will give fans a good indicator of her form for 2009 and if she recovered from the two broken collarbones that plagued her 2008 season. US champion Brooke Miller and Katharine Carroll are also strong contenders for sprint victories.
Like the men's race last week, there will be three classification jerseys awarded each day. Gold for the overall classification, silver for the leader in the points classification and blue for best young rider (under 25).
The stages total 313 kilometres. Stage one is 94 kilometres from Doha to Al Khor and back, stage two travels 110 kilometres from Doha to Al Shahaniyah and stage three starts in Al Shahaniyah and ends 109 kilometres later in Al Khor.
'Triki' Beltrán allowed to race?
Will Manuel Beltrán have the last laugh?
Photo ©: Isabelle Duchesne

Spaniard Manuel Beltrán may have tested positive for EPO during last year's Tour de France, but that may not mean he will be denied a racing license, according to reports on Saturday. The former Liquigas rider revealed that the UCI and the Spanish federation have communicated to him that he would be allowed to race anywhere except the Tour de France, much to his surprise.
"It is a surprise after I have been treated so badly. But the truth is that I do not mind. I was really depressed after the show that set up around me. It's something I would not wish on anyone, and frankly, I do not know what will happen in the future," Beltrán said in the local newspaper Ideal.
"It's a complicated situation. Right now I am not optimistic, but I would like to show that my professional career is still alive. There has been a turning point in my life since July, 2008. I had a model behavior; I have been honest and I have not had any problems with the anti-doping controls, so I cannot explain why they have gone after me."
Despite the scandal, Beltrán has continued to train, and has signed with Bike Sport, according to the Diario de Jaén. The team's director José Muñoz said, "Manolo has never been sanctioned by the UCI or the Spanish and, therefore, has his license in order to compete with us."
Beltrán was one of eight riders to test positive on samples taken during the Tour de France, where doping controls were conducted by the French anti-doping agency AFLD rather than under the UCI. Other positive riders Riccardo Riccò (CERA) and Dmitri Fofonov (Heptaminol), who tested positive during the Tour, and Bernard Kohl and Leonardo Piepoli, who were found positive for CERA in blood tests last August, have confessed and are serving bans.
Beltrán and fellow Spaniard Moises Dueñas along with German Stefan Schumacher (CERA) have yet to be handed suspensions. Frenchman Jimmy Casper was cleared of a doping violation after testing positive for asthma medication. (AJS)
Eight charged in Operación Puerto
Proceedings have been opened against eight persons involved in Operación Puerto, the Spanish newspaper El Pais reported Saturday. The group includes Eufemiano Fuentes, the doctor at the centre of the affair, and directeurs sportifs Manolo Saiz and Vicente Belda. However, anyone hoping for a speedy resolution to the case which has been debated since May, 2006 will be disappointed. Hearings are scheduled to be held this autumn at the earliest, and there could be additional delays with possible appeals.
The Spanish Cycling Federation (RFEC), the International Cycling Union (UCI) and the World Anti-Doping Agency (WADA) were given a 10-day deadline to file a complaint on January 30. The agencies submitted written statements against the defendants. Besides Fuentes, Saiz and Belda, Jose Luis Merino, Alberto Leon, Ignacio Labarta, Alfredo Córdova and Yolanda Fuentes are accused of a crime against public health. The eight face a maximum of two years in prison, besides losing their respective work licenses, according to Spanish paper El Pais.
The judge is Antonio Serrano, the same judge who shelved the Operación Puerto twice before. He read the letters and decided to go on with the hearing, but a different judge will adjudicate the case.
A first appeal could come based on the grounds that judge Serrano initially only opened proceedings against Fuentes and Merino. The two were accused of a well-established system of extracting and re-inserting blood to athletes. It is possible that the six others will appeal any decision which would see them be prosecuted.
The prosecution makes its case for possible health violations by the two doctors. The blood was taken in unsuitable locations, the blood was not stored in adequate containers, the donors were not clearly identified and there was no guarantee to keep the blood at temperatures necessary to conserve it well. There were also no measures against potential power failures.
The judge said in his written statement, "The whole procedure was illegal and it was without any inspection by the health authorities."
The defence maintained that the judge was wrong to open the proceedings against all eight defendants. "We understand that the hearing panel left it up to the judge to decide. The panel resigned, perhaps because they were fatigued and wanted to shake off the matter as soon as possible."
Cyclingnews' recent coverage of 'Operación Puerto'
May 18, 2009 - Valverde to start Catalunya
May 15, 2009 - Valverde not welcome in Denmark
May 14, 2009 - Spanish federation wants proof in Valverde case
May 13, 2009 - Spanish Olympic Committee defends Valverde
May 12, 2009 - Valverde responds to sanction
May 11, 2009 - Italian tribunal delivers Valverde two-year suspension
May 8, 2009 - Valverde case: Italian Olympic Committee defends Torri
May 7, 2009 - Valverde to take legal action against CONI prosecutor
May 5, 2009 - WADA and Spanish federation join CONI and UCI on Valverde
May 1, 2009 - International Cycling Union joins in on Valverde's hearing in Italy

Cyclingnews' complete coverage of Operación Puerto
OUCH announces California line-up
The 2009 OUCH Cycling Team presented by Maxxis.
Photo ©: Jon Devich

The OUCH Pro Cycling team will field a strong team for the upcoming Tour of California, headed by 2006 race winner Floyd Landis. Paired with Australian Rory Sutherland, twice the overall winner of the USA National Racing Calendar classification, the team is looking to make an impression in the race when it begins on Saturday, February 14th in Sacramento, California.
Much of the team organisation and riders were previously together as the Health Net team, and directeur sportif Mike Tamayo said that they have assembled the strongest team they've ever put together for this race. "Last year, Rory was one of the most aggressive riders during the race. And Floyd is Floyd, only better because his hip is healthy and he's highly motivated to do well at this race again."
In order to be in top form to help his team in California, Tim Johnson cut his cyclo-cross season short and will be ready to play a major support role. Also backing Landis is Patrick McCarty – a former Phonak teammate of Landis' who is reunited with his captain under the OUCH banner.
Also toeing the line in Sacramento will be Cameron Evans, Karl Menzies, John Murphy and Brad White.
"We have a lot of guys who are threats for stage wins in this group," Tamayo said. "We intend to race aggressively and have an impact on the race."
OUCH Pro Cycling Presented by Maxxis for the Amgen Tour of California: Floyd Landis, Rory Sutherland, Cameron Evans, Tim Johnson, Pat McCarty, Karl Menzies, John Murphy, Brad White.
Columbia's women launch the season in Qatar
By Shane Stokes
Three road race champions will feature on the Columbia High Road team for the Tour of Qatar, which begins tomorrow and runs until Tuesday.
German champ Luise Keller, Swedish title holder Emilia Fahlin and Danish champ Linda Villumsen will be joined by the Australian Kate Bates, plus Dutchwomen Chantal Beltman and the world scratch race champion Ellen Van Dijk for the new event, which comes onto the calendar following the success of the men's race in recent years.
"The whole trip will surely be a cool adventure," Fahlin told Cyclingnews this week. "Qatar is going to be an experience, for sure.
"In general, our aims there are to get good training, get back to racing again, and grow together again as a team! And since people are in different stages of their training at the moment, we will see what it brings for us. But everybody is excited since its a new race, a new place and the first women's race organized by ASO."
At 20, Fahlin is the youngest member of the Columbia High Road team. She told Cyclingnews in January that she was satisfied with her training up until that point, and has followed through on her stated plan to head to warmer climes to get more kilometres in.
"Things went well after Majorca," she said. "I went straight from there on to another training camp on Lanzarote. I've been to Sweden for just one week in-between then and now...that was a good thing, because it was not really not nice weather there for the bike.
"My personal goal in Qatar is mainly to get into racing again. Because of some bad luck in December, I'm not totally race fit yet. I think its going to be a hard race in that wind so, for sure, it will be tough. But I think I will gain good experience from it, and I'm so happy to be back racing again!"
As regards aims for the season, she indicated she will target the European championships, winning a UCI race while in the Swedish champion's jersey and also trying to defend that title.
Team-mate Keller has different aims. She won two stages plus the overall in the Route de France last year, and was second in the Plouay World Cup. "As regards goals, I would like to improve, obviously. Maybe I can win a World Cup or win stages in bigger stage races...something like that."
Read the full feature on Keller and Fahlin here.
Bronzini aims for stage win
By Gregor Brown in Doha, Qatar
Giorgia Bronzini (Italy) leads the UCI World Cup in the points race.
Photo ©: Greg Chang

Giorgia Bronzini is aiming for a stage win this week in the Ladies' Tour of Qatar, which runs from February 8th to the 10th. The 25-year-old leads Team Italy in the first stage race of the season.
"I hope that in three days I can win at least one stage. Above all, I want to find my way in the sprints against the top sprinters," she said to Cyclingnews.
The race will consist of three stages, all around 100 kilometres long. As with the men's race last week, the Ladies' Tour of Qatar is suited to sprinters who can handle their own in the wind.
"The profile is completely flat; it is the wind that will make the selection. The Dutch teams will have an advantage."
She will face a strong field that includes Noemi Cantele (Bigla), Rochelle Gilmore (Lotto) and Kirsten Wild (Cervélo).
A stage win could put Bronzini in a position to fight for the overall leader's gold jersey. However, she wants the form gained in Qatar to carry her on to a successful Track World Championships.
Bronzini competed in the China and Columbia Track World Cup events and will line up in Copenhagen this February 13 to 15. She is building for the Track World Championships in Poland, March 25 to 29.
Beyer closes first pro race with escape
By Gregor Brown in Doha, Qatar
American Chad Beyer of BMC Racing closed his first professional race, the Tour of Qatar, with 104 kilometres of time in a breakaway. The 22-year-old attacked the group of overall race leader Tom Boonen with five others in stage six Friday, getting plenty of time out front to gain experience and get noticed. Ultimately the break was caught and Mark Cavendish took the stage win, but Beyer was pleased with the day.
"I was feeling pretty good at first, but I was kind of hurting on the finishing laps," said Beyer to Cyclingnews.
The Tour of Qatar was his first race of the season with the Professional Continental team BMC racing of John Lelangue. The team competed alongside 16 other teams from Europe and Asia.
Beyer made the move with familiar faces: Team AG2R La Mondiale's Gatis Smukulis, with whom he raced in the Under-23 ranks, and Servais Knaven, who he might have seen on television if he had watched the 2001 Paris-Roubaix.
"It was hard, there was a lot of wind. It was a good experience racing with these guys." Beyer finished the race 89th overall.
The Tour of Qatar provided valuable skills for Beyer. He plans to take the lessons learnt to the USA for National Racing Calendar series events. He will travel east again this summer for Picardie. His schedule could also include the Tour of Ireland, Franco-Belge and Paris-Tours.
(All rights reserved/Copyright Future Publishing (Overseas) Limited 2009)