Latest Cycling News, February 9, 2009
Edited by Bjorn Haake
Gavazzi hopes to follow father's footsteps
Italian wins Langkawi's opening stage
By Greg Johnson in Senawang, Malaysia
Team Manager Gianni Savio (r) and his 'crazy' guy, Mattia Gavazzi
Photo ©: Bruno Bade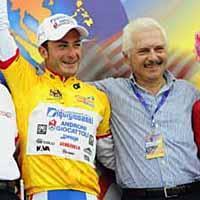 Mattia Gavazzi (Diquigiovanni-Androni) hopes to one day follow in his father's footsteps and win Milano-Sanremo, the Italian said after winning the Tour of Langkawi's opening stage. The rider's victory on Langkawi's opening stage earned the 25-year-old the praises of team boss Gianni Savio.
"Winning Milano-Sanremo would be, of course, my dream," said Gavazzi. "But it would be the dream of any rider who has my characteristics. I want to be quiet about this goal, because now I have the opportunity to do some races that I've never done before. That will be the lead-up to Classics like Milano-Sanremo.
"In my team there are some fantastic riders like Davide Rebellin, Gilberto Simoni, Alessandro Bertolini," he added. "I want to learn from them first. I'm still young, I have a few more years ahead of me so I'm not in a big rush. I have to keep my feet on the ground before I can set such things as a goal."
Gavazzi's father, Pierino, won the Italian Spring Classic in 1980. Pierino, now 58 years old, claimed three Italian National Championships and stage victories at the Giro d'Italia, the Tour de Suisse and the Tour de Romandie throughout his extensive career in the sport.
Savio commended Gavazzi's professionalism since joining the Venezuelan team this year, although admitted the rider had a reputation for being "crazy". Gavazzi was suspended for 14 months after a positive cocaine sample at the Trofeo Papa' Cervi di Gattatico in 2004.
"I want to congratulate Mattia Gavazzi, not only for the win but for the reason that he prepared very, very well during the winter," said Savio. "He is younger and I am sure that he is able to have big results in the future."
The victory was Gavazzi's second of the season. The Italian rider won the Tour of San Luis' opening stage last month in Argentina.
"Each victory is nice," he said. "Both are unexpected, especially the one in Argentina, because I was not supposed to start the season so early. After what I did in Argentina I came here thinking more seriously about winning, so this one is not as unexpected."
Gavazzi's older brother Nicola has also enjoyed some success as a professional cyclist. Now 30 years of age and no longer active, Nicola won the junior GP Tell's stage 4 in 2000 and claimed a professional win on the Regio Tour's stage 3 in 2003.
The Tour of Langkawi continues Tuesday with a 160.9km stage from Senawang to Melaka.
Sutton, Clerc to try again in Malaysia
By Greg Johnson in Senawang, Malaysia
Chris Sutton (Garmin, left) came very close to victory and will try again in the remaining sprints
Photo ©: Bruno Bade

After missing out on victory at the Tour de Langkawi's opening stage, top sprinters Chris Sutton (Garmin-Slipstream) and Aurélien Clerc (AG2R La Mondiale) have both vowed to try again on Tuesday. The pair was beaten to the first stage win, and leader's yellow jersey, by Diquigiovanni-Androni's Mattia Gavazzi.
"We've still got more stages to come and the boys are great," said Sutton. "They just kept a high tempo, so nobody was just bombing off the front."
Clerc, the event's defending sprint champion, snapped his chain during the sprint on Monday's stage. The mechanical problem took him out of contention for the stage win, and also hampered Sutton's efforts as the Australian had been on the Swiss rider's wheel.
"It's never good for the head when you have a problem like this, because you know you are in front and it's not your fault," said Clerc. "But we will see. I think there are five more stages where it's possible to come in a sprint, so we will see tomorrow."
Sutton was full of praise for teammate and countryman Cameron Meyer, who looked after him in the closing kilometres. The Malaysian race is just Meyer's second road race as a professional, having debuted at the Tour Down Under with Garmin-Slipstream last month.
"Cameron Meyer did his last little job towards the end, Cam was a big part," said Sutton. "Cam's supposed to sort of get me to five kilometres to go and then get out of there because it's pretty hectic, but he did more than what he is supposed to do, which is great for me. He gave me a free run."
"We will try and win a stage or two," said Sutton. "We'll see what happens, I guess."
Both Sutton and Clerc, who are two of the event's top sprinters, were exhausted at the end of today's stage. The 133.8-kilometre stage saw temperatures reach 36 degrees centigrade, with a high level of humidity.
Hushovd dreams of Roubaix win
By Shane Stokes
Thor Hushovd already celebrated once this season. After his birthday cake he hopes to also get a Roubaix cobble this year
Photo ©: Shane Stokes
Thor Hushovd is a multiple stage winner of the Tour de France and a former victor in the green jersey competition but he is heading into the 2009 season with another big target in mind.
"The Tour is of course important but if I had to choose between winning the maillot vert again or taking a Classic, I'd love to win a Classic. I have won the jersey before, after all."
The big Norwegian gets his season underway in the Tour of California this Saturday and said that he is in good form heading towards his first big targets of the year.
"I think my condition is okay. It is not at the peak, of course, but I have been training hard this winter, because I started last year's season quite early," he stated. "I have a few kilometres in my legs already, I feel myself getting better and better. I hope to be on top from the middle of March, for Milano-Sanremo until Paris-Roubaix.
"I will also do Flanders, but Milano-Sanremo and Roubaix are my two biggest goals. And of those, Roubaix is something special."
Now 31, he's ridden his whole career up to now in the colours of the Crédit Agricole team. That stopped at the end of 2008 and now he is in the black, red and white of the new Cervélo setup. He's looking forward to the season, and is happy with his new squad.
"I know many of the guys from before," he explained. "There are already five of us who came from Crédit Agricole, and some others I know from the races. Of course there are some new riders too, some American ones, some Spanish guys I don't know. There are actually some guys I have not seen racing before. But the mood is very good here."
A full interview with Thor Hushovd will appear on Cyclingnews soon. Stay tuned.
Fahlin draws encouragement from Cavendish
By Gregor Brown in Doha, Qatar
Fahlin looks up to Mark Cavendish
Photo ©: Shane Stokes

Swede Emilia Fahlin draws inspiration from men's Columbia-Highroad teammate Mark Cavendish for the Ladies' Tour of Qatar, February 8 to 10. The Briton won two stages of the men's stage race last week.
"We are at the same training camps. To watch the TV and see them winning gives us motivation and because we don't want to go worse than them," Fahlin said to Cyclingnews.
The men's race concluded its eighth edition on Friday. Tom Boonen took the race overall for a record third time, but Cavendish got the better of his Belgian rival in two sprint finishes.
The wind left its mark on the men's race. Already after stage one of the women's race, won by Italian Giorgia Bronzini, it is evident the wind is in Qatar to stay.
"If the wind is the same it will be very decisive. It will then suit some of those crosswind type of riders and those who are already on form for the upcoming Classics," Fahlin said.
Fahlin remained in the main group today as her in-form teammate Ellen van Dijk fought for the win – she finished third and is now the best young rider.
Fahlin's objectives will come later in the season. Her next races are in California, USA.
The three-stage race continues Monday. The riders will cover 110 kilometres from Doha to Al Shahaniyah.
Merckx welcomes women's tour to Qatar
By Gregor Brown in Doha, Qatar
Belgian Eddy Merckx is happy how the men's race developed in Qatar and now hopes the same for the women's version.
Photo ©: Gregor Brown

Eddy Merckx welcomed the first ever women's professional cycling race to the Middle East, the Ladies' Tour of Qatar, February 8 to 10. The Belgian cycling legend and the founder of the successful men's race hopes the women's version will continue to spread the message of sport in the Islamic country.
"It is to promote sport and especially women's sport. The Qatar Cycling Federation, along with the royal family, would like to have more sport in Qatar," said Merckx to Cyclingnews.
Merckx worked with the same organiser of the Tour de France, the Amaury Sport Organisation (ASO), to bring the women's race to Qatar. The stage race's purpose is to promote sport in a country where some young girls wear abaya (cloak).
"I don't think the country has a problem with our culture here. You can see outside the sport that the women don't have to have to wear a veil on their head, I think it is really democratic."
Merckx introduced the Qatari royal family to the Amaury Sport Organisation and they worked together to create the first men's Tour of Qatar in 2002. This year's edition was won by Belgian Tom Boonen.
The inaugural women's race started Sunday with a 94-kilometre stage based out of Qatar's capital of Doha. Italian Giorgia Bronzini won the stage and holds the overall jersey.
Merckx competed in the 1960s and 1970s. He is a five-time winner of the Tour de France and Giro d'Italia, three World Championships and several one-day Classics.
Nolf's father doesn't want autopsy on son
Friederik Nolf died during the Tour of Qatar due to natural causes
Photo ©: Roberto Bettini

Freddy Nolf, father of deceased rider Frederiek Nolf, has said that he does not want to have an autopsy performed on his son. Nolf's body is expected to arrive in Belgium on Tuesday.
"Out of respect for Frederiek, we see no sense" in an autopsy to determine the cause of death, Freddy Nolf told nieuwsblad.be. "He has gone to sleep in a peaceful, natural manner. It is time to leave Frederiek to his rest."
He added, "What will it bring if we learn the exact cause? Nothing. Frederiek will not return because of it."
Belgian and Qatari doctors have already established that he died a natural death, and therefore there is no legal requirement for an autopsy.
Nolf is scheduled to be buried in his hometown of Kuurne, and organisers of the Kuurne-Brussel-Kuurne race on March 1 have already scheduled a tribute to him. "During the neutral phase we will make a detour along the Hulsestraat to stop at Frederiek Nolf's parents' house. We will make a tribute to him there, assuming that Freddy and Mimi Nolf agree to it," said race secretary Filiep Verhelst.
Nolf's memory will also be honoured in Qatar, as the race organisers there have announced that future winners of the fifth stage will receive the "Frederiek Nolf Trophy." Nolf died before the fifth stage of this year's race.(SW)
Sevilla hopes to shine on California climbs
By Kirsten Robbins
Oscar Sevilla is one of the top riders at Rock Racing
Photo ©: Roberto Bettini

After a rocky start to the 2009 season, Rock Racing's Oscar Sevilla is motivated to make a strong appearance at the Tour of California, set to begin on February 14 in Sacramento. He was scheduled to compete in Argentina's season opener, the Tour of San Luis, but plans fell through when his team encountered problems with its racing license at the start of the new year. The team met the requirements set by the UCI and acquired a continental license on January 16.
A healthy and happy Sevilla spent one month in Bogata, Columbia, before arriving in California this week. "I went to Colombia to train at altitude, to help prepare for the start of our season. I came to Los Angeles so I could get in some team training before the Tour of California."
The organisers have incorporated at least one KOM summit in each of eight road stages. The eighth and final stage stretches nearly 160 kilometres from Rancho Bernardo to Escondido and features four King of the Mountain summits. It is marked as the 'Queen' stage because it includes a 19-kilometre climb up the Palomar Mountain range, reaching 1,561m (5,123 feet) through 21 switchbacks.
The additional climbing in this year's event has significantly reduced the odds for field sprint finales, a big change over last year. The race will likely cater to one of the plethora of top-notch climbers in attendance. Sevilla has his sights set on maintaining a top placing in the general classification. "I hope to make a good race because I feel good and motivated," Sevilla said. "The team is motivated to race well, too. We have very strong and professional riders for the 2009 season."
Sevilla expected to be spending more time at his Spanish home during the season because of his team's ambitions to develop a Europe based roster. "I was in Spain resting over the off-season with the family; I went hiking, played tennis and did other sports," he said. Sevilla will likely stay with Rock Racing for the 2009 season. "I'm very happy to spend another season racing in the USA."
Suspended amateur blasts German federation
Philip Schulz, a German amateur rider, is claiming that the the Bund Deutscher Radfahrer (BDR), the German national federation, is trying to cover up a doping scandal. Schulz is currently serving a two-year doping suspension himself. He said on German television that the BDR "suggested" that a rider who tested positive for an unallowed hormone get a medical certificate saying he had testicular cancer, which causes a build up of that particular hormone. The BDR has denied all charges.
Schulz, 29, said on the German television program ARD Sportschau Sunday evening that a rider, whose name he did not disclose, tested positive in 2007 for the hormone hCG (Human chorionic gonadotropin), usually associated with pregnancy. When found in men, it usually indicates a tumour, probably cancerous. However, hCG is also used in combination with anabolic steroids as a performance enhancing drug, to increase testosterone levels.
Schulz claimed that the anonymous rider was told by an employee of the BDR to "get a diagnosis of testicular cancer." The rider was able to get the false certificate from a cooperative doctor, Schulz said.
The peer pressure for using banned products is very strong, Schulz said. "If you say no, you have the feeling that you don't belong any more. If you say yes, you run the risk of testing positive."
BDR Performance Sport Director Burckhard Bremer denied the story, calling the charges "laughable." Bremer said the only suggestion from the BDR was to have further examinations to eliminate the possibility of a tumour.
Schulz said that he had filed criminal charges with the Bundeskriminalamt, or German federal police, against unnamed cycling colleagues for violations of the prescription medications laws. He is said to have disclosed how doping materials are used, stored, bought and sold.
Schulz noted that he had made the disclosures in hopes of taking advantage of the "cooperative witness" rule and having his suspension shortened.
Schulz tested positive in May for amphetamines and was suspended until November 2010.(SW)
(Additional editorial assistance from Susan Westemeyer)
Previous News Next News
(All rights reserved/Copyright Future Publishing (Overseas) Limited 2009)