First Edition Cycling News, February 6, 2009
Edited by Laura Weislo & Les Clarke
Cyclists in Qatar mourn Nolf's death
By Gregor Brown in Doha, Qatar
Riders head back to the hotel
Photo ©: AFP

The riders of the Tour of Qatar, team staff and press gathered at the Doha Ritz-Carton on Thursday afternoon to mourn the death of Frederiek Nolf. Thursday's stage was shortened to about 30 kilometres, and the riders, who wore black arm bands in honour of Nolf, did not contest the race. The 21-year-old Belgian of Team Topsport Vlaanderen-Mercator died in his sleep of a suspected heart attack Thursday early morning.
The Qatar Cycling Federation hosted the service where nearly 400 people gathered to pay their respects. Present were all 17 teams of the Tour of Qatar, including the seven members of the Topsport Vlaanderen team.
Cyclist Sven Renders spoke on behalf of all Topsport Vlaanderen-Mercator teammates:
Nolfie,
Yesterday we had so much fun
And now, suddenly, you are not here
We don't understand it
We will always miss you.
A representative rider and director sportif of each team placed team jerseys and flowers near the bike of Nolf. Riders included Mark Cavendish, Tom Boonen and Bradley Wiggins; staff included Johnny Weltz, Wilfried Peeters and Serge Parsani.
The Belgian Quick Step team was especially affected by the loss of its compatriot. "Many of our athletes and staff knew Frederiek personally. The news of his death has left us all in shock," said team director Wilfried Peeters.
Overall leader Tom Boonen (Quick Step) was somber
Photo ©: AFP

Tom Boonen, the race's current overall leader, spoke on behalf of the team. "When something this awful happens, racing becomes a lesser priority. We're all devastated. We all knew Frederiek, and we all appreciated him. Today we wanted to remember him. Tomorrow the race will resume, but it won't be the same. The entire team, riders and personnel, feel his family's pain."
President of Qatar Cycling Federation, Sheikh Khalid Bin Ali Bin Abdullah Al Thani, pledged to honour Nolf in stage five of the 2010 Tour of Qatar with a commemorative trophy.
"It is of great sadness for us," said the secretary general of the Qatari Olympic Committee, Sheikh Saud Bin Abdul Rahman Al Thani. "The Government of Qatar, along with the cycling federation, gives our deepest sympathy to you – he was one of your colleagues – to his family, the government of Belgium and his country's ambassador.
"I have the power from Emir Hamad bin Khalifa Al Thani to do whatever is possible to make this go as smoothly as it can."
Belgium's consulate to Qatar prepared the paperwork in French and Flemish so that Nolf's body can travel tomorrow from Qatar to Brussels, via Paris. Doctors will perform an autopsy in Belgium.
Nolf joined the professional cycling ranks in 2008 with Team Topsport Vlaanderen. The Tour of Qatar was his first race of the 2009 season. He finished 90th in Wednesday's 141-kilometre stage four to Madinat Al Shamal, which Mark Cavendish won.
Astana adopts the Californian way
By Gary Boulanger, Bikeradar.com
Levi Leipheimer was calm and relaxed
Photo ©: Gary Boulanger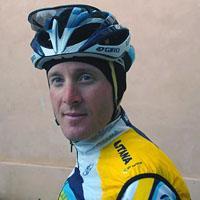 As the 2009 Amgen Tour of California approaches, two-time defending champion Levi Leipheimer is wrapping up final preparations with his Astana team in his hometown of Santa Rosa, California. With the return of Lance Armstrong, it's inevitable to wonder where the team allegiance will lie in pursuing overall victory when the race finishes in Escondido on February 22: with Leipheimer or the seven-time Tour de France champion?
The entire Astana squad - minus team director Johan Bruyneel - has called Santa Rosa home this past week, sharing precious saddle time with each other at the Hyatt Vineyard Creek Hotel & Spa before going their separate ways.
Astana mechanics have been dialing in the Trek Madone team bikes with SRAM liaison Alex Wassmann, while directors Alain Gallopin, Dirk Demol, Viatcheslav Ekimov, and Sean Yates sort out the logistics for the season ahead. Leipheimer has led the team on his favourite local routes throughout the week, and on Wednesday took the Tour of California squad - Armstrong, Chris Horner, Janez Brajkovic, Yaroslav Popvych, Jose Luis Rubiera, Steve Morabito, and Michael Shar - on a brisk six-hour, 107-mile ride over Sonoma County's King's Ridge and back under somewhat cloudy skies and temperatures in the low 60s.
According to Horner, Astana doesn't feel the pressure to lead the Tour of California start to finish, because as he said, what matters is who wins at the end. He helped Leipheimer win in 2008, and was cagey during a post-ride interview about a designated team leader going into the 2009 event.
"We're going to work hard to win it," said Horner. "We have guys on the team who can win it, who have won it, and are going to win it!" he adds with a laugh.
Stay tuned for the full Cyclingnews feature on Team Astana's California preparations.
Basque Tours merge
Alberto Contador (Astana) won the 2008 edition of the Basque Tour
Photo ©: cyclinginside.com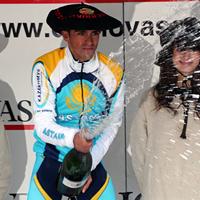 In a press conference today in San Sebastián, the organisation committees of the Vuelta al País Vasco and the Euskal Bizikleta announced that they would merge into a new organisation called "Organizaciones Ciclistas Euskadi". The move will mean the continuation of the ProTour races Vuelta al País Vasco (April 6 to 11) and the Clásica San Sebastián (August 1), but will see the Euskal Bizikleta (June 3-7) disappear from the Spanish calendar, according to Diario Vasco.
The Euskal Bizikleta, which was once more important than the Vuelta al País Vasco, suffered in the last few years from financial loss, reducing the race to only three days instead of one week. Earlier this year, the Basque television channel ETB informed the organisations that they would not be able to cover both events and made the proposition to merge both races.
"We accepted the plan of ETB, and we did totally agree", confirmed Jaime Ugarte, the president of the new organisation. "The new team will organise the Vuelta al País Vasco as well as the Clásica San Sebastián." The official press partner will be the Diario Vasco, and the Basque government will come back as sponsor, like they were until 2006.
Julián Eraso, the new vice-president of the Organizaciones Ciclistas Euskadi said that "the direction of Sports of the Basque government and ETB believed in this project and the new organisation. They imposed some conditions, and we accepted. It is a fantastic project and it will allow that the fans will go on enjoying races of the highest level."
The new Vuelta al País Vasco will merge with the legendary final stage of the Euskal Bizikleta, the ascent to the sanctuary of Arrate, to form a six-day stage race which will begin in Ataun and finish with a time trial in Zalla. (MP)
Cyclingnews' latest diarist - Andy Schleck
Saxo Bank's Andy Schleck is the latest rider to join the ranks of Cyclingnews' diarists. After two amazing seasons in 2007 and '08, Schleck is now regarded as one of the brightest young stage racing talents in the world. In his first entry, the younger of the Schleck brothers gives us a little insight into his off season and what lies ahead in the first part of 2009.
The calm before the storm
As I write I'm sitting by a warm, crackling fire at my parents' home in Luxembourg. I've been here for a week but in the morning my season starts for real when I fly to the US. Gazing out of the window, everything is still, like the calm before the storm. I know that once I hit the US it's going to be non-stop and manic for the next ten months. From California to France for Paris-Nice and then Liège... before I know it I'll be back here at my folks' writing about the upcoming season in 2010.
The Schleck brothers
Photo ©: Roberto Bettini

But as this is my first diary for Cyclingnews, let's go back a few weeks to the beginning of the year. It got off got to the perfect start when Karsten Kroon, Frank, his girlfriend and I flew to New York for a few days. It was all totally last-minute and unprepared but we managed to see one of my favourite Dutch DJs play. We spent the whole night dancing and it was an incredible experience. I spoke to Bjarne Riis when I was back and he didn't have any clue I was even out there. He didn't mind though – I don't have to check in with the boss every minute of the day but I did have to tell the whereabouts programme.
I get asked about its benefits and hang-ups a lot. I accept it; I know that cycling has its problems and that we cyclists have no one to blame but ourselves for the current condition of the sport. Sometimes it can be hard though. If I want to go out with friends I have to declare it, but I'm young and I don't plan every occasion. It must be worse for some of the older guys who have training and family commitments to juggle. Like I said, I accept that these measures have to happen, I just wonder if the authorities have gone too far.
Things have been quiet since I've been home. I've been putting the finishing touches to my new apartment, which is being constructed now. I've been picking out bathroom tiles and things like that. Picking out tiles? Yeah, I know it sounds goofy but I'm really excited about having my own place. It is only a few hundred yards from my parents and my brother Frank.
Click here to see the rest of Andy Schleck's first diary entry on Cyclingnews
See all of Cyclingnews diaries here
Barloworld bikes stolen in Italy
Team Barloworld awoke to an unwelcome surprise on Thursday when thieves broke into a store room at their training camp hotel in Italy and stole 21 of the team bikes. The riders were in the midst of a camp in Castagneto Carducci (Livorno), Tuscany.
The theft was discovered by the hotel management when they noticed that the lock of the store room where the 32 Bianchi team bikes were kept had been forced open. Italian police in Donoratico were immediately contacted and investigations have begun to locate the thieves and recover the stolen bikes.
Most of the Team Barloworld riders have now been left without a bike to train on, however Team Manager Claudio Corti has already contacted bike sponsor Bianchi, who is trying to arrange new bikes to be sent to the team so that the riders can continue to train for the new season.
Page renews with Planet Bike
By Brecht Decaluwé
Jonathan Page (Planet Bike)
Photo ©: Mitch Clinton

After some stressful months, life is looking up for cyclo-cross rider Jonathan Page, who has renewed his contract with sponsor Planet Bike for the next season. Page nearly missed the most important race of the season, the cyclo-cross World Championships last weekend in Hoogerheide, and feared his career was over due to a missed doping control. Only two days before the race, Page finally got green light from the US Anti-doping Agency and USA Cycling, who found that he had not violated the anti-doping rules.
On the race day, Page was unable to perform to his best and after an anonymous race at the back he crossed the finish line in 51st place. "There was too much emotion for me. I tried my hardest to focus but I'm totally empty. During the race I never gave up though my body... it was hard to even hold my handlebars; I felt like a skeleton on a bike," an emotional Page said to Cyclingnews right after the race. "I felt like crying on the bike. It took a lot. People worked so hard to get me here and I wanted to give something back. I think I have to call it a season," Page added.
While the USA cyclo-cross season is long over there's still two weeks of cross racing in Belgium and Netherlands. Page signed contracts to start in some of these races but clearly he's not planning to show up. "I think the organizers will understand. Surely they will not be paying me but that's not the biggest issue right now," Page said.
A few days later the former silver medallist at the cyclo-cross World Championships of 2007 sounded better and on his personal web site thejonathanpage.com he wrote, "Three days gone and I'm already feeling much better [...] I'm mentally much better." The American referred to the people who support him, including his sponsors. "While many sit un-employed, I have a great job, if I'm allowed to do it," Page wrote. In that last bit Page referred to the possibility of an appeal from the UCI that might arrive one of these days. "I still know that there is a chance that this nightmare is not yet over," Page wrote.
Sponsor Bob Downs from Madison-based bike company Planet Bike came over from the USA to attend the World Championships and to support his rider. "I'm pleased with the outcome of the missed doping control; it's only fair. It's unfortunate he had to go through it," Downs said. While some would have expected the employer to dump his rider after this bad advertising Downs talked differently.
"Any association depends on a relation and we have to develop that. We give him the best chance to perform to the best," the Planet Bike owner said. When asked about how he would try to influence Jonathan Page the manager had one topic in mind. "Jonathan is a rider of the old generation and his training is based on sensations. I want to add in the power meter to his training so he has objective feedback. I know he doesn't like it and that a previous attempt failed, but drained batteries didn't help back then," Downs said.
For now Page and Planet Bike have to await the verdict from the UCI's lawyers before he can focus on next season.
L'Equipe to become soft on doping?
Journalists of the French sports newspaper L'Equipe are worried that directives from its new organisation will lead reporters to steer clear of the hard-hitting doping stories which earned the paper much of its reputation. L'Equipe's editorial staff was reorganised last year, and now the Société des Journalistes (SDJ) of the French sports paper expressed concern over communications which suggest that writers should find other stories to pursue than doping revelations.
According to a SDJ L'Equipe memo, which was made public on cyclismag.com, Marie-Odile Amaury, the owner of Éditions Philippe Amaury - which is L'Equipe's parent company and owner of Tour de France organiser ASO - has made her wishes clear that the newspaper focus less on doping and more on the sport itself.
The memo also notes that L'Equipe reporter Damien Ressiot has been specifically instructed to stop doing research into doping and simply to report on doping news. Ressiot is best known for unearthing alleged proof that Lance Armstrong used EPO during the 1999 Tour de France which rocked the cycling world in 2005. Armstrong vigorously denied the charges, but the paper stood behind its story in spite of an investigation by the UCI-appointed lawyer Emile Vrijman which found several critical flaws with the case.
The new managing editor, Fabrice Jouhaud, said doping issues will still be discussed at L'Equipe, "But we will give less space to doping issues because this is not the priority of our publication. It is time for the cycling department to rest its arms and take a breath," he said according to cyclismag.com.
Editor Gilles Simon confirmed the new policy to cyclismag.com. "If you look around, there are plenty of interesting things to report about." But Simon denied that doping reports will be on the black list. "[These rumours] are completely untrue," he said.
Team Astana announces 'Ride For Livestrong' campaign
By BikeRadar
The Astana Cycling Team announced its support for the Lance Armstrong Foundation's Livestrong Global Cancer Campaign during the team's training camp in Santa Rosa, California, introducing its Ride For Livestrong web site, the team's season-long effort to connect cycling fans around the world to the global fight against cancer.
"Through Ride For Livestrong, Team Astana is encouraging the international cycling community to get involved in our movement to make cancer a global priority," said Armstrong, 37, founder and chairman of the Lance Armstrong Foundation (LAF). "I am honoured that my team is demonstrating outstanding leadership in a show of support for our campaign."
According to Armstrong, Ride for Livestrong is composed of three elements – a race kilometre contest, a fundraising initiative and an educational component. The announcement, made on World Cancer Day, took place at Team Astana's press conference during its training camp in Levi Leipheimer's home town, prior to Leipheimer and teammate Alberto Contador meeting the attending press.
"The 27 riders representing nine countries on Team Astana are proud to stand with Lance Armstrong in the global fight against cancer," said Johan Bruyneel, Team Astana General Manager. "Many of the riders, like our fans, have a personal connection to cancer; Ride for Livestrong allows them to take an active role this season to support this effort."
Fans will select their favourite Team Astana rider at the Ride for Livestrong web site, where they can view rider profiles and their connections to cancer. The web site also features cancer statistics for each rider's home country, as well as the burden of cancer in each of the countries where Team Astana will compete this season. By selecting a rider, fans can enter into a race kilometre contest to win Team Astana sponsor prizes, including a race-ridden 2009 Trek Madone 6.9 road bike; a special edition Giro Ionus Livestrong road helmet signed by Armstrong, and a Nike Livestrong clothing package.
Fans may also choose to make a donation to support the fight against cancer through the Livestrong Global Cancer Campaign. Once a favourite rider is selected, fans will be directed to the Lance Armstrong Foundation's secure transaction web site A one-time donation of US$27.50, or more, allows fans to sponsor a rider for the entire season in honour or in memory of a loved one who has been touched by cancer. Names will appear on a rider's profile page. Donations are not required to enter into the race kilometre contest to win Team Astana gear.
The Astana Cycling Team has set the goal of raising US$275,000 over the course of the season for global cancer research. This goal equates to one cent for every cancer death during Armstrong's retirement (27.5 million). The funds raised will support the Livestrong Global Cancer Campaign efforts to make cancer a global priority. The Livestrong Global Cancer Campaign is focused on supporting the 28 million people living with cancer worldwide, dispelling the misconceptions surrounding the disease and urging world leaders, leading cancer organizations and cancer survivors to join together in this effort.
For more information, visit www.rideforlivestrong.com.
Miller appointed USAC athletics director
USA Cycling announced Wednesday that Jim Miller has been appointed to the position of Interim Director of Athletics effective immediately. Miller will remain in the position until a permanent replacement is identified.
Miller's appointment comes following the departure of former Director of Athletics, Pat McDonough, on February 2.
Previously, Miller served as the organization's Endurance Program Manager, overseeing the development of junior, U23 and women endurance athletes in road and track cycling.
"As a successful coach and program director with USA Cycling for the last seven years, I am confident that Jim will provide excellent leadership and direction for our athletic programs," said USA Cycling chief executive officer Steve Johnson. "USA Cycling is also grateful for the service Pat has given to the organization throughout his tenure and we wish him nothing but success in the next phase of his professional career."
Georgia Gran Prix to debut in Winder
The Georgia Cycling Gran Prix, a new amateur racing series, will make its racing debut in Winder, Georgia at the TopView Cycling Classic on February 28-March 1, organisers announced this week. The TopView Cycling Classic will consist of two road races, the first in Barrow County, featuring a rolling 7.1 mile loop, the second a seven-mile circuit near Dacula, Georgia, with challenging, hilly terrain.
The next race in the series, the Regions Bank Weekend will be a two-day, three-stage race, beginning with a time trial and criterium in downtown Albany on Saturday, March 7, and a road race on March 8. The time trial begins on the riverside street of downtown Albany. With over ten turns in 3.1 K, the time trial will have riders ducking and diving and stomping on their pedals as they weave through the streets of downtown.
Competitors will revisit the TT course for the criterium - a figure-eight, two kilometre course through Albany, and then contest the road race, a 54.5km loop through the Albany country.
For more information on races, scheduling, and registration, visit GeorgiaCycling.net.
(Additional editorial assistance from Monika Prell)
(All rights reserved/Copyright Future Publishing (Overseas) Limited 2009)