Latest Cycling News, February 6, 2009
Edited by Bjorn Haake
Merckx quiets early Nolf speculation
By Gregor Brown in Doha, Qatar
Eddy Merckx asks everyone to respect Nolf and his family and to stop speculating
Photo ©: Roberto Bettini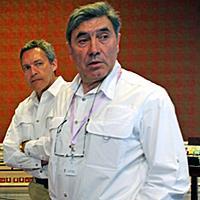 Cycling legend Eddy Merckx reminded the public to stay respectful of Belgian Frederiek Nolf and his grieving family until doctors perform an autopsy. The 21-year-old of Team Topsport Vlaanderen-Mercator passed away early Thursday morning in Doha, Qatar, of a suspected heart attack.
"Speculation? He is a cyclist, so you know there will always be that. We have to wait for the autopsy for more information," Merckx said to Cyclingnews.
Nolf's body will be transferred tomorrow from Qatar to Brussels, via Paris. Doctors will perform an autopsy in Belgium.
The Topsport team withdrew from the race after Nolf's death. The race continued Thursday with a neutralised stage of 30 kilometres. Friday is the final stage, 121 kilometres from Sealine Beach to Doha.
There is speculation that drugs or another unknown cause led to Nolf's death. The team reported that all cardiograms performed during the previous season were normal and that the rider was in good health prior to his death.
"The team is well organised and very strict in all aspects. Topsport Vlaanderen keeps its young riders on a programme that is stable and not overly hard."
Nolf turned professional last year with Topsport Vlaanderen. The Tour of Qatar was his first competition of 2009. He finished 90th in Wednesday's stage four to Madinat Al Shamal.
Merckx is the technical sponsor for the team and a representative of the Tour of Qatar.
Meersman misses his close friend
Gianni Meersman was a close friend of Nolf and the two often trained together
Photo ©: Stijn Vercaemer

Gianni Meersman (Française des Jeux) was close friends with Frederiek Nolf (Topsport Vlaanderen) and the two often trained together. After hearing the news of Nolf's death, Meersman immediately visited the family of the young Belgian. Meersman and Nolf lived very close to each other in West Vlaanderen, Belgium.
Meersman was still in shock a day after the news broke. "It is still so unreal. He was my best friend," Meersman told sporza.be. "We will never again laugh together, train together or go to races together."
Meersman said that they were in contact on a daily basis and on Wednesday they were still exchanging SMS messages. Nolf died in the night from Wednesday to Thursday.
Meersman explained why he liked hanging out with Nolf. "He was a great guy and you could always count on him."
Their friendship went so far that they shared a common dream. "He should have gone into breaks of the big races later in the year, to get noticed. Then I could have made Française des Jeux aware of him so we could race together."
Cardiologists sees doping unlikely
Meersman added that the death came without apparent warning. "He never complained about heart problems or anything like that. He always said that he had a V6-engine under his cap."
Nolf even had two cardio tests recently. "I know some people will use this opportunity to draw conclusions that can't be drawn. This was a natural death," Meersman said.
Pedro Brugada, cardiologist at the university clinic in Jette, agreed with the assessment. "It is unlikely it was a doping related death. The teams don't take these kinds of risks anymore," Brugada said to Het Nieuwsblad. It was likely a hereditary problem. "A gene that regulates the heart beat was probably defect and that resulted in the heart suddenly stopping to beat."
Windsor learns from Europeans in Qatar
By Gregor Brown in Doha, Qatar
Dean Windsor is learning quickly from the best
Photo ©: CJ Farquharson

Australian Dean Windsor is learning European style of racing on the windy and sandy roads of Qatar. The 22-year-old is part of the Team Drapac Porsche up against cycling's big names – like Tom Boonen and Filippo Pozzato – for the Tour of Qatar, February 1 to 6.
"The more you race against them the more you learn," Windsor said to Cyclingnews. "The way the attacks go, the way you can move up the bunch, the way the bunch moves... Everything like that is a bigger challenge for us than what it is for the European riders."
Windsor specialises in sprints and finds some of the world's best in Qatar. He came to the Tour of Qatar for the second time in his career with the Australian team. He has competed with the same team in Belgium, the Tour of Austria and the Brixia Tour.
Drapac struggles against their more experienced competitors in Qatar. It finished 13th in the opening team time trial and has placed its men in key race escape groups. Windsor's teammate Rhys Pollock took part in the seven-man move on Wednesday.
"It is so hard to make a sprint here; there is never a standard, typical sprint. It is usually all of the riders in the gutter with the section being made. ... We are sort of fighting for survival out there."
Windsor did not start the final stage on Friday, due to an achilles problem. The Tour of Qatar is in its eighth year. The same organiser as the Tour de France, the Amaury Sport Organisation, runs it. Belgian Tom Boonen is the current general classification leader.
ISD with former winner to Langkawi
By Jean-François Quénet in Kuala Lumpur
ISD at the presentation in December – in January things will be more serious
Photo ©: Team ISD

Le Tour de Langkawi in Malaysia has always given new teams a chance to set an early season highlight. This year it is Italian outfit ISD who received an invitation to debut on the international scene between February 9 and 15. ISD follows Slipstream and Tinkoff, who made their entry to professional racing two years ago.
Luca Scinto is the directeur sportif for ISD and he has good memories of the Malaysian race. "Being the first European winner of Le Tour de Langkawi [in 1997], I also want to bring a winning team to Malaysia as a manager now," Scinto said. At the time Scinto was coming back from injury and the win at Langkawi gave him renewed confidence.
For the following five years of his career, he became one of the world's best domestiques, mostly at the service of Michele Bartoli. He was also part of the Italian team that propelled Mario Cipollini to a world championship title in Zolder, Belgium, in 2002.
All three are now part of ISD, with Scinto coaching and Cipollini consulting. Bartoli decided to return to racing at the age of 38.
The experienced Bartoli will be a good mentor to younger riders, but for the results Scinto looks to his Eastern bloc. "Now I want to teach the young Ukrainians how to be dedicated in their sport as well," said Scinto. "There are already excellent riders from this country, such as Andriy Grivko, Dmytro Grabovskyy and Volodymyr Dyudya, but we believe the younger ones coming after them in our organisation will be able to develop as well."
At Le Tour de Langkawi, Vitaly Kondrut and Denis Kostyuk will follow the path of Sergey Matveyev who won a time trial in Melaka in 2006. "I'm also confident that our young Italian neo-pro Gianluca Mirenda will be able to do very well in the race," Scinto explained. A few injuries prevented Scinto from bringer a stronger team, but he was optimistic. "We have composed a team of aggressive riders keen to create breakaways." Scinto was also hoping someone could pull off a surprise like he did in 1997.
ISD has made an encouraging debut as a professional team with Grivko finishing fourth overall at the Tour of San Luis in Argentina last week. Le Tour de Langkawi is only their second expedition but they have already gained enough credibility for getting a start at this year's Tour of Italy.
Ciolek and Gerdemann with Milram debuts
Linus Gerdemann will start his racing season in Spain
Photo ©: Patrick Reed

Gerald Ciolek and Linus Gerdemann will make their debuts for Team Milram next week in the Mallorca Challenge.
The two new team captains, both of whom rode for Team Columbia last season, will be joined by former Gerolsteiner riders Fabian Wegmann and Markus Fothen.
The team will look to win one of the days' races in the five-part race series. Ralf Grabsch, who is making his debut as directeur sportif after a 12-year riding career, said that "We want to go into the race with a good spirit, strong teamwork and an aggressive riding style."
The team will send a total of 14 riders to the race. The Mallorca Challenge is a series of five one-day race, with riders able to ride whichever they choose.
Milram at the Mallorca Challenge: Gerald Ciolek, Linus Gerdemann, Christian Knees, Markus Fothen, Markus Eichler, Johannes Fröhlinger, Martin Müller, Thomas Rohregger, Matthias Ruß, Ronny Scholz, Wim Stroetinga, Martin Velits, Peter Velits and Fabian Wegmann. (SW)
New hairdos for Silence-Lotto
Team Silence-Lotto is looking good going into the new season – literally. The team has treated its riders to haircuts and new hairdos from the top Belgian hairdressing salon "Le Client".
"An athlete's image begins with how he looks," the team said, according to sporza.be.
"This year we have two particularly good looking riders in Greg Van Avermaet and Thomas Dekker," the team said. "And the other guys will go too, of course."
Ceramica Flaminia tomorrow in traditional season opener
Team Flaminia will start its season with Etruschi, like in year's past
Photo ©: Team Flaminia

On Saturday the Italian team Ceramica Flaminia - Bossini Docce will open its season as in years past, with the G.P. Costa degli Etruschi in Donoratico, Italy. Team Director Roberto Marrone wanted to hold on to tradition.
"We always start the season with the GP Costa degli Etruschi and we didn't want to abandon our habits, especially in light of the fact that we improved each year. This year especially we want to have a season where we are protagonists in the races."
Italian road champion Filippe Simeoni will lead the squad, which also contains Maurizio Biondo, Leonardo Giordani, Dainius Kairelis, Mikhaylo Khalilov, Alessandro Maserati, Bernardo Riccio and Enrico Rossi.
Sprinter Riccio is ready to get a big result this year. "I am fine and I am not preoccupied with the expectations that the team has in me. I know how I have to tackle my opponents to reach the top level of riders."
Equipe Nürnberger to Qatar
Equipe Nürnberger Versicherungen will open its season at the Ladies' Tour of Qatar, February 8-10, with Sports Manager Jochen Dornbusch making his debut with the team.
Dornbusch said that he had watched the men's race on TV and saw the effect of the wind. "We have a good line-up for this race," he said, and will look especially to former World Champion Regina Schleicher and Dutch rider Suzanne de Goede to do well.
The Equipe is only sending five riders, as Charlotte Becker must stay home due to a cold.
The first Ladies' Tour of Qatar covers 313 kilometres in three stages.
Equipe Nürnberger for Qatar: Christina Becker, Lisa Brennauer, Suzanne de Goede, Eva Lutz and Regina Schleicher.(SW)
East-coast indoor velodrome plans revived
By Mark Zalewski, North American Editor
The US has many outdoor tracks, but wants to add a third indoor one
Photo ©: James Huang

Two years ago there were plans for an indoor velodrome outside of Philadelphia, organised by Dave Chauner, who promotes the annual Philly week of races. The plans seemed to be coming along until the major part of the financing fell through. But today the effort is alive again and taking significant steps toward making a third indoor velodrome in the US a reality.
"We came close a few years ago in Montgomery County – we had the investors and the property but the financial commitments from the state did not work out in terms of timing," Chauner told Cyclingnews. The bottom line is we went over to Chester County."
There are currently two proposed sites for the planned new-construction building that will house a 200-metre track, about an hour from downtown Philadelphia. "We are working with Dale Hughes to design the track and the facility around it. The building will be about 95,000 square feet with permanent seats. It will have locker rooms, bike storage and additional retail space."
When asked why not a 250-metre track, the recommended size to host UCI events, Chauner said the overall goal is not for that purpose. Instead he hopes this is the beginning of a league-type format that will more closely emulate American team sports, and subsequently generate wider interest.
"We thought about it but our goal is to present exciting bike races. We even almost did 166 [metres] but thought 200 was better because it gives us enough room in the infield. It will be an arena as well. These smaller suburban arenas are the future."
"We don't want to chase UCI races – we are looking at more of a team, league format. We are talking to velodromes around the world about that."
A possible concern is how close this proposed velodrome is to the existing outdoor facility in Trexlertown, about an hour away. But Chauner does not see a conflict, and actually sees the combination as a possible boon to track racing in the area.
"It kills me when everyone thinks a new velodrome is going to kill the others. Baseball has more than one stadium. I totally believe that this will be a terrific complement to Lehigh Valley – having a team from each compete against the other. Of course we'll have the winter training and programming, which will be the focus anyway to not compete with the road racing events."
British Cycling going to extremes
Ed Clancy gives everything for Great Britain
Photo ©: Gerry McManus

British Cycling knows almost no limits in its desire to win. It has shredded the "top-secret" kit which its track medal winners at the Beijing Olympics used last summer. It also considered some extreme measures to deal with possible broken collarbones.
The problem with the collarbone plan is that it would have required deliberately injuring one of its riders. "Ed Clancy [who won gold in the Olympic team pursuit] said he would not mind having his two collar bones broken," British Cycling Team Performance Director Dave Brailsford told the BBC. "But then, thankfully, someone said 'what on earth are you doing?' and this madness was stopped."
Brailsford said that the track riders' skinsuits have been shredded to prevent them from falling into the hands of their rivals, who might then attempt to copy them. Britain intends to use the suits again at its home London Olympics in 2012.
"Those suits were created by British Cycling and Adidas put the labels on," he said, but the actually sewing was outsourced for further security. "Our skin suits were sent out to Japan so that the person who put them together in Japan did not know where they were from and there was no link."
Britain won eight gold medals in track events at the Beijing Olympics.(SW)
(Additional editorial assistance from Susan Westemeyer)
(All rights reserved/Copyright Future Publishing (Overseas) Limited 2009)