First Edition Cycling News, April 26, 2009
Edited by Sue George
Basso back on top after three years
By Gregor Brown
Ivan Basso (Liquigas) celebrates his 2009 Giro del Trentino win
Photo ©: Giro del Trentino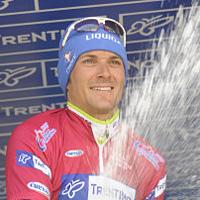 Ivan Basso is back at the top after a three-year absence due to his link in 2006's Operación Puerto doping investigation. The team Liquigas Italian won the Giro del Trentino overall Saturday in Pejo Fonti, Italy, two weeks before he will attempt to win his second Giro d'Italia.
"I am happy. It comes near my big objective and so it gives me a little bit more assurance," said Basso to Cyclingnews.
Basso's last race win was the overall victory at the 2006 Giro d'Italia. He won three stages and finished ahead in the classification by 9:18 over José Enrique Gutierrez. He served a two-year suspension for links to Spanish doctor Eufemiano Fuentes, and only returned to racing at the end of last year's season.
The three- week Giro d'Italia stage race is once again his objective. Basso seeks to win this year's edition, and the four-day Giro del Trentino gave him another chance to see his rivals before the main event.
Coming up on
Cyclingnews will cover the 60th edition of the Dauphiné Libéré live as of stage 4 on Wednesday, June 10, at approximately 15:00 local Europe time (CEST)/ 23:00 Australian time (CDT)/ 9:00 (USA East).

WAP-enabled mobile devices: http://live.cyclingnews.com/wap/

"I got a good look, but these guys all know how to arrive at the Giro in form anyway. There will be some riders that we have not yet seen, guys who will come up as contenders at the Giro d'Italia."
Prior to the Giro d'Italia, Basso faces once last race: Sunday's Liège-Bastogne-Liège. He was scheduled to travel with teammate Franco Pellizotti by private airplane Saturday night to Belgium.
"I am not kidding myself, I am not a machine and to contend for Liège victory is difficult – it is very different course. There are many riders who have prepared specifically for that one day."
Liège-Bastogne-Liège is one of cycling's five Monuments. It is 261-kilometres long and features 11 côtes (climbs). Basso's last participation was in 2006, he finished 10th. He placed third in 2002.
Basso returned from a high-altitude training camp last weekend. He detailed the experience in his diary earlier this week.
See Cyclingnews' full coverage of the Giro del Trentino.
Klöden and Kessler said to be Freiburg blood dopers
By Susan Westemeyer
Andreas Klöden (Astana)
Photo ©: Riccardo Scanferla

Andreas Klöden and Matthias Kessler are said to have received blood transfusions at the Freiburg University Clinic after the start of the 2006 Tour de France, along with Patrik Sinkewitz. The German news magazine Spiegel reported Saturday that the independent commission looking into organized doping at Team T-Mobile/Telekom reached this conclusion in its not-yet released report.

The report further stated that doctors Lothar Heinrich and Andreas Schmid set up and operated a program of illegal doping for the German team from 1995 to at least 2006. The doctors have admitted to providing doping up until 1999, which put them under the statute of limitations.

Klöden and Kessler are said to have ridden with Sinkewitz and his girlfriend to the Clinic on the evening of July 2, 2006, the evening of the first stage of the Tour de France in Strasbourg. All three are said to have received blood transfusions. While other reports have indicated the possibility of all seven T-Mobile riders participating, the magazine only mentioned the three German riders.

Klöden's current Team Astana told Cyclingnews that it had no comment. He has previously denied the charges. Kessler, who is serving a two-year suspension for testosterone doping. He tested positive in April 2007 while riding for Team Astana, and has consistently denied any charges of doping.

Sinkewitz subsequently tested positive for testosterone before the Tour de France 2007. He was given only a one-year suspension for cooperating with investigators and now rides for the Czech Continental team PSK Whirlpool.

On June 30, the team suspended Jan Ullrich, Oscar Sevilla and directeur sportif Rudy Pevenage for their alleged involvement in Operación Puerto, which also included illegal blood transfusions.

According to the report, the doctors did not explain to the riders the possible side effects of the doping products. For example, on July 2, when Sinkewitz is said to have driven from the Tour de France to Freiburg, there were problems with the first bag of blood that the doctors attempted to transfuse into him. Schmid allegedly got a second bag, which was also full of clots and did not flow properly.

Matthias Kessler (Astana)
Photo ©: Andrea Hübner

"Apparently the blood was either bacterially infected or improperly stored," the magazine stated. However, Schmid did not inform Sinkewitz of that, thus acting "especially irresponsible" concerning the "risk of worst complications" such as shock or a lung embolism.

Schmid and Heinrich are said to have falsified medical certificate to obtain doping products. For example, Schmid is supposed to have once falsely diagnosed Sinkewitz with a knee tendon inflammation, solely in order to a give him an official excuse to take cortisone.

When the riders wanted more products, they could just send a text message or e-mail to the doctors, using a code system. For example, EPO was referred to as "Luft" (air).

The Commission concluded that Schmid and Heinrich acted alone at the Clinic. Both doctors were fired by the Clinic in 2007 and are the subject of various investigations.

The magazine reported that the 64-page report was finished on April 16 and should be published "shortly", pending the resolution of open legal questions.
Duclos-Lassalle shares fond Classics memories
By Bjorn Haake in Liège
Gilbert Duclos-Lassalle won Paris-Roubaix
Photo ©: Bjorn Haake

Gilbert Duclos-Lassalle won Paris-Roubaix twice and still has fond memories of his double in 1991 and 1992. At Liège-Bastogne-Liège, he will host the guests and partners of ASO, the race's organiser. Duclos-Lassalle explained the differences of racing in his era versus today.
Duclos-Lassalle couldn't pick one of his Paris-Roubaix wins over the other. "Both were great victories for me," the Frenchman told Cyclingnews. "The first one I won with panache. I was the one who attacked; I was encouraged by the fans and arriving alone in the velodrome, like Boonen did this year, is incredible."
He also enjoyed the second victory, which came thanks to his experience that he acquired in the Hell of the North. "I was the captain of the teams Z and Gan for this race because I showed I had the feel for it."
Despite the lack of the radios at the time he knew Olaf Ludwig was chasing. "I am 50 percent for and 50 percent against the earpieces," Duclos-Lassalle said. He is for it due to security concerns. "The riders are warned for obstacles and also the team cars don't have to enter the end of the peloton anymore to give advice."
But he also agrees that racing has changed due to the technology. "There was always a captain who gave the orders and the riders were much more concentrated on what they were doing.
Hopefully the medical car won't be needed on Sunday
Photo ©: Bjorn Haake

The riders receive plastic cards with all the stage details. "We used to take it and mark things with a pen, like turns or where the wind was coming from and we put it in our pocket," Duclos-Lassalle explained.
"Today the riders look at the road book beforehand, but they don't take the little plastic cards. Why? Because they wait for the instructions to come through over the radio."
But even in the 1980s there were some forms of communication. "Each team car had a different sounding horn," to relay information.
These days, Duclos-Lassalle sits inside the car, but only to show guests and partners of ASO the ins and outs of racing. His favourites for Sunday were the usual suspects: Alejandro Valverde (Caisse d'Epargne), Davide Rebellin (Serramenti PVC Diquigiovanni-Androni Giocattoli), Damiano Cunego (Lampre-NGC) and the brothers Fränk and Andy.
"Advantage to the Schlecks, because they are two," he predicted.
Mangeas, the voice of cycling
By Bjorn Haake in Liège
Daniel Mangeas is the voice
Photo ©: Bjorn Haake

Daniel Mangeas is the announcer at the Tour de France and many other French races. He is the voice of French cycling, and his animated announcements are both entertaining and informative. Mangeas has always wanted to make bike races come alive as an announcer.
"I did my first race when I was 15 years old. From there, I just kept going."
His most memorable moment was his first Tour de France in 1974. "Even if this was the only one I'd ever do, I was telling myself: You made it!"
But he also remembers when the Tour started in his native village Saint-Martin-de-Landelles, going to Plouay. "It was in 2002 and Karsten Kroon won. This was also on July 14," Mangeas said. Stages on the French national holiday Bastille Day are always special.
Despite the many races he has attended, you can feed him a date and he remembers it. "The French Championships in 1994 in Fontenay-le-Comte? Ah, yes, Jacky Durand won there," he said.
A former football player once wrote a dedication to Mangeas: "Passionate people are exciting." For Mangeas, it is a natural ability. "The people want you to tell the truth and I always say when I talk about cycling, my vocal cords are very close to my heart."
But age is a factor and Mangeas, who turned 60 a couple of weeks ago, thinks about the end of his career. "I would like to stop at the 100th Tour de France, which is in 2013. Doing 40 Tours out of 100, that wouldn't be bad."
Offenburg hosts stop number two of the cross country World Cup
By Rob Jones in Offenburg, Germany
World Cup #1 Jose Hermida
Photo ©: Rob Jones

After a two-week hiatus and after the teams made the long trek back to Europe from South Africa, the mountain bike World Cup has resumed in Offenburg, Germany, with round two of the cross country series. Set amidst the vineyards of this Black Forest town close to both the Swiss and French borders, 2009 is the third year for the World Cup in Offenburg.
Distances have not yet been confirmed, but it is likely that the elite women will do six laps (plus a start loop), and the elite men one more lap. The weather is perfect – sunny and mid-20s (degrees Celsius). This means that, unlike in previous years, even the deepest sections of mud have dried up, and the steep, rooty descents are no longer as slippery and treacherous.
The 5.8 kilometre course is very similar to last year. After a start loop of 1.2 kilometres, the riders head out on a fast, paved climb before entering the first section of dirt single-track. The dry conditions mean that riders won't be slowing much even when they hit the dirt.
The first of four major drop-offs is the next obstacle the riders will meet. The "Dual Speed Drop" offers the riders a choice of two stepped descents – do you go fast and dangerous, or slightly safer, but slower? Then it is a long climb up to the highest point of the course before tackling the switch-backed North Shore descent, followed by the "World-class Drop" and "Wolfs Drop".
The riders are only halfway through a lap at this point, and the circuit switches from technical to high speed dirt track for a second loop before heading back to the start-finish area and one final climb.
Read the complete preview of the elite men's and women's races.
World Cup racing action kicked off Saturday with junior races. Check out full results of the junior men's and junior women's races.
Millar to the Giro
Briton David Millar will race the Giro d'Italia after recovering from a broken collarbone he sustained in mid-March during Paris-Nice.
Millar will join his Garmin Slipstream teammates with the goal of helping the squad win the opening team time trial in Venice on May 9 according to the AFP. Americans Christian Vande Velde and David Zabriskie will also be members of the team, which is planning to practice its team time trialling skills before the Giro prologue.
Millar, who had originally planned to race the Tour of Catalonia, is expected to withdraw from the Giro d'Italia before its end.
Last year, the Garmin Slipstream won the opening team time trial and its leader Vande Velde wore pink for a day.
No Mosquera for Giro d'Italia
By Antonio J. Salmerón
Ezequiel Mosquera (Xacobeo Galicia)
Photo ©: Xacobeo Galicia

As a result of an unfortunate domestic accident a few days ago, Xacobeo Galicia's leader Ezequiel Mosquera is "practically ruled out" of competing in the Giro d'Italia according to team manager Alvaro Pino. Mosquera fell on the stairs of his house on Sunday.
"He noticed discomfort in his left wrist and although the initial x-rays showed no significant abnormality, the pain and inflammation did not subside after several days, so he underwent further examination on Friday," said Pino.
Doctors found a fracture of the left radius (forearm bone). "At first they looked at the possibility of fixing it with screws, but the experts ruled out this option as "ineffective" due to the nature of the fracture."
Even if the injury does heal in time, Mosquera will not be able to complete sufficient training to justify his participation. "Fractures of the wrist are complicated by the need for the wrist to support the rider, pull on the bars and rotate during cycling," said Pino.
Ezequiel Mosquera, who finished fourth in the last Vuelta a España, had been looking forward to racing the Giro.
Joe Parkin: Author and former road pro
Joe Parkin, former American professional road,
Photo ©: Gary Boulanger
Ex-pro Joe Parkin wrote A Dog in a Hat in 2008, a book which chronicled his early years as a pro road racer in Belgium. He was transparent about the peloton's drug use back in the late 1980s and early '90s, and is working on a follow-up. BikeRadar's Gary Boulanger asked Parkin his thoughts on the current state of the peloton and how he'd approach things if this were 1987 all over again.

The interview took place at Parkin's Santa Cruz, California home seven days before news broke of Tyler Hamilton's second doping offence. We spoke with Parkin again after hearing the news.

BikeRadar: Wow – what can you say about the latest Tyler Hamilton news?
Joe Parkin: For the record, I respect the man's athletic achievements, as well as the self-destructive determination that enabled him to compete (well) after the injury he sustained in the 2002 Giro d'Italia. I respect his drive and determination. If he were standing right here in front of me, I would be the quickest to stand up and offer a hand.

However, the current positive doping control is disturbing to me. I have heard of DHEA and know it to be a ghetto form of doping, and know of it being used by various unscrupulous club-level bike racers hoping to be the next world champion of the Thursday night criterium.

I have no reason to doubt what Tyler has told us, I just cannot understand why a rider who has basically bankrupted himself defending his name against a positive doping control, lost a marriage and spiralled further into depression, would take a product he admits knowing to be on the banned list.

If he took it of his own accord, then his retirement from the sport is unacceptable before receiving his penalty. If it was given to him (against his wishes or knowledge by team staff or anyone else) that person(s) deserves a severe beating.

Read the complete feature.
Lake Front road course returns to Super week
The famous AltoLab – Lake Front road course in Milwaukee will return to the International Cycling Classic / SuperWeek Pro Tour this summer. The race course was not part of the event for the past three years due to road construction related to the Marquette Interchange Project.
The Lake Front course features climbs, descents, turns and views of Lake Michigan including some of the grandest homes on Milwaukee' s East Side.
"This course has hosted the US National Championships seven times," said Founder and ICC Race Director Otto Wenz. "We have had the best racers in the world on this beautiful course. Expect a hard race."
Superweek will run from July 9 to July 26. For more information, visit www.internationalcycling.com.
(All rights reserved/Copyright Future Publishing (Overseas) Limited 2009)