First Edition Cycling News, April 25, 2009
Edited by Laura Weislo
Rebellin not under pressure for Liège
By Gregor Brown
Davide Rebellin makes his winning move in Huy
Photo ©: ISPA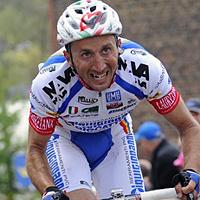 Davide Rebellin heads into Sunday's Liège-Bastogne-Liège focused and calm thanks to his victory in Flèche Wallonne on Wednesday. The 37-year-old has a chance to repeat his 2004 sweep of the two Ardennes Classics, but thanks to a strong team, he is not feeling particularly stressed ahead of the race.
"I am racing without pressure and this is an advantage for me heading into Sunday," Rebellin told Cyclingnews one day after his Flèche Wallonne win over Andy Schleck (Saxo Bank) and Damiano Cunego (Lampre-NGC).
Rebellin turned professional in 1992. His first Classic wins came five years later with the Clásica San Sebastián and the Championship of Zürich. In 2004, he scored a magical triple: he became the only rider in history to win Amstel Gold, Flèche Wallonne and Liège-Bastogne-Liège in the same year.
Wednesday's win in Flèche over a rider 14 years younger shows there is no sign of slowing down for the Italian. "Thankfully we have a strong team otherwise you risk getting shut out from the numerous attacks. A strong team on Sunday should allow you to reach the foot of Côte de la Roche aux Faucons without problems."
Liège-Bastogne-Liège is 261 kilometres long and features 11 climbs. Last year, the organisers added the Roche aux Faucons to spice up the finale. A late escape formed on the climb which threatened the race favourites. Rebellin led the race to pull back the move before the final climb of Côte de Saint-Nicolas, 5.5km to the finish, but finished second to Alejandro Valverde in the sprint.
"The key move should come on that new climb, but there is not guarantee a rider like Serguei Ivanov or another won't try to anticipate the favourites. You always have to pay attention, from Redoute on."
To be ready for Redoute and the other côtes Rebellin previewed the final 90 kilometres of the race Thursday. He started his ride from the Côte de Wanne.
Rebellin has finished Liège-Bastogne-Liège 13 times in his career. He finished on the podium four times, and seven times inside the top ten: 1st (2004), 2nd (2008, 2001), 3rd (2000), 5th (2007), 6th (1996), 9th (2002), 11th (2005), 13th (2003), 14th (1999), 16th (1997), 25th (1997), 33rd (1994).
New era of cooperation for cycling?
By Laura Weislo
Cycling's top organisations met in Liège, Belgium.
Photo ©: Lucas J. Gilman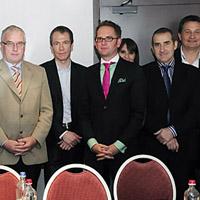 For the first time in four rocky years, the leaders of cycling's major organisations sat down together in what could be the first step in a lasting peace between race organisers and the sport's governing body, the International Cycling Union (UCI).
UCI president Pat McQuaid and the ProTour director Alain Rumpf met with Tour de France director Christian Prudhomme, Giro d'Italia director Angelo Zomegnan and representatives from the AIGCP (Association International des Groupes Cyclistes Professionels) at the Holiday Inn in Liège.
The two sides, which have been divided over the UCI's ProTour since its inception in 2004, were called together by AIGCP president Jonathan Vaughters. While the meeting started off tense, Vaughters told Cyclingnews it ended on a positive note.
"We got things off to a good start," Vaughters said. "I was certainly afraid the various sides wouldn't see eye to eye, but it wasn't like that at all."
"There have been a couple pretty tense years – sometimes it takes a while to get everyone back on the same page. It was tense at the start of the meeting, but by the end it was very jovial."
The goal of the meeting was simple: to get the teams, UCI and race organisers to start a dialogue on solving the sport's issues and increase the sport's profile and popularity worldwide. The outcome was that all three sides committed to monthly meetings each of which will focus on critical items affecting the future of the sport including the biological passport and entry into key events.
During the meeting, all sides were allowed to air their concerns. Vaughters said the discussions "killed a lot of suspicion and rumors" that have plagued the sport. "All in all, everyone came away with it feeling that [each side] was well-intentioned and honest."
Eye on the prize
Coming up on
Cyclingnews will cover the 60th edition of the Dauphiné Libéré live as of stage 4 on Wednesday, June 10, at approximately 15:00 local Europe time (CEST)/ 23:00 Australian time (CDT)/ 9:00 (USA East).

WAP-enabled mobile devices: http://live.cyclingnews.com/wap/

Vaughters said one of the main goals of this new cooperation is "to get clarity in how Grand Tour teams are selected – that there's a clear path that teams and fans can understand."
In 2004, the UCI attempted to compose a system under the ProTour in which all of the sport's top teams would be guaranteed entry into the biggest races. But that model failed to garner the agreement of the Grand Tour organisers. In 2007, the organisers refused to allow the ProTour Unibet.com team entry into any of their races.
In 2008, the Astana team was refused entry into the Tour de France and other ASO events because in the previous year, it had several doping positives during the Tour. The same criteria was applied this year to the former Saunier-Duval team, Fuji-Servetto.
Vaughters explained that the fight against doping, in particular the UCI's biological passport, is one of the key issues for race organisers.
"Organisers want teams that they feel confident in, that will not hurt the image of their event. Teams, of course, want assurances that they will be able to participate in the events their sponsors want and need them to race in."
"The UCI needs to manage the whole process and govern all the different procedures and enforce the rules as they're written."
Vaughters clarified that there will be no changes to the selection process until the 2011 season, after the contract between the teams and the ASO, which was signed last year, expires.
That contract was signed at the height of the war between the UCI and the ASO, when the Tour organiser decided to hold its races outside the control of the sport's governing body. It was later accepted into the UCI's regulations after a peace deal was brokered with ASO owner Editions Philippe Amaury last fall.
After years of plenty of conflict but very little discussion on how to solve it, Vaughters is looking forward to a continuing discussion and progress toward making the sport better.
"We're planning the next meeting, possibly during one of the rest days of the Giro d'Italia. The biggest thing that came out of the meeting is that the UCI, race organisers and teams will meet on a regular basis to air concerns and move the ball forward. It has to be a continuous process."
Zanini delighted with Giro invite
by Kirsten Robbins
Stefano Zanini in 2004
Photo ©: AFP

Fuji-Servetto directeur sportif Stefano Zanini is excited that his team was given the last of twenty-two invitations to the centenary edition of the Giro d'Italia, and has promised to honor the event by bringing a team which is well-prepared to race. The Giro will begin in Venice on May 9.
The Spanish-based ProTour team's invitation arrived on Thursday direct from Race Director Angelo Zomegnan. "I'm extremely excited and happy that we got invited to the Giro, that we got the last spot available," Zanini told Cyclingnews. "This race has some many wonderful things to showcase so I'm very happy. Even if it is last minute news, it's great news and I'm thankful for the invitation from the organization."
According Zanini, it is not realistic for Fuji-Servetto to expect a podium place in the overall classification, but it does expect riders to have a strong presence throughout the three-week long race. "We want to win some stages and to have a presence with a good position in the overall," Zanini said. "But I don't think that we have it for a top GC place. I will be equally satisfied if we are protagonists with any of our riders, in any stage."
Zanini and Sabino Angoita will will direct the nine-man squad with help from special guest and recently retired team member Daniele Nardello. "There is a chance that Nardello will help me," Zanini said. "I would be very happy if he is a part of the Giro."
The roster will be decided from a 12-man talent pool upon the conclusion of the Tour of Romandie in early May. Included in the pool are Juan José Cobo, Fredrik Kessiakoff, Eros Capecchi, Ricardo Serrano, Jesus del Nero, Ermanno Capelli, Alberto Benitez, Iker Camaño, Héctor González, Josep Jufré, Javier Mejías and Angel Gomez.
The ProTour team, formerly Saunier-Duval, has been left off the start list of some of the early season events including Tour of California, Paris-Nice and more recently La Flèche-Wallonne, Liège-Bastogne-Liège and the Giro del Trentino. The team has participated in Tirreno-Adriatico, Milano- Sanremo, Castilla y León, Paris-Roubaix, Tour of Flanders and Amstel Gold.
Fränk Schleck confirmed for La Doyenne
Team Saxo Bank confirmed that both Schleck brothers will head up the team for Sunday's Liège-Bastogne-Liège. Fränk Schleck returns after a dramatic crash in last Sunday's Amstel Gold Race from which he was lucky to emerge only with bruises and a concussion. He finished third in the last two editions of 'La Doyenne'.
Schleck's brother Andy finished second in Wednesday's La Flèche Wallonne, and will be a prime contender in the sport's oldest Monument, which was first raced in 1892.
Team Saxo Bank for LBL: Andy Schleck, Fränk Schleck, Jakob Fuglsang, Chris Anker Sørensen, Karsten Kroon, Gustav Larsson, Alexandr Kolobnev and Nicki Sørensen.
Greipel set to return to racing
André Greipel (Columbia)
Photo ©: Mark Gunter

André Greipel will return to racing three months after injuring his shoulder in the Tour Down Under in January. The Team Columbia-Highroad rider will take part in a local German race on May 2 before going on to the 4 Jours de Dunkerque (May 5-10).
The German sprinter was injured in the opening ProTour event when he he hit a parked motorcycle and flew on to the road. He underwent surgery for a dislocated shoulder, torn tendon and chipped bone.
Greipel admitted that he has been wistfully following the recent racing on television "and am already looking forward to being back in the peloton again."
Philly tries to save its race
Fans of the Philadelphia International Cycling Championship are banding together in a last-ditch effort to save the race. Race organiser Pro Cycling Tour (PCT) began a campaign called "Embrace the Race" with the aim at overcoming a $500,000 budget shortfall to ensure the event can go forward in its 25th year.
As of Friday, the campaign has raised only $60,000, little more than a tenth of what is needed. PCT president David Chauner gave the race a 50% chance of going forward this year, despite getting an outpouring of support from the community.
At 5 p.m. on Monday, the final decision on whether the race will be held will be made, Chauner told the Philadelphia Inquirer. He said that they were not aiming to have the entire half million by that time, only enough to feel comfortable that they will make up the shortfall.
The race was previously sponsored by Commerce Bank, which was taken over by TD Bank last year. PCT announced last December that TD Bank had committed to continuing as title sponsor, but budget problems erupted when the city of Philadelphia decided that it would charge the race for city services due to its own budget woes. Chauner said the cost of police and clean-up would total $220,000 out of a total $1.7million budget.
To contribute, visit www.EmbraceTheRace.ticketleap.com or visit www.procyclingtour.com for complete event information.
OUCH racing on both coasts
The OUCH Pro Cycling Team presented by Maxxis will be splitting its squad between the east and west coast of the US this week. Floyd Landis, Rory Sutherland and Roman Kilun will hit the Dana Point GP in California, while Bobby Lea, Karl Menzies, John Murphy and Andrew Pinfold will contest the east coast USA Crits/ Speed Week races.
Team director Mike Tamayo is positive about the squad's chances in the east coast events, despite having half as many riders as some teams. "Even though we aren't bringing a full squad for these races, we have four really strong guys who know how to race criteriums, and who have plenty of experience with these races."
Athens kicks off what will be seven criteriums in nine days. On Sunday, the quartet will make the hour or so drive to Roswell for the Historic Roswell Criterium. Following in close succession is a trio of races in South Carolina – Beaufort, Walterboro and Spartanburg on Tuesday, Wednesday and Friday. The trip concludes with a visit to the Sunny King Criterium in Anniston, Alabama on Saturday (not a part of the Speed Week series) before a return to Georgia for the Sandy Springs Cycling Challenge Sunday.
The team has a special connection for the Dana Point Grand Prix this Sunday. The title sponsor of the race is also the team's sponsor, Roger Worthington, P.C.
Worthington will be working the microphone from the main stage, and will be joined by various celebrities throughout the day, including Brian Lopes, Steve Hegg and skate boarder Ryan Sheckler, as well as Mayor pro-tem Steven Weinberg.
"As none of us are really pure sprinters, I'm not sure of our chances in the race," said Sutherland. "But we intend to put in a strong effort, and I know we'll have a good time."
The men's pro race is scheduled to begin at 4 p.m., with the start/finish line across from Heritage Park.
Miller back and ready for speed
The reigning US road and criterium champion Brooke Miller will head up Team TIBCO's roster for this week's USA Crits/Speed Week races beginning in Athens, Georgia on Saturday. "I'm finally healthy again and feeling really good," Miller said. "I'm looking forward to getting back out and racing with the girls."
Brooke will be joined by Lauren Tamayo, Meredith Miller and Joannne Kiesanowski, who is coming off a win and two second place finishes at the Sea Otter Classic last weekend.
Meanwhile, in Southern California this Sunday, Rushlee Buchanan, Emma Rickards and Alison Rosenthal will take the start at the NRC Dana Point Grand Prix in Orange County. Rosenthal and Rickards will join the rest of the team on the east coast mid-week.
"It's a lot of racing in a short amount of time," said team directeur sportif Jeff Corbett. "The coming week will be a good test for the crit team. We have a very strong squad. Brooke is healthy again, Jo is obviously going really well after Sea Otter, and Lauren has been strong all year so far. Emma, Meredith and Ali have all been playing strong support roles this season, but they can also be factors in breaks and the sprints for these races.
"We have a lot of options," Corbett added. "It should be a good week."
Nature Valley Pro Ride wrapping up
The 2009 Nature Valley Pro Ride concludes in less than three weeks with positions for four men and four women still open. Four amateur riders, two men and two women, have already won trips to the Nature Valley Grand Prix, where they'll have the full pro experience as they race for the Nature Valley Cycling Team.
The Hillsboro-Roubaix road race in St. Louis, Missouri, was the second qualifying event of the Nature Valley Pro Ride. Chris Winn and Sydney Brown, winners of the men's and women's elite races respectively, have secured their spots on the Nature Valley Cycling Team roster.
Each men's and women's winner at Nature Valley Pro Ride events will receive a travel stipend, free entry, housing accommodations, and full team support at the Nature Valley Grand Prix. They will make public appearances, get pre-race introductions, participate in autograph sessions, and race in front of crowds in excess of 50,000 during the five-day race.
The next opportunity to qualify is the Wente Vineyards Road Race & Criterium in San Francisco on April 25 - 26. Other events include the Glenwood Road Race & Longbranch Classic Road Race in Seattle (May 2 - 3), the San Luis Rey Road Race in San Diego (May 3) and the Bear Mountain Road Race in New York (May 10).
For more information visit www.naturevalleyproride.com.
(All rights reserved/Copyright Future Publishing (Overseas) Limited 2009)