First Edition Cycling News, April 24, 2009
Edited by Laura Weislo
Fuji gets Giro nod
David De La Fuente (Fuji-Servetto) celebrates
Photo ©: Susanne Goetze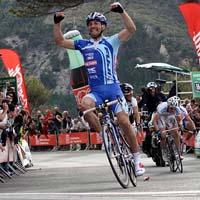 Team Fuji-Servetto has been given the final invitation to this year's Giro d'Italia. RCS Sport Thursday released the list of 22 teams to start the race's 92nd edition, making little fanfare of the addition of the Spanish ProTour team.
Fuji-Servetto was excluded earlier this year from RCS Sport's other races, Tirreno-Adriatico and Milano-Sanremo. The team appealed to the Court of Arbitration for Sport (CAS) and won entry into the March events. It was not allowed entry into Paris-Nice by the Amaury Sport Organisation.
Formerly known as Saunier-Duval, the team was ejected from last year's Tour de France after two of its stage winners, Riccardo Riccò and Leonardo Piepoli, tested positive for EPO.
The team reinvented itself as Fuji-Servetto this year, and former manager Mauro Gianetti stepped away from the helm. He was replaced by Alvaro Crespi in January. Those changes, however, did not earn the team a first or second round invitation to the Giro d'Italia.
So far this season they have taken two victories, the GP Miguel Indurain with David de la Fuente, and a stage of the Vuelta a Castilla y León with Juan Jose Cobo.
The Fuji-Servetto team will select its team of nine riders for the Giro d'Italia from a long list: Juan Jose Cobo, Fredrik Kessiakoff, Eros Capecchi, Ricardo Serrano, Jesus del Nero, Ermanno Capelli, Alberto Benitez, Iker Camaño, Héctor González, Josep Jufré, Javier Mejías and Angel Gomez.
Last year, the Astana team was given a last-minute invitation just days before the race's departure.
Ceramica Flaminia angry at Giro exclusion
Coming up on
Cyclingnews will cover the 60th edition of the Dauphiné Libéré live as of stage 4 on Wednesday, June 10, at approximately 15:00 local Europe time (CEST)/ 23:00 Australian time (CDT)/ 9:00 (USA East).

WAP-enabled mobile devices: http://live.cyclingnews.com/wap/

The Ceramica Flaminia - Bossini Docce squad is unhappy with its exclusion from this year's Giro d'Italia. The final spot for the Italian Grand Tour was given to Fuji-Servetto on Thursday, which means the current Italian national champion, Filippo Simeoni, will be sidelined in his home tour.
Ceramica Flaminia team manager Roberto Marrone said the news left the team with a "bitter taste" after its strong performance in Thursday's stage of the Giro del Trentino, where Giampaolo Caruso took third.
Simeoni's team, like Fuji-Servetto, has two wins to its credit so far this season: the Ronde van Drenthe (Maurizio Biondo) and a stage of the Circuit Cycliste Sarthe (Enrico Rossi, stage 1). However, the Italian squad outperformed Fuji-Servetto 7-2 on second and third place finishes this season.
"We have a team of strong riders: serious, determined, successful, well-prepared and well directed. As a team we have all the requirements to be invited to the Giro d'Italia but unfortunately this did not happen.
"Can someone explain why my team does not need to race the Giro d'Italia and Xacobeo Galicia does? It is a shame to remove riders such as Giampaolo Caruso, Enrico Rossi, Massimiliano Gentili, Maurizio Biondo and others from the Giro. What about the Italian Champion Filippo Simeoni? He was well prepared. Yesterday he had a good time trial, and May was to be his month with the highest performance."
Simeoni also defended his team's honor. "It can only happen it Italy that the national champion is not respected. We are among the most competitive teams and we are out of the Giro d'Italia! The organizer Angelo Zomegnan should explain the reasons for his choices.
"There will be at the start supposedly new teams who have had problems with doping in the past, and others with performances that are not comparable with ours," he continued, referring to the team's third place on the tough mountain stage finish atop the snow-capped Alpe de Pampeago.
A coterie of côtes to challenge the champions
By Peter Hymas
Alejandro Valverde is back to win his third Liège-Bastogne-Liège in four years.
Photo ©: Roberto Bettini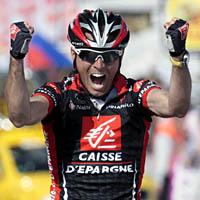 The 2009 Spring Classics season concludes on Sunday with the venerable Liège-Bastogne-Liège, a leg-breaking 261-kilometre test in the hills of the Belgian Walloon region which has seen the sport's champions do battle since the inaugural 1892 event.
In a Classic steeped in history and legendary performances belying its Monument status, the 95th edition of Liège-Bastogne-Liège could see a re-writing of the record books if either of 2008's top-two, Alejandro Valverde and Davide Rebellin, should prevail on Sunday.
A victory by Valverde would vault the Spaniard into the rarified realm of three-time Liège-Bastogne-Liège winners, joining the Belgian triumvirate of Alfred De Bruyne, Léon Houa and Alfons Schepers. Only Eddy Merckx and Moreno Argentin have won more, with five and four career Liège-Bastogne-Liège victories respectively.
If the evergreen Rebellin, 37, emerges victorious he would eclipse the record of Stan Ockers as the oldest champion of 'La Doyenne'. Ockers won the 1955 Liège-Bastogne-Liège at the age of 35.
Continue to the full preview.
Rojas will race the Giro
By Antonio J. Salmerón
Spaniard José Joaquín Rojas will get a second chance to complete a Grand Tour at the Giro d'Italia next month. The Caisse d'Epargne rider told Cyclingnews he earned a spot on the team for the race. It will only be the second attempt at a Grand Tour for the 23-year-old who sprinted to five top-ten stage finishes in the 2007 Giro d'Italia before dropping out on the tenth stage.
"Back then I lacked experience, but now is very different for me," Rojas said. "I am now better prepared to cope with a race that is guaranteed to be demanding. I've been training very hard, trying to improve my climbing and putting in enough hours and kilometres to compete well."
Rojas will use the upcoming Vuelta a La Rioja and the Subida al Naranco next week to hone his form for the Giro, which begins May 9. The health problems that disrupted his start to the season have all but been forgotten. Rojas now thinks only of winning.
"I am going into the Giro with the firm intention to fight for a stage win, and I think it is possible. The stages and the finishes in the Giro have some features that I like and that favor me, a little difficulty or a sting in the tail at the end. The Giro is a very open race, although it would be silly of me to dispute the overall classification".
Thor Hushovd to skip Giro
Thor Hushovd is ready for a break
Photo ©: ISPA

Sprinter Thor Hushovd will not participate in the Giro d'Italia next month, choosing instead to focus his efforts on the Tour de France in July. The Cervélo TestTeam announced Thursday that the winner of the Omloop Het Nieuwsblad made the decision with the team's sports directors to change his season's plan.
"I had a hard Classics season and need a good break," Hushovd said. He started the season with a stage win in the Tour of California, and went on to take third Milano-Sanremo and Paris-Roubaix. After his much-deserved rest, Hushovd said he will begin to build up for the Tour de France.
"With the Tour ahead, we decided that it was in the teams' and my best interests to adjust our plans. Instead, I'll do Volta a Catalunya [May 18-24] and the Tour de Suisse [June 13-21] with my main lead-out man, Brett Lancaster. This way we can train and work together on our lead-out."
The team announced it would choose the nine-member Giro d'Italia squad from the following riders: Philip Deignan, Simon Gerrans, Volodymir Gustov, Jeremy Hunt, Ted King, Ignatas Konovalovas, Daniel Lloyd, Joaquin Novoa, Serge Pauwels, Hayden Roulston and Carlos Sastre.
Neben solid in La Flèche
By Susan Westemeyer
World time trial champion Amber Neben showed her form is coming good by finishing fourth Wednesday in the Women's La Flèche Wallonne, a race she loves. Although she was disappointed not to make the podium, the Equipe Nürnberger rider called her placing a solid result for her at this point in the season.
"I love the Flèche Wallonne," Neben told Cyclingnews. She called it a beautiful race in which the women "get a small taste of what the men get to experience with crowds on the Mur de Huy."
The race suits her, she said, "because it is hard with many climbs, and the finish on the Mur. The Mur is not a perfect climb for me, but I can still do well."
Although the 34-year-old has ridden the race a number of times, she says she has never come to it with perfect form. "But I am always good enough and very motivated to go for a result."
This year, Neben said, "my Nürnberger teammates were super. We displayed excellent teamwork all day. It was a bit disappointing not to make the podium. but my attack at the bottom was not enough."
Still, she found it to be a very special race. "I love the Mur. Huy, Huy, Huy is painted all the way up... The narrow, steep road is lined with cheering people – all the noise and the moment. Really, even though you are aware of none of it because of you are suffering and focused, you still cannot hear yourself breathe!"
Bodrogi to start his season in May
Laszlo Bodrogi (Hungary)
Photo ©: AFP

Hungarian Laszlo Bodrogi is finally ready to begin his season after a long recovery from a broken leg sustained in last year's Deutschland Tour. The silver medallist at the 2007 world time trial championships now rides for Team Katusha. He was supposed to start the season at the Settimana Ciclistica Coppi e Bartali last month, but needed more time to recover from his injury.
"I started training since the end of February," Bodrogi said. "Today my leg is much better and I have a lot of improvement at the level of my fracture as well as in the fluidity of my movements and the level of pain in my leg. For the moment I have pain just at the level of the ankle.
The former Crédit Agricole rider tested his recovery with a local cyclo-cross race, and was encouraged by the results. "I finished the race in the leading group with enough power. So, I can say that my recovery is going well. I have to discuss my plans to return with Serge Parsani. Hope it will be at the 4 Days of Dunkirk later in May."
Top teams head for Britain's biggest one day race
The Rutland to Melton – Cicle Classic race this Sunday will feature the best field in a one-day UK event this year. Riders from Britain's top teams will pit themselves against squads from Ireland, The Netherlands, Sweden, Slovakia, Belgium and Denmark.
The race is the only UCI-ranked one-day event aside from the national championships in the UK this season.
The tough race is styled on the famous Paris-Roubaix classic and features a number of unmade roads on a rough, tortuous circuit around the Leicestershire countryside. The event is made even more authentic this year with the presence of former Paris-Roubaix winner Magnus Backstedt who leads the young Magnus Maximus Coffee team in one of their first rides outside Sweden in their debut year.
Marcin Bialoblocki (Sports Beans – Wilier) will be disappointed to miss the event following a crash in the Totnes-Vire Two-Day race. Bialoblocki had opened his account in the British Premier Calendar series when he won the Givan Three Day earlier in the month. Bialoblocki's teammate Will Bjergfelt won the Totnes race and will be team leader this time.
The race clashes with the Shay Elliott race in Ireland but Tour of the North winner Martyn Irvine travels over with Paul Healion, Peter Hawkins and Sean Lacey. UK based Dominc Jelfs completes the Irish team line up hoping to win the race won by compatriot Ciarán Power last year.
Team Halfords-Bike Hut field a strong team but British champion Rob Hayles is heading over to Brittany with Eddie Soens Memorial winner Ed Clancy. Chris Newton will lead the charge for Rapha Condor and Tour of Ireland points winner Russell Downing is on form for the Pinarello CandiTV team supported by former race winner Malcolm Elliott.
All of the teams will be checking the weather forecast for this one. So far the sunny weather has ensured that the climb of the 'Sommerberg' is pretty solid if not a little dusty. It the weather turns, riders may consider using cyclo-cross tyres if there is a risk of that section becoming muddy.
Race starts at 11am in Oakham town centre with the finish in Melton town centre at around 3pm.
'Speed Week' kicks off in Athens
The best criterium racers in the USA will head to Georgia for the opening weekend of the 10-race USA Crits series. Saturday's Athens Twilight Criterium kicks off both the national USA Crits series as well as a week of racing in the Southeast known as Speed Week.
Last year's Athens Twilight champion Rashaan Bahati will not defend his title, instead choosing to race the NRC Dana Point GP in his home state of California. His absence opens the door for local favorite John Murphy (OUCH Pro Cycling) or his teammate Karl Menzies as well as a host of speedsters.
Fly V Australia will field track specialist Ben Kersten, while former US Pro champion Chris Wherry will represent Team Hotel San Jose.
On the women's side, "local" girl Rebecca Larson will be back to defend her title. She will face another regional hero, Tina Mayolo-Pic, a five-time U.S. National Criterium champion.
Pic will head to Roswell on Sunday to try to duplicate last year's winning effort in the Historic Roswell Criterium.
The seven-race Speed Week concludes in Sandy Springs, Georgia next Sunday. The USA Crits national series' second race will take place in New York on June 21 with the Harlem Skyscraper Criterium.
For more information visit usacrits.com
BikeRadar Live: Mark Webber saddles up
By BikeRadar
Fresh from securing his highest ever finish in Formula One, motor-racing star Mark Webber is setting his sights on another challenge – The Cycling Plus Sportive supported by Pacific Outdoor Equipment at BikeRadar Live.
British-based Australian Webber, who steered his Red Bull Racing car to second place in the rain-lashed Chinese Grand Prix in Shanghai this last Sunday, will return to the UK at the end of May to ride the Cycling Plus Sportive on May 30.
Webber is a keen cyclist and uses both mountain- and road biking to stay in the shape required to race at 200mph.
"I'm really looking forward to the Cycling Plus Sportive. I've been cycling seriously since around 2000 – I love the fitness, fresh air and focus riding a bike gives me," said Webber. "I'm hoping to persuade a couple of mates to join me on the sportive and just have a great day's riding. I've got fond memories of Donington Park, too, because in the late 1990s I won a sports car race there and finished on the podium quite a few times too, so I know the track well and it'll be fun to ride around it!"
Webber isn't the only bike-loving F1 driver. Current F1 World Championship leader Jenson Button is a keen cyclist and triathlete. Last year, the Brit who won the first two GPs of the season for Brawn GP was presented with two rather nice Scott bikes. Another bike nut is four-time F1 World Champion Alain Prost, who has been a regular competitor in the Etape du Tour.
Webber, who began his F1 career in 2002 with the Minardi team and has also raced for Jaguar and Williams, will ride the Cycling Plus Sportive after returning from this weekend's Bahrain Grand Prix. He has yet to decide whether he'll ride the 100-mile or 100K option.
Webber is no stranger to endurance riding – he organised (and even broke his leg in a bike crash during) his own adventure race, the Mark Webber Pure Tasmania Challenge and is behind June's Ride to the Horns sportive in the Chilterns on June 14.
About BikeRadar Live
BikeRadar Live is the biggest ever mass-participation cycling event to hit the UK, and will take place on the weekend of 30–31 May 2009 at Donington Park in Leicestershire.
The weekend will be packed full of races and challenges, with something for everyone, whether you want to compete, watch your friends and family or just check out some of the world's best riders.
Entry into any of the events gives you full access to the festival's many attractions including spectacular all-weather stunt displays, invitational dirt jump and dual slalom comps, a cycling film festival, live big top entertainment and the Scott Sunset DJ Sessions. Test yourself against pro and celebrity riders in the Procycling Hot Laps, post a time in the Wattbike comp or take the kids along to the CycleActive skills school. A purpose-built bikes and accessories expo will give festival-goers the chance to ride the latest bikes from leading brands and grab show-only deals on bikes and accessories.
Events include the Cycling Plus Sportive supported by Pacific Outdoor Equipment (100km & 100 mile), MBUK night-time enduros (12hr & 4hr), MBUK eliminator dual-slalom and the Devil Takes the Hindmost circuit race. Click here to sign up.
BikeRadar Live's world-class facilities include on-site camping with a kids and family area, secure bike lock-up, showers, bike wash, workshop, picnic area, medical centre, viewing stands and food and drink market.
BikeRadar Live is brought to you by Future, the makers of MBUK, Cycling Plus, BikeRadar.com, What Mountain Bike, Cyclingnews.com and Procycling.
(All rights reserved/Copyright Future Publishing (Overseas) Limited 2009)