First Edition Cycling News, April 18, 2009
Edited by Laura Weislo
Hamilton: Cycling's not done with me yet
By Kirsten Robbins
Tyler Hamilton (Rock Racing) enjoys
Photo ©: Jon Devich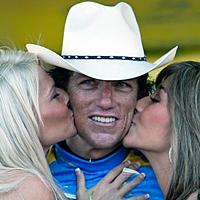 Tyler Hamilton announced his retirement from professional cycling on Friday, April 17, following an admission to a second positive doping test, which will likely see him effectively banned for life. The reigning US National Champion ends a career which spanned nearly 20 years, during which he climbed atop sport's loftiest podiums before experiencing its lowest lows.
When asked what the future holds, Hamilton said, "I'll take some down time and make sure I'm OK, and then move forward from there. It's a beautiful sport. Cycling's not done with me yet."
After six years of domestique duty with the US Postal Service team, Hamilton left to forge a successful career with Bjarne Riis' CSC team in 2001. During his time with Riis, Hamilton scored high profile victories in the Giro d'Italia, with a stage win and second place overall in 2002. In 2003, he took victory in Liège-Bastogne-Liège, the overall win at Tour de Romandie and a stage in the Tour de France.
In 2004, after making a move to the new Phonak squad, he took gold in the Olympic Games time trial in Athens. However, the following month he tested positive for a homologous blood transfusion. After a lengthy battle, he served a two-year suspension before returning to race in 2007.
Hamilton returned from his suspension in September, 2006. He quickly signed with the Tinkoff Credit Systems team, but was let go from the squad after his name came up in association with the Operación Puerto case. Hamilton was nearly resigned to retirement until Rock Racing's Michael Ball gave him the chance to compete for the American team.
"Michael pulled me out of retirement back them," Hamilton said. "But, I think now is a good time to step away and focus on my issues with depression and my family issues. I need to move forward to the next part of my life the next chapter and I will have many great memories."
His latest doping positive comes after a February 9 out-of-competition control performed by USADA while Hamilton was at his Rock Racing team camp in California. He tested positive for a banned steroid (DHEA). Hamilton decided to make the announcement on Friday.
"I woke up knowing that I'd be talking to a few people to make it official and it really hit home and I am really sad," Hamilton told Cyclingnews. "All careers have to come to an end. I didn't want it to end like this but life throws curve balls and I'm trying to see the reason why this has happened."
Coming up on
Cyclingnews will cover the 60th edition of the Dauphiné Libéré live as of stage 4 on Wednesday, June 10, at approximately 15:00 local Europe time (CEST)/ 23:00 Australian time (CDT)/ 9:00 (USA East).

WAP-enabled mobile devices: http://live.cyclingnews.com/wap/

"It's been an incredible ride," Hamilton said of his career. "Cycling gave me an amazing opportunity to be a part of it all. I met so many great people and saw beautiful places. I've had my share of ups and down. It was a bit of a roller coaster but I've always tried to be humble respectful of others. This sport has given me a lot and I'm greatly appreciative of that. I will give back to it because I feel like I owe this sport something."
According to Hamilton, he came close to retirement on several occasions in the last few years, most recently after his victory at the US Pro Championships held in Greenville, South Carolina last September. "After winning that race, such as tight race, I thought maybe that was a good time to step away. I tried to retire a couple of times but, I didn't," he said. "Bike racing was just starting to go good for me in the second part of the year. I started being part of the race and I enjoyed that. It is so hard to hang up the wheels in this sport."
Discuss the case in our Cyclingnews forum.
Hamilton blames woes on depression
By Kirsten Robbins
Hamilton was at his lowest point during the apex of his career
Photo: © Sirotti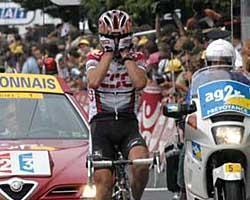 When he was at the top of his career, Tyler Hamilton became a hero for gritting his way through two Grand Tours with broken bones to finish on or near the podium. Few people knew that in the height of his fame, he was suffering from a deep depression. His condition only became public on Friday after the American announced he had tested positive for a banned steroid, DHEA, which was an ingredient in a homeopathic supplement he was taking to treat his condition.
Hamilton's mental state hit bottom at a time when he had just garnered some of the finest results of his career. He had ridden to second place overall in the 2002 Giro d'Italia, despite riding with a fractured shoulder from a dramatic crash on stage five. The next year he rode to fourth overall in the Tour de France, and took a solo stage victory while riding with a cracked collarbone.
"The best year of my life, in 2003, when I should have been on cloud nine was when I was the most depressed," said Hamilton. He returned to the USA at the end of that season as a national icon. He was given a hometown parade along with invitations to pitch the first ball at a Boston Red Socks game and ring the opening bell on Wall Street.
"I was back home in Marblehead and I couldn't get out of bed. I've been dealing with it my whole life. It is a disease I've had for a long time. I don't want people to think I'm just this weak person who is going through what everyone else goes through when divorce and cancer happens in the family. This is more. I'm dealing with it head on right now. This is my primary focus."
According to Hamilton, depression is a genetic disease that runs in his family. "My grandfather and grandmother, my mother and sister all suffer from depression," said Hamilton who's grand mother committed suicide when his mother was thirteen. "People weren't treated for depression when my mom was a kid, if they were depressed they were just crazy. Depression doesn't get talked about a lot but it is a serious disease. I have seen personally what it did to my mother and it is the most important thing in my life."
Hamilton noted that depression goes generally unnoticed in athletes because of their ability to handle high physical expectations. "As an elite athlete, the public expects you to have perfect physical condition and also a perfect condition mentally, but that is not always the case," said Hamilton who claims only his closest friends a relatives new about his depression. "Athletes don't talk about it because it is a sign of weakness. It is nothing to be ashamed about, it's a disease. It effects lives and can take lives."
According to Hamilton, he has been treated for clinical depression for six years. Now that he has decided to retire, his primary focus is to improve his mental health and raise awareness for athletes who suffer from the same disease.
"I kept it quiet with my team, to be a strong teammate and to show that I was strong and not weak. I wanted to be a good leader and know that they always count on me. The older guys can take care of themselves but I wanted to be there for the younger guys. I'm sorry to everyone on my team, staff, riders and Michael. To the whole cycling world – I'm sorry for this situation."
Malty mayhem guaranteed on Amstel's bergs
By Les Clarke
Spain's Alejandro Valverde is suited to Amstel, but could have his eyes elsewhere
Photo ©: Franklin Tello

The coalition of racing in Holland and one of that nation's best-known beers is an enduring one – since 1966, in fact. The Amstel Gold Race, named after the beer of the same name, has been a staple of the April cycling diet for 44 years, and this year's edition possesses its own malty flavour.
That flavour is characterised by the 31 bergs littered over the 258.6 kilometres of narrow roads which will be packed with the Dutch cycling faithful on Sunday.
The Eyserbosweg, Cauberg and Wolfsberg are just three of the climbs which have made the Amstel so legendary, despite its relatively new status amongst the Ardennes Classics.
They're suited to the likes of Alejandro Valverde, defending champion Damiano Cunego and 2006 winner Fränk Schleck. It's no wonder that these riders are amongst the favourites to take the win after the final ascent of the Cauberg, having proven themselves on this type of terrain in seasons past.
Continue to the full preview.
Teams finalizing Amstel rosters
Cunego will defend his Amstel title
Photo ©: Elmar Krings

The Amstel Gold Race is just days away, and teams are finalizing which riders will take on the decidedly lumpy and sinuous parcours from Maastricht to Valkenburg. Defending champion Damiano Cunego will return with a squad he has honed over the course of the spring to be prepared to deliver him to a second consecutive victory atop the Cauberg.
"In the early months of the year I worked with my teammates in order to be ready for these races," Cunego said of the Ardennes Classics. "Amstel is the first main appointment; I'll be there with the necessary calm."
Lampre N.G.C. for Amstel Gold Race: Marco Bandiera, Matteo Bono, Enrico Gasparotto, Francesco Gavazzi, Manuele Mori, Daniele Righi and Mauro Santambrogio.
Team Saxo Bank owner Bjarne Riis, won the race in 1997 wearing the Danish national champion jersey, will be bringing 2006 winner Fränk Schleck as the team's top contender.
Saxo Bank for Amstel Gold Race: Fränk Schleck, Jakob Fuglsang, Karsten Kroon, Alexandr Kolobnev, Chris Anker Sørensen, Gustav Larsson, Nicki Sørensen and Andy Schleck.
Team Milram will be placing its bets on German champion Fabian Wegmann, who last year finished 11th at the Amstel Gold Race.
"As of this coming Sunday, the three Ardennes Classics are on my race schedule, and they are the absolute season highlight for me," said Wegmann. "After being at the front in these races throughout the last years – it was unfortunately never quite enough for a top spot – I want to win one of the three races this year. I think we will be at the start with a really strong team and I'm therefore very optimistic."
Milram for Amstel Gold Race: Gerald Ciolek, Johannes Fröhlinger, Linus Gerdemann, Christian Knees, Niki Terpstra, Peter Velits, Fabian Wegmann, Peter Wrolich.
Team Columbia-Highroad has many cards to play with a strong team of Classics riders. Marco Pinotti is coming off a stage win at the Tour of the Basque Country. Michael Rogers and Marcus Burghardt have also shown fine form as of late.
"Our guys are really motivated," says Sports Director Valerio Piva. "Marcus [Burghardt], for example, volunteered to take part despite doing all the cobbled Classics. Amstel will be his last race before taking a break between now and the Four Days of Dunkirk [in May]. [Michael] Albasini won a stage in the Basque Country, too, and we've got a lot of guys like Michael Rogers coming into good form. Kim Kirchen hurt his hip in a crash Wednesday, but it hoping to be fine to race well."
"But rather than waiting for the finale as we would do if we had a top contender, we'll be looking at getting into breaks and seeing what we can do from the word go. That strategy worked out pretty well for us in the Basque Country, where we won two stages, and chances are it could be successful again in Amstel Gold."
Columbia-Highroad for the Amstel Gold Race: Michael Albasini (Swi); Marcus Burghardt (Ger); Kim Kirchen (Lux); Craig Lewis (USA); Tony Martin (Ger); Maxime Monfort (Bel); Marco Pinotti (Ita); Michael Rogers (Aus).
Pevenage: Hamilton has to pay the cost
By Gregor Brown
Rock Racing team director Rudy Pevenage was in disbelief when he heard the news of Tyler Hamilton's positive anti-doping control Friday. He believed the American was past his problems, but now thinks Hamilton needs to stay out of cycling.
"With this error, if it is true, he has to pay the cost. I think that if he is positive again then maybe it is better he starts to search for another type of job," said Pevenage to Cyclingnews.
Hamilton tested positive for a steroids, DHEA, on during an out-of-competition test taken in February. He announced the result Friday and explained that he would immediately retire from cycling.
It was his second doping offence after his his blood-doping case in 2004. He served a two-year suspension and returned to cycling with Tinkoff Credit Systems in 2007. Hamilton joined Rock Racing in 2008.
Pevenage joined Rock Racing as a directeur sportif in November, and has helped guide its riders to victories in the Tour of California and Vuelta Mexico Telmex. The team is home to riders like Oscar Sevilla and Francisco Mancebo, who, along with Pevenage, had alleged ties to the Operación Puerto doping investigation of 2006.
"I don't speak to my riders about medical preparations because everyone knows that we are going through some difficult moments in cycling. It is hard to believe the news [of Hamilton] is true because none of my riders have pressure from [team owner] Michael Ball or me. We already have great results with the team: David Vitoria, Oscar Sevilla, Victor Hugo Peña..."
Pevenage expected Hamilton to join the team in its trip to the Iberian Peninsula last month to race the Castilla y León stage race, Gran Premio Llodio and the Volta ao Alentejo stage race. Hamilton's name disappeared from the start list prior to the races, and rumours started to circulate about his positive test.
"I tried to call Tyler several times, but I never got him on the telephone. He sent me e-mail messages saying that the wanted to come and race, but Ball had told me all along that he was depressed over mom's problems [she is battling cancer - ed.] and he asked me to take him out of the races in Spain."
Pevenage raced professional for several years and won the green sprinter's jersey at the 1980 Tour de France. After he retired, he was a team manager for Team Telekom. He helped the German team when the 1996 and 1997 Tour editions with Bjarne Riis and Jan Ullrich, respectively.
He continued his work with Ullrich until just before the 2006 Tour de France and the start of the Operación Puerto investigation in Spain. Investigators linked the duo to the doctor at the centre of the affair, Eufemiano Fuentes, and both were suspend from the team then known as T-Mobile.
Impey succeeds unfortunate Loosli
By Jean-François Quénet in Finike
One more pic in yellow for Impey
Photo ©: JF Quénet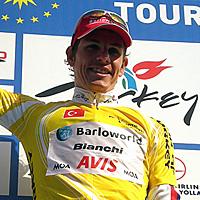 Second year pro Daryl Impey of Barloworld took over the lead in the Presidential Cycling Tour of Turkey on Friday on the 194km stage to Finike. Only 44 riders contested the bunch sprint won by Mauro Finetto who doubled up after winning the opening stage on Sunday in Istanbul.
The South African described taking the yellow jersey as "kind of a hollow victory" because the morning's leader, Lampre's David Loosli, crashed with 25 kilometres to go and and finished over three minutes behind.
"Loosli crashed behind me," Impey described. "Nobody knows what would have happened hadn't he crashed. It was very unfortunate for him. As for myself, I tried to stay out of trouble. On these kinds of roads with so many curves and a lot of wind alongside the coast, anything can happen."
Impey has two more stages to battle through in the race which ends Sunday, and he holds a slim one second lead over Quick Step's Davide Malacarne.
"The race is far from over. I just know that we have a solid team with Giampaolo Cheula and Paolo Longo Borghini who did a lot of work today at the head of the peloton when the number 2 [Xacobeo-Galicia's Gustavo Cesar Veloso] was away."
See the full stage report, photos and results.
Hondo back in action
By Jean-François Quénet in Finike, Turkey
Danilo Hondo (PSK Whirlpool) loses out to Mauro Finetto (CSF)
Photo ©: Presidential Cycling Tour

The sixth stage of the Presidential Cycling Tour of Turkey saw the return of Danilo Hondo close to the top of the results sheet. The German, who ended a protracted battle with the anti-doping authorities in 2008, raced for the first time under the colours of his new team PSK Whirlpool. He very nearly had the stage win, but made the mistake of putting his hands up in the air too early. He took second to Mauro Finetto of CSF Group Navigare, much to his dismay.
"I cried for a little while," Hondo admitted as he went on stage to get his flowers and medal. "It was a very long sprint from 400 metres. I looked on my right hand side and I was sure there was nobody." But Finetto came out of the box from nowhere. The Italian opted for the right tactic as there was a headwind at the finish.
"I've got mixed feelings," Hondo added. "I'm disappointed to have missed the win, but this is my first race back and I realize that I'm ready for the coming races in Germany." Prior to competing again, he trained hard together with his close friend Andreas Klöden.
Hunter OK for the Giro
By Jean-François Quénet in Finike, Turkey
Hunter is the first South African Tour stage winner
Photo ©: Cyclingnews.com

South Africa's Robert Hunter was one of the 17 riders forced to pull out during stage 4 in the Presidential Tour of Turkey, most of them due to injuries after crashing. The Barloworld rider had no choice but slip behind someone who fell in front of him in a descent. That prevented him from appreciating the victory of his team-mate and compatriot Daryl Impey as much as he would have liked that day. The day before, Impey led him out in the sprint. The duo from Gauteng is obviously coming in good form prior to the Tour of Italy, but Hunter was afraid of skipping his main goal of this year as he was sent by ambulance to the hospital in Marmaris.
He sustained a deep cut under his left knee and received eight stitches, but he was off of the bike only for one day. He remained with Barloworld in Turkey and rode stage 6 ahead of the peloton. "It's all good with my knee now," he said. "I can still feel a little bit of pain but I can pedal normally. It's beautiful here. Training along this coast and under the sun is a pleasure."
The first ever African cyclist to have won a stage at the Tour de France (in Montpellier in 2007) has quickly found a good morale and his legendary fighting spirit again. He'll return to the Tour of Italy starting in Venice on May 9th for the first time since he rode it for Mapei in 2002. He was relieved that Barloworld got a late wild-card last week for the corsa rosa.
"We always knew we wouldn't do the Tour de France this year," Hunter said in reference to the positive dope test of Moises Dueñas that tarnished the image of the Italian team last year. "The Giro was our main chance to start a Grand Tour." Riding superbly in Turkey, Impey has also a serious chance to be selected by the South African-sponsored squad for the Giro.
Lloyd racing for fun
By Sue George in Monterey, California
Rachel Lloyd (California Giant Berry Farms)
Photo ©: Maurice Hessel

After a challenging time racing cyclo-cross in Europe this past winter, Rachel Lloyd showed up at the Sea Otter Classic in Monterey, California, to have some fun. Lloyd, who traveled from her Marin County home, will sit out the short track and cross country events on Saturday and Sunday, but she finished third in the Super D on Friday afternoon behind Kelli Emmett and Mary-Ellen Ash.
"This is it for me for racing this weekend," said Lloyd. "I had a long winter racing 'cross, so I'm just taking it easy and having fun. I'm racing low-key events that I don't have to stress about. That's why I'm here."
Although Lloyd has mentioned the possibility of ending her pro racing career and going to nursing school, she's still in process of working out her future plans.
"I don't really know if I've retired. I had such a good time in Europe this year that it's hard to say what I'll do," said Lloyd. "It's up in the air. I've raced for a long time, but it's fun." Thinking of her time in Europe this winter, she said, "It's a whole different scene over there. It's exciting."
Lloyd said that she will spend this summer in the US racing some road and mountain bike events. "I will do fun mountain bike races like Downieville, and I will go to mountain bike nationals to try and defend my Super D title. I will also race the Nature Valley Grand Prix and the Liberty Classic with the ProMan's women's team. I'm kind of keeping it open and racing when I feel like it."
Lloyd hasn't made any definite plans when it comes to nursing school. "I don't have plans for sure. Obviously I need to figure out a career. I'm a massage therapist right now, and I think nursing would go along with that care-taking mentality. But I'd have a long way to go to get there and a lot of prerequisites that I'd need to do first, so that's off in the distance."
Check out our full coverage of the Sea Otter road and mountain bike events.
(All rights reserved/Copyright Future Publishing (Overseas) Limited 2009)