News feature: July 3, 2007
Jaksche admission in detail
Jorg Jaksche riding for Liberty Seguros at the 2006 Liège-Bastogne-Liège
Photo ©: AFP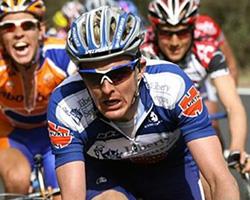 Cyclingnews' Bjorn Haake reveals the contents of Jörg Jaksche's interview with Der Spiegel, where the suspended Tinkoff Credit Systems rider confessed to using performance enhancing drugs and blood doping.
Jörg Jaksche appeared at his Der Spiegel interview with just a cell phone and a black plastic bag. Inside the mysterious black bag was a binder, containing documents and letters compiled by or from his lawyer, Michael Lehner, during the Operación Puerto investigation. For those who recognise Lehner's name, it's likely because he also defended Danilo Hondo and Dieter Baumann, an Olympic track and field champion.
Despite his recent admission to having used performance enhancing drugs, Jaksche still trains six hours a day, holding onto the hope that he may be allowed to race again someday. The German rider hopes that offering to be a key witness will be rewarded with a reduced sentence, which could see him return as soon as next year, according to Jaksche.
The 30 year-old's admission to Der Spiegel sent shock waves through the cycling industry. Jaksche said that the Omertŕ, the law of silence, works because everyone, including doctors, soigneurs, riders, and team managers, complied to the vow of silence. Even the recent wave of doping admissions couldn't break it, Jaksche said, as all riders who admitted to doping in their careers only implicated themselves, and usually to events which have long since transpired.
"I hoped my heart wouldn't stop beating. I also took Medrol and Synacthen."
-Jörg Jaksche talks about taking EPO for the first time
Many riders only confessed to having used performance enhancing drugs after their careers were complete, making the problem more difficult to combat. Team Milram's Erik Zabel has been one of the few active riders to publicly acknowledge having used some type of performance enhancing drug during their career.
A decade ago Jörg Paffrath attempted to awaken the public to the sport's drug-use issue, with a similar admission to that of Jaksche. Then, Paffrath was almost happy about being caught at the German championships, as four years of doping "with not letting any product pass me by", had left the rider with physical side effects. Ironically, he also talked Der Spiegel at length after being caught.
Paffrath's chat with the media outlet didn't gel well with the German Cycling Federation (BDR). The organisation banned him for life, saying that he damaged the reputation of the federation.
Jaksche hopes to return as soon as next season
Photo ©: AFP

Jaksche remembered vividly the day in 1997 when he crossed the Mt. Ventoux with the front group during Paris-Nice. According to Jaksche, his Polti team manager, Gianluigi Stanga, came to him and asked what he had taken. Jaksche said he didn't understand the question and Stanga decided to draw some blood, although Stanga has since responded to the rider's story saying he has never interfered with medical related matters for any of his riders as he has no training in the area.
"I had 41, a low value," Jaksche told Der Spiegel, adding that Stanga said: "I am gonna give him a five-year contract."
Jaksche declared that he never doped in his youth and amateur years, but that he was puzzled sometimes when he rode races in Italy with the complete national amateur squad, and the whole team would rank between 160 and 170. Jaksche asked himself 'how can normal people ride that fast?' The rider said in those days he only took caffeine tablets, Coke, and maybe an Aspirin, but never anything that was on the banned list.
Jaksche detailed how subtle his transition to banned substances started. In January 1997 the Polti doctor told him he should take vitamin B12, folic acid and iron, he recalled. Jaksche wanted to buy it himself, but the team would give it to him and teach him how to inject. "It's a fluent transition into drug abuse," remarked Jaksche.
His first night with EPO injected, just before the 1997 Tour de Suisse, he was afraid as he had heard that it thickens your blood. "I hoped my heart wouldn't stop beating," he explained. "I also took Medrol and Synacthen." He soon began to develop a rash and Jaksche alleges that Stanga joked "hopefully you aren't allergic to EPO".
During this first year Jaksche said he was considering quitting, as he found the injections to be "asocial". But with his salary doubled in 1998 and an alleged promise to have his medication costs covered if he finished in the top 20 at the Tour de France, Jaksche remained in the sport.
That year saw the Festina scandal unfold. Jaksche said that when he talked to Jens Voigt, the rider said that someone from his team suggested to bury all the stuff along the race route and pick it up after the Tour. While Voigt does not remember details of the conversation he agrees that "we talked about doping all the time back then," and thinks it's possible he joked about something like that.
In the interview Jaksche went on to say that two Freiburg-based T-Mobile doctors, Lothar Heinrich and Andreas Schmid, treated him for "3,000 to 4,000 euro the first year", but felt much better than with the Polti doctors as they really wanted to make sure he's ok. "They even warned me to take insulin, as I could become diabetic," he said.
The suspended Tinkoff Credit Systems rider added that during the Tour de Suisse one of the doctors came down and showed a piece of paper to Walter Godefroot. "He became so pale that soon we were less concerned about the values [being too close to the 50% limit] and more about Walter," he said.
Jaksche on his way to victory in 2004 Paris-Nice
Photo ©: Luc Claessen

"What was written in the 1999 Spiegel article about the doping practices in the team seemed to be consistent with what I was seeing, though I was still new on the team," said Jaksche.
After leaving Team Telekom, the rider joined ONCE, which felt like a family to the rider. The manager, Manolo Saiz, who would later become the head figure Operación Puerto investigation, would organise everything. Jaksche said the squad enhanced his involvement with doping, and that at times even he didn't know what he was taking.
After three years with ONCE, Jaksche moved to Bjarne Riis' Team CSC. The rider said he was impressed with how, "Riis could get more performance out of riders like Jalabert and Hamilton."
His initial feeling of panic, when the first 50 of the UCI ranking were subjected to sporadic controls, soon gave way to relief, as the training controls were "pretty lax". But Jaksche said he stopped taking EPO after the 2004 Paris-Nice, as it had become too risky. "Cortisone, however, we took pretty much all season long," admitted Jaksche.
Jaksche said he started blood doping under the guidance of Eufemiano Fuentes in 2005, who would do the treatment himself. "I met him in a Cafe and he would inject the blood," said Jaksche, describing the difficult logistics as the blood had to be drawn and re-injected according to a firm schedule.
The German described the blood doping process as a constant oil change. Jaksche said the process was punishing on his body, forcing him to minimize its use to "two classics, Paris-Nice and the Tour."
When Fuentes and Saiz were arrested, Jaksche's former team manager had over 30,000 Euro in cash with him. Since Fuentes and Saiz has ceased involvement with one another after an earlier incident, where one rider was caught with an elevated hematocrit level, Jaksche speculated that the money was an old debt from 2005.
While Jaksche hinted that the debt was for the services of a very well-known rider within the peloton, he, like Ivan Basso, insists that he won't name names.
Cyclingnews' recent coverage of 'Operación Puerto'
May 18, 2009 - Valverde to start Catalunya
May 15, 2009 - Valverde not welcome in Denmark
May 14, 2009 - Spanish federation wants proof in Valverde case
May 13, 2009 - Spanish Olympic Committee defends Valverde
May 12, 2009 - Valverde responds to sanction
May 11, 2009 - Italian tribunal delivers Valverde two-year suspension
May 8, 2009 - Valverde case: Italian Olympic Committee defends Torri
May 7, 2009 - Valverde to take legal action against CONI prosecutor
May 5, 2009 - WADA and Spanish federation join CONI and UCI on Valverde
May 1, 2009 - International Cycling Union joins in on Valverde's hearing in Italy

Cyclingnews' complete coverage of Operación Puerto