News feature, August 23, 2006
Langkawi's future still in doubt
Issues relating to thousands of dollars' worth of unpaid prizemoney caused a serious stir before this year's edition of the Tour de Langkawi. However, reports in the Malaysian media are now rife with further damaging news on one of Asia's most prestigious races.
Estimates now place the debts of organisers First Cartel at over one million US dollars. The situation has prompted the UCI to issue an ultimatum, asking for all debts to be paid by September 1, 2006, or be removed from next year's calendar. Anthony Tan reports.
Torrential rain saw the final stage of the 2006 Tour de Langkawi washed out - but organisers now face a far bigger crisis.
Photo ©: Shane Goss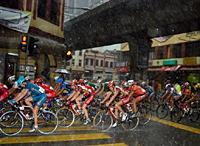 "There was no way we could allow the race to continue on the calendar, unless that situation was rectified"
- UCI president Pat McQuaid told Cyclingnews a full repayment of debts outstanding is required before the Tour de Langkawi will be seen on next year's calendar
Earlier this year, the UCI sent a letter to the Malaysian National Cycling Federation (MNCF), demanding all debts owing from previous editions of the Le Tour de Langkawi to be settled by September 1, 2006. If they failed to satisfy that demand, a sanction on hosting any future international cycling events would be applied.
While it was the privately owned company, First Cartel Sdn Berhad, directly accountable for these monies owing - estimated to be in the range of 4-7 million Malaysian Ringgit (US$1,09-1,90 million) - the MNCF, and ultimately anyone else involved with the race, would bear the brunt of non-payment.
"We must follow our regulations, and our regulations state that races cannot continue if they continue to mount debts," UCI president Pat McQuaid told Cyclingnews in a phone interview on August 14.
"It is the responsibility of the organisers to pay their debts, and we were aware there were outstanding debts for 2005, and on top of that, 2006 as well - and there was no way we could allow the race to continue on the calendar, unless that situation was rectified," said the Irishman.
Benefit of the doubt
One be asking why the UCI didn't intervene earlier, when it became clear First Cartel owed thousands of dollars in prizemoney to at least five teams from the 2005 race, including race winner Ryan Cox and his Barloworld team. Money owing to various contractors was also not insignificant.
As history as shown, the budgeting of races is a very difficult thing, no matter how careful a race organiser may be. Among this group of people, it's a well-known though unwritten fact that should a race exceed its budget, organisers often use part of the following year's operating budget in that current year, then tighten things up next year to balance the books and end on a clean slate.
However, by the time the 2006 Tour de Langkawi finished, it became obvious this wasn't going to happen. The team from Japan, still owed money from the 2005 event, threatened to boycott the race by not starting the final stage, and only relented when Cyclingnews agreed to publish a story of their plight.
According to Malaysia's New Straits Times, a major national newspaper, the September 1 deadline recently prompted the Malaysian Sports Ministry to pay 2,3M Malaysian Ringgit (app. US$630.000) out of what they estimate to be a RM4,9 million (app. US$1,34M) debt owed by First Cartel. In addition, Malaysian Sports Commissioner Tan Sri Elyas Omar asked First Cartel to submit reports on sponsorship money totalling RM31,44 million (US$8,53M) from the 2005 and 2006 editions of the race; normally required no more than 90 days after the conclusion of an event, Elyas told the paper he is yet to receive either.
One catch...
UCI president Pat McQuaid held the position of race director at the Le Tour de Langkawi from 1997 till 2004.
Photo ©: Roberto Bettini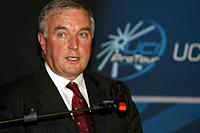 The part payment of 2,3 million Malaysian Ringgit is set to cover contractors and unpaid prizemoney - First Cartel's two largest debt centres - and was said to be enough for the UCI to not impose any sanction, as reported by the New Straits Times on numerous occasions in this month.
But here's the catch: it's not.
"If you look up the UCI rules," McQuaid said to Cyclingnews, "you will see there are rules in relation to organisers and in relation to organisers meeting their debts, and that's what we follow.
"Our instruction to the Malaysian cycling federation was that for an event to be registered [with the UCI], the debts must be cleared before the race can be accepted on the calendar, in accordance with the rules of the UCI," acknowledging a full repayment is required before the race will be registered on the UCI calendar in 2007.
And contrary to earlier reports, First Cartel remains as owners. This is despite the country's Sports Minister Datuk Azalina Othman Said telling the New Straits Times they had been dropped; the paper also claimed managing director Imran Abdullah indicated in a committee meeting on August 3 this year he had no objections to allow another organiser to take over the race.
National federations to blame?
Shortly before an Olympic Council of Malaysia (OCM) board meeting on Tuesday, August 8, secretary Datuk Sieh Kok Chi said the MNCF "is to blame as well" for what has happened to the Tour de Langkawi. "They simply allowed people to run their sport without having any control," said Kok Chi to the New Straits Times.
"I think it is only right we set a rule that in future, NSAs [national sports associations] must automatically be stakeholders in their events and be part of the decision making," he stated.
Added Sports Commissioner Elyas, "The national body is responsible for its sport and the rights to the event is usually theirs."
In fact, the rights to the event lies with incumbent race organiser First Cartel, and it was Elyas - as well as the UCI - who gave the race the green light this year. "If we hadn't approved it, we would have been blamed for stopping an important international event from taking place," he told the New Straits Times, claiming the Sports Commission had just eight working days to evaluate the application, when it was supposed to be made at least 30 days before the start of the Tour de Langkawi on February 3, 2006.
Does the UCI also feel national federations should be held partly responsible for any financial problems a race organiser might encounter?
"No - you cannot do that," said McQuaid to Cyclingnews. "The races have to be registered through the federation, yes, but you can't hold the federation accountable for how private companies budget their events or how they run their affairs."
More problems
On January 6 this year, a UK-based company called Sport for Television Limited, The Events Group won a legal action against First Cartel for breach of contract. The Kuala Lumpur High Court ordered First Cartel to pay 128.212 Pounds Sterling (app. US$240.000); this is separate and in addition to the 4,9 million Malaysian Ringgit already owed by First Cartel.
A key member of The Events Group was Alan Rushton, an experienced race organiser who worked on the event from 1997 to 2004 alongside now UCI president Pat McQuaid, who was still organising and directing cycling events. During that time, McQuaid held the title of race director, and Rushton race controller.
After the 2004 edition finished, McQuaid, already president of the UCI Road Commission, was slowly being groomed for his current position at the UCI, while Rushton and British television production company VTV were contracted to work on the race till 2006.
However, according to evidence presented in court, Rushton's contract was broken midway through 2005, and The Events Group filed a few months thereafter, on November 14. "Eventually, we were told that we hadn't done a good job and they didn't want to continue... eleven months after they signed a three-year contract," said an embittered Rushton when Cyclingnews contacted him by phone last Friday.
First Cartel has since failed to appeal within the allotted time, but recently put a case to the court that their company secretary had failed to handle the matter properly, and were granted the appeal. A date has been set for the end of this month for the case to be reheard.
"We're waiting for the outcome on that judgement, which I'm confident will confirm that we're owed 128,000 Pounds," said Rushton. "We won the case, basically.
"Brian Venner's [of VTV] got a winding up order as well, and they've appealed to have that delayed, which we are also party [to], by the way - that's gone on till October in order to give them time to sort it out."
Abdullah, previously known as Simon Donnellan before marrying a Malaysian woman, also told the New Straits Times the settlement of other debts - referring to the outstanding RM2.6 million debt after the Malaysian Sports Ministry's RM2.3 million bailout - was still being discussed with the Sports Ministry.
That's not how the Malaysian cycling federation's deputy president Datuk Naim sees it, though: "We should be thankful to the Government for saving the image of the country and cycling, but we cannot expect Government funds to be used to bail out private companies," he told the New Straits Times.
"Although this solves half of the problem, it doesn't absolve First Cartel of responsibilities to settle its debts," continued Naim. "Now, we must look into how these other debts can be settled."
What went wrong?
The UCI president said he hoped First Cartel could overcome its losses from 2005 by tightening up this year's budget. At first, it did appear managing director Imran Abdullah had done that, with a few less bells and whistles, but still managing to hold a well-contested, enjoyable and hospitable eleventh edition. Yet, with 4,9 million Ringgit still owing and quite possibly another 128.000 British Pounds, questions continue to revolve as to how one of Asia's premier cycling events went so wrong.
"The Tour de Langkawi is a very important race in terms of development of cycling within Asia," said McQuaid, "and it would be my hope that this thing can be settled, so that this race can go on a sound financial footing in the future."
Rushton, despite what he is owed, is also hopeful something positive can come out of this, and wants to see the race 'rescued'. "We want to see that happen," he said.
"I don't know the future of First Cartel, but it doesn't look very rosy. But the race, I'm quite sure, will probably continue, and so it should, if it can," continued Rushton. "There's a lot of people in Malaysia who want the race to continue - everybody wants it to continue - but there's some swift action needed now. There's been a fair bit of dirty dealings on, to be frank with you."
A joint committee headed by Sports Advisory Panel chairman Datuk Nik Mahmud Nik Yusof is due to submit its report on the Tour de Langkawi's future, where the need to appoint a new organiser will be assessed.
Affirming Malaysian cycling federation Datuk Naim's earlier words, Nik Mahmud also stated the Government will not be providing further financial assistance to First Cartel - leaving 2,6 million Ringgit still to be paid after the Sports Ministry's 2,3M bailout.
See also: Loose ends from Langkawi