Tour de Langkawi Cycling News for February 12, 2006
Edited by Anthony Tan
Selle Italia rumours quashed
By Anthony Tan in Kuala Lumpur
Responding to rumours speculating that the primary naming rights sponsor of Italian-registered Pro Continental Team Selle Italia Diquigiovanni is pulling out, team manager Gianni Savio has denied anything of the sort.
"No... we have a contract through to 2007," replied Savio to Cyclingnews when asked if there was any truth behind the rumours. I have signed the contract one month ago, at the beginning of January."
In fact, 2006 marks the twenty-second consecutive year of sponsorship by the Italian saddle manufacturer after Selle Italia began investing in the team way back in 1985. Savio also added he has already been in discussions with their other major co-sponsor, Diquigiovanni, and is optimistic about the company's continued involvement in the team beyond their current contract period, which expires at the end of this year.
Japanese team counts on promise of payment
By Shane Stokes in Kuala Lumpur
Koji Fukushima, Shinichi Fukushima and Takashi Miyazawa
Photo ©: Shane Stokes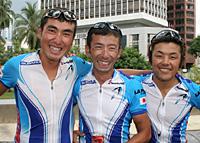 Although they were best Asian team overall and finished second best in the Asian rider category, Japan only made the decision this morning to line out for the final stage of the Tour de Langkawi. The night before, the team had spoken to the media about the non-payment of prize money for three of its riders from the 2005 race, and vowed not to start stage ten of the 2.HC ranked event.
"We have been waiting for the prize money for a long, long time and while we don't want to withdraw from the race, something has to be done," said team leader and spokesman, Shinichi Fukushima. He, his brother Koji and Takashi Miyazawa rode the Malaysian tour last year as part of the Bridgestone Anchor team and claim that despite repeated assurances, they have not been paid.
These assurances included a signed note by First Cartel managing director Imran Abdullah (a.k.a. Simon Donnellan), dated February 2 and shown to Cyclingnews, stating that "the above amount [RM 47,725 (approx. 10,750 euro), minus 5% and 2% UCI tax] will be transferred by TT on or before 8th February."
When that deadline came and went without payment, the team decided that they had to make a stand. "We have received many promises but nothing has happened," said Fukushima. "We are withdrawing as a protest as we fear that if we continue to race and then return to Japan without receiving what we are due for last year, we will never get it."
Abdullah spoke to Cyclingnews later Saturday evening, who guaranteed that the riders would receive the payment on Monday. "I regret what has happened," he said. "At the beginning of this race I was informed by Japan that the riders hadn't received what was owed to them. I was a little bit surprised, to be perfectly honest with you, because I had thought that they had all been paid."
"I can say for sure that they are the only team not to be paid [for last year]," he said. "What I then said to them [Japan] was that I would try to resolve it this week. Look, if you examine it logically, I wouldn't invite a team that I thought I owed money to. That is why I was surprised when they told us that. Anyway, I said that we would resolve it, but that they have to give me until next week to get it sorted. I was waiting for payment this week, it hasn't arrived, but I have assured them that it will come on Monday."
Abdullah also stated categorically that other parties owed money from 2005 would also be recompensed. Those who claim they are still waiting include the timing and photo finish technicians, the official race photographer and others. "We had a tough time last year due to several reasons," he stated.
"We took a massive hit. It was our first year after the previous era, which was led by huge budgets. We were let down by a couple of partners. I won't say who they were as we are still trying to resolve that, but it made things very tough for us. Anyway, we have agreements with all of those who are working on the race this year and will make sure that everything is settled and everybody is comfortable. We will continue to rebuild this event, because that is what we have had to do. We have made a lot of progress in getting on top of things and making sure that the race has a long-term future."
As a result of the assurances by Abdullah to Cyclingnews of a Monday payment, the Japan team decided to reverse their decision and ride the final stage criterium in Kuala Lumpur, which ironically was cancelled due to a rainstorm.
"We want to race today," said Koji Fukushima before the start. "We didn't want to pull out of the race but felt that we had no choice. We just hope now that it is all resolved as promised."
Clement brings Rabo's professionalism to Bouygues
By Jean-François Quénet in Kuala Lumpur
"Good horsey,
Photo ©: Jean-François Quénet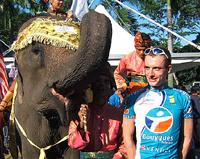 Bouygues Telecom can be happy with their Dutch recruit at his first appearance at Le Tour de Langkawi. 23 year-old Stef Clement's results in Malaysia included fourth place on Stage 4 to Kuala Selangor and third in yesterday's Melaka time trial. "I came here for preparation," he said.
"It was my goal to take part in a decisive breakaway and do well against the clock. I'm satisfied with my results, although I probably could have finished second in the time trial by riding four seconds faster. Last week, I've lost one of my best friends and my concentration wasn't very good. During the first six kilometres, I didn't cut the curves properly."
The man from Breda, who now spends a lot of time in between races and training camps at the headquarters of Bouygues Telecom in Les Essarts, Vendée, where Tom Boonen won the first road stage at last year's Tour de France, seems happy with his new team. "We've been active every day, going into all the breaks and leading out one sprint for Anthony Ravard. That's the kind of cycling I enjoy."
Clement was hired by team manager Jean-René Bernaudeau who was curious to see what makes Rabobank such an efficient school for young professionals, even though he previously set an unwritten rule that all the neo-professionals for Bonjour, La Boulangère and now Bouygues Telecom had to come from his Vendée U reserve squad.
"Rabobank is an excellent school," Clement confirmed, who is well schooled himself and speaks perfect German, English and French. "It's the best U23 team in the world, as was Mapei before. We have discipline and style. Here, I feel less stress; Bouygues Telecom is a group of friends whereas Rabobank is a team of workers.
"I was told that maybe there would be a contract for me in the Rabobank ProTour team and I may have had to wait for a year, but I didn't want to wait; I asked my manager to look for a French team for me because all the great Dutchmen like Joop Zoetemelk, Hennie Kuiper and Gerrie Knetemann have ridden for French teams in the past."
It has become fashionable in French cycling to sign the young riders that Rabobank couldn't find a place for in their ProTour team. Besides Clement, that's how other time triallists Mathieu Heijboer and Michiel Elijzen have joined Cofidis and Hans Dekkers is now set to sprint for Agritubel. "It's a good thing to mix the styles," Clement reckoned.
(All rights reserved/Copyright Knapp Communications Pty Limited 2006)