News feature, November 20, 2005
Loose ends from Langkawi
2005 Tour de Langkawi winner Ryan Cox and his Barloworld team are still waiting for their share of prize money
Photo ©: Mark Gunter/Cyclingnews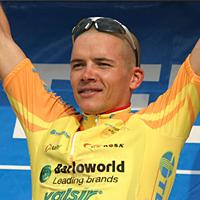 A week and a half ago in Kuala Lumpur, previous title sponsor Telekom Malaysia announced its commitment to the Tour de Langkawi race in 2006, continuing a partnership that began since the race's inception a decade ago. However, Cyclingnews has since discovered prize money is still owed to four of the five best-performing teams at this year's race, among them the team of race winner Ryan Cox, which - according to UCI rules - prevents next year's race from going ahead. Anthony Tan reports.
"If some of the teams like us haven't been paid, then it's not really fair," Ryan Cox said to Cyclingnews, this year's Tour de Langkawi victor trying his best to relax with the season now at a close. "It's not fair that they can do the race again if the bills haven't been paid."
Barloworld appointed two riders from their team to try and claim monies owed to them, which Cox claims to be around 2,000 Euro per rider. As well as the general classification, Barloworld won the mountains and teams classifications and the stage to Genting Highlands, where the 26 year-old South African took control of the race three days from the race finish on February 6, 2005.
"We're missing a fair bit of coin from that race," said Cyclingnews diarist Trent Wilson, one of the seven men who represented the team from Colombia-Selle Italia. Before the team's star rider Jose Rujano finished on the podium at the Giro d'Italia, the Venezuelan finished second overall to Cox at the Tour de Langkawi. American Pro Continental Team Navigators Insurance is also in the same boat, according to team manager Ed Beamon: "I'm square with everything else, but we still waiting on prize money," he said.
"I keep getting positive responses, but I haven't seen it yet. The guys did pretty good prize money-wise; Panaria cleaned up most of the dollars, but Barloworld and ourselves were probably the other two teams who really did well there, so yeah, it is a fair amount of money."
"This is where I believe the UCI falls down, where they fell down with teams like [Linda] McCartney, like Mercury"
- Recently retired rider David McKenzie last rode for Wismilak in his final season, which is another team owed prize money from the 2005 Tour de Langkawi
Wismilak team manager Scott Guyton told Cyclingnews, "I definitely know the prize money hasn't been paid. I definitely know the prize money was supposed to come into my account and it hasn't come yet." Guyton, a former professional from New Zealand, also believed the team had not yet been reimbursed for their airfares to Malaysia, which had to be paid in advance due to logistical problems on behalf of the race organisers. "We were sitting at the airport and we were arguing to get on the plane because we knew we had to get on. I think we ended up buying four business class seats just to get on the fricking plane. As a manager at my first race, it was an absolute nightmare."
When owner Simon Donnellan (a.k.a. Imram Abdullah) was contacted on Friday, November 11, a day after the 2006 sponsor launch, he told Cyclingnews three to four teams were owed prize money, but eighty percent of the teams from this year have all been settled, and expects the issue to be resolved "in a matter of weeks".
"We've had a tough time," he admits. "I took it [the race] over late last year and we've had one sponsor issue which has caused us great problems but we've resolved that."
Donnellan said he didn't receive the anti-doping control results from the UCI until May, which is basically a clearance from cycling's governing body to pay prize money owing. He then says as many teams as possible were paid at the time including the largest beneficiaries, Ceramica Panaria - Navigare, having won seven out of the ten stages on offer. This was confirmed by their Australian sprinter Graeme Brown to Cyclingnews, who took five stages in this year's race.
"The teams that we had a good relationship with, we asked for their patience until we sorted out this money outstanding," said Donnellan. "It's taken this length of time - I mean, I had to get the Malaysian government involved - but it's all been sorted out literally in the last two weeks. I've even contacted Ryan Cox to say, 'Listen mate, if it helps you, give us your individual bank accounts so I can help you direct.'"
Cyclingnews contacted the UCI's Pat McQuaid on the matter, however the recently-elected cycling president did not wish to comment, other than say that he was aware of the issue.
But according to team director Ed Beamon, "I think ultimately it is the UCI's responsibility. I mean, they're the legislative body and they're supposed to be the police. And the president of the UCI was one of the chief guys involved in the promotion of the race."
A bit of history
First run in 1996 at the request of then Malaysian Prime Minister Mahathir Mohamad, the race was sold two years later to a man named Datuk Wan Lokman, who established a company known as First Cartel Sdn Bhd to operate it. Wan Lokman ran the race for seven years, employing the services of UK-based company The Events Group to manage the organisational and logistical aspects, whereby managing director and experienced race organiser Alan Rushton was given the title of 'race controller' and employed McQuaid under his wing, among others.
In late 2004, Wan Lokman approached Rushton to find a buyer, who turned out to be a previous employee of Rushton's, Simon Donnellan. Previously a radio engineer, Donnellan met a local woman while working in Malaysia and married her, changing his name to Imram Abdullah to reflect his new religious status as a Muslim. When the papers were signed, one of the conditions was that certain people were to stay on board for the next three years as "detailed technical consultants with First Cartel"; this included Rushton and Brian Venner, an employee for well-known British television production company VTV and who was responsible for coordinating the race's television operations and producing much of the footage.
Race Controller Alan Rushton is chasing monies owing on behalf of The Events Group
Photo ©: CN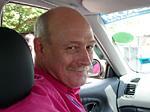 However, even though VTV and The Events Group personnel were present at this year's race, it appears they are slowly being squeezed out of the picture. Cyclingnews has learned they, along with the four aforementioned teams are claiming monies owed, with VTV's dues in the form of a very serious legal action pending against First Cartel in Kuala Lumpur. Said one of The Events Group staff, who asked not to be named: "There's a big pincer move going on at the moment and it's not very pleasant; you're either in the click and you get paid or you're outside the click and you can f*&% off."
One reason for this shortfall in monies owing could be due to start money paid to the four ProTour and 10 Pro Continental teams who attended this year's Tour de Langkawi. With no UCI ProTour points up for grabs, Credit Agricole, Discovery Channel, Domina Vacanze and Liberty Seguros may have taken a little more 'persuasion' than normal to visit Malaysia's tropical environs.
There's also a history of riders, team staff and media being very well looked after in the form of an all-expenses paid trip, never a cheap exercise. A director of First Cartel, Abdullah Kamal Shafi', said in a press release issued on October 6, 2004 that the UCI's restructure of professional cycling and the subsequent upgrading of the race to 'HC' status (the highest classification for a Continental Tour) meant the cost to run the 10-day race would be between RM18-20 million (US$5.3M). Total prize money was also slashed by approximately two-thirds.
Along with Wismilak, the late handover saw partner Malaysia Airlines unable to fly in a number of national teams including Iran, Great Britain and Ireland. They were told to pay for their tickets upfront and upon arrival in Malaysia, they would reimbursed the full amount. But the money on arrival wasn't there and at least two of those teams are still waiting for part of their airfare expenses to be paid.
A matter of enforcement
Still waiting, Cox says he doesn't care how he gets paid, just so long as he and his team are paid and as soon as possible. "You know, the smaller teams aren't making millions, so you are actually waiting for some prize money to come through, because it does help, you know. I do understand that they don't hand out prize money straight away because they've got to do dope controls and all of that - but it doesn't take a year to do dope controls," he said.
Cox also said the Langkawi issue is not an isolated case. "You do some Spanish races, Italian races and they do end up taking a lot longer than normal - you can wait up to a year to receive prizemoney from a race, which to me is not up to standard."
Recently-retired Wismilak rider David McKenzie is strongly of the opinion that the UCI should be stepping in to help. "This is where I believe the UCI falls down, where they fell down with teams like [Linda] McCartney, like Mercury," he said. "After the McCartney thing, it's left a bit of a bitter taste in my mouth, but I was absolutely disappointed with the UCI over that. They've got good lawyers and auditors and solicitors and things like that, and I believe they should be provided in situations like these."
Cox agrees. While a loose six-month rule is in place, the South African says "it's not like they're enforcing it".
"It's got to come from the top; teams have to put money into a holding fund if they can't pay the riders' [salaries] in case the team folds - maybe they should do that for races as well," said Cox. "Then it gets paid directly after the controls or something like that, instead of [riders] fighting for it."
Said Navigators' Ed Beamon: "The UCI gets money every time a race is promoted, so I'm sure there's a certain reluctance to cancel a race's licence - if we don't get paid prizemoney, it doesn't affect the UCI; if a race doesn't pay it's licensing fee, it does affect the UCI."
Forcing a rethink
The Langkawi situation highlights the financial difficulties of staging a high-profile event in non-cycling oriented regions like Asia. Particularly in Malaysia, race organisers have been status-crazy with a tendency to overlook development of cycling in the region and pay more attention to the bells and whistles. The advent of the ProTour and separate Continental calendars have forced a rethink, admits Donnellan.
"This race previously has put great emphasis on the European contingent; I personally want to maintain that, but also give some balance to the Asian teams as well. As you know around the region at the moment, there's certainly more Continental Teams coming out; China are very active, Indonesia are becoming more active now... we're an Asian event.
"We've had to realign ourselves or sell ourselves a little differently. This race has always projected itself as being among the top five in the world, and we had to be honest with ourselves and say, 'Now come on, what are we?' - and I would say we are world-class preparation event."
Donnellan feels there is an emergence within Asian cycling that is starting to come through and he wants to be a part of it, saying that nothing would give him more satisfaction than to have an Asian winner at the Tour de Langkawi. "We've got to play our part; we're not just organisers of an event, we want to develop the sport [in Asia] as well because it's in our interests," he said.
But first things first. No-one wants to see a race end that showcased the enormous talent of Americans Chris Horner and Tom Danielson, both previous winners of the event, that gave Alessandro Petacchi his first-ever professional victory, and that put Jose Rujano into the spotlight, simply because of a relatively small though significant amount of money owed.
Wismilak's Scott Guyton said the race is extremely important for his team's profile and wants to return. Ed Beamon feels likewise: "I've got guys who like that event, who feel they can do well in it and want to do it, so that early in the season, it's a motivating factor. It's also a event that gets a lot of publicity, so that's another motivating factor.
"The guys that ran the Tour of Britain have supposedly taken over all of the organisational aspects," added Beamon. "My experience with the Tour of Britain is that those guys put together a pretty good package and seemed pretty straightforward. I never had any problems with those guys financially to date... I'd be inclined to give them the benefit of the doubt."