News feature, November 22, 2005
Wire in the blood: Part I
As the riders in the European peloton turn their focus away from racing and think about their winter vacations, fired Phonak rider Tyler Hamilton will be eagerly awaiting the outcome of his September appeal to the Court of Arbitration for Sport in Lausanne, Switzerland. If his guilty verdict and subsequent two-year suspension are to be overturned, the sporting world's highest - and final - authority is his last hope.
Anthony Tan spoke to two of the sport's foremost scientific and medical experts to examine the factors that will determine Hamilton's chances in the final hearing at the Court of Arbitration for Sport, now scheduled for January 10, 2006 in Denver, Colorado. Part I below examines the factors in play leading up to the Athens Games, where evidence of blood doping was first found.
Former Phonak rider Tyler Hamilton en route to winning the eighth stage of the Vuelta a Espaņa. Two days later, on September 13, the American returned positive for homologous blood transfusion.
Photo ©: Lavuelta.com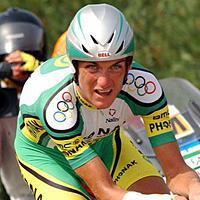 Tyler Hamilton was first publicly accused of blood doping during the 2004 Vuelta a Espaņa, where it was revealed he failed 'A sample' tests for homologous blood transfusion (mixed cell population) at the Athens Olympics and on September 13 at the Vuelta. However, leaked evidence now reveals suspicions of blood doping dating as far back as April 25, 2004, the day of Ličge-Bastogne-Ličge. So that is where we will begin.
The day before Hamilton was set to defend his crown at Ličge, Hamilton's 'off-score' [see seperate story: 'Anti-doping measures get tougher'] measured 123.8. Normal values should be somewhere between 85 and 95, with the cut-off at 133. The then 33 year-old finished a credible ninth in the race, 12 seconds behind Italy's Davide Rebellin. On April 27, a few days later at start of the Tour de Romandie - a race where he successfully defended his title - it was up to 132.9, with a corresponding haematocrit level of 49.7 percent (the cut-off being 50).
The off-score
Also known as the Stimulation Index (SI), the off-score is now by far the most important parameter used by anti-doping authorities in the sport of cycling. Here's why.
The Stimulation Index is derived by taking into account both mean (or average) levels of haemoglobin (an oxygen-carrying protein carried in red cells, the average somewhere between 14 and 18 grams per 100 ml or g/dL) and reticulocytes (percentage of new or immature blood cells, the normal range between 0.5 and 2 percent). A simple formula that combines these two readings provides the off-score; whether you are an athlete or not, the values should be within this 85-95 range.
Robin Parisotto, principal scientist involved in the development of the EPO blood test implemented at the Sydney 2000 Games and the former manager and senior scientist at the Australian Institute of Sport's (AIS) haematology and biochemistry laboratory, said of Hamilton's test results taken at the 2004 Tour de Romandie: "The off-score of 132.9 registered by Hamilton in April 2004 represented one which had a less than 1 in 10,000 probability that it was a chance finding."
"The off-score of 132.9 registered by Hamilton in April 2004 represented one which had a less than 1 in 10,000 probability that it was a chance finding."
- Suspicions relating to Tyler Hamilton's involvement in blood doping were heightened after registering abnormally high off-scores after the Tour de Romandie in April 2004

If some of you have never heard of the Stimulation Index until the Hamilton doping case broke, you're not alone; official use of the off-score only began at last year's Giro d'Italia.
The device used to measure reticulocytes, known as a Sysmex, became available as a portable machine in 2001 (other machines, such as the ADVIA and Coulter, are also used but for monitoring purposes only, and a rider cannot be declared 'unfit to start' if either is used). But it was only in late 2003 when the Australian authors modified the parameters to make them useful as a tool for anti-doping.
"With these new parameters, we could measure reticulocytes and haemoglobin on the field," said a highly-respected UCI medical source to Cyclingnews, who asked not to be named. "That's why we thought about introducing the cut-off."
Manipulation of off-score
Fit to race?
The test on whether an athlete is fit to race or not goes like this:
Two samples are taken at the same time, A and B, with the B sample sealed in a vac-container for possible later use.
The A sample is measured the first time. The A sample is measured a second time. If, on both occasions, the haematocrit is more than 50 percent and haemoglobin more than 17 grams/100ml (g/dL), the rider is asked to pay a visit to the UCI.
The vac-container of the B sample is then taken out, and two tests are conducted in exactly the same manner as the A sample. Should their haematocrit again be more than 50% and haemoglobin again be more than 17 g/dL, then the rider's blood will go through the centrifuge, which measures only haematocrit. If the centrifuge also shows a haematocrit more than 50 percent, the athlete is declared unfit to race, and in a majority of cases, temporarily suspended according to the team's own anti-doping policy.
If, at anytime, the result is less than or equal to 50% for the haematocrit, or, for the haemologlobin, less than or equal to 17 g/dL, the rider can start.
So in order to be stopped, a rider has to have a haematocrit reading higher than 50 percent five times on two different samples and two different techniques, and, as a side-check, a haemoglobin value more than 17 g/dL on four separate occasions.
So, with recent emphasis placed on the off-score, was there any chance a rider could artificially manipulate their readings, given that riders (or team physicians) have found ways to reduce their haematocrit below the magical 50 percent mark before a major race?
The answer: Yes. And a another reason why even greater importance is placed on the level of reticulocytes.
Before last year's Tour de France, Hamilton claims his haematocrit was 38, but he's also been known to have readings in the mid-to-high 40s. One reason for this could be his blood was diluted, which can be done naturally by drinking large amounts of water.
Said the UCI source: "Another advantage of the [off] score is that there might be manipulation which will lead to a decreased score, because of a decreased haemoglobin value due to haemo-dilution - but there is no way to manipulate your reticulocyte cells."
Those all-important reticulocytes
"Every time we see a very low count of reticulocytes, we have suspicions," he said.
While much talk exists over variation in haematocrit, over time, medical scientists who have worked with both haemoglobin and reticulocytes have found the latter index to be more stable. "The score has a very high deterrent effect, because it's not easy to measure reticulocytes.
"You have to have a big machine and then there are variations due to the technique." To Cyclingnews' knowledge, no cycling team has acquired such a machine, although a number of teams have the ability to measure haematocrit.
"Variation [of one's off score] is not very important if you are in the normal range," he said, "but if you are in the very low range - between 0.1 and 0.3 [percent] - minor variation can make a big difference in the score. So it's difficult for an athlete to see 'Where am I?', because two parameters are involved - haemoglobin and reticulocytes."
Hamilton's off-score was 132.9 before the start of the 2004 Tour de Romandie. His reticulocyte reading was also 0.22 percent, so not only did he exhibit an atypically high off-score, his reticulocyte levels were well below normal. In haematology circles, the association of normal or high haemoglobin and very low reticulocytes is unknown - unless it is the beginning of a severe medical condition.
When asked to pay a visit to the UCI, Hamilton claimed to have a medical condition, but according to our source, he never stated what that condition was. And to date, no known medical condition shows symptoms of a very low reticulocyte levels and a high haemoglobin. Said the UCI source: "To my knowledge, there are no natural reasons to have very low reticulocytes."
What is common knowledge, however, is any form of artificial blood boosting - be it via EPO, NESP or blood transfusion (homologous or otherwise) has a negative effect on the level of reticulocytes.
Everyone is genetically predetermined to have a certain amount of red cells. If, artificially, you boost your marrow to produce more red cells, your body will say, 'Okay, let's decrease our own production.' This means that first of all, you will decrease the number of reticulocytes that you produce; and secondly, because of the increased total amount of red cells, this will generate a very low percentage figure of reticulocytes.
So a consequence of previous stimulus of the marrow is that further on, there will be a decreased percentage of reticulocytes which are produced - and send your SI soaring.
Altitude training, perhaps?
"When you see a very low count of reticulocytes, you have to ask: 'Is it a medical condition, or is it a consequence of blood doping?'"
- A high-ranking UCI medical source told Cyclingnews Hamilton's extremely low reticulocyte levels, combined with a high haematocrit, became an automatic 'red-flag' situation

Hamilton, although originally from Marblehead, Massachusetts, has spent the past 10 years or so in Boulder, Colorado when he's not racing in Europe. So did training at altitude see him attain an abnormally high off-score?
Experts say this is impossible.
Training at altitude is indeed an artificial means to boost your bone marrow/red blood cell count. But Hamilton left Boulder for his home in Girona, Spain in March. And even if he did train at altitude, a stimulated increase in red blood cells should also see an elevated reticulocyte count, which did not happen.
"In a normal person, when you have low reticulocytes, for many reasons, this will lead to an anaemia," explained the UCI source. "Red cells have a life span of 100, up to 120 days, but after that, they will die, or be destroyed. So if the renewal is not enough because you have a very low reticulocyte count, automatically you will observe an anaemia, so a decrease of haematocrit."
And for athletes?
"Well, in athletes, when you see a very low count of reticulocytes, you have to ask: 'Is it a medical condition, or is it a consequence of blood doping?'" he said. "Of course, even an athlete could one day have a medical condition which could lead to a decreased number of red cells and a decreased number of reticulocytes, but, most of the time, this very low value of reticulocytes is due to a consequence of blood doping.
"Also, from what we know and have read in the literature, training at altitude, or training and using hypoxic devices have never shown such a very low value of reticulocytes; if there is an effect on the reticulocytes, it will be more an increased number of reticulocytes, not such a decrease."
Accuracy
At the USADA hearing in January this year the American claims the UCI's chief medical officer, Dr. Mario Zorzoli, testified about the inaccuracy of the test to measure one's haematocrit.
According to our UCI source, Dr. Zorzoli said only that there can be variations, and that haematocrit is not a very stable parameter.
Which is true: the more time there is from when one takes a blood sample and when one analyses it, the more the red cell will become larger and will falsely increase your haematocrit - although the haemoglobin will stay stable. In order for a rider to be stopped, he/she has to have a haematocrit reading of greater than 50 percent, but also more a haemoglobin reading of more than 17 g/dL. So if the conditions for the athlete weren't ideal, and the test falsely shows a haematocrit of 51.7 percent but a haemoglobin of 16 g/dL, they can race.
Furthermore, it was noted that if the haematocrit reading is more than 50, in order for the UCI to place a temporary suspension on that rider in question from competing, they must also fail the centrifuge test (another measure of haematocrit). If the centrifuge says less than 50 percent, he/she can race. This has been the 'gold standard' of measurement when determining whether or not an athlete is considered fit to race since the 2000 Olympic Games in Sydney [see breakout: Fit to race?].
"So, we have a double security," said the UCI medical source. "In other sports, in other disciplines, they take one sample. They measure it once; if it's higher than the limit, take another sample; if it's higher than the limit, you will be stopped. So, we believe that using two samples, two parameters, and two techniques, we give the highest guarantees to the athletes.
"And if we have to calculate the [Stimulation] Index, we will use the lower value of the haemoglobin and the higher value of reticulocytes, also in order to give the higher level of guarantee to the athlete. If, at anytime, the combination of haemoglobin and reticulocytes, the result is equal to or more than 133, he will be stopped."
In Part II tomorrow, we examine the robustness of the test used to convict Tyler Hamilton of homologous blood transfusion, where much of the debate has been centred.
Cyclingnews coverage of Tyler Hamilton's blood doping case
January 10, 2006 - Hamilton faces CAS again
November 22, 2005 - Wire in the blood: Hamilton's last hope
October 6, 2005 - CAS to rule on Hamilton case by year-end
September 13, 2005 - Hamilton case heard, but not finalised
September 6, 2005 - Hamilton appeal to be heard this week
August 21, 2005 - Hamilton racing again
August 4, 2005 - Hamilton hearing on September 6
June 21, 2005 - Still no word on Hamilton hearing date
June 16, 2005 - Hamilton appeal hearing delayed
June 3, 2005 - Hamilton appeal is go
May 18, 2005 - Hamilton appeal set for June
April 29, 2005 - Tyler's side of things: Hamilton reacts to doping ban
April 22, 2005 - Hamilton: "The fight will continue"
April 20, 2005 - Armstrong comments on Hamilton verdict
April 19, 2005 - The Hamilton decision: Is he guilty and is the science perfect?
April 19, 2005 - Hamilton's defence
April 19, 2005 - Hamilton suspended for two years
April 18, 2005 - Hamilton's defence: The vanishing twin?
April 17, 2005 - Hamilton decision expected on Monday
April 13, 2005 - Hamilton awaits
March 14, 2005 - A longer wait for Hamilton
March 11, 2005 - Hamilton optimistic, but proceedings kept open
March 1, 2005 - Distributor plays down Hamilton role in IMAX movie
February 28, 2005 - Hamilton hearing starts
February 4, 2005 - Hamilton hearing date set
December 1, 2004 - Phonak: "Black day for cycling", Hamilton confirms sacking; UCI explains
November 30, 2004 - Hamilton sacking doesn't save Phonak
November 25, 2004 - Hamilton speaks out
November 18, 2004 - WADA code opens door to Hamilton appeal
October 22, 2004 - Hamilton vows to clear his name
October 21, 2004 - Russians appeal Hamilton's gold
October 1, 2004 - Pound weighs in to Hamilton controversy
September 29, 2004 - Russia to appeal against Hamilton decision
September 23, 2004 - Official: Hamilton's Olympic B test dropped
September 23, 2004 - Phonak claims one B test negative; Tyler Hamilton's statement
September 23, 2004 - Armstrong on Hamilton
September 22, 2004 - Hamilton suspended by Phonak
September 22, 2004 - Hamilton and Phonak protest innocence
September 21, 2004 - Hamilton fails blood tests