91st Tour de France - July 3-25, 2004
Liège, Belgium, July 3, 2004
Anti-doping measures get tougher
At a press conference on the morning of the Grand Départ in Liège, the UCI and the organisers of the Tour de France unveiled the latest methods for combating doping in cycling, which, in light of recent events, is still clearly alive and kicking. Cyclingnews' Jeff Jones reports.
Cofidis' David Millar, the latest rider to admit to using the sport's most widely-abused doping substance, EPO
Photo ©: www.velofotopro.fr.st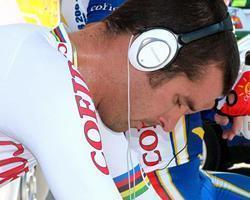 The revelations of the Cofidis affair, where high profile cyclists David Millar and Philippe Gaumont have admitted to EPO use without testing positive, and the horror stories of former Kelme cyclist Jesus Manzano, have demonstrated that the current drugs testing procedures are inadequate for reaching the goal of a clean sport.
Cycling has been at the forefront of developing new methods to combat doping, introducing blood testing as a health measure in 1997, followed by the first test to detect EPO in urine in 2001. However, while a high hematocrit from a blood test can indicate the use of EPO, it has not been used to sanction a rider for longer than 15 days, and it does not constitute a positive test. Additionally, while the urine test is used to determine a positive, its effectiveness is relatively short range: 3-4 days at most before artificial EPO becomes impossible to detect. However, the effects of EPO last much longer: 3-4 weeks, and it doesn't take a genius to work out when the ideal time is to take EPO before a race.
In view of the Tour de France, the UCI has tried to eliminate this by doing out of competition tests in early June - a month before the riders want to be at their best for the Tour. For this reason, the UCI demands to know the exact whereabouts of all riders during this time period in case they are required for a drug test. The UCI is also getting smarter with its testing, zeroing in on riders with abnormalities in their blood profiles. "The health data that we accumulate allow us to target our controls, and to carry out surprise controls on suspected riders or those preparing for an event," said UCI doctor Mario Zorzoli.
EPO and similar blood-boosting products (e.g. NESP, Hemopure (HBOC), RSR-13, PFC, synthetic hemoglobin) have been in the spotlight for cyclists for years, as their red blood cell boosting ability improves oxygen carrying capacity which is a strong limiting factor in endurance performance. Also, there is strong evidence that there has been the reintroduction of blood doping, where a quantity of a rider's own (or someone compatible's) blood is drawn a few months before a big event, stored, then re-injected just before the race takes place. This gives a red cell boost without any danger of testing positive for EPO. In addition, EPO can be used during a training period (at a time when there is a low risk of detection) to enhance red blood cells in the blood that will be drawn and used later on.
This is not to ignore other drugs such as human (or animal) growth hormone, which is used to aid recovery. A test for growth hormone has been rumoured for well over a decade now, and the UCI and the Tour organisers have assured that it will finally come into effect during this year's Tour - another milestone in the fight against drugs in sport.
New tests based on blood profiling
At the time that the EPO urine test was being developed (in 2000), considerable efforts were being made by Australian researchers to develop a reliable and long range blood test to detect the manipulation of a person's blood by artificial means. But the authorities were not convinced that it would be bulletproof enough to eliminate false positives, which would create a huge legal headache for the UCI. Thus, the urine test was relied upon while the researchers went back and refined the blood test. The method (in part) was able to be used to detect abnormalities in the blood and alert the UCI to a possible case of doping, but only a urine test could be used to declare a positive.
Four years later, the problems have been ironed out, and Saturday in Liège, Dr Zorzoli presented the first ever blood testing regimen that can be used as an anti-doping test. There are two components: ON and HR-OFF, where H stands for hemoglobin and R stands for reticuloyctes (immature red blood cells). The ON test can detect the use of EPO (or similar blood boosting drug) up to five days after the last injection. It is thus only marginally more effective than the current urine test.
The more interesting method is HR-OFF, which can detect blood manipulations for up to four weeks using a formula† based on the quantities of hemoglobin and reticulocytes in the blood. If this falls outside a certain limit, then a rider will be declared unfit to race and a disciplinary procedure will be opened against them.
Not quite there with blood transfusions
The method of doping via blood transfusions has been partially addressed by the new tests. Dr Zorzoli confirmed that homologous blood transfusions are now detectable, but auto-transfusions are not. Thus, there is still a chink in the armour of the UCI's anti-doping combat machine. One which will surely be exploited until it can be securely plugged.
More tests planned
During this year's Tour de France, the race's assistant director Christian Prudhomme confirmed that at least 180 riders will be urine tested after each stage. 100 of these samples will be tested for EPO. This is a significant increase from last year, where a total of 142 urine tests were carried out. The stage winner and yellow jersey will be tested, as well as between four and six other riders each day. In addition, surprise controls can be carried out at any time.
To illustrate the costs involved in the fight against doping, the UCI reportedly spent 1.9 million Swiss Francs (1.25 million euros) last year, of which 1.4 million francs went directly to doping controls and testing. A routine urine test in a doping control costs on average 200 euros, while new EPO tests cost 400 euros each. More than half of the budget for this testing comes from the UCI, while approximately 16% comes from UCI-registered teams, 14% comes from the riders (through licensing fees), and race organisers provide their own contribution.
"It's clear that there is doping in cycling, but it's also clear that there is a strong anti-doping culture," said Dr Zorzoli. "The UCI is taking a pro-active approach. We want to anticipate rather than wait for [the doping]."
The Tour must go on
In response to calls that the Tour de France should be suspended because of doping problems in cycling, Tour de France boss Patrice Clerc was completely dismissive. "To suggest that the Tour should stop is stupidity," he said. "You don't stop the Olympic Games because American athletes tested positive, you don't close motorways because there are accidents. Our sport has done more than any other sport against doping and Tour organisers have done more than any other sports promoters against doping."
Although doping stories are ongoing and widely reported, Dr Mario Zorzoli pointed to the UCI's testing statistics from 2003. Of 5206 tests carried out worldwide, including 360 for EPO/NESP, 55 riders were sanctioned, which represents 1.05% of the sample size. In the 242 out of competition tests conducted by the World Anti-Doping Agency, only 1 rider was positive (0.41% of the sample size).
With the introduction of the new blood tests, it will be interesting to see whether these numbers vary.
† Stimulation Index = hemaglobin (in g/L) - 60 x square root of reticulocytes (in %). The limit is 133.