Tour de France Cycling News for July 21, 2005
Edited by Jeff Jones & Shane Stokes, assisted by Sabine Sunderland
An interview with Paolo Savoldelli
Il Falco flies again
Capturing his first Tour de France victory in Stage 17, Paolo Savoldelli has shown the world he can win on cycling's centre stage. The question Anthony Tan asks now is, can he take over centre stage once Lance Armstrong retires?
Paolo Savoldelli (Discovery Channel)
Photo ©: Roberto Bettini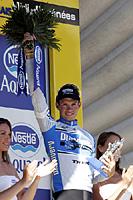 At the Discovery Channel press conference on the first rest day in Grenoble, team manager Johan Bruyneel was asked on the condition of this year's Giro d'Italia winner Paolo Savoldelli. The Italian was hired specifically to help Lance Armstrong win his sixth Tour, but one week into the race, there appeared to be a few question marks over his form.
"Well, he's definitely not in the same condition he was in the Giro, that's for sure," admitted Bruyneel. "We all expected that and we all knew that. Savoldelli is here to support Lance and the team and he's in good enough shape to be with him a long time in the mountains, but I don't expect him to become one of the favourites of the race."
Over the next week and a half, Savoldelli did indeed improve. Along with George Hincapie, Yaroslav Popovych, Jose Azevedo and Jose Luis Rubiera, the quintet became Armstrong's fearsome fivesome - on the flats, in the hills, in the finales...whenever he needed them.
Click here for the full interview
Arvesen's choice
Kurt-Asle Arvesen (CSC)
Photo ©: AFP

Kurt-Asle Arvesen came within 50 metres of a Tour stage win in Stage 17, but was overhauled by a powerful Paolo Savoldelli just before the line. Arvesen was one of four survivors of the break that went on the final climb of the stage, and had to do a lot of work with Gerrans to get up to Savoldelli and Hinault. Instead of waiting for the final sprint, where he would have been a favourite, he attacked with 1.3 km to go.
"I tried to surprise them with an attack less than one km to go," Arvesen said in his post-stage comments. "Normally that works, but Savoldelli was too strong. I gambled and lost. It was such a bitter moment. It was like going from heaven to hell in 20 meters. I gave it my all. I felt the lactic acid up to my ears. Savoldelli was just too strong.
"I was convinced (Sébastien) Hinault was the strongest in the group, so I wanted to make a long sprint," Arvesen added. "I wanted to take the initiative in the race, rather than just finish third and wonder if I didn't try at all. That's bike racing: 190 riders start and only one wins. It's not like soccer, when 22 start and 11 win. If I think it's a shame to lose out like this? Ah well, that's life, eh?"
Team manager Bjarne Riis backed the decision of his rider: "It was too bad for Arvesen, but that was the best tactic in that situation," Riis was quoted on the CSC website as saying. "It was a nearly perfect day for us. We had a man in the break and for the rest of the team it was almost like a rest day."
Still no word on Hamilton hearing date
By Shane Stokes
Yesterday was two years to the day when Tyler Hamilton pulled off a determined long range break and soloed to his first Tour stage win in Bayonne. This time round, he's consigned to watching the Tour on TV due to the two year suspension he copped for testing positive for a homologous blood transfusion during the 2004 Vuelta a España.
Hamilton's ban was announced by the United States Anti-Doping Agency (USADA) on April 19th of this year, after the independent arbitration panel of the American Arbitration Association (AAA)/North American Court of Arbitration for Sport (CAS) found him guilty of blood doping. Hamilton appealed the decision to the Court of Arbitration for Sport in Switzerland. Their decision represents his last chance of a reprieve.
Cyclingnews contacted Hamilton for an update on the case. "We filed my appeal with CAS on May 27," he said yesterday. "The rules provide up to four months to schedule a hearing and hand down an opinion. So that would mean my case should be resolved by no later than September 27."
When asked what has happened since that first ruling, the 34 year old says that they have continued to gather information to support their case. "We have continued to speak with various medical and research experts to determine more specifically how the test itself and the test results are flawed," he sates. "It's an ongoing process that will have spanned nearly a year by the time my appeal is heard. So, the more time that passes, the more people we speak to, the more we learn about flaws with the test and issues surrounding my results."
"Our case before CAS will present some of the same issues as before, and some new issues. We felt very strongly that we presented a solid case the first time around, which was heard on an expedited basis. We are hopeful that the CAS appeal panel will be open and receptive to our arguments."
Hamilton is currently in limbo, unsure as to whether or not he will race again. Like any athlete in his situation, he'll be trying to remain optimistic, but CAS will have the final say on his innocence or guilt. For much of his career his focus has been on being in peak form for the Tour de France, so it's a big change to be watching it on television instead.
"It was hard to see the first stage kicking off," he agrees. "But I have a lot of friends in the race and certainly, I want to see Phonak do well. I have turned on the race every morning to watch the coverage. It's disappointing not being there, but at the end of the day, I'm still a huge cycling fan and the Tour de France is the biggest race of the year. So naturally, I'm interested in it. Although I have to admit, I didn't realize how stressful it is to watch the race."
"My heart went out to Dave Zabriskie during the team time trial. But he had an amazing start for his first Tour, and I was really happy to see him do so well. I think Floyd is doing a great job being a rookie team leader. I'm keeping close tabs on all the Phonak riders and have been happy to see them playing an active role in most of the stages so far. This being George Hincapie's 10th Tour, it was good to see him earn his first stage win as well. He has sacrificed a lot over the years for Lance and it was nice to see him achieve such a great result. And obviously I was happy for Pereiro. He worked hard for his stage victory. He covered a lot of moves throughout the race. He's been really impressive."
If Hamilton is successful in his appeal, he thinks that he will be back to a decent fitness level relatively quickly. Indeed, he would hope to get some racing in this year. "I haven't missed a day of training since this whole mess started," he says. "I've been out on the bike every day since November 1st of last year. So I have a great base. I was in Europe last month doing a few aerodynamic tests at SRM in Germany and with my trainer in Italy to gauge where my fitness is. I was happy to see I'm pretty fit, despite the lack of racing."
"Without a firm hearing date, it's difficult to estimate what a potential return date to racing could be. But certainly I would like to get some racing in my legs before the end of the season."
Vansevenant: Fourth stage win is the plan
Davitamon-Lotto's Wim Vansevenant told Sporza that the plan in Stage 17 was to chase the points in the intermediate sprints, but that an early crash stopped them from doing so "There was a crash and we had three men at the back right away," Vansevenant said. "When we came back after that early crash, a group had taken off already.
"It was too late to get them back. But the green jersey is not on our mind; you're not going to make us crazy about it. We are going for a fourth stage win in Paris; stage wins are important. There's only two teams in this Tour: us and Discovery."
The Tour de France of give-aways and competitions
Don't miss out at Tour time!
Resident freebies expert, Rufus Staffordshire, sniffs out some competitions where up to $1 million in prizes are on offer as manufacturers clamber for your eyeballs. Woof!
Lucky 7 Sweepstakes'
Photo ©: Trek

The Tour de France is not only a reasonably popular bike race, ahem, it's also a great opportunity to win an incredible range of prizes and competitions on offer from manufacturers, publishers and distributors.
Many of our sponsors are offering Cyclingnews readers a schwag-fest of give-aways during the lap-around-France. The prizes on offer range from Volkswagens and vaccuum cleaners through to trips to Paris for the 2006 TdF, as well as actual kit being ridden by top pros in the Tour - including top bikes from Trek, Cervelo, and Avanti.
So that you don't have to go hunting around the Internet for all these goodies, we've assembled the Cyclingnews complete guide to Tour freebies and competitions.
(All rights reserved/Copyright Knapp Communications Pty Limited 2005)