Mountain Bike World Championships - CM
Val di Sole, Italy, June 17-22, 2008
All eyes on Val di Sole
By Sue George in Val di Sole, Italy
The mountain bike World Championships
Photo ©: Sue George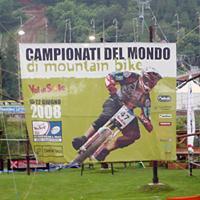 The world has come to Val di Sole, Italy, for a week of racing that will crown the World Champions in mountain bike and trials disciplines. Though touted as a popular summer (as well as winter) tourist destination in Italy's Dolomite mountains, Val di Sole was anything but sunny as racers, fans and the media arrived Monday for racing set for June 17-22.
Nonetheless neither light drizzle nor cool temperatures could dampen the spirits of racers, many of whom will be there to participate in their most important competition of the year. For some of the cross country racers in particular, it's one last chance to convince their respective national teams that they deserve a spot going to the Olympics in Bejing in August. But all the newly crowned champions will look forward to a long run in their new jerseys; the 2009 worlds don't happen until September.
The cross country action will kick off Tuesday afternoon with the team relay in which national teams composed of four racers (one elite man, one elite woman, one U23 man and one junior man) will compete for the first title of the championship.
Given Switzerland's recent dominant performance at the European continental cross country championship, where it took top two in the elite men's race and won the U23 men's and U23 women's races, the nation looks well positioned to defend last year's world championship team relay title. Final team rosters will not be available until the morning of the competition, so the only question left to ponder is which subset of its fastest will Switzerland's team managers pick for the relay.
"I'm excited for the team relay," said Georgia Gould (United States) to Cyclingnews on the eve of the race. After a bout of heat exhaustion at the Santa Ynez National Mountain Bike Series (NMBS) race in California last month, she was nothing but smiles when discussing the cool, sometimes drizzly weather forecast for the rest of the week.
The low-lying clouds are hiding the true height
Photo ©: Sue George

"I hope we can continue our winning ways," added Adam Craig, referring to last year's bronze-medal winning performance for the US team in the relay. Craig has been in Val di Sole long enough to spend some time scouting the Gavia, visited just last month by the Giro d'Italia. Joining Gould and Craig on the American team will be Sam Jurekovic and John Bennett.
Unlike last year, when they had to sit out when some elite racers arrived late, the Canadians will field a team including Catherine Pendrel, Derek Zandstra, Raphael Gagne and Evan Guthrie. Each team relay team member will complete one lap of the cross country course. The order of riders is up to each team - that's where the strategy comes in.
The team relay is the perfect chance for racers to check out the course at full-on race pace. The six kilometre loop, created by Paolo de Bevilacqua, features 320m of elevation change per lap and a combination of singletrack, wider tracks and fireroad. There are two climbs on the figure-eight shaped course, or three depending whom you ask, but unlike some courses, the climbing is spread throughout the course and does not come in only one big chunk. With about 1.5km to go on each lap, the racers will see a steep descent before a 700m level section to the finish.
The river is running high
Photo ©: Sue George

"I like the course. It's got a good mix of grass and dirt," said Gould. "There's plenty of passing, too. I'm optimistic." Despite the recent rains, the course is not muddy - it's just a little slick, enough to gum up some tires. And rumor has it, the sun may make an appearance tomorrow.
With the US Olympic team selections almost narrowed down, Craig was looking forward to focusing on the racing, not just the quest for making the US team. "It should be a good weekend of racing. The Olympic thing is pretty well sorted," said Craig, who looks likely to take the second spot on the men's team behind Todd Wells if there are no surprise American podium finishers this weekend.
It's been a long time since any man other than Julien Absalon (France) has been the World Champion and he's clearly the favourite, but look out also for Christoph Sauser (Switzerland), Florian Vogel (Switzerland), Jose Antonio Hermida (Spain), Burry Stander (South Africa) and Geoff Kabush (Canada) as possible challengers.
The women's race is much more open with no one woman dominating this season. Favorites include defending champion Irina Kalientieva (Russia), Sabine Spitz (Germany), Gunn Rita Dahle Flesjaa (Norway), Marie Helen Premont (Canada) and Gould among others.
Going down
The four cross and downhill share a finish line.
Photo ©: Sue George

Downhillers will finish just meters away from the cross country course start / finish after 2.22km run dropping over 500m with an average grade of 30%. The course was designed by Pippo Marani and has been described as "technical, fast and very physical" by organizers.
"Compared to the last two World Cups I've been to, the course is much steeper," said American junior Joey Schuster to Cyclingnews after walking the course Monday. "Most other tracks are wide open runs at ski resorts. This track is 100% trees, all wooded, all the way to the bottom. It's all roots and rocks and there's nowhere to take a break."
The course has changed only slightly since the Test Event held several weeks ago and won by Australia Sam Hill. The reigning World Champion will be on hand attempting to defend his crown. But he'll face a stiff challenge from an on form Greg Minnaar (South Africa), Steve Peat (Great Britain) and Gee Atherton (Great Britain).
Even the cars are decorated
Photo ©: Sue George

The women's race is shaping up to be a battle between defending champion Sabrina Jonnier (France), Tracy Mosely (Great Britain) and Rachel Atherton (Great Britain).
Val di Sole is no stranger to downhill events. Over the last ten years, it has hosted two Italian championships, two European championships and three European masters championships.
4X
Local architecture
Photo ©: Sue George

Four crossers will race a highly visible, spectator-pleasing, seven-corner course with a drop of 70m over its 450m length. Designer Phil Saxena has worked in a heap of features for an estimated 15 jumps including one split line and two big gap jumps. A 25m rock garden should also help keep things interesting.
The course required 5000 cubic meters of dirt and three weeks to build, but it'll take them no time at all to race each run.
In the men's race look out for Dan Atherton (Great Britain) and Guido Tschugg (Germany) to challenge defending champion Brian Lopes (United States). In the women's race, the favourites include Jill Kintner (United States), Anneke Beerten (Netherlands) and Jill Kintner (United States).
Trials get their own venue
While all the mountain bike events are taking place in Commezzadura, the trials events are set in various town squares in nearby Malé, just a few kilometres "down" the valley. Organizers are hoping for quieter, but still spectator-friendly venues away from the hubbub of the mountain bike events. Trials competition will begin Tuesday with events taking place in both the 20" and 26" division for various categories.
Photography
For a thumbnail gallery of these images, click here
Images by Sue George / Cyclingnews