MTB news & racing round-up for November 7, 2008
Welcome to our regular roundup of what's happening in mountain biking. Feel free to send feedback, news, & releases to mtb@cyclingnews.com and results, reports & photos to cyclingnews@cyclingnews.com.
Edited by Sue George
Australian Team TORQ ramps up for new season
By Sue George
The TORQ team
Photo ©: Evan Jeffery

The TORQ/VIS team is getting an early start on the 2009 season. Based in Australia, the team has registered as a UCI mountain bike trade team for next year, but is already busy racing at home; the first round of the Australian national series kicked off in early November in Adelaide.
"We have developed a highly visible and well organised team made up of some of Australia's top riders," said manager Genevieve Clark. "Our plan is to focus on the national mountain bike events with some of our riders also crossing over for some of the major road races. Our priority is the riders and our aim is to help develop the sport of cycling."
The team is set up as a two-tiered system. Tier 1 is called the TORQ/VIS Team and includes Victoria's top riders and current VIS scholarship recipients Tory Thomas, Robbie Hucker, and Cal Britton. Tier 2, known as the TORQ Team, comprises elite riders and developing riders. The Victorian Institute of Sport (VIS) will use this second tier team as a development team.
"We are providing a great development platform for our non VIS riders and offer the highest level of support to our team," said Clark.
The TORQ team began in 2008, as a natural extension of the original team established in 2007. It aims to provide both sponsorship and on the ground support for its racers.
During the 2008-2009 season, both tiers have their sights set on strong results in the Australian MTB National Series, National Championships and Oceania Continental Championships. Some members of the team will be heading to Europe for the World Cups, which are an important part of Australian national team selection process for the 2009 World Championships to be held in Canberra, Australia.
Dan McConnell is one of the team's best-known athletes. He represented Australia at the 2008 Olympic Games in Beijing, China. Tory Thomas has also won her national cross country, marathon and 24 hour solo championships as well as the national cross country series overall. Luke Fetch and Robbie Hucker are both promising young juniors representing Australia at the World Championship.
As for the rest, Clark said, "The majority of the team's riders are up and coming. Even though the elite women riders are in their late 20s, they have really only been racing for a couple of years and are really improving with each race.
"Jo [Wall] and Katherine [O'Shea are part of the AIS Dirt Roads to London Program, and Tory Thomas is a full scholarship holder at the VIS. The U23 riders are the obvious up-and-comers – Robbie [Hucker] and Cal [Britton] are recipients of VIS scholarships, and Luke was selected for the World Champs in Italy this year."
The team's top priority is racing Olympic distance cross country events, but it will keep fresh by mixing in short track, marathon and endurance events.
TORQ Team for 2008-9
Elite men: James Maebus, Dan McConnell
Elite women: Katherine O'Shea, Tory Thomas, Joanna Wall
U23 men: Cal Britton, Luke Fetch, Robbie Hucker, Steele von Hoff, Paul Weymouth
Staff: Genevieve Clark (manager), Dean Clark (assistant manager), Garron Buckland (coach), Tim Retchford ( physio), DC (mechanic)
Stay tuned to Cyclingnews for a team diary starting soon!
Matt Fritzinger: Schooling the next generation
By Gary Boulanger, Bike Radar
Matt Fritzinger
Photo ©: Gary Boulanger

Children are facing mounting pressures from society. For many in the United States, their main outlet is organized sports. But what if a child doesn't fancy basketball, football, baseball or soccer? The NorCal High School Mountain Bike Racing League, headed by Matt Fritzinger, offers riding and racing opportunities for youths.
Illinois native Fritzinger decided to change things 10 years ago, and the fruits of his labour are evident in the NorCal High School Mountain Bike Racing League, based in Berkeley, California.
The 37 year-old former high school teacher dabbled in pole vaulting, cross-country running and swimming in his hometown of Libertyville, but was mediocre at best. It was his time spent on the Northbrook velodrome near his house that had the greatest impact on his earlier athletic career. Cycling was enough to scratch the athletic itch in Fritzinger, who spent two years racing for the collegiate cycling team at the University of California-Berkeley in the 1990s.
Bike Radar sat down with Fritzinger at Drake High School in San Anselmo, California, at the conclusion of his annual Leader's Summit. The congenial cyclist had just returned from a ride on the fabled trails of Camp Tamarancho in nearby Fairfax, birthplace of the modern mountain bike. We discussed the past, present and future of the League, as the long shadow of Mount Tamalpais loomed over the parking lot.
BikeRadar: Tell me about the genesis for the NorCal league.
Matt Fritzinger: Several things came together. Bike racing became a big thing for me in college at UC-Berkeley but, due to an injury, I couldn't ride for five years, so I needed to find other things at that time. I went from becoming a mechanical engineer to becoming a school teacher. I was finally strong enough to race a bike during my earliest years of teaching. I was getting my teaching credentials at night, so I was able to get serious about bike racing again during that period.
The Girls' State Championship race
Photo ©: Robert Lowe

I became envious of other teachers who were getting out of staff meetings to go coach basketball, baseball or other sports, so I decided to start a bike club at Berkeley High School 10 years ago. The original plan was to start a road team, but it made more sense to launch with a mountain bike team.
It was during those early years that I was gaining ground as a Category 3 racer, achieving a long-term goal of racing in Northern Italy for an entire summer in 2000. I had the fitness, health (and enough money) to get the life-of-a-pro experience at a legit cycling camp. My coach was Ron Palazzo at the Velo Veneto Camp. It was the first time I'd ever had a coach. He was (and still is) an amazing coach. He inspired me to become a true coach in every sense of the word.
The 10-week experience in Italy opened my eyes to how a whole community gets behind a sport - families, local businesses, etc. So when I returned to California, I didn't have another goal beyond teaching. I started working on the plan for the NorCal High School Mountain Bike Racing League in the fall of 2000. By the spring of 2001 we launched our first six-race series. By the end of our first season four teams had organized themselves.
Read the complete feature.
Cyprus Sunshine Cup set for 2009
Stefan Sahm (Team Bulls)
Photo ©: Armin M. Kuestenbrueck

It's never too soon to start thinking about early season races for 2009. First on the list for many pros will be the Cyprus Sunshine Cup with its four rounds commencing on February 22, 2009, and running through March 15. Well known series venues Tochni, Voroklini and the Afxentia stage race will be joined by a new one at Amathous.
"I think we are offering another good package of races, and I'm excited to present a new location," said organizer Michalis Hadijoannou. "I reckon that a lot of pro riders will use the races as an important part of their preparation for the World Cup season."
The Sunshine Cup will kick off with a point to point race from Tochni to Kalavasos. Next up in late February through early March is the Afxentia stage race with three stages including a time trial, point to point and cross country races. On March 8, the action moves to Amathous which will offer a demanding course and scenic views for the new race. As in previous years, Voroklini will host the final round.
All four events will be UCI Category 1 events, including the Afxentia, which is technically categorized as an "S1" stage race.
Cyprus Sunshine Cup 2009
February 22: Tochni-Kalavasos (1)
February 27 - March 1: Afxentia/Macheras Mountains (S1)
March 8: März Amathous-Agios-Tychon (1)
March 15: März Voroklini (1)
NUE series awards finishers
The National Ultra Endurance (NUE) series is awarding all participants who qualified for the final standings in 2008. 45 total racers completed four or more of the 100 mile races. For their efforts, they will receive a customized Cannondale "Feel It" Jacket.
In addition, division winners Jeff Schalk (elite men), Cheryl Sornson (elite women), John Mylne (singlespeed) and Greg Turner (Masters 50+) will receive custom Endura series championships jerseys.
In addition to cash awards provided by sponsor Smith & Nephew, some qualifiers will receive merchandise provided by other series' sponsors.
Check out final standings for the 2008 NUE series and stayed tuned to Cyclingnews for more information on the 2009 NUE series coming soon.
Trek World Cup Team signs Leov & Neethling
Justin Leov
Photo ©: Sue George

One month following the signing of three cross country team members, Trek Bicycles announced the remaining half of the team will comprise three downhillers. Justin Leov of New Zealand and Andrew Neethling of South Africa will fill the two men's slots while the remaining women's place will be announced on December 1.
Having just turned 24, Leov is coming off a successful 2008, most notable for his sixth place finish at the World Championship - the best-ever performance by a New Zealand man in the downhill.
Also 24, Neethling has progressed during his past three seasons of racing. He finished sixth on the physical track at this year's Canberra World Cup, which will double as the venue for the 2009 World Championships, and he made the top 10 on the steep and technical Schladming World Cup course in Austria.
"Apart from always striving to run one of the most professional teams on the circuit, one of my goals has always been to take riders and give them the opportunity to shine and reach their absolute goals," said Team Director Martin Whiteley. "In the case of these two talented top 10 riders and our new program, we will be giving them every opportunity to further improve on their results to date.
"With the first round of the World Cup in South Africa next year, we are thrilled to have a super competitive South African on the team, and we feel that our combination of two top ten men, and a top level woman, will put us in a good place to compete with the leading gravity teams for the coveted UCI downhill team trophy, something our teams have won three times before."
Team Combee picks up sponsor
By Marcel Slagman
Merida Combee Team
Photo ©: Marcel Slagman

The Dutch mountain bike team Leo Combee picked up a new sponsor and will race under the new name Merida-Combee in 2009. The team also signed Bas Peters, Laura Turpijn and Niels Wubben, all of whom used to ride for the now-defunct Herbalife-Merida team.
Peters is the current Dutch marathon champion, and he also finished third at the World Championship in 2003. Turpijn is also a Dutch marathon champion, and she won the cross country national title in 2007. Wubbens is a talented young racer who finished third at the University World Championships this year.
Team manager and sponsor Leo Combee is a former motorcross rider interested in developing new talent since his entry into the sport seven years ago. "With our partnership from 2009 'til 2012, we can focus this squad on the Olympic Games in London 2012," said Merida's Peter Koperdraad.
Beside the three new elite Dutch mountain bikers, Combee's team features juniors Rozanne Slik and Michiel van der Heijden as well as Dennis Ebert, Gerwin van Drunen, Ivar Slik, Julia Schrooder, Koen Verstijnen, Leo Combee Junior, Lisa Schrooder and Thijs Zuurbier.
Spitz says doctor offered her EPO
The German national anthem plays for Sabine Spitz
Photo ©: Casey Gibson

Olympic cross country mountain bike gold-medal winner Sabine Spitz said that she was offered EPO and other doping products by a sports doctor in 2003.
"I would rather ride behind the others" than dope, she told the German magazine Sport-Bild.
Shortly afterwards, she became the world mountain bike champion, "and that showed me: It is possible to win clean. I want to be able to look at myself in the mirror every morning."
Spitz, 36, clarified in a separate press release that it was not a doctor from the Bund Deutscher Radfahrer (BDR, German federation). She did not name the doctor.
As deterrent to doping, she suggested life-long bans or prison. "For me, doping is cheating and criminal. If there is a threat of imprisonment, then maybe people will think twice before they take some illegal product."
She also said that she did not think that Lance Armstrong's return would be beneficial to cycling. She said that there are test from the 1999 Tour de France which link him to EPO use, and "I absolutely do not understand, why he is welcomed back with open arms."
USA Cycling hosts promoters' summit
USA Cycling will conduct its first annual Mountain Bike Promoters Summit, November 14-16 in Colorado Springs, Colorado. The summit is open to all promoters, team managers, industry stakeholders and officials and will offer informational sessions, as well as the opportunity to share best practices.
Held in conjunction with the USA Cycling National Racing Calendar Promoters Summit, the event will begin on Friday evening with a mixer involving USA Cycling staff, Board members and all attendees. The sessions will be held at the United States Olympic Training Center on Saturday and Sunday.
TransRockies gets cheaper for some
The TransRockies
Photo ©: TransRockies

Organizers of the popular TransRockies event in Canada pointed out that the falling value of the Canadian dollar relative to the Euro and the US Dollar has made the cost of entering the eighth edition of the race, scheduled for August 9-15, relatively cheaper for many racers coming from abroad.
"As world commodity prices have fallen, so has the loonie [Canadian dollar - ed.] against both the US Dollar and the Euro," said TransRockies representative Paul Done. "After hovering around par for most of the last year, the loonie's slide means that the US Dollar is now worth over $1.20 Canadian while the Euro has also gained significantly, around 15% [at the time of writing - ed.]."
The fluctuations in the value of the Canadian dollar translate into hundreds of dollars lower cost to register, stay and travel per person for Americans and Europeans entering the race.
Organizers have said they process all entries at the current exchange rate of the day the entry is received. Entries for the 2009 event are 50% filled.
For more information, visit www.transrockies.com.
Iceman cometh again
The popular Iceman Cometh Challenge is scheduled for Saturday, November 8. The 19th annual edition of the race will run 27 miles, following a point to point format, from Kalkaska to Traverse City, Michigan. Pros and amateurs will compete for just under $25,000 in cash prizes and $10,000 in merchandise prizes.
Kelli Emmett and Brian Matter won last year's race.
Highland Fling draws unicyclers, too
1500 cyclists will invade the Southern Highlands of the NSW in Australian for the Highland Fling on November 8-9. On Sunday, riders will compete in The Full Fling (110km), The Half Fling (55km) and The 100Mile Fling (160km).
This edition of the race will see two-time champion Shaun Lewis trying to defend his title against 24 Hours of Adrenalin World Champion James Williamson and former World Champion Craig Gordon. Jason English will also be keen to add to his Australian titles and his second place at the 24 Hours of Adrenalin World Championship. The first finisher is expected to complete the race in about four hours.
In addition to the usual collection of singlespeeders, some 15 racers will compete on unicycles.
USWCDP Diary: Red, white and blue…plus a dash of pink
By Emma Millar
Emma Millar was surprised to claim
Photo ©: Emma Millar

It was a crazy weekend. Trying to explain to my professors that I'll be gone for a week and that yes, cycling is a school-sanctioned sport was only the beginning.
We left Durango at an ungodly hour on Wednesday morning and arrived in beautiful Banner Elk, North Carolina that afternoon [for the USA Cycling Collegiate Mountain Bike National Championships]. The downhill wasn't until Saturday, so we had two days of practice until we raced. Thursday was a relatively relaxing day. We spent a long time walking and riding sections of the course and be the end, everyone felt pretty good about the race.
Then, of course, (East Coast, remember?) it rained all night Thursday and all day Friday. No one was really surprised, but it did make our course inspection earlier a little superfluous. We spent Friday shuttling the increasingly sloppy course.
I only got a few practice runs before breaking a bolt on my sweet pink Ellsworth Dare. I didn't know I was capable of breaking a bolt in two pieces, but apparently I am. And, apparently, the size I needed doesn't exist in hardware stores.
Read the complete diary entry or see Cyclingnews' full coverage of the USA Cycling Collegiate MTB Nationals.
NorCal League takes silent auction online
The NorCal High School Mountain Bike League of California has expanded its silent auction to include online bidding for those unable to attend the CycleFest fundraiser weekend in person. The League hopes the more widespread auction will boost league finances.
Bidding began on October 23 and will end at 10:00 pm on November 8, at the 5th annual CycleFest gala dinner, held at the Mill Valley Community Center. Over the years, the dinner and auction have proved to be major fund raisers for the NorCal league.
The auction includes some 70 items from brand-name manufacturers, theater and ballgame tickets, vacations, century rides, bicycles and bicycle components, clothing, eyewear, artwork and photography, wine and wine tours, and hi-tech products.
"It's the first time we have run an online auction fundraiser, and we want cyclists from all over to help start us off on a high note," said Katie DeClercq.
To view the auction items, visit norcalmtb.cmarket.com.
Cyclingnews' MTB Contest: Win an autographed calendar featuring female MTB celebrities
Cyclepassion 2009 Calendar
Photo ©: Cyclepassion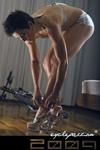 Ever wonder what some of the world's elite female mountain bikers look like under all the mud and their jerseys, helmets and sunglasses? A few of the fastest female mountain bikers bare not quite all to show off their super fit bodies in the 2009 Cyclepassion calendar.
Enter Cyclingnews' contest to win an autographed copy of the Cyclepassion calendar.
Photographer Daniel Geiger has captured images of the following six of the sport's elite racers in a 40 cm x 68 cm (15.75" by 20.72") calendar.
- Norwegian Gunn-Rita Dahle-Flesjaa, Seven-time World Cup champion and 2004 Olympic gold medallist
- German Hanka Kupfernagel, 2008 Elite Women's Cyclo-Cross World Champion, 2000 Olympic champion
- Russian Irina Kalentieva, Bronze medal winner 2008 World Championship and 2007 World Champion
- American Willow Koerber, Sixth overall in the 2007 World Cup
- Germany Steffi Marth, 2008 German 4X champion
- Sabine Spitz, 2008 European champion, 2008 Olympic champion, 2008 World marathon champion
The calendar is signed by each of the athletes and it also includes a section about the making of the calendar. The contest's winner will be selected at random from all correct answers to a mountain bike trivia question.
Hurry and enter now to be in the draw. Good luck!
Planning for 2009 with Cyclingnews' MTB Calendar
Cyclingnews has been hard at work on the Mountain Bike Calendar for the upcoming 2009 season. Our calendar is as usual a work in progress, but check out the dates of major UCI and other international events here.
(All rights reserved/Copyright Future Publishing Limited 2008)