US Women's Cycling Development Program diary
US Women's Cycling Development Program diarist Kathrine Carroll drives the pace in 'Toona"
Photo ©: Mark Zalewski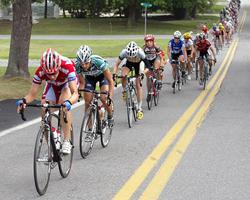 The US Women's Cycling Development program was founded by former pro rider, Michael Engleman, as a way to help promising young women cyclists reach their full potential as athletes. The USWCDP networks current and former women pro riders with up and coming athletes through mentoring and coaching.
With experienced mentors like Olympians Dede Barry and Mari Holden, along with current pros Amber Neben, Tina Pic, Kim Anderson and others, the USWCDP helps young riders like Mara Abbott, Katharine Carroll and many more to race better, find teams and become professional bike racers. The dedicated and well spoken women of this program provide thoughtful, compelling and sometimes hilarious anecdotes of their experiences in this diary.
For further reading about the programme, visit the USWCDP website
November 6, 2008
Red, white and blue...plus a dash of pink
By Emma Millar
Emma Millar was surprised to claim
Photo ©: Emma Millar

It was a crazy weekend. Trying to explain to my professors that I'll be gone for a week and that yes, cycling is a school-sanctioned sport was only the beginning.
We left Durango at an ungodly hour on Wednesday morning and arrived in beautiful Banner Elk, North Carolina that afternoon. The downhill wasn't until Saturday, so we had two days of practice until we raced. Thursday was a relatively relaxing day. We spent a long time walking and riding sections of the course and be the end, everyone felt pretty good about the race.
Then, of course, (East Coast, remember?) it rained all night Thursday and all day Friday. No one was really surprised, but it did make our course inspection earlier a little superfluous. We spent Friday shuttling the increasingly sloppy course.
I only got a few practice runs before breaking a bolt on my sweet pink Ellsworth Dare. I didn't know I was capable of breaking a bolt in two pieces, but apparently I am. And, apparently, the size I needed doesn't exist in hardware stores. So, I spent the rest of the day frantically driving to various hardware stores and sifting through what felt like thousands of different bolts before finding one that fit. I'm pretty sure the employees all thought I was crazy, since I was covered in mud from riding earlier and still wearing my armor.
If it looks like a gold medal, and tastes like a gold medal
Photo ©: Emma Millar

Our qualifying run Friday was cancelled due to rain (weird, I know, since we'd all been practicing in the same weather) so all we had left to do was race the next day. The weather Saturday was unchanged from the day before, which was good since we were not allowed any practice before our race in the afternoon. Our coaches did an amazing job helping us all get warmed-up. I'm pretty sure every other team was jealous of us because we were the only team with trainers and coaches bringing us everything we needed.
All in all, I'd say I had an easier job than any of our support. All I had to do was ride my bike - they had to lug trainers and bikes, water and food up and down the mountain. There is no way I could have done well without all the support from Rick, Dave, Mike, Ruthie, Tommy, and Chris. Thanks so much to all of them, along with all the team-mates who came to watch and cheer.
I ended up winning the race, which was a shock not only to me but to pretty much my whole team. I can't remember the last time I was so excited. I don't think it's really sunk in yet. I don't really feel like a National Champion. In fact, I feel more like the victim of a cruel joke than anything. Like maybe I'm dreaming and at any moment someone will wake me up and tell me I missed my start or the race was cancelled or my bike disappeared. But I have a jersey and a medal that tell me it really happened, so I guess it did.
Now, I guess I'll just keep riding. I've got a National title to defend next year!
Photography
For a thumbnail gallery of these images, click here
Images by Emma Millar