MTB index page for all MTB content
An interview with Matt Fritzinger, November 7, 2008
Schooling the next generation of cyclists
Children are facing mounting pressures from society. For many in the United States, their main outlet is organized sports. But what if a child doesn't fancy basketball, football, baseball or soccer? BikeRadar's Gary Boulanger talks to Matt Fritzinger, the man behind the NorCal High School Mountain Bike Racing League which offers riding and racing opportunities for youths.
Matt Fritzinger
Photo ©: Gary Boulanger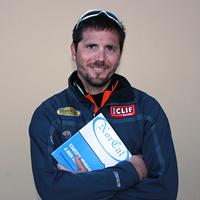 Illinois native Matt Fritzinger decided to change things 10 years ago, and the fruits of his labour are evident in the NorCal High School Mountain Bike Racing League, based in Berkeley, California.
The 37 year-old former high school teacher dabbled in pole vaulting, cross-country running and swimming in his hometown of Libertyville, but was mediocre at best. It was his time spent on the Northbrook velodrome near his house that had the greatest impact on his earlier athletic career. Cycling was enough to scratch the athletic itch in Fritzinger, who spent two years racing for the collegiate cycling team at the University of California-Berkeley in the 1990s.
Bike Radar sat down with Fritzinger at Drake High School in San Anselmo, California, at the conclusion of his annual Leader's Summit. The congenial cyclist had just returned from a ride on the fabled trails of Camp Tamarancho in nearby Fairfax, birthplace of the modern mountain bike. We discussed the past, present and future of the League, as the long shadow of Mount Tamalpais loomed over the parking lot.
BikeRadar: Tell me about the genesis for the NorCal league.
Matt Fritzinger: Several things came together. Bike racing became a big thing for me in college at UC-Berkeley but, due to an injury, I couldn't ride for five years, so I needed to find other things at that time. I went from becoming a mechanical engineer to becoming a school teacher. I was finally strong enough to race a bike during my earliest years of teaching. I was getting my teaching credentials at night, so I was able to get serious about bike racing again during that period.
I became envious of other teachers who were getting out of staff meetings to go coach basketball, baseball or other sports, so I decided to start a bike club at Berkeley High School 10 years ago. The original plan was to start a road team, but it made more sense to launch with a mountain bike team.
"I have parents who tell me, with a tear in their eye, that the League has saved their kid's life. We've heard this more than once ..."
- NorCal High School Mountain Bike Racing League's Matt Fritzinger
It was during those early years that I was gaining ground as a Category 3 racer, achieving a long-term goal of racing in Northern Italy for an entire summer in 2000. I had the fitness, health (and enough money) to get the life-of-a-pro experience at a legit cycling camp. My coach was Ron Palazzo at the Velo Veneto Camp. It was the first time I'd ever had a coach. He was (and still is) an amazing coach. He inspired me to become a true coach in every sense of the word.
The 10-week experience in Italy opened my eyes to how a whole community gets behind a sport - families, local businesses, etc. So when I returned to California, I didn't have another goal beyond teaching. I started working on the plan for the NorCal High School Mountain Bike Racing League in the fall of 2000. By the spring of 2001 we launched our first six-race series. By the end of our first season four teams had organized themselves.
BR: Who were your first sponsors?
The Girls' State Championship race
Photo ©: Robert Lowe

MF: Trek and ClifBar. Our local Trek rep started helping the Berkeley High School team get equipment affordably and helped finance posters that we made, which was huge for us. Our budget then was US$10,000.
BR: How can mountain bike racing change a high schooler's life?
MF: We've seen kids who were unmotivated and not very athletic get involved and get inspired. Most of these kids are recruited by their friends through word of mouth and personal websites. And there's an appeal by the professional riders that pull kids into the League.
I have parents who tell me, with a tear in their eye, that the League has saved their kid's life. We've heard this more than once. The League has given several kids focus. We never know what struggles and hardships the kids go through each day, and cycling seems to give them focus and momentum for the other parts of their lives.
BR: What affect does a high schooler racing mountain bikes have on that kid's family? Is it usually a family affair at the races, like BMX?
A racer from Marin Catholic
Photo ©: John Mallery

MF: Our events are sometimes described as a cross between the Sea Otter Classic and a Renaissance fair. The pit area is this village of activity, with kids and parents working together. It's almost like a competition of tent size, trailers, mechanical support, food spreads and family cheerleading! It's a sight to behold.
BR: How about parents? Are they getting into cycling because of their children's involvement with the League?
MF: It's happening in a couple of different ways. Some parents used to be cyclists and now they're getting back on their bikes to lead rides or coach. Several parents see the League as a means to spend more time together as a family.
Parents tell me regularly how important the family time is because of the League. Several families camp together.
This job became officially full-time for me in June 2005 when I gave up teaching. Berkeley High School let me keep an office there until we found our own last year.
BR: What are the challenges with running the League?
Scoring officials
Photo ©: David Lowe

MF: The rate of growth has been barely manageable. We had 38 teams in Northern California alone, with 17 prospective teams in Southern California, but they're just eggs at this time; we can't count the chickens before they're hatched. We're doing riders' camps for the kids in December, both in Northern and Southern California.
NorCal league donna thomassen scoring assistant works behind the scenes to keep everthing running smoothly.: norcal league donna thomassen scoring assistant works behind the scenes to keep everthing running smoothly.
We needed the SoCal League for an economy of scale for our organization. Expanding made sense, but it's been a humbling experience seeing how much the SoCal area wanted what we had here in Northern California. We have the pieces in place, now we just need to educate everyone. That's one of the main reasons we had our leadership summit here in Fairfax this weekend.
BR: What's the annual budget for 2008? How many on staff?
There are four of us full-time on staff and we're all overworked. Our annual budget as a non-profit organisation is approximately US$350,000 (£218,000), but as we all know, what counts most is how much is in the bank. Twenty-five percent of our budget comes from individual donations. Specialized have helped grow the corporate sponsorship piece of the pie recently. They understand what we're about.
MF: How are things progressing with the new SoCal League?
We're planning a five-race series, the same features as the NorCal League, with individual, team and overall competitions. The best teams from SoCal will be invited to the California State Championship event which will be eventually migrated more central in the state to eliminate any perceived "home-field" advantage.
Parents
Photo ©: John Mallery

BR: What do you love most about the program?
MF: The people. This sport attracts great people. Sponsors, board of directors, coaches, kids, parents. All have great character and I enjoy working with them.
BR: I've heard you'd like to take this program nationally. Is this a reality in the next few years?
MF: I've been authorised by my board to recruit board members for a national organization, create a name and logo, and begin networking on this concept. By next summer we should have something more concrete.
We had folks from Arizona and Colorado here at our Leadership Summit, and they're chomping at the bit to start something. We have certain services that we can provide. In SoCal it came with sponsorship money, energy and a league president. In another state it may come with less money but more time to contribute full-time to the work, much like I did in the early days of NorCal. We want to have a long list of criteria that a founding committee would have to approach us with before we partner, so we can be true to our programs and our brand. We've put a lot of work into this.
BR: How can you achieve critical mass with high school mountain bike leagues in states where sports like baseball, basketball and football reign supreme?
MF: We don't start high school teams - people come to us. Leagues have to be done locally.
Donna Thomassen
Photo ©: John Mallery

We have all the tools for school administrators. They need all the details and statistics to make reasonable decisions for their school. They're typically mostly interested in the liabilities involved. Many times, if a neighbouring school has a team, it makes their decision easier. Every high school in Marin county, both public and private, has a mountain bike team.
BR: Do you foresee a national high school road cycling league starting some day? What are the pros and cons?
MF: I'm a roadie at heart. That was my passion when it came to racing, and I still love road racing.
It all comes down to a fun-to-danger ratio for us, though. For cycling to succeed as a sport in high school, become institutionalised and accepted, side-by-side as a legitimate sport, we need to put our best foot forward. And I think that's mountain bike racing for kids. The speeds are slower, the ground is softer than pavement, and never mind how brutal road racing is. Imagine yourself as a freshman boy, lining up with 100 other new racers, on the road versus in the dirt. A few early crashes and many of these kids would never come back.
Cyclo-cross is a possibility, because races could be held on school grounds. Mountain biking is more accessible and has a better fun-to-danger ratio. Also, cyclo-cross requires another bike. On the flipside, though, riders usually realize by their junior year in school that if they're going to be competitive, they need to train, even race, on the road. It's astonishing how fast these kids are in such a short time. Some become Category 2 racers by the time they're seniors.
In fact, a few current pros came through the League, although we can't take credit for their success. They already had a leg-up. It also boils down to sample size of the early days. In our first year, we had 60 kids compete in the NorCal League. Of those, (Garmin-Chipotle road pros) Lucas Euser, Steven Cozza and a couple of others have done some impressive things on the road.
Now we have 400 kids, so you can only imagine what's going to happen in four or five years. And it all started on the mountain bike.
Photography
For a thumbnail gallery of these images, click here
Images by Robert Lowe
Images by John Mallery
Images by Gary Boulanger
Images by David Lowe