MTB news & racing round-up for January 17, 2008
Welcome to our regular roundup of what's happening in mountain biking. Feel free to send feedback, news, & releases to mtb@cyclingnews.com and results, reports & photos to cyclingnews@cyclingnews.com.
Edited by Sue George
A Luna star in the making
By Sue George
U23 national champion Chloe Forsman (Luna)
Photo ©: Dave McElwaine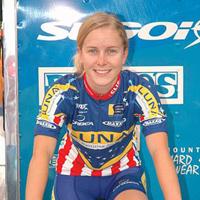 Many of the riders who are current favourites for the 2008 Olympic Games in Beijing, China are near the end of long and successful careers. The next generation of cross country mountain bikers is still emerging, but one rising star is Chloe Forsman, who won the USA Cycling U23 National Championship and the National Mountain Bike Collegiate Championship cross country and overall titles.
As a young member of the Luna Chix Women's Mountain Bike Team, Forsman would have to look across national borders to find better female role models from whom to learn than the likes of current and former team-mates Georgia Gould, Katerina Nash, Alison Dunlap and Shonny Vanlandingham.
"It's been pretty unbelievable," said Forsman. "Luna was the first team I ever heard of in cycling. I knew who Alison Dunlap was - she was the first pro I could recognize. I still have a poster at home that she signed a few years ago."
"I've looked up to all the women on the team for a long time. It's valuable to travel and race with them this year. They are willing to share what they know. We all stay together at the races," said Forsman. "We all live all over the country, so I don't see them much in between events. We spend a lot of time together at the races."
The 20 year-old Forsman has been spending her time quietly gaining experience by competing against the best racers in the United States in the National Mountain Bike Series events and other national-level competitions.
"I feel really good about my 2007 season. I had a solid and consistent season. I had a couple top ten finishes in the cross country and short track NMBS. I'd like to improve on that next year. It's exciting to be competitive with some of the best riders in the country now."
When she does have the chance to race against other women of similar experience and age, she quickly rises to the top. In 2007, Forsman won the US cross country Under 23 national title as well as the collegiate mountain bike national cross country race and omnium.
Chloe Forsman (Luna) racing in Scotland
Photo ©: Rob Jones

After her first year racing pro in 2006 for Tokyo Joes, Forsman joined Luna in 2007 and will ride for the team again in 2008. "I had pretty high expectations with the Luna team. And yet being part of it, I'm still kind of being blown away by it."
As a sophomore at the University of Arizona in Tucson, Forsman has plenty to do during the off season. Originally from Boulder, she is studying health education although she admitted uncertainty about her future profession, "I have no idea what I want to do at this point."
"The first race I ever did was the 24 hours of Moab in 2002. I've done it four times. The first one I did with three other junior girls. We were all supported by a YMCA group. I did mountain biking a bit before that."
A 24 hour race isn't exactly the most likely point of entry for many junior races, but it worked to hook Forsman. "I just happened to start racing there. I thought it was cool to race with other girls who liked to mountain bike at my age. I went to a middle school and a group of my classmates end up racing and I think they were the youngest team ever to race so I kind of already knew about it."
Read the complete feature.
Mountain Bikers crash and run in two Australian 4X rounds
Julia Boer and Caroline Buchanan
Photo ©: Evan Jeffery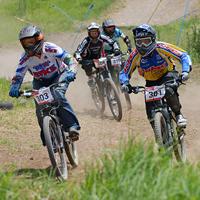 Australian 4X racers competed in back to back rounds of their national series this weekend. On Saturday in Ebenezer, round five was more like a running race in the final 10 metres of the elite women's race.
In the fifth round early leader Caroline Buchanan crashed just metres from the finish line. The 17 year-old from Canberra was then passed by Brisbane's Sarsha Huntington, however Huntington suffered the same fate. Both riders ended the race by running with their bikes over the finish line with Buchanan winning and Huntington running across the line to claim second. Third went to Canberra's Julie Boer.
The men managed to keep the rubber side down, and it was last year's series winner Terry Scarr coming out on top ahead of current series leader Leigh Darrell, who overcame mechanical trouble in the first straight to come back for a third place finish. Second was Queensland's Adam Nicholson.
On Sunday in round six in Kurrajong, Darrell and Buchanan took top wrapped up the 4X series titles. Buchanan got another win ahead of Boer and Joanne Fox, but Darrell wasn't so lucky as it was the elite men's turn to crash.
Darrell had to settle for second on the day and Brisbane rider, Adam Nicholson won the men's final despite crashing along with four finalists. After crashing Nicholson saw his bike land past him and was the quickest to get underway and sped down the steep course with Darrell in hot pursuit.
"It's the first elite [victory] after a lot of years racing," said Nicholson. "It was a long time coming. I knew I had it in me."
The Australians are now preparing for their National Mountain Bike Championships over the Australia Day weekend January 24-28.
See full coverage of round five and round six of the Australian 4X National Series.
Leov and Hagen take top UCI Points in New Zealand
Justin Leov and Scarlett Hagen took top honors in the third and final round of the Subaru South Island Downhill Cup in Nelson. New Zealand, last weekend. Leov came out on top in hot and dry conditions while also picking up the maximum UCI World ranking points up for grabs. Second place was enough to secure the overall title for Nathan Rankin from Levin.
Hagen picked up the double with a comprehensive win on the day and in the overall. An ambitious double jump at the finish line brought Hagen flying over the finish line over 20 seconds clear of second placed Sheryl MacLeod, who ended up second in the overall Cup standings.
Riders will return to the same downhill course in March for the Oceania Mountain Bike Championships. In the meantime, the next event on the 2008 Mountain Bike Cup Series is the final round of the NZCT South Island Cross Country taking place in Waipara, North Canterbury on January 20.
See full coverage of round three of the South Island Downhill Cup.
Gullickson named USAC off-road program manager
Marc Gullickson
©: Mike Morris

Marc Gullickson assumed the role of USA Cycling Mountain Bike and Cyclo-cross Program Manager on Monday following the departure of Matt Cramer late in 2007. 13-season race veteran Gullickson represented the US at five UCI Mountain Bike and five UCI Cyclo-cross World Championships during his career.
Gullickson has served as an assistant coach to Cramer for the US National Team during the past three UCI Mountain Bike World Championships and shared head coach responsibilities for the US team during the past three Cyclo-cross World Championships.
Since retirement, Gullickson has worked for Boulder Racing, Ground Zero Sports Marketing, the TIAA-CREF/Clif Bar Cyclo-cross Team and Hutchinson Tires. In his new role, he will be responsible for creating and implementing initiatives that support the development of competitive cyclists in the disciplines of mountain bike and cyclo-cross racing.
Gullickson will manage the activities of elite athletes and teams in support of US performances at Continental Championships, World Championships, Pan American Games and Olympic Games. In conjunction with USAC coaches, he will manage athlete selection for training camps and national teams.
"I'm very excited to be on board with USA Cycling," said Gullickson. "Working with the country's best mountain bike and cyclo-cross athletes and preparing them for important international and domestic events is what I know best and represents a natural progression in my cycling career."
"With only seven months to go before the Beijing Games, one of my immediate goals is to provide our Olympians with the highest level of support possible to compete to their potential this summer," said Gullickson. "Then, following the Games, the priority will shift to developing the next generation of world-class off-road cyclists by offering the necessary opportunities to excel internationally."
"On the cyclo-cross end of the spectrum, there is clearly a lot of momentum here in the United States. We need to continue to refine our approach to preparing riders for the world championships by exposing them to international competition on a regular basis and continuing to develop the domestic scene in the US. Thanks to the impressive growth rate of 'cross racing, we have a talented base of young riders ready to take us to the next level."
Gran Canaria caters to women
The riders climbing in La Sorrueda at the 2007 Gran Canaria World Cup
Photo ©: MTB World Cup

At the 2008 Gran Canaria, women will take center stage as the marathon is scheduled to take place on International Women's Day, March 8. Distances of 38 or 90 kilometers may be raced.
"It is a major day of global celebration for the economic, political and social achievements of women," said organizer Petra Wonisch. "For us this special day is worth a special activity: within the scope of the Open MTB Gran Canaria we organise a special Ladies Marathon. Women can, depending on their physical condition, participate in the semi Marathon or ride a few teaser loops in the park."
For each kilometer ridden, money will be donated to an association fighting breast cancer. Organizers will provide test bikes for those without their own rigs.
For more information, visit http://nyx.at/canary/.
Thomson bash goes on despite founder's passing
Thomson, a well-known manufacturer of seatposts and stems intended to host a Ronnie Thomson Appreciation Day in honor of the founder for his 69th birthday. The festival, scheduled for January 18-20 in Macon, Georgia, will still go on although it will now be in memory of the late Thomson, who died this past weekend.
"This year's Ronnie Thomson Appreciation day will be very hard for all of us here at Thomson... . It is the families wish that the festival continue, and it will. Thomson is no longer just a brand, it is a legacy. Ronnie brought so much to cycling as he looked at everything with a different perspective," read a statement on the company's website.
Camping a four-hour race, bonfires, live music and other activities are on the schedule for the weekend.
Gunn-rita diary: Happy New Year from Boulder
Gunn-Rita finds home away from home
Photo ©: Gunn Rita Dahle FlesjŚ

A brand new year lies before us, full of unimagined potential. It's up to us to realize many of the possibilities this New Year holds. We started our new year in Boulder, Colorado, and we're full of anticipation for the upcoming year.
We rolled into the New Year, completely without champagne or fireworks, but even so it was a fantastic start to 2008. Rolling into the New Year was a natural choice for us, being here in Colorado, with superlative nature and endless possibilities for those who love the great outdoors. We left from a peaceful Christmas celebration back home in Stavanger on the 28th of December. Our luggage was packed full of eagerness and joy, plus some exercise clothing, because at last we were off for another training camp.
We've been here for two weeks already, and time is flying. I had a small hope that time in 2008 might pass a little slower, but it seems to be flying by just as fast as ever. Luckily we still have two weeks left here, and we're going to make the best possible use of that time. So far we've been following the set programme as usual, and my body is reacting as it should. I'm still exercising somewhat less than at the same time during previous years, but we were expecting that.
We had a confrontation with "King Winter" when we first arrived, with masses of snow and biting cold. We were well prepared for this sort of weather and had brought lots of winter clothes, so we've been able to do all our out-door training so far. I'm missing a few stints of off-road cycling, but that's not too important this early in the year. The snow is as good as gone now. In other words, normal January conditions are in place again here at Boulder. We had a good 15 degrees Celsius in the sun yesterday, and it's melting away the last remains of the snow and ice.
Read the complete diary entry.
A new weapon in the quiver for the seven-time world champion
By James Huang
The Merida Ninety-Six frameset is said to weigh under 1.9kg (4.2lb)
Photo ©: James Huang

When all is said and done, Norway's Gunn-Rita Dahle FlesjŚ may just go down as the most dominant female mountain biker in history. With the exception of two poor seasons attributed to severe overtraining, the 34 year-old has been a constant and overshadowing presence at the sport's uppermost level almost immediately since turning professional in 1996 with two World Cup wins and a fourth-place finish at the Olympic games in Atlanta. Since 2002, she has also earned seven sets of UCI world championship stripes (four in cross-country, three in marathon) and has won the European title six times (five cross-country, one marathon). In spite of the success, though, the Norwegian remains surprisingly unassuming, is eminently approachable and personable, and has managed to retain her love of the sport.
Many have wondered about the secret to that nearly unrelenting mass of success, but Dahle FlesjŚ insists that there is no such secret; just focused determination, a meticulous attention to detail, and lots of good old fashioned elbow grease on behalf of herself and her husband and trainer, Kenneth FlesjŚ.
"I probably have some talents for the sportÖ I don't know," she said. "I started with mountain biking and just came out of nowhere more or less, and I felt I was one with the bike from one of the first days. So maybe it's a little bit of talent, but it's mainly passion and hard work in my opinion. At least since Kenneth and I started working together as athlete and trainer in 2002, it all comes down to that you do every day more or less perfect, as close to 100% as possible. There has to be a good plan, of course, but you can have in that plan three hours of long training today, and you have intervals tomorrow. But if you feel that you'd rather do two because you want to have the most of tomorrow also, you also have to do this adjustment."
Read more about Dahle FlesjŚ's new bike.
Action in Asia
The GP ReCyko+ Action Asia MTB Classic is coming to Chi Ma Wan, Hong Kong, on January 20. Racers may compete one or two 12km singletrack loops. For more information, visit www.actionasia.com/aae.
(All rights reserved/Copyright Future Publishing Limited 2008)