MTB index page for all MTB content
Australian 4X MTB Series #5- NE
Ebenezer, Australia, January 12, 2008
Mountain Bikers crash and run
Terry Scarr making the early move
Photo ©: Evan Jeffery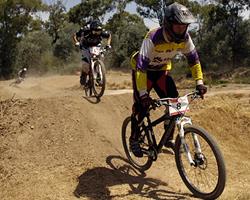 The Elite Men's race had some change of placing throughout the race, but it was last year's series winner, Terrance Scarr (Raby), who made sure he got a clear run. Current series leader Leigh Darrell (Canberra) had mechanical trouble in the first straight, but regained some ground to place third. Second was Queensland's Adam Nicholson while Tom Hubert's earlier clash with Nicholson saw him relegated to fourth.
It was more like a running race in the final 10 metres of the elite women's mountain bike race today at the National Four Cross round at Ebenezer, just west of Sydney. In the fifth round early leader Caroline Buchanan crashed just metres from the finish line. The 17 year-old from Canberra was then passed by Brisbane's Sarsha Huntington, however Huntington suffered the same fate. Both riders ended the race by running with their bikes over the finish line with Buchanan winning and Huntington running across the line to claim second. Third was Canberra's Julie Boer while Gracie Ireland (Mt Annan) rode in for fourth place.
Leigh Darrell was untouchable
Photo ©: Evan Jeffery

After being gripped by fear in the Under 19 women's practice today, it was Courtney Taylor's determination to ride the tricky downhill section of the course that scored her a win, with local favourite Danielle Beecroft in second. Taylor Barnes and Emmy Tatum placed third and fourth respectively.
The Under 19 men's division saw an upset as downhiller Shaun O'Connor won over current national series leader Ryan Hunt. Matt Walker gained third place while James Horton claimed fourth.
It was the Under 17 men's race that amazed spectators with their speed. Ryan Henderson took the win over Benjamin Clark with Blake Neilson able to finish in fourth and unlucky Graeme Mudd (Lake Macquarie) to loose his earlier lead to finish last.
The veteran men's category was eventually won by Canberra Mic Longhurst. Local Steven Humphreys finished with second while newcomer Albert Bacci placed a respectable third.
Racing in the final four cross round in the National Series gets underway tomorrow at Koorajong Grass Ski Park just west of Sydney.
Photography
For a thumbnail gallery of these images, click here
Images by Evan Jeffery/www.evanjeffery.com.au
Results
Elite Men
 
1 Terry Scarr          
2 Adam Nicholson       
3 Leigh Darrell        
4 Tom Hubert           
5 Cody Echorn          
6 Ricky Boyer          
7 Cameron Allenby      
8 Randal Huntington    
9 Michael Jobson       
10 Gavin Turner        
11 James Collins       
12 Barton Moore        
13 Luke Strom          
14 Mitchell Scarr      
15 Ashley Gray         
16 Chris Herron        
 
Elite Women
 
1 Caroline Buchanan    
2 Sarsha Huntington    
3 Indy Boyer           
4 Grace Ireland        
 
U19 Men
 
1 Shaun O'Connor       
2 Ryan Hunt            
3 Matt Walker          
4 James Horton         
5 Cameron Taylor       
 
U19 Women
 
1 Courtney Taylor      
2 Danielle Beecroft    
3 Emma Tatum           
4 Taylor Barnes