Climbing back to the top: The Gunn-Rita Dahle FlesjŚ diary 2008
Gunn-Rita Dahle FlesjŚ
Photo ©: Gunn Rita Dahle FlesjŚ & Kenneth FlesjŚ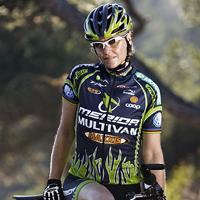 Norwegian cross-country mountain bike racer Gunn-Rita Dahle FlesjŚ is probably the best female rider this relatively young branch of the sport has ever seen. World champion in 2002, 2004, 2005, and 2006, plus Olympic champion in 2004, and rarely beaten in her reign as World Cup champion from 2003 - 2006, she has a breathtaking palmares.
Unfortunately, Dahle FlesjŚ was sidelined for most of the 2007 season with a virus that left her with little strength and on a program of complete rest and recovery. With the constant support of husband and coach Kenneth FlesjŚ, she has been working her way steadily back to health - just in time to pursue her goals at the 2008 Olympics in Beijing.
Follow her exploits on Cyclingnews as she works to regain her form and position at the top of women's mountain biking in 2008. Or, for more Gunn-Rita, see her personal website: www.gunnrita.com
January 16, 2008
Happy New Year from Boulder
Gunn-Rita finds home away from home
Photo ©: Gunn Rita Dahle FlesjŚ

A brand new year lies before us, full of unimagined potential. It's up to us to realize many of the possibilities this New Year holds. We started our new year in Boulder, Colorado, and we're full of anticipation for the upcoming year.
We rolled into the New Year, completely without champagne or fireworks, but even so it was a fantastic start to 2008. Rolling into the New Year was a natural choice for us, being here in Colorado, with superlative nature and endless possibilities for those who love the great outdoors. We left from a peaceful Christmas celebration back home in Stavanger on the 28th of December. Our luggage was packed full of eagerness and joy, plus some exercise clothing, because at last we were off for another training camp.
We've been here for two weeks already, and time is flying. I had a small hope that time in 2008 might pass a little slower, but it seems to be flying by just as fast as ever. Luckily we still have two weeks left here, and we're going to make the best possible use of that time. So far we've been following the set programme as usual, and my body is reacting as it should. I'm still exercising somewhat less than at the same time during previous years, but we were expecting that.
Kenneth gets some work in
Photo ©: Gunn Rita Dahle FlesjŚ

We had a confrontation with "King Winter" when we first arrived, with masses of snow and biting cold. We were well prepared for this sort of weather and had brought lots of winter clothes, so we've been able to do all our out-door training so far. I'm missing a few stints of off-road cycling, but that's not too important this early in the year. The snow is as good as gone now. In other words, normal January conditions are in place again here at Boulder. We had a good 15 degrees Celsius in the sun yesterday, and it's melting away the last remains of the snow and ice.
We haven't been to Boulder since the summer of 2006 so it was high time we took a trip back again. We'd be more than happy to simply live permanently here in Boulder. We enjoy ourselves in every single way while we're here. It's simply fascinating to be out on one's bike. There are actually other cyclists everywhere, even during the winter.
Gunn-Rita and a friend
Photo ©: Gunn Rita Dahle FlesjŚ

We're living with our good friends, Mark and Hunter (our doggie friend), and everything is in place for an optimal stay here in the high mountains. Apart from cycling, the days are used for a lot of rest here at home in our little living room. We've had a few trips to the cinema too. On Monday I have an appointment with Andy Pruitt to have him dial in my full suspension bike, "Beijing 2008", to perfection. I'm sure it'll be an exciting experience. I'll get to test out the new bike properly in rough terrain as soon as the snow is gone, and it's going to be amazing.
Tomorrow we're going for a long distance trip: three to four hours on undulating asphalt and dirt tracks. The weather report is for sun and close to 15 degrees Celsius. It's going to be a fantastic trip and we look very much forward to every bike ride here. After being forced to take a break this summer, I've really realized why it is I do what I do. It's still absolutely fantastic to go for a bike-ride! It's an activity I love to do and which gives me happiness and enjoyment every time I'm out pedalling.
We wish you all a really good cycling weekend. Use the spare minutes you have to get both yourself and your bike some fresh air. It doesn't necessarily have to be such a long trip to be wonderful and inspiring.
New bike photos from Boulder can be viewed at www.gunnrita.com
Cyclist's greetings from Gunn-Rita
Multivan Merida Biking Team
www.gunnrita.com
[Translation: Crispen T.P. de Lange].
Photography
For a thumbnail gallery of these images, click here
Images by Gunn Rita Dahle FlesjŚ