MTB news & racing round-up for October 24, 2007
Welcome to our regular roundup of what's happening in mountain biking. Feel free to send feedback, news, & releases to mtb@cyclingnews.com and results, reports & photos to cyclingnews@cyclingnews.com.
Edited by Sue George
Perfecting the balancing act
By Jackson Weber
Adam Craig
Photo ©: Rob Jones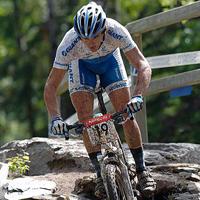 Talking to Adam Craig in person, it is easy to miss the fact that he's one of the top professional US mountain bikers and the current cross country national champion. The 26 year-old, Mainer-turned-Oregonian sounds and acts like he's still the goofy, fresh-faced kid who only a few years back was an up and coming sensation, but with more experience, he's finding ways to balance racing with professional responsibilities.
While Adam Craig still crosses the line in victory with a shoulder shrug and a smirk, boisterously cracks jokes, and "likes riding bikes in the woods, fast" he is, like the sport in which he competes, learning to balance that his happy-go-lucky side with the responsibilities of a true professional athlete.
For Craig, 2007 was a mixed bag. The year hit a high note when the former New Englander won the elite cross country race at USA Cycling Mountain Bike National Championships in front of a home crowd at Mount Snow, Vermont. "A dream come true for sure," said Craig later that weekend, fresh off victory. It was the first elite cross country title Craig had won since racing as a U23 rider. That same weekend Craig also won the Super D, an event which he pretty much owns in the US, giving him two stars and stripes jerseys for the weekend.
Curiously (and maybe sadly) for many spectators and fans, and much to his own irritation, Craig's biggest win this season from a publicity standpoint may have come at an event that has no official meaning – the Singlespeed World Championships (SSWC) in Aviemore, Scotland, just one weekend before the UCI Mountain Bike World Championships.
"Literally hundreds of people came up to me in my two days at Interbike and said something to the effect of 'Nice work at Singlespeed Worlds' [and] people out on the trails say, 'Hey, singlespeed champ' and such as I roll by," wrote Craig in an email. "Not one person has said, 'Good work' on being the proper national champ, which actually took some doing."
Adam Craig (Giant)
Photo ©: Rob Jones

But while Craig had a shining Nationals and Singlespeed Worlds, the only other major event that he won this season was the Pan American Games in Brazil. The rest of his season lacked some luster. On the World Cup circuit, Craig barely broke into the top 10 on a few occasions, which was still better than his fellow American competitors, but well off the podium, unlike in years past. At other American races, Craig's form was lacking, never coming together like the weekend of Nationals in July.
"I had planned to get in shape and take things serious-like, but all the other aspects of being a professional..." Craig trailed off for a moment as he chose his next words. "I dunno just doing stuff for sponsors – which is fine, great and easy to do and beats the hell out of a real job, but I'm still figuring out the balance. I think I'm getting closer…or at least riding faster so I must be getting closer."
Events and words like these highlight the change that is still ongoing in Craig. He is the goofy Mainer who showed up to the SSWCs clad completely in denim with a mustache and a rather unfortunate mullet. He continues to crack jokes and has the best post-race color comments of any racer but now he also displays an impressive amount of poise and maturity – more than that for which he often gets credit. He's reached the point in his career where he knows he can win and that he has to represent his sponsor well at the same time, and he now sounds fully prepared to take on both roles successfully for 2008.
Much of Craig's new-found seriousness stems from the fact that the 2008 Olympics in Beijing, China, are looming in the distance, and Craig appears dead set on representing the US. "I've acknowledged the fact that bike riding is my career," said Craig rather nonchalantly, "and the Olympics are always good for John Q. Public and the career in general."
Even when pressed further, Craig remained relatively controlled about the whole thing. "I don't have the super duper Olympic dream of 'I just want to be an Olympian,'" explained Craig. "I am an athlete and I want to compete on the grandest stage and compete well there. I want to go to the Olympics and do as well as I can - the Olympics are just another World Championship except with less dudes."
To read the complete feature, click here.
Buchanan and Darrell double at opening two Australian 4X rounds
National Four Cross Champion, Caroline Buchanan
Photo ©: Evan Jeffery

Canberra duo Caroline Buchanan and Leigh Darrell won both the first and second back-to-back rounds of the Australian National Four Cross Series at Sydney Olympic Park last weekend.
Current national four cross champion Buchanan proved her recent crash at the UCI World Championship in Fort William, Scotland, had not gotten in the way of her gutsy riding style. Buchanan led early in round one and stayed out of a crash between Sarsha Huntington and Shannon Jobson.
"There were elbows throughout the day. It was like four finals," Buchanan said after the end of the second day of competition.
Darrell won round one after Thomas Hubert struggled in the third corner after a strong start. "I just gave it everything I got in the last bit," said Darrell. Top riders like Luke Strom and defending national series winner Terry Scarr were eliminated in the quarter finals.
On day two, Scarr fell on the final corner and Darrell took advantage of the opportunity to win again. Scarr's crash forced riders around the track. "When Terry dropped it I had to go over the berm." said Darrell.
Read full coverage of round one and round two.
Crododile Trophy gets underway
By John Flynn
Marc Herremans hits the road.
Photo ©: John Flynn

Despite only being two stages into the Crocodile Trophy, racers were already feeling the effects of the hot and dusty conditions.
Marc Herremans finished stage two Wednesday only to be placed on a saline drip to address his dehydrated condition. He is planning to start the third stage on Thursday. In stage two, racers faced the seering temperatures of North Queensland as they traversed 107km from Irvinebank to Koombooloomba.
Austrian Stefan Rucker (Elk Haus) worked together with Italian Mauro Bettin (Dream Team) to take first and second for the stage. Ondrej Fojtik (Toyota Dolak) was with the duo until he ran out of water and soon began to feel the effects. Bettin, who won stage one, goes into stage three as the overall leader.
Rucker said that it was "much hotter than last year".
Stay tuned to Cyclingnews for full coverage, including video clips, during the rest of the Crocodile Trophy.
Brentjens & Beerten named Dutch mountain bikers of the year
Dutch mountain bikers of the year
Photo ©: Marcel Slagman

Bart Brentjens (Dolphin Bike Team) was named Dutch mountain biker of the year Sunday according to telesport.nl. He was selected by a committee of five. In 2007, Brentjens won the Dutch national title and finished second at the Beijing Olympic test event.
Rudi van Houts (Dolphin Bike Team), winner of the Tour de France for mountain bikers, was named Talent of the Year. 4X racer Anneke Beerten (Bikepark.Ch Tui) won the women's award. She won the World Cup overall in 2007 after winning the final round in Maribor, Slovenia.
O'Dea signs with Vassago Cycles
Former Kona racer Eddie O'Dea and has signed with Vassago Cycles for 2008. O'Dea, who hails from Atlanta, Georgia, has been making regular trips to the podium since 2005 and is looking forward to joining his wife Namrita on the team. On the O'Dea calendar for 2008 are the Singlespeed World Championships, US Nationals, the Granny Gear 24 hour National Points Series, and several of the National Ultra Endurance (NUE) Series events.
"I'm very excited to be supported to race at the national level and to be racing on a 29er," said the 32 year-old O'Dea to Cyclingnews. O'Dea is also the promoter of the Fool's Gold 100 miler in Georgia.
Transalp and Trans Germany set 2008 dates
Two popular stage races in Europe have set their dates for the 2008 season. The 11th annual Jeantext Bike Transalp is scheduled for July 19 to July 26, 2008. The race was postponed by one week so as not to conflict with the UEFA EURO 2008 in Austria and Switzerland. Registration for the first 250 teams opens on December 1; the remaining 250 teams will be drawn by a lottery of all application forms received by January 7.
The Craft Bike Trans Germany, which debuted in 2007, is scheduled for May 31 through June 7, 2008. Registration for it is already open.
Test of Metal modifies registration
Organizers of the North Shore Credit Union Test of Metal announced this week changes to the registration process for next year's race. 'We recognized the need to tweak our registration process, so this year we're going to try something different with the hope that it will work a little better," said race director Cliff Miller. These changes include overselling the event by 200 entrants and eliminating the waiting list to allow more racers to know with certainty they are registered for the race by January 1, 2008. Another change is a "locals only" registration period from December 1 - 5. Two hundred spots will be open to local racers on a first-come, first-served basis.
Registration for those living from Furry Creek to D'arcy who can show proof of residency with a BC Driver's license or ID card as well as a secondary piece of identification will open at 6:00 pm on Saturday, December 1 and close on Wednesday, December 5 at midnight. The deadline for "locals only" delivery of paperwork is 4:00 pm on Wednesday, December 12 to Connections at 37710 2nd Avenue, Squamish, and must be made in person or sent by fax (604-892-3380). Miller said that one of the organizers' objectives for implementing this change is to ensure local participation.
"We have hundreds of local volunteers and thousands of local spectators, many of whom are out there to cheer on their friends and neighbours," he said. As in past years, the general registration starts at 6 pm on January 1 and is capped at 800 entries.
"It may seem that we're increasing the number of participants," said Miller, "but our data shows that approximately 20 percent of those who register will not ride. In the past, we've filled those spots through the waiting list, but feedback from riders indicates that they would like to know sooner rather than later that they're in the race so that they can begin their training."
Pro-Elite racers will still be able to register up to the day of the race. Cash prizes for the top five men and women will return for 2008 and the winner of each category will receive a free entry for 2009.
Friel to raise funds for Queen Creek HS MTB Team
Joe Friel will be helping the Nova Youth Cycling Foundation raise money for the Queen Creek High School Mountain Bike Team on December 8 in Arizona. Friel, a USA Triathlon and USA Cycling certified coach and author of The Cyclist's Training Bible, Cycling Past 50, and other books, will present two clinics for mountain bike and endurance athletes.
The clinics will be held at Queen Creek High School, Library, located at 22149 E. Ocotillo Road Queen Creek, Arizona 85242. From 9-10 am, Joe will present to parents and youth participating in competitive mountain biking information on training principals, practices and training plans. Then, from 10-12 am, he will present information to adult triathlon and mountain bike endurance athletes training principals and plans. This event is a fundraiser for Queen Creek High School's Mountain Bike Team and the Nova Youth Cycling Foundation's (NYCF) School Race League. Members of NYCF will be asked to donate $15 and non-members will be asked to donate $30. For more information or to register, visit www.novayouthcycling.org.
Last year, Queen Creek High School won the Nova Youth Cycling Foundation Arizona State High School Mountain Bike Championship. It was the school's first season participating in the Nova school race league, for all the team members, it was their first experience in competitive cycling, seven of the fourteen students on the team ranked nationally in the USA Cycling national ranking system. Kallan Creager, a freshman at Queen Creek High School, competed in the Mountain Bike National Championship, in Mount Snow, Vermont, taking second place. Kallan is also currently ranked first place as the point leader in his age category.
The Nova Youth Cycling Foundation organizes a race league for juniors in sixth to 12th grades and it is promoting the formation of teams at Junior and Senior high schools throughout the state. NYCF's goal is to encourage league athletes to go on to succeed in national race series, road racing, collegiate cycling, Olympic and World Championships.
(All rights reserved/Copyright Future Publishing (Overseas) Limited 2007)