MTB index page for all MTB content
Australian National Four Cross Series, Round #2 - NE
Sydney Olympic Park, October 21, 2007
Darryl Doubles win and Scarr hits the dust
By Sharon Payne
Leigh Darrell
Photo ©: Evan Jeffery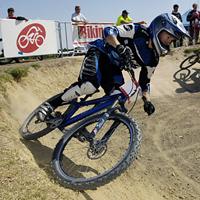 A fall on the last corner has robbed defending national four cross series winner Terry Scarr (Raby) of his first win of the 2008 Mountain Bike series. Sydney's Olympic Park hosted the first round on Saturday and the second round on Sunday. Canberra's Leigh Darrell won both rounds of the this weekend to take a commanding lead in the series.
Darrell was the early favorite, but mechanical trouble struck. "My gears got all messed up in the first straight," said Darrell.
Scarr fought back, then took the lead in the second straight, but lost control in the final corner thereby handing the race over to Darrell. Scarr's crash forced riders around the track. "When Terry dropped it I had to go over the berm." said Darrell.
Thomas Twentyman got caught behind the crash in third place until Ryan Jedrzejcyk took advantage of the mayhem. Jedrzejcyk claimed second while Twentyman was relegated into third. Scarr finished a disappointing fourth. Darrell now leads the national series four cross with 160 points.
A win in the first race of the day gave women's challenger Sarsha Huntington the incentive to match national four cross champion Caroline Buchanan. However in the final, Buchanan made one decisive move into the lead in the first straight and did not falter on her way to winning her second national series round in two days.
Caroline Buchanan after winning
Photo ©: Evan Jeffery

Huntington made it a challenging day for Buchanan. "There were elbows throughout the day. It was like four finals," said Buchanan.

One of the best battles on the day was between Under 17 Blake Neilson, State Champ, and BMX A Pro Ben Clarke, also known as Luke Madill's understudy. It was Clarke's weekend with two wins over two days.

One of the hotly contested divisions was the Under 19. Aiden Nemet took the win for both rounds. Gold Coasters Tamryn Murrell and Rhys Willemse swapped podiums with Willemse placing third on Saturday and Murrell placing second on day two.

In the veteran men's division James Harris claimed wins on both days.

The next round of the National Four Cross series will be on the Gold Coast in late November while the first round of the Olympic discipline of cross country will begin in Adelaide in two weeks time. The first round of downhill also starts in Adelaide
Photography
For a thumbnail gallery of these images, click here
Images by Evan Jeffery/www.evanjeffery.com.au
Results
Elite Men 

1 Leigh Darrell              
2 Ryan Jedrzejcyk              
3 Thomas Twentyman               
4 Terence Scarr                   
 
Elite Men - Minor Final 

1 Thomas Hubert              
2 Luke Strom                 
3 Timothy Dunn               
 
Women Open

1 Caroline Buchanan          
2 Sarsha Huntington          
3 Julia Boer                 
4 Shannon Jobson                  
 
Under 19 Men 

1 Adam Thalor                
2 Aiden Nemet                
3 T. Murrell                 
4 Ryan Hunt                  
 
Under 19 Women 

1 C. Taylor                  
2 D. Beecroft                
3 E. Tatum                   
 
Under 17 Men 

1 B. Nielsen                 
2 B. Clarke                  
3 R. Henderson               
4 J. Abbott                  
 
Under 15 Men 

1 K. Hughes                  
2 J. Butler                  
3 M. Hughes                  
4 A. Easthope                
 
Vet Men 

1 James Harris                  
2 L. O'Keefe                 
3 M. Longhurst               
4 D. McDonald                
 
Sport Men 

1 T. Markus                  
2 R. Franzolini              
3 S. Hughes                  
4 P. Masson