First Edition Cycling News for December 23, 2006
Edited by Laura Weislo and Sue George
González gets two year ban
Aitor González (Euskaltel-Euskadi)
Photo ©: Cyclingnews

The Court of Arbitration for Sport (CAS) has upheld the appeal filed by the International Cycling Union (UCI) in the case of Aitor González. The winner of the 2002 Vuelta España tested positive twice in 2005, first during an out of competition test in August, and again during the Vuelta España for a "methyltestosterone metabolite". González claimed that the positive test was the result of a contaminated dietary supplement he purchased at a fitness center. The product, called 'Animal Pak', had been prescribed by a doctor.
In May of this year, the Spanish Cycling Federation ended their proceedings against González, which resulted in a fine for 'serious fault' for failing to declare the supplement before antidoping control. The UCI filed an appeal in June to request a suspension of two years for the Spaniard.
The CAS arbitrators ruled that González did not act "without fault or negligence in using a doubtful food supplement". The ruling placed responsibility on the rider, saying "The athlete could not ignore the risks related to such an ingestion taking into account the repeated warnings given in this regard by the sports authorities."
González's ban two year ban will commence from the date he ceased competition, September 28, 2005.
Tour de Langkawi back for 2007
By Shane Stokes
Over 120 international riders are expected to take part in next year's event
Photo ©: Shane Goss

With time ticking down quickly to the February 2 start of the Tour de Langkawi, details have been released of the route of the 2.HC ranked race. The twelfth edition of the prestigious Malaysian event will begin on the holiday island of Langkawi, with Stage 1 starting at Dataran Lang and concluding approximately two hours later close to Underwater World. The large 81km lap will include three intermediate sprints which will allow the speed specialists to gauge each other's form prior to the final charge for the line.
Day two takes the riders 166km from Kangar to Kulim. Once again there will be three intermediate sprints en route, this time at Padang Serai (15km), Alor Setar (49km) and Gurun (86km). The route then becomes a little more undulating from this point until the line, spicing things up.
As was the case this year, the race will finish in the high altitude Cameron Highlands on day three. Last time round, American rider Saul Raisin won here ahead of David George, the South African placing second but taking over yellow and going on to win the event.
This 133km stage from Kuala Kangsar to Brinchang begins with a flat opening 58km but, following intermediate sprints at Sungai Siput (21km), Chenor (34km) and Ipoh (52km), the riders move onto the tough 47km first category climb to the Highlands.
Once at the summit, the riders will descend 15km before the road pitches upwards once more; they will then scale an eight kilometre first category climb overlooking Brinchang, which tops out at 1,590m. From there just five kilometres remain until the steep uphill finish, guaranteeing some exciting racing as the riders battle for the stage and the race lead.
Read the full feature here.
Manzano passes polygraph test on TV show
Jesus Manzano
Photo: © Daniel Schamps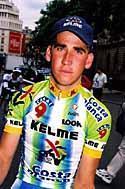 Jesús Manzano, the outspoken former Spanish pro whose shocking claims about the doping practices of his former Kelme preceded the infamous Operacion Puerto scandal, has submitted to a lie-detector test on the Spanish television program, En Antena.
Manzano was asked 27 questions during the show, and for most of his answers, the polygraph, which measures blood pressure, heart rate and breathing, showed readings that are said to indicate the subject does not show the stress of lying.
Manzano, who went public with his claims in 2004, said that Operacion Puerto doctor Eufemiano Fuentes and the Kelme team director were among those who supplied the drugs. He also said that cyclists weren't alone, and that other athletes and football players were seen with Fuentes. However, the machine didn't agree with all of his statements. Statements about Manzano being forced to take drugs, receiving death threats, and whether he was motivated by revenge against his former team to go public were indicated to be false.
Cyclingnews' recent coverage of 'Operación Puerto'
May 18, 2009 - Valverde to start Catalunya
May 15, 2009 - Valverde not welcome in Denmark
May 14, 2009 - Spanish federation wants proof in Valverde case
May 13, 2009 - Spanish Olympic Committee defends Valverde
May 12, 2009 - Valverde responds to sanction
May 11, 2009 - Italian tribunal delivers Valverde two-year suspension
May 8, 2009 - Valverde case: Italian Olympic Committee defends Torri
May 7, 2009 - Valverde to take legal action against CONI prosecutor
May 5, 2009 - WADA and Spanish federation join CONI and UCI on Valverde
May 1, 2009 - International Cycling Union joins in on Valverde's hearing in Italy

Cyclingnews' complete coverage of Operación Puerto
Rojas to Caisse d'Epargne-Illes Balears
By Antonio J. Salmerón
Rojas in 2006 Tirreno-Adriatico for Liberty
Photo ©: Sirotti

The promising young Spanish rider José Joaquín Rojas, formerly of Manuel Saiz' Astaná team, has successfully landed a ProTour team contract for 2007. Rojas has reached an agreement with the Caisse d'Epargne-Illes Balears team after negotiating with two other teams, T-Mobile and the Marc Bivers Astana team, but has finally decided to go with the Spanish squad.
Rojas will finish his actual contractual agreement with Active Bay the 31st of December. His team-mate and countryman Luis León Sánchez is also reportedly close to signing with Caisse d'Epargne-Illes Balears, but, at the moment, this is not confirmed. Rojas said he is "very satisfied" with his decision "because I preferred a Spanish squad for many reasons, such as the language." Rojas also was lured by the presence of his countrymen and friends Alejandro Valverde and Francisco Pérez.
UCI announces Pro-Conti licenses
The UCI has published a list of teams that have received Professional Continental licenses for 2007. Noticeably absent from the list are the Fuerteventura-Canarias, LPR (team Boifava) and Aurum Hotels (former Naturino-Sapore di Mare) teams that were given time extensions to finalise their filings. The Benfica and Selle Italia made the deadline, and were granted licenses along with 23 other teams from around the world.
Health Net Presented by Maxxis (USA)
Navigators Insurance Cycling Team (USA)
Team Slipstream (USA)
Selle Italia - Serramenti Diquigiovanni (Ven)
ELK Haus - Simplon (Aut)
Team Volksbank (Aut)
Chocolade Jacques - Topsport Vlaanderen (Bel)
Landbouwkrediet - Tonissteiner (Bel)
Andalucia Cajasur (Spa)
Karpin Galicia (Spa)
Relax-GAM (Spa)
Agritubel (Fra)
Barloworld (GBr)
DFL-Cyclingnews-Litespeed (GBr)
Wiesenhof - Felt (Ger)
Ceramiche Panaria Navigare (Irl)
Tenax (Irl)
Acqua & Sapone - Caffe Mokambo (Ita)
Ceramica Flaminia (Ita)
OTC Doors - Lauretana (Ita)
Tinkoff Credit Systems (Ita)
Skil - Shimano Professional Cycling Team (Ned)
Intel Action (Pol)
Benfica (Por)
Drapac Porsche Development Program (Aus)
Lloyd completes DFL-Cyclingnews roster
Daniel Lloyd (Giant Asia Racing Team)
Photo ©: Shane Goss

British rider Daniel Lloyd will return to the European ranks next season after signing for Pro-Continental team DFL-Cyclingnews-Litespeed. In 2006, the 26 year-old notched up victories in mountain stages of the Tour of Siam and Qinghai Lake and also placed third at the UK national time trial championships.
"It's always been part of the plan to get back to racing in Europe," said Lloyd who rode mostly in the Far East for Giant Asia last season. "It's where all the history is, where all the big races are and where you really need to be if you want to make it."
Lloyd will be racing alongside Belgian team leader Nico Mattan and under the directorship of Eric Vanderaerden, a former winner of Paris-Roubaix. "Nico has been there and done it and Eric is such a big name in cycling I can't wait to learn from them both," said Lloyd. "Hopefully they can bring out the very best in me, especially for the Tour of Britain which is a major late season goal of mine."
DFL-Cyclingnews-Litespeed 2007 roster:
Nico Mattan (Bel)
Hamish Haynes (GBr)
Jens Mouris (Ned)
Matti Helmininen (Fin)
Evan Oliphant (GBr)
Gert Vanderaerden (Bel)
Rhys Pollock (Aus)
Jeremy Vennell (NZl)
Cameron Jennings (Aus)
Daniel Lloyd (GBr)
Sven de Weerdt (Bel)
Bernie Sulzberger (Aus)
Robbie Muel (Bel)
Bjorn Cornelison (Ned)
Kane Oakley (Aus)
David Harrigan (Aus)
Pablo Wilches (Col)
Bruyneel says more riders may come to Disco
By Tim Maloney - European Editor
Johan Bruyneel
Photo ©: Luc Claessen

The Discovery team manager, Johan Bruyneel, said that there is likely to be several other new names announced in early 2007 for the US-backed team, following the signing of British trackie Stephen Cummings earlier this week.
The 42-year-old Bruyneel, originally from Izegem, Belgium, now lives in Madrid, Spain. Bruyneel also won the Maillot Jaune after taking Stage 7 in Liege, Belgium, in 1995, but wore it only for one stage.
Bruyneel recently finished work on a book, You Might as Well Win, slated to be published by Houghton-Mifflin late in 2007.
Cyclingews spoke to Bruyneel at his home in Madrid where he was enjoying a holiday season at home. "I wanted to do a website (www.johanbruyneel.com) where I could reach out to all the people who have supported me personally over the years." His website offers the first chapter of the book as a freee download.
Rotterdam six to showcase 'masters of sprint'
The organizers of the Rotterdam six day have been having trouble attracting the big names to their event, and have instead pulled in the world's biggest names in track sprinting to draw the crowds. The 'masters of sprint' competition will include local favourite and world record holder Theo Bos, multiple world champion Arnaud Tournant, British star Craig MacLean and Dutch riders Teun Mulder and Tim Veldt. The Dutch newspaper Telegraaf reports that Bos is excited about the event. "It's fantastic that some of the world's best riders will be here. There is prize money at stake, so everybody will go full on. I'm certainly looking forward to that."
Organizer Frank Boelé told Telegraaf that they tried to get a big road rider on the roster, but didn't succeed in luring Zabel or Bettini, since the race didn't fit in with their schedules. Instead, Boelé says the 'masters of sprint' will give Bos an opportunity to shine on his home turf. "If you have the two-time world champion [sprint and keirin] in your ranks, then you've got to do something special for that. Somebody like him deserves his own program."
Chaurreau, Martínez, and Rodríguez leave cycling
By Antonio J. Salmerón
Inigo Chaurreau (Ag2r)
Photo ©: Alain Quenderf

Ag2r rider Iñigo Chaurreau has announced that, at the age of 33, he has made the "difficult decision" of leaving the professional cycling. Motivated by the desire "to try another life style" outside of elite competition, the Basque rider made the decision to leave the sport, "which has been a significative stage in his life," reported the Spanish news source Efe. Chaurreau began the 2006 season with the idea that it would be his last as a professional, but "good results made him think seriously about continuing." Chaurreau recognised that, "I feel very well physically, but have arrived at the moment to say good-bye".
The Basque rider was the national time trial champion in 2003, and participated eight times in the Vuelta, four times in the Tour de France, once in the Giro d'Italia, and once in the World Championship. He made debut in with the Italian Polti squad, with which he rode three seasons. He continued four years with the Euskaltel-Euskadi team, and finished the last five seasons with the French Ag2r team.
Another Spanish rider announced his resignation from the sport for very different reasons. After only five seasons as a professional, the 27-year-old former Comunidad Valenciana rider, José Luis Martínez, announced that he has given up the sport with resignation and sadness. He attributed his retirement to the crisis that has plagued the Spanish cycling market, and his troubles since Operación Puerto marked the end of his Comunidad Valenciana team.
"I am not about to continue at any price," Martínez said to Cyclingnews. He said that he could probably have found another team to continue, but not at a level that would "compensate for the enormous effort that cycling demands of you." Martínez made his debut in 2001 with the Jazztel-Costa Almeria team. Three years later, he signed by the Comunidad Valenciana, after achieving good performances during the 2004 season.
Finally, José Rodríguez has decided to resign his position as president of the Spanish Professional Cyclists Association (ACP) for personal reasons. Rodriguez, according to Europe Press, considered the situation of cycling to be "very difficult" with the continual doping scandals. The vacant position will be occupied by the ex professional rider José Javier Gómez until a new election can be carried out in 2007.
Teruel and Baños to Grupo Nicolás Mateos
By Antonio J. Salmerón
Professional riders Eloy Teruel and José Antonio Baños have reached a contractual agreement for 2007 with the pro-continental squad Grupo Nicolás Mateos. Both of them made their debut in 2006 with the defunct 3 Molinos Resort Murcia Turística team. "It has been a great surprise for me, and I desire to do as well as possible," José A. Baños said to El Faro de Murcia.
The Grupo Nicolás Mateos consist of ten riders in 2007. It will be led by Sergi Escobar, along with Pablo de Pedro y Diego Milán, Beñat Intxausti, Gorka Arrinda (Orbea), Egoitz Murgoitio (Cafés Baqué), and Miguel Ochoa (Saunier Duval).
Gaggioli to direct AEG-Toshiba-JetNetwork
The AEG-Toshiba-JetNetwork team has announced that former Team Monex director Roberto Gaggioli will direct the team next season. Managing Director Ravi Rajcoomar has big plans for the team, and believes Gaggioli can help achieve them. "Gaggioli brings a wealth of experience and racing knowledge to the program and will help us to continue to grow from the strong base we have developed in the last few years," said Rajcoomar. "He is the winningest bike racer in North American history, he has won it all, and that background will help to guide and develop our riders."
The team enjoyed several big wins in 2006, thanks to sprinter Frank Travieso, who won the NRC races in Jacksonville and Raleigh and one stage of Superweek. Travieso will be joined by 2003 US elite national criterium champion Keith Norris, collegiate mountain bike champion Alex Hagman, Robert Sweeting (Nerac-Outdoorlights), Winston David, former ONCE pro Ivan Franco, as well as founding member Chris Frederick, Eric Keim, and Serbians Predrag Prokic and Esad Hasanovic. The team will have also have an 'elite amateur' squad.
For the full roster, click here.
Midwest junior program open house
One of the largest youth racing programs in the Midwest, the XXX Racing–AthletiCo Junior Development Program will hold its third annual open house on Wednesday, January 10, 2007. The program is recognized by USA Cycling as a 'center of excellence', and has helped produce two junior national champions, a member of the US Paralympic Team, and a silver-medalist at the 2003 Junior World Championships.
"Our juniors program welcomes anyone who has an interest in cycling," says Nicole Kemerer, director of the program. "Bike racing is a growing sport in this country, but many people don't quite know how it works and how to get involved." The team competes in all disciplines of cycling, and offers year-round elite-level coaching and skills clinics to both beginning and experienced junior athletes.
XXX Racing–AthletiCo strives to make bike racing accessible and affordable – providing bicycles to all junior racers and offering scholarships that pay for race fees and uniforms to select athletes. "We want to provide opportunities to kids, whether their goal is to someday win the Tour de France, or simply want to meet others who like to ride," says Kemerer.
The meeting will be at Goose Island Restaurant at 1800 N. Clybourn Street in Chicago at 6:30 pm. Youth between the ages of 10-18 and their families are invited to attend to learn about bicycle racing in the Chicago area and receive information on how to join the team. Further information on the XXX Racing–AthletiCo Junior Development Program can be found at http://www.xxxracing.org/.
New England association to honor top racers
The New England Bicycle Racing Association (NEBRA) will hold its second annual awards banquet in January to recognise regional racers who excelled in the national road and cyclo-cross seasons. Daniel Manibal, the president and promoter of the Montreal world cup, the new Le Tour Montréal Boston UCI race, as well as the Tour de PEI and Le Tour du Grand Montréal stage races will give the keynote address.
The banquet will take place on Saturday, January 13, 2006 from 5:00 to 10:00 PM at the Best Western Royal Plaza, Fitchburg, Massachusetts "The New England bicycle racing scene is alive and growing and the competition this year has been intense," said George Gantz, President of Fitchburg Cycling Club which is hosting the event this year. "The Annual Banquet is a great tradition and gives a chance for racers and fans to swap stories and have some fun before the 2007 season gets into full swing."
Tickets are available at www.bikereg.com for US$29.50, and include a buffet dinner, awards, raffle prizes and entertainment.
Lines still open... It's time to vote!
Win the latest set of HED wheels
Tom Boonen: Cyclingnews 2005 rider of the year
Photo ©: Roberto Bettini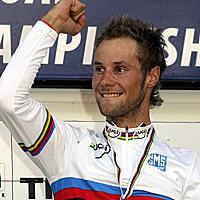 Each year, Cyclingnews gives its readers the chance to select the riders, teams, races, moments, equipment and photos that have really stood out from the pack in the last 12 months or so.
From male and female cyclo-crosser and mountain biker of the year, to best product, best team bike, most improved rider, best one-day and stage race, male and female track and road riders, best moment, legend of cycling - soon you'll discover who each of these winners are. But what many of us are really itching to find out is our 'Big Daddy' award: Cyclingnews' 2006 Rider of the Year.
In 2005, then newly-crowned world champion and winner of 14 races, Tom Boonen, ran home a winner with almost 50 percent of the votes, while runner-up Lance Armstrong could only muster the hearts of a mere 20 percent of our readers. This time round, Boonen lost his rainbow stripes to the ever-consistent 'Il Grillo' Paolo Bettini in Salzburg, but the popular boy from Balen won seven more races than he did last year. Has Tommeke done enough to pull it off again?
Win a set of HED's Kermesse road wheels
Bettini's not the only guy he's up against, though - the names of Valverde, Zabriskie, Zabel, Cancellara, Landis, Ullrich, Voigt, Leipheimer, Vos, Pereiro, Bettini, McEwen and Ekimov are also in the mix - and this year's race to become Cyclingnews' Rider of the Year is set to be the closest ever.
And just to keep things interesting, we'll be giving away a set of the latest Kermesse road wheels from HED to one lucky entrant.
The survey should take you less than 10 minutes to complete - you'd be mad not to participate!
Click here to cast your vote in Cyclingnews' 2006 readers' poll.
(All rights reserved/Copyright Knapp Communications Pty Limited 2006)