MTB News & racing round-up for September 14, 2005
Edited by Steve Medcroft
Welcome to our regular round-up of what's happening in the dirt. Feel free to send feedback, news and gossip to mtb@cyclingnews.com
World Cup Finals wrap up
By Steve Medcroft
A very Scottish World Cup
Photo ©: Rob Jones

One week after World Championships, the UCI Mountain bike World Cup came to a close in Fort William, Scotland. It was both an anti-climactic (most series titles had already been clinched on points weeks earlier) and an exciting weekend (featuring the first-ever Norwegian Four Cross win and a double British downhill victory).
Gunn-Rita Dahle
Photo ©: Rob Jones

Gunn-Rita Dahle (Multivan Merida) had long-since sewn up the women's Cross Country series - just as she had sewn up every possible championship she could get her hands on this year – and left yet another battle for second (in the race and in the series) between Sabine Spitz (Specialized) and Marie-Helene Premont (Rocky Mountain Business Objects).
But Premont dropped out of the race (suffering food poisoning from a bad batch of seafood eaten the night before) after Spitz set a blistering early pace. Only eventual winner Dahle could keep up with Spitz. Dahle says she struggled mentally to focus on the race. "I was in as bad a way as the others," she said afterwards. "We were all worn out after Livigno. I spent the week in between focusing on resting and recovering, and then I said to myself 'This is the last day, you have to go hard'. Once I was riding I had a good day, I felt like I was flying."
Ralph Naef (Multivan Merida)
Photo ©: Rob Jones

Christoph Sauser (Siemens Cannondale) started the men's race with a lock on the overall title but received a much tougher test from his competitors than his female counterpart. World champion Julien Absalon (Bianchi Agos), Jose Hermida (Multivan Merida), Freddie Kessiakoff (Siemens Cannondale) and Ralph Naef (Multivan Merida), were all looking for the individual win.
Kessiakoff was the early aggressor but Sauser and Naef managed to get off the front alone before the last lap. Naef attacked on the last downhill to hold off Sauser for his first World Cup victory. "This is the biggest (win) of my life," he said after the race.
Two British racers won the finals men's and women's downhill. The first win went to Tracy Moseley who qualified with the fastest time on Saturday and was slotted last down the hill in Sunday's finals. Austrian rider Angelika Hohenwarter set an early benchmark of 5:46.10, but then Emma Guy (Great Britain) then Kathy Pruitt (Luna Chix) shipped away at the clock. Then Junior World Champion Rachel Atherton (Great Britain) came through over a second and a half faster than the best time so far. Second-best qualifier and world Cup points winner Sabrina Jonnier (France) couldn't beat Atherton's time so all that was left was Moseley's run. Despite crashing, Moseley broke the five minute barrier for the win.
Steve Peat
Photo ©: Rob Jones
Steve Peat (Orange) took the second Fort William World Cup win for Great Britain in the men's race. In front of a crowd of an estimated ten-thousand fans, Peat ran the 2.46 kilometer course in 4:11:44 pushing World Cup Championship winner Greg Minnaar (G-Cross Honda) and Nathan Rennie (Australia) into second and third respectively.
The four Cross competition was settled on what riders called a tight and short course. With gate position essential and shoulder-to-shoulder turns, recently crowned World Champion Jill Kintner (USA) was the alpha rider in eight-rider women's field and won the event to take the World Cup title.
In men's Four Cross, American Brian Lopes (GT Hyundai) had already wrapped up the series title and summed up the general mood of the weekend by saying "It was a little bit anticlimactic after winning last week (at World Championships) and having the title decided, but I still wanted to do good here." But Lopes lost in the final when a mid-corner clash with Guido Tschugg (Ger) left an opening for Leiv Nordmark (Norway) to take the first ever Norwegian Four-Cross victory.
Final World Cup champions:
Cross Country Men - Christoph Sauser (Siemens Cannondale)
Cross Country Women – Gunn-Rita Dahle (Multivan-Merida)
Four Cross Men – Brian Lopes (GT Hyundai)
Four Cross Women – Jill Kintner (Yeti)
Downhill Men – Greg Minnaar (Team G-Cross Honda)
Downhill Women – Sabrina Jonnier (France)
Full race reults, reports and photos:
Broken back bumps Bishop out of Nats
By Steve Medcroft
There are more than a handful of racers strong enough to win the Pro men's Cross Country at this weekend's U.S. National Mountain Bike Championships in Mammoth Mountain, California. Defending champion, Jeremy Horgan-Kobelski (Subaru – Gary Fisher) is in peak form after recently placing second in the overall NORBA National Series. Adam Craig (Giant) comes into the race saying he feels like he's flying on the bike after winning the Mount Snow NORBA XC, finishing as the highest-place American at World Championships and placing well at the World Cup finals in Scotland. Todd Wells (GT Hyundai) is always a threat. Barry Wicks (Kona – Les Gets) just won the Cougar Mountain Classic Cross Country race at Infineon Speedway in California. Former Junior World Champion Walker Ferguson is back on form after spending time sorting out his goals.
But with all that talent on the start line, one potential winner will have to sit on the sidelines; Jeremiah Bishop (Trek/VW) injured his lower back in a pre-race run at Mount Snow just before the NORBA Nationals finals and has been restricted from racing.
"I was pre riding with Nick Waite and (East Coast Trek factory team rider) David Duvall. There was a spot on the course with a tree in the middle and I went over the bars at top speed trying to avoid it."
Bishop says he initially believed he did no worse than bruise his back so he lined up for the next day's NORBA finals Cross Country race. "I didn't feel great so I made a deal with Jon (Posner, Trek team manager) that if I wasn't in the top twenty after the second lap, I'd pull out."
Struggling, he DNF'd and rested his back. His next race would have been the Livigno World Championships. "On Sunday, before heading to Worlds, I figured I should make sure everything was okay so I had my back x-rayed. They said I had broken bones and I was like 'are you kidding?'"
They weren't; the diagnosis was that Bishop had fractured the bony spines on the outside of his three lower-most vertebrae. Luckily, there was no damage to the underlying spinal column but Bishop has been ordered to avoid any stress to the area; which essentially means he's out of racing for the time being. "I have to wear a protective wrap," he says. "It looks like a weight-lifter's belt. I can ride my bike to rehab but I can't train for a couple more weeks."
Bishop says he was "bummed about not being able to do Nationals but I accepted that as a reality when the injury made itself fully apparent." Although he'll miss the race, Bishop says he'll still be in Mammoth. "I'll be there to support my team and help Trek with a product launch"
After that, his attention will shift back to racing. "I'm definitely going to do some cyclocross now," he said. "We have good races coming up on the East Coast and it will help me focus on building towards next season and to get back in the swing of things."
Canadian mountain biker suspended for EPO
Chris Sheppard (Haro)
Photo ©: Colin Meagher

Canadian national team mountain bike rider Chris Sheppard has been suspended for two years after testing positive for the use of recombinant erythropoietin (rEPO) in an out-of-competition test.
Sheppard was tested at his home in Kamloops, BC, on May 29, 2005; the presence of rEPO in his A-sample was communicated to the Canadian Centre for Ethics in Sport on June 15, and confirmed in his B-sample on July 4, according to an announcement from Canadian Cycling.
In addition to being prevented from racing for two years, the ban means Sheppard is permanently ineligible to receive funding from the Canadian federal government.
Kona 24 Hours Global Championships #2 wrap up
By Steve Medcroft
Josh Tostada and Jenn O'Conner won the second stop in the three-race Kona 24 Hour Global Championships this weekend's at Snow Mountain Ranch in Granby, Colorado. O'Conner, who traveled from the United Kingdom to defend the title she earned in 2004, held off former 24 hours of Adrenalin World Champion Christina Begy for the win. Local Breckenridge rider Josh Tostada took out the men's race; and his share of the $19,000 cash purse.
At stake was more than a cash prize though; the Colorado event was designated as the series championship for 2005 (each year, a different race in the three-race series gets the honor of crowing the global champion).
With a field of 284 riders, promoters Tough Guy Productions (TGP) and ProVelo considered the first-time event a success. "We had 284 riders for a first time event," said Patrick Adams, ProVelo founder. "We feel we can build on this substantially over the next three years creating what we hope will be the premier endurance race in America."
TGP is a Breckenridge-based ski video production company headed by Gary Fisher-Subaru endurance pro Nat Ross. ProVelo's Adams hosts endurance events in the U.K., such as his Mountain Mayhem race, which are known for things like low (by market-standards) entry fees, free camping, parking, spectating, and massage for racers.
See results from the Kona 24-Hour Global Championships here.
Global MTB Racing Roundup
Cougar Mountain Classic, USA (NE), September 10-11: Main, XC, 8 hour race, Downhill, Mountain X
Kona 24-Hour Global Championships #2, USA (NE), September 11-12: Full results
N-Zo Sydney 12-Hour, Aus (NE), September 10: Full results & report
Minnesota series #9, USA (NE), September 1: Results, report & photos
Flight Centre Peppers Hidden Vale Epic, Aus (NE), September 4: Full results, report & photos
Mountain Bike Festival on Cape Cod to Donate Proceeds to Victims of Hurricane Katrina
The New England Mountain Bike Association has announced that all the proceeds from its annual mountain bike festival in Sandwich, Massachusetts on September 18th will be donated to the American Red Cross to benefit the victims of Hurricane Katrina. The festival is the culmination of the season-long Harpoon-Topeak MTB Adventure ride series, featuring one-day mountain bike charity rides on marked loops around New England that enable cyclists to support various causes.
"Our hearts go out to all the victims and the families devastated by Katrina," says NEMBA's executive director, Philip Keyes. "It behooves all of us to do what we can to help, and since 2500 of the victims will be staying at nearby Camp Edwards at Otis Air Force Base, it's especially important to take action now. We hope mountain bikers from around New England will come show their solidarity to support those affected by this catastrophic storm."
The festival will feature mountain bike rides for all ages and abilities, a bicycle vendor area and bicycle swap, swimming, and food. NEMBA encourages attendees to collect as many donations from friends, family, and colleagues as possible; pledge forms are available online.
For more information and directions, or to download a pledge form, visit www.nemba.org or call 800-57-NEMBA.
Fox Racing Shox Float 100RLT
from John Stevenson & James Huang's New Arrivals section:
The cross-country market seems to have settled on a sweet spot of about 100mm for fork travel these days, with maybe 20mm either way of wiggle room for short races on smooth courses or endures on rough trails. The air-sprung Float 100RLT is Fox's lightest model at a shade over 1600g. As with the rest of Fox's cross-country line, the Float features an ultra-rigid chassis with 32mm diameter stanchion tubes and cast magnesium lower legs. The advanced damping system includes a manual lockout with adjustable blowoff threshold and rebound damping. Our disc-specific test model also includes a nifty new integrated brake housing guide; woo-hoo, no more zip-ties!/JH
More info: www.foxracingshox.com
Price: US$650
See the entire New Arrivals article here.
Keith Bontrager Diary: Your roots are showing
I'm back.
Jimbo gets everyone to listen up
Photo ©: Singlespeed Fellowship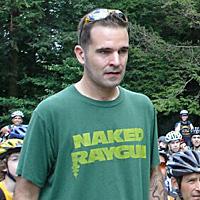 Things were fairly quiet after the SSWC (I've included a few last pics from the event). It had been pretty hectic in the month before that so it was time to chill a bit anyway.
I took a small tour of Amish PA. on the way from State College to Pittsburgh. It was an interesting drive. These folks live a very stark, rural existence. I stopped off for some baked goods, very tasty bread and pies. Of course, just driving through is not a good way to get into the details, so that will have to be left for the next opportunity.
Here is some Amish humour for you:
A Yoder got on a bus, sat next to a gentleman. After some time the gentleman complained, "I'm stiff from bowling." The reply - "I'm Yoder from Middlebury."
You get the idea.
This is, scarily enough, going back to my roots, in an indirect way. The first Bontrager (Johann Martin) arrived in Philly in the late 1700s. He was Amish. The clan spread west from there and many ended up scattered around PA. I am apparently the spawn of a black sheep though, so there was never a connection to the real deal for me.
Read the entire Keith Bontrager Diary here.
(All rights reserved/Copyright Knapp Communications Pty Limited 2005)