MTB index page for all MTB content
MTB World Cup XC, DH & 4X #8 - B
Fort William, Scotland, September 10-11, 2005
Main Page Results World Cup standings Next Race
Race 1 - September 10: Women cross-country
Dahle clocks up yet another
Sick Premont drops out
By Rob Jones in Fort William
Celebration!
Photo ©: Rob Jones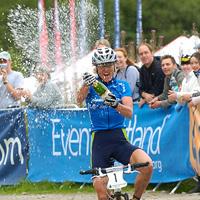 The 2005 Mountain Bike World Cup is drawing to a conclusion. On Saturday it was the final races in the cross-country and four-cross events. All four events turned out to be anti-climactic, in that the series winners were already known, but that did not mean poor racing, with two first time World Cup winners.
This was the easiest race to pick - world champion and World Cup leader Gunn-Rita Dahle (Multivan Merida) came into the final race with an insurmontable lead, and had won the Fort William race the previous two years. The real battle was expected to be for second, with Sabine Spitz (Specialized) leading Marie-Helene Premont (Rocky Mountain Business Objects) by a slim 40 points.
However, the battle never materialized, after Premont dropped out in the second lap (of four), a victim of food poisoning from some mussels she had ingested Thursday night.
"I was very sick all the next day after eating mussels on Thursday. I ate nothing, drank nothing (on Friday). So for the first lap I was okay, but after that I had nothing in my legs."
Sabine Spitz
Photo ©: Rob Jones

Spitz had wanted to put some distance on her rival, and had attacked on the first steep descent, with only Dahle able to match. Dahle then went to the front and rode Spitz off her wheel. But the damage was done: Spitz had a clear gap on third and, without Premont chasing, the other contenders seemed content to ride together.
"It was only 40 points" said Spitz, "so I knew that I had to have Marie-Helene as my main focus. I tried to set my own speed on the first climb, and was able to go into the descent first. Gunn-Rita was close at the bottom, and we had a gap so we worked together. She dropped me the next lap, but I was comfortable with my gap and felt that I could hold on for second."
Dahle made it look easy, but admitted to some difficulty motivating herself after winning the world title a week earlier. "I was probably mentally in as bad a way as the others; we were all worn out after Livigno. I spent the week in between focussing on resting and recovering, and then I said to myself 'This is the last day, you have to go hard'. Once I was riding I had a good day, I felt like I was flying."
While the front two spots were established, a group of initially four, and later five were fighting for the remaining podium spots. Petra Henzi (Fischer-BMC), Nina Gohl (Multivan Merida), Kiara Bisaro (GearsRacing.com) and Irina Kalentieva (Multivan Merida) rode steadily together, but could not make a dent in the gap to the front riders. Mary McConneloug (Kenda Seven) managed to bridge up shortly before the start of the final lap.
Irina Kalentieva (Multivan Merida)
Photo ©: Rob Jones

Kalentieva upped the speed in the final half lap and was able to drop the other riders, with Henzi and Gohl taking the final two podium spots.
Race note
Gunn-Rita Dahle says that the biggest event of her season is still to come - October 15th when she weds long-time partner Kenneth. The win was Dahle's 23rd World Cup win, so she is closing in on Julie Furtado's record of 28.
Photography
For a thumbnail gallery of these images, click here
Images by Rob Jones/www.canadiancyclist.com
Results

Women
 
1 Gunn-Rita Dahle (Nor) Multivan Merida Biking Team           1.53.17
2 Sabine Spitz (Ger) Specialized Factory Racing                  5.06
3 Irina Kalentieva (Rus) Multivan Merida Biking Team             5.45
4 Petra Henzi (Swi) Fischer-Bmc                                  5.46
5 Nina Göhl (Ger) Multivan Merida Biking Team                    5.49
6 Kiara Bisaro (Can)                                             6.00
7 Mary McConneloug (USA)                                         7.48
8 Ivonne Kraft (Ger)                                             8.47
9 Maria Ostergren (Swe)                                          9.35
10 Franziska Roethlin (Swi) Univega Pro Cycling Team            10.10
11 Katrin Leumann (Swi) Fischer-Bmc                             10.51
12 Séverine Hansen (Fra)                                        11.11
13 Patricia Sinclair (Can)                                      12.01
14 Maroussia Rusca (Swi) Univega Pro Cycling Team               12.59
15 Catherine Pendrel (Can)                                      14.20
16 Mical Dyck (Can)                                             14.41
17 Eva Lechner (Ita)                                            15.14
18 Sandra Klose (Ger)                                           15.20
19 Evelyn Staffler (Ita)                                        15.34
20 Robyn Wong (NZl)                                             16.50
21 Laura Turpijn (Ned)                                          17.00
22 Adelheid Morath (Ger)                                        17.55
23 Sue Thomas (GBr)                                             18.19
24 Jenny McCauley (Irl)                                         21.37
25 Caroline Jackson (GBr)                                       22.35
 
One lap behind                                                  
 
26 Sarka Chmurova (Cze) Max Cursor                                   
27 Ruth McGavigan (GBr)                                              
28 Julie Cartner (GBr)                                               
29 Genvieve Whitson (NZl)                                            
DNF Marie-Helene Premont (Can)                                       
DNF Lene Byberg (Nor) Multivan Merida Biking Team                    
DNF Margarita Fullana (Spa) K2-Zero Rh+                              
DNF Bernardine Boog-Rauwerda (Ned)                                   
DNF Jenny Copnall (GBr) Subaru-Gary Fisher                           
DNF Tarja Owens (Irl)                                                
DNF Katy Simcock (GBr)                                               
DNF Sophie Johnson (GBr)                                             
 
Final World Cup standings
  
1 Gunn-Rita Dahle (Nor)                                          1900 pts
2 Sabine Spitz (Ger)                                             1460
3 Marie-Hélène Premont (Can)                                     1220
4 Irina Kalentieva (Rus)                                          905
5 Mary McConneloug (USA)                                          750
6 Yvonne Kraft (Ger)                                              668
7 Lene Byberg (Nor)                                               522
8 Kiara Bisaro (Can)                                              521
9 Petra Henzi (Swi)                                               421
10 Maja Wsoszczowska (Pol)                                        380
11 Maroussia Rusca (Swi)                                          350
12 Nina Göhl (Ger)                                                323
13 Patricia Sinclairs (Can)                                       323
14 Adelheid Morath (Ger)                                          317
15 Katrin Leumann (Swi)                                           316
16 Kelli Emett (USA)                                              312
17 Maria Oestergren (Swe)                                         285
18 Margarita Fullana (Spa)                                        285
19 Annabella Stropparo (Ita)                                      284
20 Alison Sydor (Can)                                             250
21 Robyn Wong (NZl)                                               248
22 Willow Koerber (USA)                                           240
23 Shonny Vanlandingham (USA)                                     217
24 Magdalena Sadlecka (Pol)                                       216
25 Franziska Roethlin (Swi)                                       212
26 Bernardine Boog-Rauwerda (Ned)                                 206
27 Jaqueline Mourao (Bra)                                         203
28 Evelyn Staffler (Ita)                                          200
29 Séverine Hansen (Fra)                                          199
30 Sandra Klose (Ger)                                             199
30 Eva Lechner (Ita)                                              199
32 Katrin Schwing (Ger)                                           199
33 Sabrina Enaux (Fra)                                            194
34 Sonia Foote (NZl)                                              186
35 Mical Dyck (Can)                                               178
36 Barbel Jungmeier (Aut)                                         174
37 Cristina Mascarreras Sabria (Spa)                              171
38 Anna Szafraniec (Pol)                                          170
39 Laura Turpijn (Ned)                                            167
40 Rosara Joseph (NZl)                                            165
41 Saskia Elemans (Ned)                                           153
42 Elena Giacomuzzi (Ita)                                         149
43 Sarka Chmurova (Cze)                                           145
44 Kathy Sherwin (USA)                                            131
45 Alison Dunlap (USA)                                            130
46 Cécile Rode (Fra)                                              126
47 Elisabeth Osl (Aut)                                            123
48 Jennifer Smith (NZl)                                           120
49 Susan Haywood (USA)                                            119
50 Ren Chengyuan (Chn)                                            119
51 Sarah Koba (Swi)                                               119
52 Catherine Pendrel (Can)                                        117
53 Kerry Barnholt (USA)                                           111
54 Wang Jingjing (Chn)                                            111
55 Nicole Cooke (GBr)                                             111
56 Nina Homovec (Slo)                                             110
57 Caroline Jackson (GBr)                                         108
58 Catherine Delfosse (Bel)                                       106
58 Arielle Van Meurs (Ned)                                        106
60 Asa Erlandsson (Swe)                                           106
61 Anna Enocsson (Swe)                                            105
62 Jenny Copnall (GBr)                                            101
63 Jenny McCauley (Irl)                                            98
64 Lea Davison (USA)                                               96
65 Erika Gramiscelli (Bra)                                         95
66 Roberta Stopa (Bra)                                             90
67 Kyia Malenkovich (USA)                                          88
68 Lorena Oliveira (Bra)                                           85
69 Daniela Louis (Swi)                                             85
70 Niki Gudex (Aus)                                                84
71 Sandra Walter (Can)                                             82
72 Julyana Rodrigues (Bra)                                         80
73 Dara Marks (USA)                                                75
74 Alziane Melo (Bra)                                              75
75 Laurence Leboucher (Fra)                                        75
76 Gao Xiaoning (Chn)                                              74
77 Heather Irmiger (USA)                                           71
78 Alejandra De Bernardi (Arg)                                     71
79 Nadja Walker (Swi)                                              70
80 Pavla Havlikova (Cze)                                           68
81 Lauren Tanzen (Aus)                                             67
82 Gabriela Morelli (Bra)                                          67
83 Giovana Corsi (Bra)                                             63
84 Katerina Hanusova (Cze)                                         62
85 Maria Rodrigues (Bra)                                           62
86 Elina Sophocleous (Cyp)                                         62
87 Georgia Gould (USA)                                             61
88 Jessie Joly (Bra)                                               61
89 Gretchen Reeves (USA)                                           60
90 Amanda Sin (Can)                                                59
91 Nina Baum (USA)                                                 58
92 Julie Sanders (Can)                                             58
93 Sandra Bloomer (USA)                                            56
94 Emilie Siegenthaler (Swi)                                       56
95 Jennifer Wilson (USA)                                           55
96 Wendy Simms (Can)                                               54
97 Sue Thomas (GBr)                                                53
98 Carla Salgado Gonzalez (Mex)                                    53
99 Caitlyn Tuel (USA)                                              52
100 Kasandra Cote (Can)                                            52
101 Shannon Gibson (USA)                                           50
102 Ruth McGavigan (GBr)                                           49
103 Alicia Hamilton (USA)                                          49
104 Sara Bresnick-Zocchi (USA)                                     49
105 Julie Cartner (GBr)                                            48
106 Genevieve Whitson (NZl)                                        47
107 Heather Svahn (USA)                                            47
108 Sophie Fortin (Can)                                            47
109 Maaris Meier (Est)                                             46
110 Becca Blay (USA)                                               45
111 Mathilde Hupin Debeurme (Can)                                  45
112 Shari Hausbeck (USA)                                           44
113 Jennifer Gersbach (USA)                                        43
114 Anne-Marie Jobin (Can)                                         43
115 Kristi Lewis (USA)                                             42
116 Elsie Torresan (Can)                                           42
117 Judy Freeman (USA)                                             41
118 Brigitte Lacaille (Can)                                        41
119 Rocio Gamonal Ferrera (Spa)                                    40
120 Kristina Andrus (USA)                                          39
121 Caroline Villeneuve (Can)                                      39
122 Rebecca Gross (USA)                                            38
123 Marisol Bernier (Can)                                          38
124 Susan Fiore (USA)                                              37
125 Marie-Helene Cote (Can)                                        37
126 Julie Emmerman (USA)                                           36
127 Michelle Bellamy (NZl)                                         36
128 Jessica Kisiel (USA)                                           35
129 Allison Gaudaur (Can)                                          35
130 Ruth Moll Marques (Spa)                                        35
131 Morisette D J (USA)                                            34
132 Maria Osl (Aut)                                                34
133 Susan Grandjean (USA)                                          32
134 Nathalie Schneitter (Swi)                                      32
135 Petra Hofs (Ned)                                               32
136 Beth Mc Cluskey (Irl)                                          31
137 Hazel Wakefield (GBr)                                          30
138 Elena Gaddoni (Ita)                                            28
139 Katy Middlehurst (GBr)                                         28
140 Sandra Santanyes Murillo (Spa)                                 26