MTB index page for all MTB content
MTB World Cup XC, DH & 4X #8 - B
Fort William, Scotland, September 10-11, 2005
Main Page Results World Cup standings Previous Race
Race 6 - September 11: Men downhill
Peat triumphs on home turf at last
By Rob Jones in Fort William
Steve Peat gets flashed to death
Photo ©: Rob Jones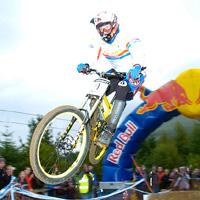 Steve Peat (Orange) proved that Britannia ruled on Sunday at the Downhill World Cup Final in Fort William, Scotland as he added to compatriot Tracy Moseley's victory with a win that was all the sweeter for having been a long time coming, satisfying the 10,000-strong crowd who had come hoping for a Peat win.
While the overall World Cup titles had already been won by Greg Minnaar (G-Cross Honda) and Sabrina Jonnier (Intense), and the top-3 overall standings were pretty much set, riders still had a lot of desire to win in front of the fanatical downhill fans that Fort William attracts.
The 2.46 kilometre course runs in an almost straight line down the side of one of the mountains that makes up the Ben Nevis range. With an average gradient of 11%, and the steepest pitches over 20%, the rough and rocky course requires speed and endurance.
Steve Peat admitted that he was feeling some pressure going into the race, a race that he has not won before, despite being the usual favourite. "There's always pressure, but here it is definitely higher. The crowd wanted me to win - I have never heard a louder crowd. I was pretty nervous about the rain; I had a power nap between the semi and the final, and when I woke up there was a wet mist."
Greg Minnaar
Photo ©: Rob Jones

Minnaar's countryman Andrew Neethling, the seventh rider off, set the early fast time, which would hold up for nearly half the field before Filip Polc (Slovakia) finally knocked 13-hundredths off. Brit Neil Donoghue was the next to move into the hot seat after taking over two seconds off Polc's time, and his time stood up through a number of favourites, including world champion Fabien Barel (Kona Les Gets), who crashed, and Australian Mick Hannah. Finally, as the top-10 qualifiers started coming down the course, the time began to drop rapidly.
Chris Kovarik (Australia) took eight seconds off, and then Minnaar knocked another two seconds off that time. As the final six riders came down, Minnaar's time continued to hold up. Nathan Rennie (Australia) had a faster intermediate split, but lost time in the lower section to finish over a second back.
Finally, it was Peat's turn, and he put in the fastest split of the day, nearly half a second ahead of Minnaar. In the lower half he was even faster, finishing over two seconds in front of Minnaar. As he approached the line, and the crowd could see that he would win, a deafening roar went up, and Peat was engulfed by a mob of well wishers after sliding to a halt.
Nathan Rennie
Photo ©: Rob Jones

"My run was all good, really smooth, no problems at all. It was pretty huge to win, probably one of the sweetest wins of my career."
Photography
For a thumbnail gallery of these images, click here
Images by Rob Jones/www.canadiancyclist.com
Results
1 Steve Peat (GBr)                 4.11.44
2 Greg Minnaar (RSA)               4.13.57
3 Nathan Rennie (Aus)              4.14.83
4 Chris Kovarik (Aus)              4.15.76
5 Gee Atherton (GBr)               4.16.06
6 Matti Lehikoinen (Fin)           4.17.41
7 Sam Hill (Aus)                   4.18.32
8 Cedric Gracia (Fra)              4.18.37
9 David Vazquez Lopez (Spa)        4.20.02
10 Markolf Berchtold (Bra)         4.22.47
11 Neil Donoghue (GBr)             4.23.77
12 Kyle Strait (USA)               4.24.63
13 Adam Vagner (Cze)               4.25.28
14 Bryn Atkinson (Aus)             4.25.60
15 Ivan Oulego Moreno (Spa)        4.25.63
16 Dan Atherton (GBr)              4.25.68
17 Justin Leov (NZl)               4.25.76
18 Filip Polc (Svk)                4.26.03
19 Andrew Neethling (RSA)          4.26.18
20 Brendan Fairclough (GBr)        4.26.33
21 Michael Hannah (Aus)            4.26.78
22 Daniel Stanbridge (GBr)         4.26.89
23 Oscar Saiz Castane (Spa)        4.27.70
24 Marcus Klausmann (Ger)          4.27.86
25 Pasqual Canals Flix (Spa)       4.28.04
26 Julien Camellini (Fra)          4.28.89
27 Justin Havukainen (Aus)         4.28.95
27 Thibaut Ruffin (Fra)            4.28.95
29 David Wardell (GBr)             4.28.99
30 Matt Simmonds (GBr)             4.29.36
31 Christopher Panozzo (Aus)       4.30.03
32 Marc Beaumont (GBr)             4.30.04
33 Ben Reid (Irl)                  4.30.39
34 Will Longden (GBr)              4.30.57
35 Damien Spagnolo (Fra)           4.30.58
36 Rob Warner (GBr)                4.31.04
37 Tom Braithwaite (GBr)           4.31.08
38 Claudio Caluori (Swi)           4.31.28
39 Fabien Barel (Fra)              4.31.50
40 Pierre Charles Georges (Fra)    4.31.69
41 Kristofor Hargreaves (GBr)      4.32.46
42 Romain Saladini (Fra)           4.32.55
43 Scott Beaumont (GBr)            4.32.79
44 Alan Beggin (Ita)               4.32.97
45 Matej Charvat (Cze)             4.33.01
46 Frank Schneider (Ger)           4.33.52
47 Antonio Leiva (Chi)             4.33.86
48 Ayden Eves (Aus)                4.34.10
49 Cyrille Kurtz (Fra)             4.34.88
50 Robert Smith (GBr)              4.35.08
51 Lee Bertram (GBr)               4.35.18
52 Tyler Morland (Can)             4.35.28
53 Matthieu Troquier (Fra)         4.35.77
54 Kamil Tatarkovic (Cze)          4.36.80
55 Gary Forrest (GBr)              4.37.35
56 Steve Barker (GBr)              4.37.45
57 Iain Cookson (GBr)              4.37.80
58 Maciej Jodko (Pol)              4.37.95
59 Samuel Zbinden (Swi)            4.39.18
60 Tom Deacon (GBr)                4.39.22
61 Lee Pincher (GBr)               4.39.37
62 Robin Baloochi (USA)            4.40.71
63 Ashley Cross (GBr)              4.40.93
64 Jonathan Cheetham (GBr)         4.41.13
65 John Robson (GBr)               4.41.51
66 Joe Barnes (GBr)                4.41.65
67 Gerard Wolfe (Irl)              4.44.55
68 Daniel Wolfe (Irl)              4.45.20
69 Daniel Critchlow (GBr)          4.46.17
70 Ben Cathro (GBr)                4.48.45
71 Darren Howarth (GBr)            4.49.25
72 Fergus Lamb (GBr)               4.52.89
73 John Lawlor (Irl)               4.56.46
74 Rowan Sorrell (GBr)             5.43.50
75 Stu Thomson (GBr)               5.50.38
76 David Smith (GBr)               6.02.33
77 Joel Panozzo (Aus)              6.04.96
78 Danny Harper (GBr)              8.05.55
79 Michal Marosi (Cze)             9.45.68
80 David Young (GBr)              12.08.30
 
Final World Cup standings
 
1 Greg Minnaar (RSA)                  1660 pts
2 Samuel Hill (Aus)                    905
3 Nathan Rennie (Aus)                  890
4 Cédric Gracia (Fra)                  735
5 George Atherton (GBr)                722
6 Fabien Barel (Fra)                   714
7 Christopher Kovarik (Aus)            710
8 Mickael Pascal (Fra)                 678
9 Marc Beaumont (GBr)                  669
10 David Vazquez Lopez (Spa)           636
11 Matti Lehikoinen (Fin)              622
12 Steve Peat (GBr)                    620
13 Justin Leov (NZl)                   615
14 Markolf Berchtold (Bra)             608
15 Daniel Atherton (GBr)               540
16 Julien Camellini (Fra)              506
17 Mick Hannah (Aus)                   460
18 Bryn Atkinson (Aus)                 381
19 Andrew Neethling (RSA)              381
20 Neil Donoghue (GBr)                 346
21 Jared Graves (Aus)                  313
22 Justin Havukainen (Aus)             304
23 Claudio Caluori (Swi)               265
24 Brendan Fairclough (GBr)            256
25 Kyle Strait (USA)                   251
26 Dave Wardell (GBr)                  233
27 Marcus Klausmann (Ger)              232
28 Nico Vink (Bel)                     186
29 Oscar Saiz Castane (Spa)            180
30 Ivan Oulego Moreno (Spa)            169
31 Bernat Guardia Pascual (Spa)        169
32 Will Longden (GBr)                  168
33 Damien Mermoud (Swi)                161
34 John Kirkcaldie (NZl)               155
35 Amiel Cavalier (Aus)                149
36 Adam Vagner (Cze)                   125
37 Filip Polc (Svk)                    125
38 Alan Beggin (Ita)                   118
39 Pascual Canals Flix (Spa)           102
40 Jared Rando (Aus)                   101
41 Joel Panozzo (Aus)                   92
42 Antionio Leiva (Chi)                 90
43 Thomas Braithwaite (GBr)             83
44 Liam Panozzo (Aus)                   82
45 Dan Stanbridge (GBr)                 76
46 Pierre Charles Georges (Fra)         68
47 Frank Schneider (Ger)                67
48 Vlastimil Hyncica (Cze)              65
49 Henry O Donnell (USA)                61
50 Christopher Panozzo (Aus)            60
51 Thibaut Ruffin (Fra)                 59
52 Damien Spagnolo (Fra)                57
53 Dan Harper (GBr)                     51
54 Mickael Deldycke (Fra)               49
55 Maxime Remy (Fra)                    47
56 Robin Baloochi (USA)                 46
57 Rich Houseman (USA)                  45
58 Cyrille Kurtz (Fra)                  42
59 Lars Peyer (Swi)                     41
60 Ben Reid (Irl)                       40
61 Rob Warner (GBr)                     40
62 Mathieu Troquier (Fra)               40
63 Romain Saladini (Fra)                39
64 Felipe Costa Wermuth (Bra)           39
65 Sven Martin (RSA)                    38
66 Gertje Tholen (Ned)                  35
67 Samuel Zbinden (Swi)                 33
68 Luke Strom (Aus)                     32
69 Herman Oelund (Swe)                  32
70 Guido Tschugg (Ger)                  32
71 Kamil Tatarkovic (Cze)               32
72 Cristian Valdiviezo (Ecu)            31
73 Karim Amour (Fra)                    30
74 Cody Warren (USA)                    30
75 Himar Sanchez Salminen (Spa)         30
76 Nathaniel Giacomozzi (Bra)           28
77 Jamie Popham (Irl)                   26
78 Sebastian Vasquez (Chi)              25
79 Matt Simmonds (GBr)                  24
80 Duncan Riffle (USA)                  24
81 Mario Jarrin (Ecu)                   24
82 Ohlund Hermann (Swe)                 23
83 Volkmar Berchtold (Bra)              23
84 Ayden Eves (Aus)                     22
85 Carlo Gambirasio (Ita)               22
86 Daniel Critchlow (GBr)               22
87 Matt Johnston (USA)                  22
88 Maty Charoat (Cze)                   21
89 Kris Hargreaves (GBr)                21
90 Anderson Furlanetto (Bra)            21
91 Charles-Alexandre Dube (Can)         21
92 Cristian Soto (Chi)                  19
93 Yoann Barelli (Fra)                  19
94 Scott Beaumont (GBr)                 18
95 Louis-Philippe Leonard (Can)         18
96 Maurizio Acuna (Chi)                 18
97 Leandro Campovilla (Bra)             17
98 Fabien Pedemanaud (Fra)              17
99 Glenn Haden (NZl)                    16
100 Echeverria Diego (Chi)              16
101 Chris Ball (GBr)                    16
102 Curtis Keene (USA)                  15
103 Ignacio Rojo (Chi)                  15
104 Stuart Thomson (GBr)                14
105 Des Curry (NZl)                     14
106 Rowen Sorrell (GBr)                 14
107 Richard Thomas (GBr)                14
108 Ben Cathro (GBr)                    14
109 Vincent Saut (Fra)                  14
110 Andres Sotomayor (Ecu)              13
111 Mathieu Laurin (Can)                13
112 Geritt Beytagh (USA)                12
113 Matthew Thompson (USA)              12
114 Lee Pincher (GBr)                   12
115 Michal Marosi (Cze)                 12
116 Mauricio Estrada Pulgarin (Col)     12
117 Romain Lescure (Fra)                11
118 Kristofor Hargreaves (GBr)          10
119 Chris Vandine (USA)                 10
120 Dino Cecchi (Per)                   10
121 Jorge Acuna (Chi)                    9
122 Jon Cheetham (GBr)                   9
123 Florent Payet (Fra)                  9
124 Bruno Zanchi (Ita)                   8
125 Kirt Voreis (USA)                    8
126 James Marples (GBr)                  8
127 Justin Brown (Can)                   8
128 Tom Holland (NZl)                    8
129 Hugh Mansfield (Aus)                 7
130 Daniel Weinman (USA)                 7
130 David Klaassenvandorscho (USA)       7
132 Sebastian Reategui (Per)             7
133 Mathias Haas (Aut)                   7
134 Thomas Vanderham (Can)               7
135 Steve Wentz (USA)                    6
136 Richard Cheetham (GBr)               6
137 Philip Shucksmith (GBr)              5
138 Giuliano Tessaro (Bra)               5
139 Remy Charrier (Fra)                  5
140 Luka Novak (Slo)                     4
141 Guilherme Bisarria (Bra)             4
142 Ashley Mullane (GBr)                 4
143 Felipe Bortoletti (Bra)              3
144 Geoff Pendrel (Can)                  3
145 Rémy Casanova (Fra)                  2
146 Oscar Pellegrina (Arg)               2
147 Salvador Gonzalez (Spa)              2
148 Robert Smith (GBr)                   1
149 Antoine Badouard (Fra)               1
150 Gonzalo Rodriguez (Arg)              1
151 Filip Matus (Cze)                    1