MTB News & racing round-up for June 30, 2005
Edited by Steve Medcroft
Welcome to the first edition of a regular, weekly news special rounding up everything that's been happening recently in the world of fat tyres. Feel free to send feedback, news and gossip to mtb@cyclingnews.com. - The editors
No shows for Brazil World Cup could mean a real opportunity for Adam Craig
By Steve Medcroft
Adam Craig (Giant)
Photo ©: Marek Lazarski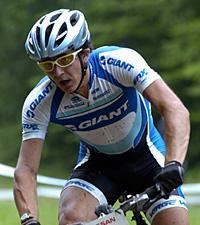 Wedged between World Cup stops in Mont Sainte-Anne, Quebec (June 25-26) and Angel Fire Resort, New Mexico (July 9-10), this weekend's stop in Santa Catarina, Brazil is getting a pass by many of the top contenders in world-cup mountain biking.
Some racers cite the extended back and forth travel over a three week period as more draining than they're willing to risk. For the Gary Fisher/Subaru mountain bike team, the decision is part of the team's overall goal.
"Our focus going into the season is to be a Northern American racing team," said Gary Fisher, Lemond and Klein Bicycles Assistant Brand Manager and Gary Fisher/Subaru team coordinator Ryan Atkinson. "We're sponsored by Subaru of North America and when we look at the overall schedule, we try to show up in events that bring us face-to-face with their consumers. That means we focus on events in North America and Canada." Atkinson goes on to say that his riders have the discretion to race elsewhere if they want or need the points or results of a World Cup not on American soil; "I just haven't had any requests from our riders to go so far."
Whatever the reasons, the reality is that many of the current top World Cup contenders may be missing for the call up to the start line. This vacuum creates an opportunity for those who do show up in terms of bonus UCI points towards their world-cup rankings and the potential for a better result than they might attain with all the big names there.
American Adam Craig (Giant) is counting on that vacuum to give him a weekend to remember.
"The Siemens Cannondale boys aren't going," Craig said on Tuesday. "Kabush isn't going. No Michael Weiss. No Liam Killeen. I think I'm the only North American going. Hermida, Ralph Naef, Marti Gispert, Roel Paulissen, Erwin Bakker are the only contenders I know of that are going.
So what exactly does he hope to gain by competing in Brazil? "I hope to have a good race, get some points, get on the box, but mostly, I hope to go to Brazil and check it out."
Craig may be downplaying the opportunity that awaits him in Brazil. If his prediction of who's attending is correct, the three riders that kept Craig off the top podium step in Mont Sainte-Anne would be gone, paving the way for him to have a major shot at winning his first world cup.
But the travel concerns of the racers who aren't attending are real. Does Craig believe he's risking his form by extending himself further than his world cup competition? "I'm sure it would be nice to go back to Bend (Oregon), relax and train for a few days, but it seems awfully disrespectful and lazy to not attend a round of the world cup when it is an option. So no, I don't feel like I'm risking anything. Missing the opportunity is more of a risk for me."
Marie-Hélène Prémont
Photo ©: Rob Jones

Willow Koerber (Subaru-Gary Fisher)
Photo ©: Marek Lazarski

Geoff Kabush (Maxxis)
Photo ©: Rob Jones

Mary McConneloug (Kenda/Seven)
Photo ©: Marek Lazarski

North Americans make their mark at Mont Sainte-Anne World Cup
By Rob Jones and Steve Medcroft
North Americans are making their mark in the highest levels of elite road racing. Bobby Julich won Paris-Nice. George Hincapie took the Dauphine prologue. Dave Zabriskie and Chris Horner won stages of the Giro D'Italia and Tour de Suisse. And in Philly, a race usually dominated by visiting foreigners, five Americans take the podium steps for themselves, building the growing numbers of North Americans riding at the front and winning major European road races.
And by judging the success of North American mountain bikers in the UCI World Cup mountain bike races in Mont Sainte Anne (June 25-16, 2005), that success is rubbing off on the knobby-tired set as well.
When she beat Gunn-Rita Dahle (Multivan Merida) to the line in the Spa Francorchamps World Cup in Belgium on April 24, Marie-Helene Premont (Rocky Mountain-Business Objects) not only became the first North American woman to win a World Cup in Europe since Alison Dunlap (Luna) in 1997 and the first North American woman to win a World Cup since Chrissy Redden in 2001 but she broke Dahle's almost unshakeable two-plus year World Cup win streak.
It being the first world cup of the season, it was easy to chalk Premont's win up to Dahl having an off day; a fluke that would be corrected when Dahle came back to form. But last Saturday in Mont Sainte Anne, Quebec Premont proved that she was the contender to Dahle for World-Cup glory in 2005.
Premont wasn't the only North American to have break-out success in Mont Sainte Anne. Americans Willow Koerber (Subaru-Gary Fisher) and Mary McConneloug (Kenda/Seven Cycles) placed in the top five in the cross-country race. Californian Jill Kintner (USA) won the women's four cross. Giant's Adam Craig placed fourth in the men's cross country, his best placing ever and one spot on the podium below newly-crowned Canadian national champion and Team Maxxis star Geoff Kabush - who came third to only Christoph Sauser and Fredrick Kessiakoff of Seimens-Cannondale.
Rob Jones brought us race reports from each day's competition:
Carl Decker succeeds on the road
While most of the continent's cross-country racers were preparing for Mont St Anne, one rider decided to take a very different tack and cross over to the road world. Following the wheeltracks of riders such as Floyd Landis and Cadel Evans, Carl Decker joined the Broadmark Capital road team to take out the Elite National Championships in Deer Valley, Utah. His response to winning the USA's top road race for riders not in pro teams was, "maybe I should look into this road racing."
For the full story and results click here.
Tinker Juarez wins UK Mountain Mayhem
Britain's biggest event of the past weekend also went to an 'interloper' as Cannondale's Tinker Juarez won the solo category at the Saab Salomon Mountain Mayhem 24-hour event at Eastnor Castle in Herefordshire, England. For Juarez it was a chance to redeem himself after a a bad race in the NORBA U.S 24 Hours National Championships (May 28-29, Spokane, Washington), and it's a safe bet that none of the British riders were upset to see the perennially popular Juarez nip across the pond to take the victory.
Click here for the full results & report.
More MTBers conquer on the road
At the very far end of the endurance scale from Carl Decker's US Elite victory, a group of 24-hour mountain bike racers has won the four-man team category in the USA's (and probably the world's) longest bike race, Race Across America. Team Beaver Creek - Vail - Mike Janelle, Toph Leonard, Jimi Mortenson, and Brian Smith - cross the US from California to New Jersey in just 5 days, 18 hours, 15 minutes. The four-man squad covered 3052 miles (4883km) in tightly-executed relay shifts, and put their success down to the discipline needed to swap riders efficiently.
"Transition is a very important part of the race," said Toph Leonard. "You need to stay away from high speeds to be able to maintain a consistent speed. The whole idea is to get a rider out on the road, preferably on a hill, and build up speed from there."
For the full story click here.
Taberlay injured
At the MTB Marathon World Cup in Québec (Mont-Sainte-Anne) on June 18, multiple Australian champion Sid Taberlay (Specialized Factory) had an accident and injured his shoulder. The crash happened on wet soil made extremely slippery after a week on rain in Canada.
"Starting out on the road for the first 15 km, we turned onto the dirt, straight up a greasy hill. I wasn't prepared for the turn off and found myself about 10 riders back," Taberlay told Cyclingnews. "By the top of the climb I was in a group of three with a gap back on the rest of the field. The gap was shortly closed by half a dozen riders, which stayed together for the next hour, until we all missed an unmarked turn off. Two kilometres down the fire road and with no markings we knew there was a problem. Heading back we found the course and saw a number of riders ahead of us. The pace lifted, knowing we where some time behind the front guys. The group split with Liam [Killeen, the later winner and teammate of Taberlay], two Italian riders and I leading the chase."
That's when the accident happened. "Liam went on to win and I came pretty close to coming home early. On a muddy descent I slipped into a rut, being spat out of it into a tree. I had to be carried out and off to the hospital with a suspected broken collar bone. The x-rays denied me my first broken bone, although they did nothing for the discomfort I was in..." Taberlay is now back in training on road, but "only in the saddle. I can't get out of the saddle with my right shoulder not being able to hold my weight. It's improving each day and hopefully will be OK for Saturday's World Cup."
Aston Hill Downhills 2005
The UK's Aston Hill Mountain Bike Area play host to the third and fourth rounds of the Aston Hill Downhill Series over the weekend of July 9 and 10 of July. The weekend's racing will see the four-cross track into DH3 being raced for the first time on Saturday and Aston Hill's infamous Black Run being used to crown the Southern Area Champions on Sunday.
For more information see www.astonhill.com
Previous News Next News
(All rights reserved/Copyright Knapp Communications Pty Limited 2005)