MTB index page for all MTB content
World Cup XC # 1 - B
Spa Francorchamps, Belgium, April 24, 2005
Race 1 - Women
Canadian victory in Spa
By Rob Jones in Spa Francorchamps
Marie-Helene Premont
Photo ©: Rob Jones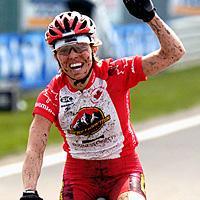 The Mountain Bike World Cup season opened Sunday at the Formula One circuit in Spa Francochamps, Belgium. The rain which had been threatening the night before was replaced by bright sunshine, and Marie-Hélène Prémont (Rocky Mountain-Business Objects) and Julien Absalon (Bianchi Agos) became the first in the 2005 season to don the blue leader's jerseys for the World Cup series.
The organizers made slight modifications overnight to the course, removing one muddy stretch, and sent the riders out on a shortened circuit for their first lap to spread things out before the technical portions of the circuit began. The women did a start loop and three full laps, while the men tacked on two extra full laps.
Prémont, the silver medalist at the Athens Olympics behind Gunn-Rita Dahle (Multivan Merida), made her move after the start loop was completed, charging by Dahle, Irina Kalentieva (Multivan Merida) and Maja Wsoszczowska (Lotto) on the first steep climb. Only Dahle could stay with Prémont, and she struggled.
"I thought that I would start the year slower than I did," said Prémont. "I felt good, but you never know how your form is at the beginning of the season. I knew this would be a good course for me - the climbs were tough. On the hills I could tell that I was getting ten or twelve seconds on Gunn-Rita [Dahle], so I knew that was where I had to build a gap."
Gunn-Rita Dahle
Photo ©: Rob Jones

By the second full lap Prémont was 20 seconds ahead of Dahle, and gaining ground on every climb, eventually winning by 43 seconds. Dahle's incredible World Cup winning streak - through the entire 2003 and 2004 seasons - was broken.
"My goal was a top three result, but you are never satisfied if you don't win," said Dahle. "[Prémont] was much stronger than me on the steep hills. Maybe doing a road World Cup four days before took a little bit out of me; this is a new experience for me. You have to try different things, but I knew Marie-Helene would be my biggest challenge."
Kalentieva rode steadily in third place, finishing three minutes back, followed by Sabine Spitz, in her new Specialized colours, at 4:05.
Irina Kalentieva (Multivan Merida)
Photo ©: AFP

Marie-Helene Prémont is the first North American woman to win a World Cup in Europe since Alison Dunlap (Luna) in 1997, and the first North American woman to win a World Cup since Chrissy Redden in 2001. Prémont fit the race around year-end exams for her pharmacy degree, with an exam the day before she left for Belgium, and two more this week when she gets home.
Nicole Cooke (Great Britain), the former junior world champion started well, but faded in the final lap, dropping from top-8 to 13th.
Photography
For a thumbnail gallery of these images, click here
Images by Rob Jones/www.canadiancyclist.com
Images by AFP Photo
Results
Women
1 Marie-Helene Premont (Can) Rocky Mountain Business Objects    1.25.26
2 Gunn-Rita Dahle (Nor) Multivan Merida Biking Team                0.43
3 Irina Kalentieva (Rus) Multivan Merida Biking Team               3.01
4 Sabine Spitz (Ger) Specialized                                   4.05
5 Maja Wsoszczowska (Pol) Lotto PZU S.A                            4.24
6 Margarita Fullana (Spa) Be One                                   4.27
7 Mary Mcconneloug (USA) Seven Cycles                              6.16
8 Bernardine Boog-Rauwerda (Ned) Netherlands National              6.45
9 Sabrina Enaux (Fra) Lapierre International                       6.54
10 Katrin Leumann (Swi) Fischer - BMC                              7.16
11 Maria Ostergren (Swe)                                           7.26
12 Annabella Stropparo (Ita) A.S. Spreafico Olympus                7.40
13 Nicole Cooke (GBr)                                              8.40
14 Lene Byberg (Nor) Multivan Merida Biking Team                   8.59
15 Adelheid Morath (Ger)                                           9.22
16 Cecile Rode (Fra) Orbea                                         9.50
17 Anna Szafraniec (Pol) Lotto PZU S.A                            10.41
18 Bärbel Jungmeier (Aut)                                         10.48
19 Petra Henzi (Swi) Fischer-BMC                                  10.53
20 Evelyn Staffler (Ita)                                          11.03
21 Magdalena Sadlecka (Pol) Lotto PZU S.A                         11.30
22 Robyn Wong (NZl)                                               11.35
23 Severine Hansen (Fra)                                          11.53
24 Kiara Bisaro (Can) GearsRacing.com                             12.45
25 Katrin Schwing (Ger)                                                
26 Elisabeth Osl (Aut)                                            13.16
27 Nina Homovec (Slo)                                             13.51
28 Ivonne Kraft (Ger)                                             13.58
29 Sarah Koba (Swi)                                               14.07
30 Maaris Meier (Est)                                             14.23
31 Sonia Foote (NZl)                                                   
32 Daniela Louis (Swi)                                            15.11
33 Laura Turpijn (Ned)                                            15.29
34 Trish Sinclair (Can) Scott Racing Team                         15.56
35 Cristina Mascarreras Sabria (Spa)                              16.16
36 Elena Giacomuzzi (Ita)                                         16.28
37 Asa Erlandsson (Spa)                                           16.32
38 Nadja Walker (Swi)                                             16.34
39 Arielle Van Meurs (Ned)                                        16.38
40 Jenny Copnall (GBr)                                            16.59
41 Sarka Chmurova (Cze)                                           17.42
42 Maria Osl (Aut)                                                17.49
43 Maroussia Rusca (Swi)                                          18.14
44 Petra Hofs (Ned)                                               18.46
45 Beth Mc Cluskey (Irl)                                          19.00
46 Hazel Wakefield (GBr)                                          19.04
47 Elina Sophocleous (Cyp)                                        19.25
48 Saskia Elemans (Ned)                                           19.53
49 Emilie Siegenthaler (Swi)                                      19.57
50 Laurence Leboucher (Fra)                                       20.06
51 Catherine Delfosse (Bel)                                       20.29
52 Sandra Walter (Can)                                            20.52
53 Caroline Jackson (GBr)                                         21.03
54 Katy Middlehurst (GBr)                                         21.30
55 Caroline Besseyrias (Fra)                                      22.03
56 Sara Danielson (Swe)                                           22.07
57 Birgit Jungst (Ger)                                                 
58 Teresa Jansova (Cze)                                           22.53
59 Franziska Roethlin (Swi)                                       23.04
60 Ruth Mcgavigan (GBr)                                           23.58
61 Carmen Gonzales (Spa)                                          24.16
62 Almut Grieb (Ger)                                              25.11
63 Ingrid Van Der Vlist (Ned)                                     29.04
64 Jenni King (Aus)                                               30.08
65 Pavla Havlikova (Cze)                                          37.32
 
1 lap behind
 
66 Ingrid Bosscha	(Ned)
67 Monika Heuveling (Ned)                                              
68 Hilde Quintens (Bel)                                                
69 Lidy Spierings (Ned)                                                
 
2 laps behind
 
70 Rebecca Mcconnell (Aus)                                             
DNF Nina Gohl (Ger)                                                    
DNF Sophie Johnson (GBr)                                               
DNS Lorye Christophel (Bel)                                            
DNS Anna Enocsson (Swe)                                                
DNS Catrine Josefsson (Swe)                                            
DNS Sandra Klose (Ger)                                                 
DNS Marianne Teerenstra (Ned)                                          
DNS Carissa Wilkes (NZl)