MTB index page for all MTB content
World Cup XC # 1 - B
Spa Francorchamps, Belgium, April 24, 2005
Main Page Results Previous Race
Race 2 - Men
Olympic champ on top
By Rob Jones in Spa Francorchamps
Julien Absalon (Bianchi Agos)
Photo ©: Rob Jones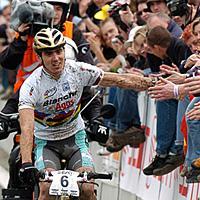 The Mountain Bike World Cup season opened Sunday at the Formula One circuit in Spa Francochamps, Belgium. The rain which had been threatening the night before was replaced by bright sunshine, and Marie-Hélène Prémont (Rocky Mountain-Business Objects) and Julien Absalon (Bianchi Agos) became the first in the 2005 season to don the blue leader's jerseys for the World Cup series.
The organizers made slight modifications overnight to the course, removing one muddy stretch, and sent the riders out on a shortened circuit for their first lap to spread things out before the technical portions of the circuit began. The women did a start loop and three full laps, while the men tacked on two extra full laps.
The sheer size of the men's field - 178 starters - meant that positioning was key. Two of the top contenders had some early bad luck - defending World Cup champion Christoph Sauser (Siemens Cannondale) crashed in the mud, flipping over his bars and losing at least 25 spots, while Liam Killeen (Specialized) flatted shortly after the start loop was completed. Sauser had one of the most impressive rides of the day, motoring back up to fourth, but Killeen remained mired in the high teens for the remainder of the race, eventually finishing 16th.
Thomas Frischknecht (Swiss Power)
Photo ©: Rob Jones

At the front, it was a battle between Belgian favourite Roel Paulissen (Giant) and Olympic and world champion Absalon. Paulissen managed to gain a slight advantage on the second lap, but Absalon noticed that he was descendingt much faster than the others, and used this to open a gap on the third lap. His lead quickly grew in the fifth lap as Paulissen faded, and the Belgian champion was nearly caught at the end by Jean-Christophe Peraud (Lapierre International). Sauser roared through the remnants of the field on the final lap, passing compatriot Thomas Frischknecht (Swisspower) to take fourth, 13 seconds in front of Frischknecht.
"I'm really happy that I was able to do well here," said Absalon. "I had many things to do all winter, many obligations after the Olympics, so I was not sure how I would go. For me this was a perfect track; I love roots and slippery trail.
"On the third lap it was Roel, Lado (Fumic - Fumic Bros. Racing) and me together. I could tell that I was descending faster than they were, so I went to the front at the top of the biggest downhill and got a gap of 10 or 15 seconds. After the climb Roel came back, and I did the same thing on the second downhill, and again on the next one, and then I stayed away."
Christophe Sauser was racing only his first cross-country of the year. His previous racing was at the Cape Epic in South Africa. "It is totally different there - very long and steady, no warm up required. I was very strong but I need to work on more speed."
Sid Taberley (Specialized)
Photo ©: Rob Jones

Photography
For a thumbnail gallery of these images, click here
Images by Rob Jones/www.canadiancyclist.com
Images by AFP Photo
Results
Men
1 Julien Absalon (Fra) Bianchi Agos                             1.57.53
2 Roel Paulissen (Bel) Giant                                       1.19
3 Jean-Christophe Peraud (Fra) Lapierre International              1.38
4 Christoph Sauser (Swi) Siemens Cannondale                        1.53
5 Thomas Frischknecht (Swi) Swisspower Mountainbike-Team           2.06
6 Fredrik Kessiakoff (Swe) Siemens Cannondale                      2.15
7 Jose Antonio Hermida Ramos (Spa) Multivan Merida Biking Team     2.26
8 Sergiy Rysenko (Ukr) Ukraine                                     2.36
9 Miguel Martinez (Fra) Commencal Oxbow                                
10 Lado Fumic (Ger) Fumic Racing Team                              3.03
11 Marek Galinski (Pol) Lotto PZU S.A                              3.26
12 Oliver Beckingsale (GBr)                                        3.46
13 Erwin Bakker (Ned)                                              4.01
14 Jochen Käss (Ger) Giant Racing Team                             4.10
15 Sid Taberley (Aus) Specialized                                      
16 Liam Killeen (GBr) Specialized                                  4.15
17 Balz Weber (Swi)                                                4.29
18 Peter Pouly (Fra)                                               4.49
19 Silvio Bundi (Swi)                                              4.59
20 Jerome Chevalier (Fra)                                          5.01
21 Marco Bui (Ita)                                                 5.37
22 Yury Trofimov (Rus)                                             5.44
23 Michael Weiss (Aut)                                             5.53
24 Jakob Fuglsang (Den)                                            6.12
25 Ralph Naf (Swi)                                                 6.25
26 Marti Gispert Labarta (Spa)                                     6.32
27 Manuel Fumic (Ger) Fumic Racing Team                            6.33
28 Nino Schurter (Swi)                                             7.00
29 Moritz Milatz (Ger)                                             7.08
30 Mirko Pirazzoli (Ita)                                           7.30
31 Carlos Coloma Nicolas (Spa)                                     7.35
32 Christof Bischof (Swi)                                          7.42
33 Andreas Dilger (Ger)                                            7.45
34 Martin Gujan (Swi)                                              7.53
35 Wolfram Kurschat (Ger)                                          8.41
36 Gion Manetsch (Swi)                                             8.55
37 Jader Zoli (Ita)                                                9.03
38 Igor Bogdan (Ukr)                                               9.14
39 Marc Trayter Alemany (Spa)                                      9.19
40 Kashi Leuchs (NZl)                                              9.45
41 Thijs Al (Ned)                                                  9.57
42 Haakon Austad (Nor)                                            10.05
43 Adam Craig (USA)                                               10.06
44 Michael Broderick (USA)                                        10.08
45 Milan Spesny (Cze)                                             10.23
46 Frederic Frech (Fra)                                           10.27
47 Lejarreta Errasti (Spa) Orbea-GD Deportivo                     10.40
48 Oleksandr Yakymenko (Ukr)                                      10.48
49 Johann Pallhuber (Ita)                                         11.04
50 Sergio Mantecon Guttierrez (Spa)                               11.16
51 Bas Peters (Ned)                                               11.30
52 Jurg Graf (Swi)                                                11.31
53 Jelmer Pietersma (Ned)                                         11.53
54 Benjami Rudiger (Ger)                                          12.10
55 Toni Longo (Ita)                                               12.21
56 Thomas Dietsch (Fra)                                           12.35
57 Hannes Metzler (Aut)                                           12.40
58 Till Marx (Swi)                                                12.45
59 Filip Eberl (Cze)                                              12.46
60 Johannes Sickmuller (Ger)                                      12.47
61 Ludovic Dubau (Fra)                                            12.57
62 Lars Petter Nordhaug (Nor)                                          
63 Stephane Tempier (Fra)                                         13.00
64 Maarten Tjallingii (Ned)                                       13.14
65 Leonardo Zanotti (Ita)                                         13.19
66 Fabio Bernasconi (Swi)                                         13.55
67 Kryspin Pyrgies (Pol)                                          14.08
68 Oriol Morata Abril (Spa)                                       14.12
69 Karl Platt (Ger)                                               14.28
70 Philip Spencer (GBr)                                           14.37
71 Emil Lindgren (Swe)                                            14.48
72 Mike Felderer (Ita)                                            14.52
73 Jiri Novak (Cze)                                               14.56
74 Flavio Derungs (Swi)                                           14.59
75 Fredrik Modin (Swe)                                            16.00
76 Eloi Gispert (Spa)                                             16.25
77 Sebastien Hansen (Fra)                                         16.48
78 Karl Markt (Aut)                                               17.11
79 Guillermo Bogas Oliva (Spa)                                    17.28
80 Alejandro Diaz De La Pena Lopez (Spa)                          17.50
81 Andreas Tiberi (Ita)                                           17.52
82 Joris Boillat (Swi)                                            17.57
83 Roman Rametsteiner (Aut)                                       18.01
84 Jiri Friedl (Cze)                                              18.06
85 Maxim Gogolev (Rus)                                                 
86 Dariusz Batek (Pol)                                            18.07
87 Igor Baretto (Ita)                                             18.28
88 Yannick Bernasconi (Swi)                                       18.32
89 Steffen Thum (Ger)                                             18.35
90 Alban Lakata (Aut)                                             18.39
91 Ruben Ruzafa Cueto (Spa)                                       18.42
92 Pierre Lebreton (Fra)                                          18.51
93 Roland Abächerli (Swi)                                         19.08
94 Jose Manuel Garcia Rodriguez (Spa)                             19.33
95 Raffael Schmid (Swi)                                           19.37
96 Gody Jacobs (Bel)                                              20.06
97 Thomas Roccaro (Swi)                                           20.13
98 Nicolas Filippi (Fra)                                          20.18
99 Emil Jamnicz (Cze)                                             20.41
100 Simon Richli (Swi)                                            20.56
101 Christophe Herisset (Fra)                                     20.57
102 Dominiek Ranson (Bel)                                         21.39
103 Tim Ottens (Ned)                                              21.48
104 Andreas Kugler (Swi)                                          21.54
105 Lukà Hanus (Svk)                                              21.58
106 Miha Solar (Slo)                                              22.33
107 William Bjergfelt (GBr)                                       23.11
108 Romain Dewaele (Fra)                                          23.22
109 Matthijs Wagenaar (Ned)                                       23.54
110 Jordi Riera Valls (Spa)                                       24.39
111 Sebastien Delfosse (Bel)                                      25.13
 
1 lap behind
 
112 Frank Schotman (Ned)                                               
113 Torsten Marx (Ger)                                                 
114 Karel Videcky (Cze)                                                
115 Bjorn Brems (Bel)                                                  
116 Micha De Vries (Ned)                                               
117 Mickael Giraud (Fra)                                               
118 Ovidiu-Tudor Oprea (Rom)                                           
119 Philip Tavell (Swe)                                                
120 Ludovic Mottet (Bel)                                               
121 Nicola Rohrbach (Swi)                                              
122 Ivan Schalbetter (Swi)                                             
123 Roy Van Heeswijk (Ned)                                             
124 Robert Odink (Swi)                                                 
125 Marcel Groothuismink (Ned)                                         
126 Joris Massaer (Bel)                                                
127 Jean-Eude Demaret (Fra)                                            
128 Xavier Carnicer (Spa)                                              
129 Axel Bult (Ned)                                                    
130 Benjamin Giraud (Fra)                                              
131 Sam Malfliet (Bel)                                                 
 
2 laps behind
 
132 Marc Golz (Ger)                                                    
133 Melvin Legros (Bel)                                                
134 Samuel Carraux (Swi)                                               
135 Jordi Vila (Spa)                                                   
136 Marios Athanasiades (Cyp)                                          
137 Maarten Krommendijk (Ned)                                          
DNF Ivan Alvarez Guttierrez (Spa)                                      
DNF Peter Riis Andersen (Den)                                          
DNF Hans Becking (Ned)                                                 
DNF Tim Bohme (Ger)                                                    
DNF Kristof Bomans (Bel)                                               
DNF Pavel Boudny (Cze)                                                 
DNF Urs Foehn (Swi)                                                    
DNF Carl Friberg (Swe)                                                 
DNF Hannes Genze (Ger)                                                 
DNF Roland Golderer (Ger)                                              
DNF Franz Hofer (Ita)                                                  
DNF Michael Hutter (Swi)                                               
DNF Perrin Jonas (Swi)                                                 
DNF Radim Korinek (Cze)                                                
DNF Martin Kraler (Aut)                                                
DNF Jaroslav Kulhavy (Cze)                                             
DNF Klaus Nielsen (Den)                                                
DNF Pierre Geoffrey Plantet (Fra)                                      
DNF Max Plaxton (Can)                                                  
DNF Cedric Ravanel (Fra)                                               
DNF Simon Richardson (GBr)                                             
DNF Wilko Rochow (Ger)                                                 
DNF Daniel Schutz (Swi)                                                
DNF Christoph Soukup (Aut)                                             
DNF Jimmy Tielens (Bel)                                                
DNF Juan Pedro Trujillo (Spa)                                          
DNF Florian Vogel (Swi)                                                
DNF Tomas Vokrouhlik (Cze)                                             
DNF Robert Vrecer (Slo)                                                
DNS Frank Lehmann (Ger)                                                
DNS Stefan Sahm (Ger)                                                  
DNS Rene Tann (Ger)                                                    
DNS Zak Toogood (GBr)