MTB index page for all MTB content
World Cup XC #5 DH/4X #4 - B
Mont Sainte-Anne, Canada, June 25-26, 2005
Main Page Results World Cup standings Next Race
Race 1 - June 25: Elite Women XC, 5 laps
Premont wins at home
By Rob Jones in Mont Sainte-Anne
Marie-Hélène Prémont
Photo ©: Rob Jones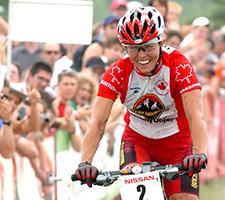 The thunderous applause from the forest on the last lap of the Women's World Cup XC meant only one thing. Marie-Helene Premont (Rocky Mountain Business Objects) was in the lead. The highly partisan home-town crowd just went nuts. People were streaming out of the woods in droves trying to get a spot along the finish chute.
With her traditional ear-to-ear smile Premont came across the line with arms in the air. She then stopped and lifted her bike above her head. The crush of media was incredible. "It is fantastic. All my friends are here. My mother, my sister, my brother. It is so wonderful."
The key moment in the race was the 4 lap, second climb. Gunn-Rita Dahle (Multivan Merida) started to visibly wilt. "Suddenly with no warning on the second climb I lost all my power. I really considered getting off my bike and walking. I was hoping it would come back, but it didn't."
Sabine Spitz (Specialized) rode a consistent 3rd place, but was never a factor in the race. Afterwards she was extremely disappointed since she had made MSA one of her primary goals for the season.
The other 2 podium spots were rounded out by Americans Willow Koerber (Subaru-Gary Fisher) and Mary McConneloug (Kenda/Seven)
Photography
For a thumbnail gallery of these images, click here
Images by Rob Jones/www.canadiancyclist.com
Images by Marek Lazarski/www.lazarskiphoto.com
Results

1 Marie-Hélène Prémont (Can) Rocky Mountain Business Objects    1.53.34
2 Gunn-Rita Dahle (Nor) Multivan Merida Biking Te                  2.45
3 Sabine Spitz (Ger) Specialized Factory Racin                     5.13
4 Willow Koerber (USA) Subaru-Gary Fisher                          6.13
5 Mary McConneloug (USA) Kenda/Seven                               6.56
6 Irina Kalentieva (Rus) Multivan Merida Biking Te                 8.43
7 Lene Byberg (Nor) Multivan Merida Biking Te                      9.11
8 Kelli Emmett (USA) Ford                                          9.18
9 Kiara Bisaro (Can) GearsRacing.com                              11.38
10 Ivonne Kraft (Ger) Olympia                                     13.23
11 Patricia Sinclair (Can) Scott                                  13.26
12 Shonny Vanlandingham (USA) Luna                                14.20
13 Maroussia Rusca (Sui) Univega Pro Cycling Team                 16.27
14 Katrin Leumann (Sui)                                           17.35
15 Mical Dyck (Can)                                               17.56
16 Kerry Barnholt (USA) Subaru-Gary Fisher                        19.25
17 Amanda Sin (Can)                                               19.41
18 Julie Sanders (Can)                                            20.08
19 Jennifer Smith (NZl)                                           20.41
20 Catherine Pendrel (Can)                                        21.36
21 Adelheid Morath (Ger)                                          23.22
22 Wendy Simms (Can)                                              24.27
23 Jaqueline Mourao (Bra)                                         35.14
 
2 laps down
 
24 Kasandra Cote (Can)                                                 
25 Sandra Walter (Can)                                                 
26 Lea Davison (USA)                                                   
27 Sara Bresnick-Zocchi (USA)                                          
28 Kathy Sherwin (USA)                                                 
29 Sophie Fortin (Can)                                                 
30 Jenny McCauley (Irl)                                                
31 Mathilde Hupin Debeurme (Can)                                       
32 Niki Gudex (Aus)                                                    
33 Anne-Marie Jobin (Can)                                              
34 Elsie Torresan (Can)                                                
35 Brigitte Lacaille (Can)                                             
36 Kyia Malenkovich (USA)                                              
37 Caroline Villeneuve (Can)                                           
38 Marisol Bernier (Can)                                               
 
3 laps down
 
39 Marie-Helene Cote (Can)                                             
40 Michelle Bellamy (NZl)                                              
41 Allison Gaudaur (Can)                                               
42 Lauren Tanzen (Aus)                                                 
DNF Jean Ann McKirdy (Can)                                             
 
World Cup Standings after round 5
 
1 Gunn-Rita Dahle (Nor)                                            1150 pts
2 Marie-Helene Premont (Can)                                       1020
3 Sabine Spitz (Ger)                                                890
4 Irina Kalentieva (Rus)                                            735
5 Mary Mcconneloug (USA)                                            565
6 Lene Byberg (Nor)                                                 392
7 Maja Wsoszczowska (Pol)                                           380
8 Kiara Bisaro (Can)                                                346
9 Ivonne Kraft (Ger)                                                328
10 Maroussia Rusca (Sui)                                            288
11 Margarita Fullana (Esp)                                          285
12 Annabella Stropparo (Ita)                                        284
13 Petra Henzi (Sui)                                                271
14 Adelheid Morath (Ger)                                            263
15 Patricia Sinclairs (Can)                                         260
16 Kelli Emett (USA)                                                253
17 Alison Sydor (Can)                                               250
18 Katrin Leumann (Sui)                                             245
19 Magdalena Sadlecka (Pol)                                         216
20 Bernardine Boog-Rauwerda (Ned)                                   206
21 Maria Oestergren (Swe)                                           205
22 Katrin Schwing (Ger)                                             199
23 Sabrina Enaux (Fra)                                              194
24 Nina Goehl (Ger)                                                 193
25 Robyn Wong (NZl)                                                 192
26 Sonia Foote (NZl)                                                186
27 Barbel Jungmeier (Aut)                                           174
28 Cristina Mascarreras Sabria (Esp)                                171
29 Anna Szafraniec (Pol)                                            170
30 Rosara Joseph (NZl)                                              165
31 Saskia Elemans (Ned)                                             153
32 Willow Koerber (USA)                                             150
33 Elena Giacomuzzi (Ita)                                           149
34 Evelyn Staffler (Ita)                                            143
35 Sandra Klose (Ger)                                               141
36 Eva Lechner (Ita)                                                140
37 Franziska Roethlin (Sui)                                         137
38 Severine Hansen (Fra)                                            132
39 Cecile Rode (Fra)                                                126
40 Elisabeth Osl (Aut)                                              123
41 Ren Chengyuan (Chn)                                              119
42 Sarah Koba (Sui)                                                 119
43 Laura Turpijn (Ned)                                              112
44 Wang Jingjing (Chn)                                              111
45 Nicole Cooke (GBr)                                               111
46 Nina Homovec (Slo)                                               110
47 Catherine Delfosse (Bel)                                         106
47 Arielle Van Meurs (Ned)                                          106
49 Asa Erlandsson (Esp)                                             106
50 Anna Enocsson (Swe)                                              105
51 Jenny Copnall (GBr)                                              101
52 Sarka Chmurova (Cze)                                              95
53 Daniela Louis (Sui)                                               85
54 Sandra Walter (Can)                                               82
55 Kathy Sherwin (USA)                                               77
56 Laurence Leboucher (Fra)                                          75
57 Gao Xiaoning (Chn)                                                74
58 Nadja Walker (Sui)                                                70
59 Pavla Havlikova (Cze)                                             68
60 Shonny Vanlandingham (USA)                                        67
61 Elina Sophocleous (Cyp)                                           62
62 Mical Dyck (Can)                                                  61
63 Kerry Barnholt (USA)                                              60
64 Amanda Sin (Can)                                                  59
65 Julie Sanders (Can)                                               58
66 Jennifer Smith (NZl)                                              57
67 Caroline Jackson (GBr)                                            57
68 Catherine Pendrel (Can)                                           56
69 Emilie Siegenthaler (Sui)                                         56
70 Wendy Simms (Can)                                                 54
71 Jaqueline Mourao (Bra)                                            53
72 Kasandra Cote (Can)                                               52
73 Susan Haywood (USA)                                               52
74 Lea Davison (USA)                                                 50
75 Sara Bresnick-Zocchi (USA)                                        49
76 Sophie Fortin (Can)                                               47
77 Jenny Mccauley (Irl)                                              46
78 Maaris Meier (Est)                                                46
79 Mathilde Hupin Debeurme (Can)                                     45
80 Niki Gudex (Aus)                                                  44
81 Anne-Marie Jobin (Can)                                            43
82 Elsie Torresan (Can)                                              42
83 Brigitte Lacaille (Can)                                           41
84 Kyia Malenkovich (USA)                                            40
85 Rocio Gamonal Ferrera (Esp)                                       40
86 Caroline Villeneuve (Can)                                         39
87 Marisol Bernier (Can)                                             38
88 Marie-Helene Cote (Can)                                           37
89 Michelle Bellamy (NZl)                                            36
90 Allison Gaudaur (Can)                                             35
91 Ruth Moll Marques (Esp)                                           35
92 Lauren Tanzen (Aus)                                               34
93 Maria Osl (Aut)                                                   34
94 Nathalie Schneitter (Sui)                                         32
95 Petra Hofs (Ned)                                                  32
96 Beth Mc Cluskey (Irl)                                             31
97 Hazel Wakefield (GBr)                                             30
98 Elena Gaddoni (Ita)                                               28
99 Katy Middlehurst (GBr)                                            28
100 Sandra Santanyes Murillo (Esp                                    26