MTB index page for all MTB content
Oceania Mountain Bike Championships - CC
Nelson, New Zealand, March 13-16, 2008
Schedule
Australians travel to Nelson in force for Oceanias
Sid Taberlay will be among the Australians competing
Photo ©: Rick Eaves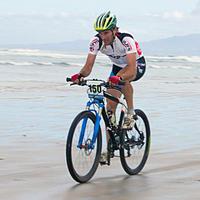 New Zealand mountain bikers will face a strong challenge from across the Tasman during the UCI Oceania Mountainbike Championships in Nelson starting on Thursday, March 13.
The Australians are sending a powerful contingent to contest the four-day event which begins with the hill climb and dual slalom Thursday, Olympic distance cross country and 4X Friday – all at Banford Park – and the downhill at nearby Kaka Hill on Sunday.
Beijing Olympic hopefuls Chris Jongewaard and Sid Taberlay are leading the Australian cross country team after finishing first and second in their national championship. Jongewaard, a member of the international Dolphin professional team, will defend his Oceania title from last year even though he has been more limited in his mountain bike training and racing time thanks to a highly promising foray into road cycling. The favorite placed seventh in the Australian time trial championships recently. Taberlay is a multi-time Australian champion who finished 23rd at the Athens Olympics in 2004 and sixth in the 2006 Commonwealth Games.
Without leading rider Kashi Leuchs who is racing in Europe, New Zealand will look to the likes of national champion Stuart Houltham to lead the way along with Commonwealth Games representative Mike Northcott.
Look for Caroline Buchanan in the women's 4X
Photo ©: Evan Jeffery

Competition will be tough in the women's ranks with the top six Australians from their national championships all competing, including cross country champion Dellys Starr, favoured to win an Olympic berth. New Zealand women will be led by Kaytee Boyd, who rode impressively in the recent women's road tour.
Australians will likely fare well in the U19 and U23 ranks with New Zealand's strongest chances in the U19 women's division in which Wellington's Samara Sheppard will defend her Oceania title.
New Zealand can expect a strong showing in the downhill events with multi-time national champion Nathan Rankin, current New Zealand champion Kieran Bennett and world top-20 ranked Justin Leov. Current national champion Sheryl MacLeod and former world junior champion Scarlett Hagen will lead the charge in the women's downhill.
Leov, who rides the Yeti/Fox professional team, will be chasing success in the four cross along with the women's favourite, three-time Australian champion Caroline Buchanan.
New Caledonia has also entered riders for the four-day championship event.
The Oceania championships will serve as a trial for the New Zealanders to qualify for June's world championships in Italy.