MTB index page for all MTB content
Australian MTB Series - NE
Mt Beauty, Victoria, Australia, February 2-3, 2008
Main Page Results Overall standings Previous Race Next Race
Race 2 - February 3: Downhill
World Champion blitzes downhill final
World champ Sam Hill smashing
Photo ©: Evan Jeffery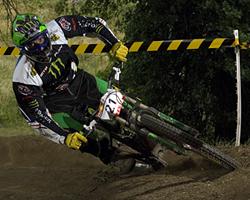 World Downhill Champion Sam Hill claimed victory at the final of the National Mountain Bike Series in Mt Beauty, Victoria. At just 22 years of age, Hill is currently ranked number one in the World following his prestigious World Cup series win last season. Hill rode a blistering 3.10 minutes to win the Victorian event after qualifying fastest in the seeding run in heavy rain. Hill's appearance, his only in Australia since claiming his second World Championship in Scotland last August, was appreciated by his Australian fans.
The crowds lining the course cheering their hero in his final run. "It was awesome especially coming into the last chute," said Hill of the support. "You could hear them 20 seconds before I got there."
As Hill prepares for another assault on the World scene he was pleased with his form to date. "I've only been on the bike a month," he admitted. "I came here to use it as a bit of a guage of my fitness. I'm on track. I've still got worlk to do obviously."
With a strong group of younger riders trying to emulate Hill's success in Australia, the World Champion was impressed with the field. "There are a lot of fast younger riders here that I haven't seen before," he said. "It's good to see those guys out there."
Tracey Moseley takes another
Photo ©: Evan Jeffery

As conditions changed from driving rain in the seeding run, the skies cleared for the finals giving the elite riders the best traction all day.
With Australian riders high on rankings Hill had a top field, including eighth in the world Nathan Rennie, to contend with. Newly crowned National Champion, Rennie, placed third with a final run of 3.17 minutes, just one and a half seconds behind Canadian National Champion Steve Smith.
A disappointing run today for series leader Amiel Cavalier lost him the overall lead and that title went to Rennie with 215 points. Cavalier suffered from two crashes early on the course and stepped aside to allowed the Hill to pass before riding to the finish. Cavalier made it into second overall with 181 points while young Will Rischbieth ranked third in the series with 158 points.
Rick Boyer survived slippery conditions to place fourth and local professional rider Liam Panozzo claimed fifth.
Caroline Buchanan entering the chute
Photo ©: Evan Jeffery

The Elite Women's race was won by world ranked number two Tracy Moseley with Queensland sensation Tracey Hannah in second. At number three in the world, Hannah qualified fastest but her final run of 3.51 minutes included a crash in the final berm leaving her three seconds behind Moseley's time. Hannah claimed second overall in the national series, just one point behind Canberra's Claire Whiteman. Women's series leader coming into the final, Emma McNaughton, was disappointed after crashing in practice and was withdrawn for medical attention.
In the Under 19 men it was Shaun O'Connor's turn to claim a win, even with two crashes on his final run. O'Connor also claimed the overall series with 270 points. National Champion Dylan Prohm finished in 16th place, but ended up with 193 points to claim second in the series. Rhys Willemse also had trouble on his run placing 13th but overall secured third place in the series with 170 points.
Two Adelaide riders, James Shepherd and Connor Fearon, claimed the overall series for Under 17 and Under 15 men respectively.
Photography
For a thumbnail gallery of these images, click here
Images by Evan Jeffery/www.evanjeffery.com.au
Results
Elite Men
 
1 Sam Hill                      3.11
2 Steve Smith                   0.07
3 Nathan Rennie                 0.07
4 Rick Boyer                    0.09
5 Liam Panozzo                  0.09
6 Jared Rando                   0.10
7 Ben Cory                      0.10
8 Joshua Button                 0.11
9 Andrew Mills                  0.13
10 Darcy Murrel                 0.14
11 Mitchell Delfs               0.14
12 Lindsay Klein                    
13 Ryan Andrews                 0.15
14 Michael Kearton              0.16
15 Dennis Beare                 0.16
16 Brad Oien                    0.16
17 Matt Swann                   0.18
18 Craig Yates                  0.18
19 Timothy Eaton                0.18
20 Deon Baker                   0.18
21 Tom Lewis                    0.18
22 Luke Garnham                 0.19
23 Jarah Breese                 0.19
24 Brenden Wood                 0.19
25 Dean Davies                  0.19
26 William Rischbieth           0.20
27 Robbie McNaughton            0.21
28 Thomas Rose                  0.21
29 Kaine Cannan                 0.22
30 Miikael Kinnunen             0.23
31 Alex Swann                   0.24
32 James Collins                0.27
33 Chris Coombe                 0.28
34 Kent Hamilton                0.29
35 Glen Ward                    0.30
36 Bryn Atkinson                0.30
37 Ricky Lee                    0.31
38 Michael Manning              0.36
39 Amiel Cavalier                   
40 Stuart MacDonald                 
41 Cody Eichhorn                0.46
42 Josh McDonald                0.46
43 Lincoln Verass               0.47
44 Jack Cavanagh                0.47
45 Evan Winton                  0.47
46 Chris Whitelock              0.47
47 Tim Cox                      0.48
48 Aaron Bashford               0.48
49 James French                 0.49
50 Bradley Earl                 0.49
51 Jared Blackmore              0.49
52 Jason Mennitz                0.50
53 Jon Odams                    0.50
54 Adam Smithson                0.51
55 Ngari Jenkins                0.51
56 Simon Buzacott               0.52
57 Brett Pengelly               0.53
58 william Cookesley            0.54
59 Rhys Atkinson                0.54
60 Mark Beeksma                 0.55
61 Jack Timms                   0.56
62 Dean White                   0.56
63 Nicholas Cruickshank         0.57
64 Trevwah Burke                0.57
65 David Hetherington           0.57
66 Hayden Lester                0.58
67 David Bowden                 1.03
68 Nick Rudzki                  1.04
69 Joe Mullan                   1.06
70 Ryan Meader                  1.06
71 Cameron Allonby              1.08
72 David Gibbs                  1.08
73 Angus Coombe                 1.09
74 Jonathan Langdon             1.10
75 Ashley Swann                 1.11
76 Ben Goff                     1.13
77 Thomas Kerney                1.16
78 Kye Hore                     1.20
79 Benjamin Ayling              1.25
80 Troy Fraser                  3.23
81 Timothy Harrington           3.25
82 Shane Wode                   3.28
DNS Dave West                       
DNS Cillian Kennedy                 
DNS Regan Arthur                    
 
Elite Women
 
1 Tracy Moseley                 3.43
2 Tracey Hannah                 0.09
3 Caroline Buchanan             0.29
4 Jayne Rutter                  0.33
5 Claire Whiteman               0.41
6 Leigh Douglas                 0.43
7 Cara Smith                    0.54
8 Shannon Chugg                 1.39
9 Edwina Hughes                 1.54
10 Kathleen Beggs               2.05
 
Under 19 Men
 
1 Shaun O'Connor                3.28
2 James Taormina                0.04
3 Hans Hadley                   0.05
4 Matthew Vincent               0.06
5 Murray Stephens               0.06
6 Laurie Dinham                 0.07
7 Mitch Forbes                  0.08
8 Hugh Walker                   0.08
9 David Habicht                 0.08
10 Austin Hicks                 0.10
11 Ben Nylen                    0.17
12 David Maud                   0.23
13 Rhys Willemse                0.25
14 Jack Payne                   0.27
15 Elliot Smith                 0.32
16 Dylan Prohm                  0.51
17 Andrew Day                       
18 Tamryn Murrel                    
19 Andrew Phillips                  
20 Liam Paiaro                  0.54
21 Matthew Currie               0.54
22 Tim Windshuttle              0.59
23 Anthony Ghobril              1.01
24 Patrick Young                1.20
25 Andrew Brett                 1.25
26 Brandt Fleming               1.40
27 Luke Broadley                1.42
28 Benjamin Fairbanks           2.10
29 Ryan Newbold                 2.27
30 Tom Rowe                     2.28
31 Anthony Vaughan              3.25
32 Liam Howarth                 3.56
DNF Kyle McLennan                   
 
Veteran Women
 
1 Carla Mcleish                 5.29
DNS Julie Harris                    
 
Under 17 Women
 
1 Emily Hockey                  4.58
2 Jasmin Rosa                   0.19
3 Bec Kirss                     0.53
 
Masters Men
 
1 Geoff Lovie                   3.57
2 Shayne Hadley                 0.11
3 Tony Pincan                   0.15
4 Ian Petrie                    0.21
5 Steve Munyard                 0.22
6 David Badman                  0.29
7 Darryl Dear                   0.32
8 Peter Jones                   1.00
9 Allan Clements                1.08
10 Mike Gadd                    1.25
11 Pat Coe                      1.49
DNS Shane Currie                    
 
Veteran Men
 
1 Ben Reynolds                  3.47
2 Jason Archer                  0.02
3 Daniel Taliana                0.09
4 Drew Hamilton                 0.10
5 Daniel Segeri                 0.14
6 Ross Wilkinson                0.17
7 Michael Stratton              0.20
8 Dereck Martin                 0.23
9 Matthew Evans                 0.31
10 Marc Ellis                   0.32
11 James Harris                 0.32
12 Calvin McKinley              0.34
13 Joff Medder                  0.38
14 Mark Keegan                  0.39
15 Luke Blockey                 0.40
16 Tyron McLean                 0.44
17 Justin Armstrong             0.58
18 Nicolas Jacquet              1.10
19 Jason Stalker                1.34
20 Derek Yates                  1.35
 
Expert Men
 
1 Callan Ridge                  3.47
2 Steven Ruffell                0.01
3 Andrew Gunn                   0.03
4 Chris Southwood               0.03
5 Adam King                     0.05
6 James Perkins                 0.06
7 Ben Randall                   0.08
8 Kane Lowe                     0.08
9 Rob Weaver                    0.08
10 Nich Shields                 0.09
11 Timothy Chadd                0.11
12 Aaron Tenardi                0.12
13 Aaron Cairns                 0.14
14 Steven Mathews               0.15
15 Jacob Coles                  0.16
16 Josh Lyons                   0.17
17 Nicholas Bailly              0.18
18 David Moore                  0.21
19 Dale Grixti                  0.22
20 Peter Winnacott              0.26
21 Andrew Sleeman               0.31
22 Scott Weaver                 0.32
23 Daniel Jefferies             0.32
24 Peter Harper                 0.35
25 Craig Palmer                 0.38
26 Daniel Bonello               0.40
27 Tim Williams                 0.48
28 Christopher Hetherington     0.52
29 Gabriel Fitzgerald           1.35
DNS Simon Bow                       
DNS William Geor                    
DNS Will Schofield                  
DNS Cory Wagstaff                   
DNS Sam Furphy                      
 
Under 17 Men
 
1 Aden Wyber                    3.54
2 Phillip Piazza                0.02
3 Aaron Oates                   0.06
4 James Green                   0.07
5 Jesse Went                    0.08
6 James Shepherd                0.09
7 Lewis Winton                  0.11
8 Blake Nielsen                 0.11
9 Antony Moore                  0.13
10 Samuel Jones                 0.15
11 Ben Barrett                  0.16
12 Ben Barrett                  0.17
13 Will Giles                   0.19
14 Marcus Fairbanks             0.21
15 Daniel Lavis                 0.22
16 Kevin Backhouse              0.26
17 Troy Brosnan                 0.27
18 Tom Norton-Laheney           0.28
19 Michael Dargan               0.32
20 Joshua Blake                 0.34
21 Brock Harrison               0.43
22 Drew Jonceski                0.46
23 John Golik                   0.50
24 Jared Lockley                0.53
25 Dylan Cole                   0.57
26 Dion Thomas                  1.18
27 Tim Beaver                   1.43
28 Michael Ghobril              1.52
DNS Sean Heywood-Smith              
DNS Aaron Mucha                     
DNS Harrison Webb                   
DNS Alaster Fitzgerald              
 
Under 15 Men
 
1 Connor Fearon                 3.43
2 David McMillan                0.06
3 Thomas Crimmins               0.24
4 Henry Blake                   0.29
5 Joe Vejvoda                   0.41
6 Thomas Phillips               1.26
7 Mathew Dwyer                  2.23
DNS Corey Chiminello                
 
Sport Men
 
1 James Hunt                    4.08
2 Reymund Kell                  0.14
3 Benoit De Guio                0.19
4 Peter Karas                   0.19
5 Andrew Karas                  0.20
6 Joe Szpytko                   0.21
7 Tex Hadley                    0.24
8 Joshua Currall                0.43
9 Arlen Vartazarian             0.44
10 Patrick Campbell             0.45
11 Ben Jackman                  4.10
12 Mathew Scott                 4.59
DNS Dayne Elliott                   
 
Hardtail
 
1 Daniel Paine                  4.05
2 Ash Parry                     0.05
3 Tom Power                     0.07
4 Joseph Lester                 0.11
5 Brock Deakin                  0.33
6 Tom Riella                    0.51
DNS Adam McInnes