MTB index page for all MTB content
Australian MTB Series - NE
Mt Beauty, Victoria, Australia, February 2-3, 2008
Main Page Results Overall standings Next Race
Race 1 - February 2: Cross Country
Champions back up wins at Beauty
Chris Jongewaard getting air
Photo ©: Evan Jeffery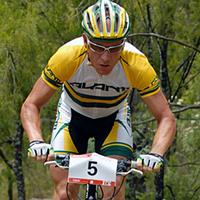 Both National Champion Cross Country Olympic winners, Dellys Starr and Chris Jongewaard, backed up last weekend's national championship wins another victory at today's National Mountain Bike Series final held in the Alpine district at Mt Beauty, Victoria.
Starr's win last week obtained her a position on the shadow Olympic team for Australia, while Jongewaard is already one of three males on the shadow team. Dan McConnell and Sid Taberlay are also included in the shadow team. McConnell raced today and placed a creditable second.
For the Australian fans it will be the last time they see their potential Olympians at a national event before August. In mid-January the UCI announced that Australia would have one position for a female and one for a male at the Beijing 2008 Olympics.
Paul Van Der Ploeg making
Photo ©: Evan Jeffery

Today's race, although not a selection race, was still used by many riders to gauge their fitness. Riders will not line up for the Oceania Championships in New Zealand and later the World Cups and World Championships overseas, which are seen as important selection events.
In today's elite men's race Jongewaard took out the six lap race just under four minutes clear of second place getter Dan McConnell. McConnell moved into second in the second lap with only local Under 23 rider Paul Van Der Ploeg likely to challenge.
"Backing it out from last week was a bit challenging," admitted Jongewaard. "Cross Country takes a lot out of you week by week."
"I was a bit sluggish to start," said Jongewaard. However Jongewaard recorded the fastest lap time of the day on his first of six laps in 18.45 minutes.
Dellys Starr out on
Photo ©: Evan Jeffery

Dylan Cooper, the series leader heading into this round, finished in fourth position after being outsprinted by a surging Van Der Ploeg, which saw him cramp just after the finish line. Cooper takes out the series with a total of 226 points. Last year's series winner Aiden Lefmann fell back in the field to finish in 24th position but claims second with 173 points.
Today's winner, Jongewaard finishes the national series in third place with 160 points.
For the national series leaders coming into the final of four races today it was a matter of maintaining positions to gain enough points to secure an overall win. Rowena Fry - in just her first full season after being identified on a National Talent ID Program - managed a podium at every event this season. Fry is on track to attempt to make the selection criteria for Beijing, however performances at international events are vital.
Fry placed third today after being overtaken in the final lap by Kate Potter, but takes out the overall series with a total of 245 points. Local rider, Tory Thomas finished in fourth place and hence finishes second in the national series with 161 points just one point clear of Dellys Starr, today's winner, who finishes the series in third. overall.
In the Under 23 division it was a local domination with Cal Britten the clear series winner with 116 points while Van Der Ploeg claimed second just six points shy of the top spot. Van Der Ploeg won the National Championships last week in Canberra.
Photography
For a thumbnail gallery of these images, click here
Images by Evan Jeffery/www.evanjeffery.com.au
Results
Elite Men
 
1 Chris Jongewaard            55.39
2 Dan McConnell                3.48
3 Paul Van Der Ploeg           5.54
4 Dylan Cooper                 5.55
5 Matthew Fleming              7.13
6 Adrian Jackson               7.55
7 Josh Keep                    8.10
8 Shaun Lewis                  8.32
9 Joshua Fleming               9.25
10 Neil Van Der Ploeg         10.04
11 Ben Henderson              11.10
12 Perren Delacour            11.16
13 Benjamin Grieve-Johnson    11.33
14 James Maebus               13.11
15 Andrew Blair               13.37
16 Glenn Stewart              17.49
17 Josh Carlson               18.02
18 Cal Britten                18.27
19 Troy Glennan               19.25
20 Scott Liston               21.38
21 Angus Harding              26.31
One lap down
22 Steele Von Hoff          1.36.42
23 Erin Francis             1.36.43
Two laps down
24 Aiden Lefmann            1.18.01
DNF David Whitney                  
DNF Rohin Adams                    
DNF Murray Spink                   
DNF Mark Flood                     
DNF Nathan Haas                    
DNS Luke Graydon                   
 
Elite Women
 
1 Dellys Starr                34.13
2 Kate Potter                  2.03
3 Rowena Fry                   2.27
4 Tory Thomas                  5.09
5 Katherine O'Shea             5.21
6 Jo Wall                      7.36
7 Jenni King                   8.18
8 Rosemary Barnes              9.52
9 Jaci Low                    10.19
10 Jodie Willett              10.25
11 Gracie Elvin               10.34
12 Therese Rhodes             11.12
13 Julie Blake                12.49
14 Kimberley Fleming          14.54
15 Lindsay Gorrell            16.51
16 Kim McCormack              18.43
17 Stephanie Russell          20.08
18 Maria Papadopoulos         21.20
19 Bianca Mauch               22.49
20 Trudy Nicholas             23.55
DNF Kelly Bartlett                 
DNF Philippa Rostan                
DNF Bronwyn Ryan                   
DNS Claire Graydon                 
DNS Anna Beck                      
 
Expert Men
 
1 Mark Van Der Ploeg          45.31
2 Simon Flower                 4.46
3 Jeremy Ross                  8.10
4 Simon Wright                15.39
5 Brad Glennan                21.13
6 Joel Ryan                   24.11
7 Darren Groves               26.06
8 Rowan Smith                 28.55
One lap down
9 Drew Blatchford           1.46.40
DNF Jason Chalker                  
 
Under 19 Men
 
1 David Johnston              27.52
2 Brendan Johnston             2.19
3 Peter Braunsteins            3.18
4 Robbie Hucker                3.30
5 Luke Fetch                   6.30
6 Phillip Bellingham           9.00
7 James Peacock                9.03
8 Stephen Pitt                 9.57
9 Mark Tupalski               17.31
10 Matt Kidd                  21.39
11 James Mowatt               22.27
12 Brenton Jones              30.51
One lap down
13 Tim Smyth                1.30.12
14 Glen Sinnott             1.40.58
DNF Christopher Taylor DNF         
DNF Ash Harvey                     
 
Under 19 Women
 
1 Rebecca Henderson           16.37
2 Shelly Flood                15.09
 
Under 17 Men
 
1 Rowan Brown                 10.02
2 Kyle Ward                    0.01
3 Matthew Keays                3.43
4 Tim Beaver                  32.31
One lap down
5 Jarryd Jones                13.43
Two laps down
6 Brendan Jones               46.57
 
Under 15 Men
 
1 Thomas Phillips             57.26
 
Under 15 Women
 
1 Siobhan Jones               40.03
 
Veteran Men
 
1 Andrew Wilcher              26.31
2 Phillip Orr                  2.53
3 Daniel Ham                   6.47
4 Ryan Starr                   7.54
5 Tim Retchford               10.37
6 James Downing               12.08
7 Dion Shaw                   14.37
8 Darren Smith                18.19
9 Tim McColl                  18.52
10 Davide Angelini            26.19
11 Daniel Moore               26.57
DNS Troy Bailey                    
DNS Warren Burgess                 
DNS  McInnes                       
 
Veteran Women
 
1 Renate Griese               27.04
 
Masters Men
 
1 Robert Eva                1.09.02
2 Brett Kellett                1.12
3 Michael Norman               2.39
4 John Henderson               7.19
5 John Harvey                 16.25
6 David Christensen           36.53
Two laps down
7 Craig Peacock             1.45.46
DNF Peter Turnbull                 
DNS Andrew Ross                    
DNS Brian John                     
 
Masters Women
 
1 Jane Ollerenshaw          1.02.17
 
Super Masters Men
 
1 Kahn Franke               1.23.51
2 John Graydon                 8.33
 
Super Masters Women
 
1 Ronice Goebel             1.05.00
 
Grand Masters Men
 
1 Andrew Tupalski           1.05.24
 
Sport Men
 
1 Devin Sando                 49.19
2 Callan Ridge                 1.42
3 Daniel Van Der Ploeg         1.58
4 Tom Barry                   11.37
DNF Cameron Dickinson              
 
Sport Women
 
1 Kylie Webb                  58.31
2 Heidi Scotchmer              9.03
3 Shelley McColl              18.43
DNF Lisa Barry