MTB index page for all MTB content
Afxentia Stage Race - 1/NE/1
Cyprus, February 29-March 2, 2008
Main Page Results Overall standings Previous Race Next Race
Race 2 - March 1: Macheras Mountains Time Trial
Paulissen wins again while time trial queen Hurikova captures victory
Alexandra Engen (Merida / Sweden)
Photo ©: Armin M. Küstenbrück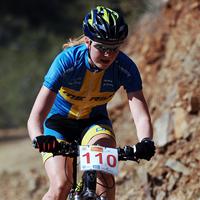 In the second stage of the Afxentia stage race at Mantra tou Kampiou in Cyprus, Belgian Roel Paulissen claimed another win ahead of Swede Fredrik Kessiakoff by 29 seconds in the 7.4km time trial. Magnus Darvell of Sweden finished third, three more seconds back. In the women's race, former junior world time trial champion Tereza Hurikova showed her time trialing prowess. She finished 30 seconds ahead of a surprising Alexandra Engen and 41 seconds in front of Heather Irmiger.
On a technical demanding course with steep downhills
Paulissen was surprised with his results on the technical and demanding course, with steep downhills. "It's not my discipline at all," said the the Cannondale-Vredestein rider. "I had a smooth ride through the technical sections but the last two kilometers were so difficult, I felt no more power in my legs. These kind of races always hurt you so much - the legs are burning."
Roel Paulissen (Cannondale Vredestein)
Photo ©: Armin M. Küstenbrück

Behind him, the race for second was close. Only 16 seconds separated Kessiakoff and his Full-Dynamix team-mate Emil Lindgren. On this day, Lindgren suffered some bad luck when he got a front flat with two kilometers to go. The flat may have cost him second.
Sixth-placed Karl Platt (Bulls) also suffered from a flat tire, yet his still finished only 19 seconds behind Kessiakoff, who confessed to having a "painful" ride. "It's 20 minutes of pure suffering. At one place I made a wrong decision which cost me maybe 10 seconds," he said.
Magnus Darvell, a new name among the other more well known world-class riders, was satisfied with his third place. "It feels good. For sure. Normally I train for cross-country but short time trial competitions like this suit me. The course was fun," said Darvell. After a disappointing point to point race on Friday, Jaroslav Kulhavy put in a strong time trial to finish fourth.
Roel Paulissen leads the general classification by 5:38 ahead of Kessiakoff and 7:04 ahead of Lindgren.
Young ladies go fastest in time trial
Alexandra Engen (Merida / Sweden)
Photo ©: Armin M. Küstenbrück

Sabine Spitz (Central-Ghost) and Petra Henzi (Fischer-BMC) opted not to race the time trial, and so it was no surprise that Tereza Hurikova (Ceska Sporitelna) dominated the race against the clock.
"Before the race I was more tired than yesterday but now, after the race, I feel good," said the winner. "So maybe it will good for tomorrow. It was even harder than yesterday, and I lost a lot of energy. I had no problems in the downhill. But I think four laps on this course are gonna be very hard," said the 21 year-old.
Hurikova is used to - and good at - time trialing, especially on the road. At road world championships in 2007 in Germany, she finished 14th and in 2004 she won gold in the junior world championship time trial.
20 year-old Alexandra Engen was all smiles after crossing the line just 30 seconds behind Hurikova. "I like to go really hard. I like to push it. When you are young you can do it like this, you are faster," said the Swede. "And I like it when the course is a technical demanding one. Then you get the butterflies in your stomach."
28 year-old Heather Irmiger couldn't beat her two younger competitors, but she was not unhappy with her effort. "I had fun and it was a good option to race between the two cross-country races. So your body doesn't fall in sleep," she said.
In the overall, Hurikova leads the Afxentia classement by 6:56 over Engen and 10:55 over Irmiger.
Photography
For a thumbnail gallery of these images, click here
Images by Armin M. Küstenbrück
Results

Elite women

1 Tereza Hurikova (Cze) Czech National Team          25.01
2 Alexandra Engen (Swe) Merida Sweden                 0.30
3 Heather Irmiger (USA) Subaru/Gary Fisher            0.41
4 Ksenia Chernykh (Rus) Russian National Team         2.45
5 Natalia Krompets (Ukr) ISD                          3.21
6 Evgenia Belozerova (Rus) Russian National Team      4.52
DNS Oxana Rybakova (Rus) Russian National Team            
DNS Ivonne Kraft (Ger)                                    
DNS Sabine Spitz (Ger) Central Ghost Pro Team             
 
Elite men

1 Roel Paulissen (Bel) Cannondale Vredestein         19.39
2 Fredrik Kessiakoff (Swe) Full Dynamix               0.29
3 Magnus Darvell (Swe) Rietumu                        0.32
4 Jaroslav Kulhavy (Cze) Czech National Team          0.40
5 Emil Lindgren (Swe) Full Dynamix                    0.45
6 Karl Platt (Ger) Bulls                              0.48
7 Makcim Gogolev (Rus)                                0.56
8 Jan Skarnitzl (Cze) Czech National Team             0.57
9 Jiri Friedl (Cze) Merida Biking Team                0.59
10 Milan Spesny (Cze) Czech National Team             1.01
11 Ilias Perilklis (Gre)                              1.12
12 Jeremy Horgan-Kobelski (USA) Subaru/Gary Fisher    1.13
13 Aleksey Medvedev (Rus) Russian National Team       1.17
14 Alexander Wetterhall (Swe)                         1.18
15 Nicolas Vermeulen (Bel) Belgian National Team      1.19
16 Mattias Nilsson (Swe)                              1.23
17 Josef Kamler (Cze) Ceska Sporitelna MTB            1.31
18 Stefan Sahm (Ger) Bulls                            1.33
19 Denis Vorontsov (Rus) Russian National Team        1.36
20 Tomas Trutnschka (Cze) Czeska Sporitelna           1.37
21 Max Oste Macdonald (Swe)                           1.41
22 Nicolas Rorhbach (Swi) Central Ghost Pro Team      1.58
23 Lars Bleckur (Swe)                                 2.05
24 Anton Gogolev (Rus)                                2.11
25 Makael Salomonsson (Swe) Asarna IK                 2.26
26 Ian Field (GBr) Bikin' Cyprus                      2.30
27 Dmitriy Medvedev (Rus)                             2.43
28 Billy-Joe Whenman (Aut) Ciclopia                   3.08
29 Paul Beales (GBr)                                  3.59
30 Anton Fomin (Rus) Leningrad Region                 4.06
31 Oscar Ekstam (Swe) Sweden                          4.36
32 Pavel Blagikh (Rus) CCL Karo-Film                  4.46
33 Matthew Stevens (GBr)                              4.57
34 Maxim Zhurkin (Rus) CCL Karo-Film                  5.04
35 Luke Smith (GBr)                                   5.19
36 Vladislav Neroznaks (Lat) Apollon                 15.13
DNS Marios Athanasiadis (Cyp)                             
DNS Karl Markt (Aut) SRM-Stevens-Team       

Junior women

1 Irina Malysheva                                    30.51
2 Alla Boyko                                          3.51
 
Junior men

1 Mykhaylo Batsutsa (Ukr)                            23.42
2 Kiriakos Skettos                                    0.19
3 Radion Brazhnik (Ukr)                               0.48
DNS Mixalis Kitis                                         
              
General classification after stage 2

Elite women

1 Tereza Hurikova (Cze) Czech National Team       2.17.53
2 Alexandra Engen (Swe) Merida Sweden                6.56
3 Heather Irmiger (USA) Subaru/Gary Fisher          10.55
4 Nataliya Krompets (Ukr) Ukranian National Team    15.20
5 Evgenia Belozerova (Rus) Russian National Team    32.48
6 Ksenia Chernykh (Rus) Russian National Team       17.48

Elite men

1 Roel Paulissen (Bel) Vredestein Cannondale      2.04.28
2 Jaroslav Kulhavy (Cze) Czech National Team         5.38
3 Milan Spesny (Cze) Czech National Team             7.04
4 Jiri Friedl (Cze) Merida Biking Team               7.30
5 Jeremy Horgan-Kobelski (USA) Subaru/Gary Fisher    5.55
6 Jan Skarnitzl (Cze) DIMP Giant Team                7.30
7 Karl Platt (Ger) Bulls                             5.50
8 Makcim Gogolev (Rus)                               9.17
9 Nicolas Vermeulen (Bel) Belgian National Team      8.22
10 Stefan Sahm (Ger) Bulls                          11.35
11 Josef Kamler (Cze) Ceska Sporitelna MTB          10.33
12 Nicola Rohrbach (Swi) Central Ghost Pro Team     10.30
13 Dmitriy Medvedev (Rus) Russian National Team     17.06
14 Anton Gogolev (Rus) Team Leningrad Region        14.05
15 Ilias Perilklis (Gre)                            17.06
16 Ian Field (GBr) Bikin' Cyprus                    22.23
17 Tomas Trunschka (Cze) Ceska Sporitelna MTB       35.56
18 Vladislav Neroznaks (Lat)                        31.28
19 Oscar Ekstam (Swe) Sweden                        39.13