MTB index page for all MTB content
Afxentia Stage Race - 1/NE/1
Cyprus, February 29-March 2, 2008
Main Page Results Overall standings Next Race
Race 1 - February 29: Mantra - Kionia - Mantra (Sunshine Cup #2)
Paulissen & Spitz win Afxentia Opener
Roel Paulissen (Vredestein Cannondale) wins
Photo ©: Armin M. Küstenbrück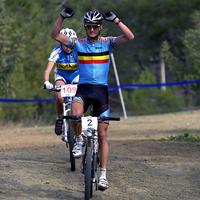 Roel Paulissen and Sabine Spitz won the second round of Cyprus Sunshine Cup which also served as race one of the Afxentia Stage Race. Paulissen took top honors in the 43km men's race after gaining distance on two chasing Swedish racers Fredrik Kessiakoff and Emil Lindgren. In the 37km women's race, Spitz and Tereza Hurikova battled until the final kilometer in Mantra. Petra Henzi finished third.
Paulissen got his gap in an odd way. At the first of two feed zones, about 30 riders were together, and the Belgium racer missed his bottle because there were too many others nearby.
"So I thought I had to make a little attack to make the group smaller," said Paulissen. "From this point, I went on." At the same time Emil Lindgren and Fredrik Kessiakoff had gotten the wrong bottles.
"So we had to change bottles with each other and while we were concentrating on that, Roel was in front and got the gap," said Kessiakoff who also added also that Paulissen had the better legs for the day.
The start of the men's race
Photo ©: Armin M. Küstenbrück

Before the last long singletrack downhill, Paulissen had more than one minute, Kessiakoff found the new downhill "too tricky" to make up time, and he wasn't interested in taking risks so early in the season. So he raced on to a solid second place, 1'47" behind Paulissen. Lindgren crossed the finish line six seconds later in third and happy to make the podium.
"I had a bad knee in the winter, so I'm surprised to have such a good race this early in the season," said Lindgren. Swiss racer Andreas Kugler was not too far behind him before the downhill, but he couldn't follow the 22 year-old Scandinavian.
Paulissen's win gave him revenge for this defeat five days ago in Round #1 of the Sunshine Cup, after he starteted the sprint too early. The 31 year-old marathon world championship silver medalist confessed after his long solo ride that he was not feeling as good as he did last Sunday.
"Actually both of us, Fredrik and I, were feeling better. This race is rather difficult with the singletrack to find the rhythm. I'm really happy that I have this victory, it feels good to win a C1 race in this early part of the season. I did good training this week, but did not completely recover," said the Cannondale-Vredestein rider.
Women's race decided in final kilometer
Sabine Spitz (Central Ghost Pro Team) wins
Photo ©: Armin M. Küstenbrück

The women's race saw an exciting fight between Czech Tereza Hurikova (Czeska Sporitelna) and German Sabine Spitz (Central-Ghost). The 21 year-old Hurikova showed strength on the singletrack uphill. While Spitz was sitting in third position behind Swiss woman Petra Henzi Fischer-BMC), the Czech woman in the lead got a gap.
"I needed a while until I got a spot to pass Petra," said Spitz after the race. "Then I followed Tereza and at the top of the mountain, I caught and passed her."
But the race wasn't over. Spitz went into the long downhill with 15 seconds lead, but Hurikova closed it, and they were riding together again until a short climb when Spitz again got a gap.
"I saw her suffering at this climb, so I took it a little bit calm and in the last two kilometers, I speed up and she couldn't follow me," said Spitz. "I didn't prepare for racing before today. High intensity training was not on my schedule 'til now. I'm pretty happy with the result and it looks like my performance is going in the right direction," said the woman who finished second at the World Championships in 2007.
The men negotiate a steep descent
Photo ©: Armin M. Küstenbrück

Runner-up Hurikova didn't expected her form to be so good either. "I'm very surprised about my race, and I enjoyed it very much. Regarding tomorrow I have to wait and see because I'm not used to racing day after day," said Hurikova.
Henzi was satisfied with her third. "I tried to hold the contact with Sabine, but when a junior racer crashed in front of me, I lost her. But at least I'm happy with my race," said the marathon world champion. Behind her was a gap of more than four minutes to the next finisher, Alexandra Engen (Merida).
Sunday's race winner Heather Irmiger (Subaru Gary Fisher) had bad luck with a flat tire early in the race. She repaired it, but had already lost her shot at the podium. "I felt pretty good. I'm gonna make it up tomorrow and Sunday hopefully," Irmiger said after finishing seventh.
German Ivonne Kraft (Carrera) had an early crash and lost contact with the lead group. She finished in sixth while Sunday's surprise Maaike Polspoels couldn't make it back to the podium and ended up in eighth place.
Saturday's Afxentia time trial (7.4km) will be held on the cross country course at Mantra tou Kampiou. Sunday's Afxentia final will happen on the same course, but as an Olympic distance cross country event and the third round of Cyprus Sunshine Cup.
Photography
For a thumbnail gallery of these images, click here
Images by Armin M. Küstenbrück
Results

Elite men

1 Roel Paulissen (Bel) Vredestein Cannondale       1.44.49
2 Fredrik Kessiakoff (Swe) Full Dynamix               1.47
3 Emil Lindgren (Swe) Full Dynamix                    1.53
4 Andreas Kugler (Swi) Fisher-BME                     2.31
5 Magnus Darvell (Swe) Rietumu                        4.03
6 Karl Markt (Aut) SRM-Stevens-Team                   4.36
7 Jeremy Horgan-Kobelski (USA) Subaru/Gary Fisher     4.42
8 Alexander Wetterhall (Swe)                          4.52
9 Jaroslav Kulhavy (Cze) Czech National Team          4.58
10 Karl Platt (Ger) Bulls                             5.02
11 Milan Spesny (Cze) Czech National Team             6.03
12 Jiri Friedl (Cze) Merida Biking Team               6.31
13 Jan Skarnitzl (Cze) Dimp Giant Team                6.33
14 Nicolas Vermeulen (Bel) Belgian National Team      7.03
15 Bjorn Brems (Bel) Belgian National Team            7.04
16 Aleksey Medvedev (Rus) Russian National Team       8.01
17 Makcim Gogolev (Rus)                               8.21
18 Nicola Rohrbach (Swi) Central Ghost Pro Team       8.32
19 Sergiy Rysenko (Ukr)                               8.41
20 Josef Kamler (Cze) Ceska Sporitelna Mtb            9.02
21 Dries Govaerts (Bel) Belgian National Team         9.13
22 Denis Vorontsov (Rus) Russia Nat.Team              9.30
23 Stefan Sahm (Ger) Bulls                           10.02
24 Mattias Nilsson (Swe)                             11.23
25 Makael Salomonsson (Swe) Asarna Ik                11.44
26 Tim Wijnants (Bel) Belgian National Team          11.53
27 Anton Gogolev (Rus) Team Leningrad Region         11.54
28 Andreas Lieberherr (Swi)                          13.12
29 Evgen Medvetsskyy (Ukr)                           13.13
30 Dmitriy Medvedev (Rus) Russian National Team      14.23
31 Max Oste Macdonald (Swe)                          15.03
32 Andriy Gumenyuk (Ukr)                             15.29
33 Ilias Perilklis (Gre)                             15.54
34 Alexander Fedotov (Rus) CCL Karo Film             15.56
35 Vladislav Neroznaks (Lat)                         16.15
36 Nicolay Zagulaev (Rus) CCL Karo Film              17.06
37 Marios Athanasiadis (Cyp)                         17.23
38 Lars Bleckur (Swe)                                17.28
39 Francesco Panza (Ita)                             17.33
40 Michael Weiss (Aut) Ciclopia                      18.01
41 Billy-Joe Whenman (GBr)                           18.28
42 Dror Pekatch (Isr) Subaru/Gary Fisher             18.51
43 Giorgos Fattas (Cyp)                              19.20
44 Ian Field (GBr) Bikin' Cyprus                     19.53
45 Igor Bogdan (Ukr)                                 23.04
46 Andriy Khripta (Ukr)                              23.06
47 Anton Fomin (Rus)                                 24.19
48 Paul Beales (GBr)                                 24.38
49 Maxim Zhurkin (Rus) Russia National Team          27.59
50 Luke Smith (GBr)                                  28.24
51 Pavel Blagikh (Rus) Russia National Team          29.15
52 Matthew Stevens (GBr)                             30.53
53 Tomas Trunschka (Cze) Ceska Sporitelna MTB        34.19
54 Oscar Ekstam (Swe) Swedish National Team          34.37
55 Toimotheos Skettos (Cyp)                          38.51
DNF Christof Bischof (Swi)                                
DNS Mirko Pirazzoli (Ita)                                 
DNS Alexis Eleutheriadis (Cyp)                            
 
Elite women

1 Sabine Spitz (Ger) Central Ghost Pro Team        1.52.48
2 Tereza Hurikova (Cze) Czech National Team           0.04
3 Petra Henzi (Swi) Fisher BMC                        1.54
4 Alexandra Engen (Swe) Merida Sweden                 6.30
5 Elena Gaddoni (Ita)                                 7.05
6 Ivonne Kraft (Ger)                                  8.40
7 Heather Irmiger (USA) Subaru/Gary Fisher           10.18
8 Maaike Polspoel (Bel) Belgian National Team        11.17
9 Nataliya Krompets (Ukr) Ukranian National Team     12.03
10 Githa Michiels (Bel)                              13.00
11 Ksenia Chernykh (Rus) Russia Nat.Team             17.07
12 Ekaterina Melnikova (Rus) MGFSU-Cube              19.56
13 Iryna Slobodyan (Ukr) Ukranian National Team      20.55
14 Oxana Rybakova (Rus) Russian National Team        22.53
15 Barbel Jungmeier (Aut) Ciclopia                   23.33
16 Elena Gogoleva (Rus)                              27.02
17 Evgenia Belozerova (Rus) Russian National Team    28.00
 
Junior Men

1 Kiriakos Skettos                                 1.52.10
2 Mixalis Kitis                                       2.25
3 Radion Brazhnik (Ukr)                               8.51
4 Mykhaylo Batsutsa (Ukr)                            37.04
 
Junior women

1 Alla Boyko (Ukr)                                 2.14.42
DNS Irina Malyshera (Rus)                                 
 
Master 1

1 Marios Ioannou